Universal Car Covers
Looking to protect your vehicle from dust and weather without breaking the bank? Universal Car Covers are for you. Our Universal Car Covers are available in a wide range of sizes and styles for a proper fit on your car, truck, or SUV. They're also made from some of the same high-quality materials you'll see on custom car covers. Some Universal Car Covers are even suitable for outdoor use. Don't let stormy seasons or dusty garages ruin your finish - protect it the economical way with a Universal Car Cover.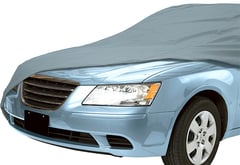 Shield your vehicle from the rain, sun, and snow with the Classic Accessories OverDrive PolyPro 1 Car Cover. This all weather car cover features breathable PolyPro 1 Fabric to reduce mildew and mold, and it has a soft fabric lining that won't scratch your paint job. Car, SUV, and Truck covers are all available.
From $51.49
Free Shipping
Quick View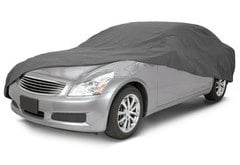 Keep your car protected from the rain, snow, and sun with the Classic Accessories OverDrive PolyPro 3 Car Cover. This weather resistant car cover is made of tough PolyPro 3 fabric that's thick enough to protect your vehicle from dents and debris without scratching your paint job. The Classic Accessories PolyPro 3 is available in multiple sizes for cars, Jeeps, or trucks/SUVs.
From $77.99
Free Shipping
Quick View
About Universal Car Covers
Universal car covers are the economical choice when it comes to car covers. A wide range of styles and fabrics also lends versatility when looking for the perfect cover. More than anything else, a universal, say, Honda Element cover, gives you the protection your Element needs for less. Made of the same high-quality materials as more expensive custom covers, universals usually overcome their lack of a custom cut with elastic bottoms, and nearly all feature lock-and-grommet systems to secure your cover when in use.
You're not looking for any hassle when shopping for a universal Chevy Blazer cover, or for whatever vehicle you drive. At AutoAccessoriesGarage.com, you won't find any! All we'll do is show you a wide range of covers with full color pictures and detailed product descriptions. Once you decide on something, we'll ship it to you for free. If you have any questions, give us a call. It's that simple! Shopping can be easy, and at AAG, we pride ourselves on making it so.
More Popular Universal Car Covers Vehicles: