CatClamp Catalytic Converter Lock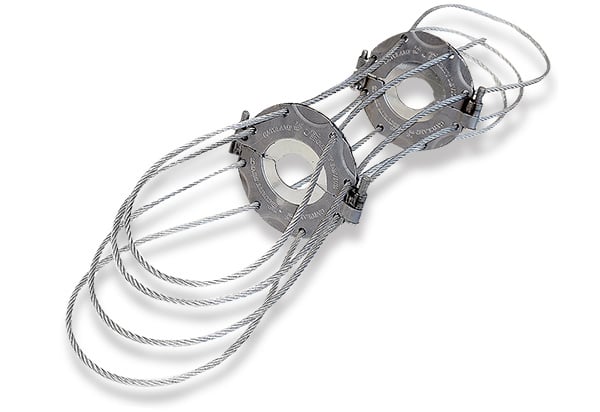 Regular Price:

$235.60-515.50

Our Price: $

159.95

-

349.95

Shipping:

FREE SHIPPING
Form a nearly unbreakable barrier around your converter with the CatClamp Catalytic Converter Lock
Heavy-duty, un-cuttable airplane wire rope acts like a cage around your converter
Secure design ties the converter to your frame
Split-collar cage ends make for an easy, bolt-on installation
1 tamper-proof installation tool per vehicle
The premium MAXX Converter Lock features 100% stainless steel construction, thicker rope, and an advanced converter ID system
One Cat Clamp works for one catalytic converter
Made in the USA
Lifetime Warranty on Cat Clamp MAXX, 1-Year Warranty on standard
Industry reports say that the average catalytic converter thief needs nothing more than thirty seconds and a battery-powered saw blade to strip your vehicle of its converter. Usually containing palladium, platinum, and/or rhodium, a stolen catalytic converter can fetch thieves a pretty penny, not to mention cost you up to $1,000 in total repair costs to get it replaced. Protect yourself by neutralizing that saw and prolonging those precious seconds with the CatClamp Catalytic Converter Lock.
Airplane wire rope is the secret to the success of the CatClamp. Nearly unbreakable and impossible to saw with a standard handheld, this rope forms an impenetrable barrier around your catalytic converter. Not only does this rope attach your converter to your vehicle, but it also makes the CatClamp Catalytic Converter Lock surround the converter itself in a veritable forcefield of protection. Split-collar cage ends allow this herculean rope to pass through it as many as eight different times, and the collars on your Toyota 4Runner or Honda Element catalytic converter lock, or those for whatever vehicle you own, make sure everything stays in one place upon tightening.
Upgrading to the Cat Clamp MAXX lock gives you even more protection. In addition to everything you get with the standard Cat Clamp, you'll enjoy 100% stainless steel construction of both split-collars. Larger stainless ropes are even more difficult to cut through, and both permanent and temporary bolts are available to tighten, say, your Jeep's system to a Jeep Cherokee catalytic converter lock for the long haul. Best of all, each MAXX lock also includes a unique I.S.R. catalytic marking kit to give your Cat Clamp a permanent, traceable identity if (against all odds) a thief does somehow manage to break through this nearly unbeatable locking system.
Don't run the risk of having to foot the bill for an expensive catalytic converter replacement. Make sure thieves will skip your car with the made in the U.S.A. CatClamp Catalytic Converter Lock. Backed by a 1-Year Warranty for the standard Cat Clamp and a Lifetime Warranty for the MAXX.
CatClamp Catalytic Converter Lock

Customer Reviews
Overall:
Performance:
Quality:
Appearance:
Average Install Time: 1-2 hours
Showing 10 of 35 reviews. See All Reviews.
Accidentally bought the wrong size (according to my mechanic) but he managed to get it to fit. Remains to be seen if it will work. Fast shipping time, good price!
I could not install this cat clamp on my 2005 Honda CRV. I had to have the Catalytic converter replaced after it was stolen. The new cat had some ears on it that I ran a small cable through to prevent it from being stolen again. I would like to return the cat clamp, it is useless.
Good basic concept, but the embellish on what models of car this clamp fits. I have one on both my Honda Element and CRV (which they advertise the catclamp fits on) and they were both an extreme pain to install. The amount of space around the exhaust pipe needed to easily install this device just isn't there. If you buy one for a Honda Element or CRV, be ready to hack saw parts of the clamp off to make it fit under your car.
The product is average. I am glad to have it, as I think it will deter repeat theft of my catalytic converter. However, it took over 4 hours to install. The install is supposed to be easy, however it was complicated. The steel rope that is used is difficult to manipulate, so it took a long time to be able to manipulate it to fit into the small holes on the clamp pieces. It is one large rope piece, so not easy to maneuver. Not all cars have easy frame points to loop the steel around, so it takes some creativity. The manufacturer also recommends just attaching the extra remaining steel rope with a zip tie -- however, that seems clumsy and noisy. We ended up cutting it with a torch to shorten it. My dad, a professional mechanic, installed it. I am not sure that someone could install it without a lift and/or torch, easily. Overall, I hope it is worth all the trouble and will deter theft - it certainly looks like it will.
Thanks to this clamp I save $3,000.00 without insurance or at least a $500.00 deductible. And the best sleep with no worries of an unexpected problem next morning that it happen to me and the headache to deal with the insurance, police report etc, etc. Thank you guys.
Install Time: Under 30 minutes
It was very hard to get someone to agree to get this item installed! Everyone I showed it to was very confused and very certain that it would not do much if someone wanted to steal the catalytic converter off of my Honda Element. I thought it was cool and feel better with it on. But before you buy, be sure to check with your usual mechanic to see if they will install for you.
The product was great, but I wish we had a choice in cable length, my older Toyota truck did not need a long cable, I have about 5-6 feet of extra cable, which I ended up wrapping around the frame couple of times. It would look much better with a shorter cable.
The clamp was installed on Wednesday June 1 at my local Midas after I had my serviced there for the theft of my catalytic converter. So far no attempts on a 2nd theft and I feel much better about having some type of extra security
I am going to give a positive rating at this point because I just had my CatClamp installed by my mechanic. This is not done a lot in my area, but he was able to watch the video to assure that it was put on correctly and made several adjustments. I had my catalytic converter stolen and purchased an additional car alarm as well as the cage for added protection since my vehicle is parked on an open lot at my residence. I hope these purchases will deter any further thefts and am glad that such a product as the cage is available. Thank you.
Showing 10 of 35 reviews. See All Reviews.