CatClamp Catalytic Converter Lock CCM175300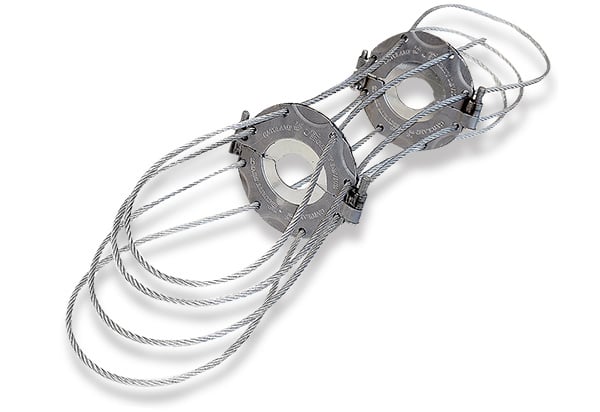 Our Price: $

349.95

Shipping:

FREE SHIPPING

Part Number: CCM175300
Catalytic Converter Lock
Part #:

CCM175300
MAXX Catalytic Converter Lock
$349.95
Free Shipping
Ships by 11/27/17
Form a nearly unbreakable barrier around your converter with the CatClamp Catalytic Converter Lock
Heavy-duty, un-cuttable airplane wire rope acts like a cage around your converter
Secure design ties the converter to your frame
Split-collar cage ends make for an easy, bolt-on installation
1 tamper-proof installation tool per vehicle
The premium MAXX Converter Lock features 100% stainless steel construction, thicker rope, and an advanced converter ID system
One Cat Clamp works for one catalytic converter
Made in the USA
Lifetime Warranty on Cat Clamp MAXX, 1-Year Warranty on standard
Industry reports say that the average catalytic converter thief needs nothing more than thirty seconds and a battery-powered saw blade to strip your vehicle of its converter. Usually containing palladium, platinum, and/or rhodium, a stolen catalytic converter can fetch thieves a pretty penny, not to mention cost you up to $1,000 in total repair costs to get it replaced. Protect yourself by neutralizing that saw and prolonging those precious seconds with the CatClamp Catalytic Converter Lock.
Airplane wire rope is the secret to the success of the CatClamp. Nearly unbreakable and impossible to saw with a standard handheld, this rope forms an impenetrable barrier around your catalytic converter. Not only does this rope attach your converter to your vehicle, but it also makes the CatClamp Catalytic Converter Lock surround the converter itself in a veritable forcefield of protection. Split-collar cage ends allow this herculean rope to pass through it as many as eight different times, and the collars on your Toyota 4Runner or Honda Element catalytic converter lock, or those for whatever vehicle you own, make sure everything stays in one place upon tightening.
Upgrading to the Cat Clamp MAXX lock gives you even more protection. In addition to everything you get with the standard Cat Clamp, you'll enjoy 100% stainless steel construction of both split-collars. Larger stainless ropes are even more difficult to cut through, and both permanent and temporary bolts are available to tighten, say, your Jeep's system to a Jeep Cherokee catalytic converter lock for the long haul. Best of all, each MAXX lock also includes a unique I.S.R. catalytic marking kit to give your Cat Clamp a permanent, traceable identity if (against all odds) a thief does somehow manage to break through this nearly unbeatable locking system.
Don't run the risk of having to foot the bill for an expensive catalytic converter replacement. Make sure thieves will skip your car with the made in the U.S.A. CatClamp Catalytic Converter Lock. Backed by a 1-Year Warranty for the standard Cat Clamp and a Lifetime Warranty for the MAXX.
CatClamp Catalytic Converter Lock

Customer Reviews
Overall:
Performance:
Quality:
Appearance:
Showing 1 of 35 reviews. See All Reviews.
Order arrived quickly and was exactly as described.
Showing 1 of 35 reviews. See All Reviews.