Eastern Catalytic Converters
When it comes to cutting-edge converters, Eastern Catalytic knows how to do it. Every step of the process, from R&D to manufacturing, is done with a focus on building the best catalytics in the industry. Hook up an Eastern Catalytic Converter to your system and you'll maximize your exhaust flow for maximum performance, all while keeping your emissions within legal limits. Rugged and reliable, and they'll keep you in top shape for years.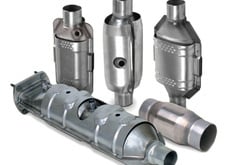 From $146.49
Free Shipping
Quick View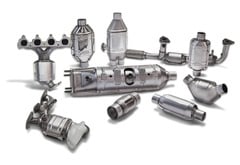 From $89.49
Free Shipping
Quick View
About Eastern Catalytic Exhaust
Whether yours was stolen or you just need an upgrade, Eastern Catalytic Converters will let you get the performance you want at a price you can manage. They've got the designs and innovative manufacturing practices to ensure the highest quality possible. They're 49-state legal and deck your ride out with a smooth, easy-going exhaust flow. You can trust these products to be everything you need.
These are an essential component of your system, since they scrub your ride's exhaust to ensure it is as clean as possible. Because you can't drive your car legally without your cats working correctly, Eastern Catalytic Converters ensure two things: that your ride is legal, and that it operates efficiently. You might not think about them, but these guys do. That makes all the difference in the world.
Count on AutoAccessoriesGarage.com to supply you with the best in Eastern Catalytic Converters, at the best prices available. You'll love the process when you shop here, because we don't intend to play any games. Find your vehicle with our selector widget, and from that point on you'll only see parts and accessories specifically made for your ride. Check everything out and see what looks good, and once you've found one to purchase we'll ship it you for Free. When you're ready to shop like a pro, come see AAG.
Eastern Catalytic Exhaust Reviews
Frank W Hunter
from Warminster, PA said:
The agent was very helpful in getting the right part. The internet page did not go into enough detail.
Kenneth P
from Vershire, VT said:
Perfect fit. Built to factory specs. No effort. I'd like to say that we built some kind of a relationship or something to fill the space watching the monitor but it's a pipe.
John S
from Saint Charles, MO wrote:
Overall it was good, but I didn't like how where the pipes join together wasn't flattened out to clear the frame.
gary
from York, PA said:
Worked great & was the best price for a factory bolt-in converter. Thank you!