Performance Packages
How do you give your gas or diesel rig serious power? Install one of our Performance Packages and get ready to lay some rubber. Whether you're pulling heavy trailers or ripping up the track, a Performance Package gives your engine massive power gains. Every component, including exhaust systems, air intakes, and tuners, is expertly matched to each other and they're custom-designed to your exact vehicle for a perfect fit and fine-tuned performance.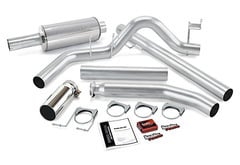 The Banks Git-Kit has been finely calibrated to give your particular truck the best possible performance. A variety of mixed and matched Gale Banks Exhaust components come together in every kit to ensure a fantastic performance upgrade for your rig. Major horsepower and torque enhancements are available, and all required hardware, components, and instructions will come with every kit. Not CARB certified.
From $709.00
Free Shipping
Quick View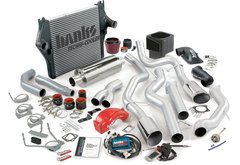 The massive power upgrades you've wanted for your truck are available with the Banks PowerPack System. This performance exhaust system can increase your horsepower by as much as 119 horses and your torque by nearly 300 ft-lbs! A variety of Gale Banks engineering components come together in complete systems catered specifically to your vehicle, with all hardware and installation instructions included.
From $1,549.00
Free Shipping
Quick View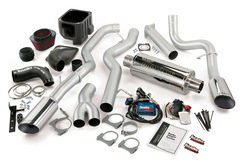 There's no need to settle for your boring factory performance when you can so easily upgrade with a Banks Stinger System. Gale Banks engineers have deftly crafted and tuned each collection of exhaust components to fit your specific system. Everything is included with each package for an easy installation, including detailed instructions and all mounting hardware.
From $689.00
Free Shipping
Quick View
Want to learn more? Read our:
About Performance Packages
A full exhaust system overhaul is not a delicate undertaking, but when the time comes and you can no longer do without the power upgrade, invest in one of our performance packages. Everything you need to reinvent your exhaust system is here for you: intakes, tuners, pipes, all brackets and bushings and everything else you could ask for. People went to a lot of trouble to put these packages together, and all of it for one specific reason: to give your car or truck more power!
Obtaining that extra power can be a hassle sometimes, but not when you shop at AutoAccessoriesGarage.com. We'll show you only those packages made to work specifically with your vehicle, with color photos and detailed descriptions that will take the guesswork out of shopping. Once you've purchased something, it will ship to you for free. Even better, we have a dedicated Customer Service team that can handle any questions you may have. Choose AAG, and you'll see how easy auto parts shopping can be.