Heartthrob Glasspack Muffler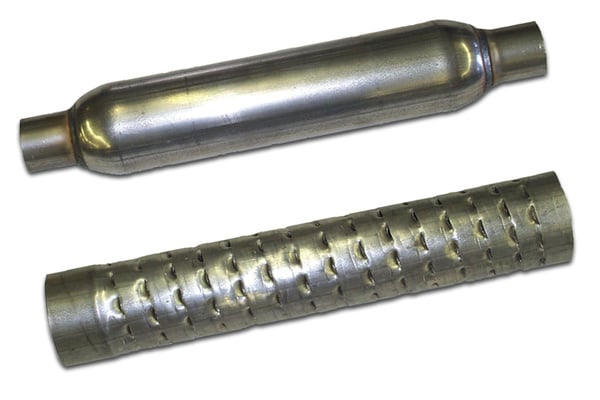 Our Price:

$36.49

- 278.99

Shipping:

FREE SHIPPING
The Heartthrob Glasspack Muffler brings American Muscle to your vehicle at an affordable price
Choose from either high quality stainless steel or aluminumized steel constructions
Variety of sizes and lengths available to fit your particular setup
Heartthrob Glasspack Mufflers will increase horsepower and overall vehicle performance
Gives your engine a deep, muscle car sound
Made in the USA
1-Year Warranty
If you're looking to add some muscle to your vehicle, check out the Heartthrob Glasspack Muffler. The deep roar of the Heartthrob Glasspack Muffler evokes all the memories and unbridled power that has long been associated with the Golden Age of American muscle cars.
Rest assured, this muffler is no antique. Each Heartthrob Glasspack is designed by Heartthrob's innovative team of engineers, who always manage to stay one step ahead of the competition. These mufflers comes in two different styles: for cost-conscious customers, choose the dependable and affordable aluminumized steel muffler; for higher strength and rust-resistance, go with the stainless steel model. Regardless of which Heartthrob Glasspack Muffler you choose, both are field-tested for durability, and both will increase the performance and horsepower of your vehicle.
Hook your ride up with classic sound and performance thanks to the Heartthrob Glasspack Muffler. Proudly made in the USA. Backed by a 1-Year Warranty.
Heartthrob Glasspack Muffler

Customer Reviews
Overall:
Performance:
Quality:
Appearance:
Average Install Time: 30-60 minutes
Deep throaty sound at idle, not overly loud with the windows up and light load, not sure on wide open, a dumped wastegate ushers the sound of open headers and covers any normal exhaust sound.
Install Time: 30-60 minutes
Installed it at a muffler shop, took less than 20 min, I used it as a resonator sounds awesome now will probably get better as is broken in.
Install Time: Under 30 minutes
Amazing piece. Had it put on my 90 Volvo 240. Made the car a little "brappy" when nice and warmed up but all together it's a very low, nice growl almost. Loved this piece.
Install Time: 30-60 minutes
Quiet, not good. I figured that it was going to be a little louder then what it is. It kinda sucks to be honest.
Quality workmanship & smart engineering.
Install Time: Under 30 minutes
Alan (Pontiac GP) H.
2012-07-29
I ran with two 24" glasspacks on a dual system for my 77 Grand Prix and was totally delighted with the note. I ran a couple of small cats as well with an H link and the note is not too loud but really tough. It was an amazing contrast to the stock system. The Heartthrobs are well made and they didn't pose any installation problems at all. I have noticed an improvement in acceleration which I wasn't expecting. I also imported a set of Heartthrobs for my wife's Monaro (Pontiac GTO) and they sound terrific.
Affordable, durable, great tone, installed as muffler on mini cooper. Just the right amount of volume and the added flow helps. Galvanized model welds are very easily.
Install Time: 30-60 minutes
I love my heartthrob glasspack, if you want old school muscle car sound this is where its at.
Install Time: Under 30 minutes
It was hard to find a short glasspack muffler elsewhere. I spent hours trying. I specifically needed this due to side exit headers on a Jeep CJ, where I needed a muffler and a exhaust pipe turn-out before the rear wheel. Your product was exactly what I needed, and when I received it, it was exactly what I needed and expected.
Install Time: 30-60 minutes