Heartthrob Resonator Exhaust Tip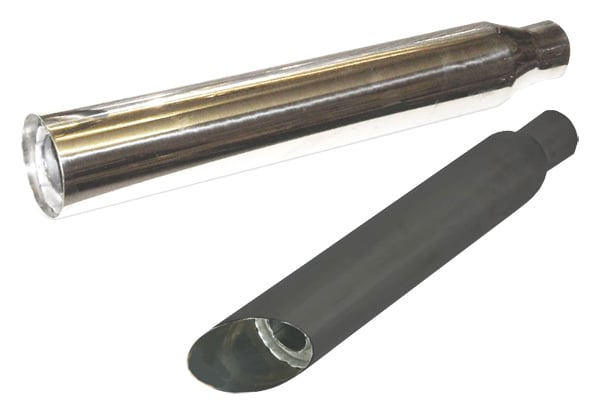 Our Price:

$73.99

- 117.99

Shipping:

FREE SHIPPING
The Heartthrob Resonator Exhaust Tip is an attention-grabbing accent steeped in classic muscle-car style
Available in two different designs: Angle Cut or Straight Cut
Choose from Chrome, Black, or Stainless Steel finish
Withstands corrosion and rust for an attention-grabbing look that will last
The Heartthrob Resonator Exhaust Tip looks great on any high performance vehicle
Weld-on installation
Made in the USA
Give your vehicle a style to match your performance with the Heartthrob Resonator Exhaust Tip. This steel exhaust tip has an American muscle look that makes an immediate impact on any high-performance vehicle.
The Heartthrob Resonator Exhaust Tip is built tough to withstand corrosion and provide a long-lasting look without the high dealer price. The people at Heartthrob know that everyone has their own taste. That's why the Heartthrob Resonator Tip comes in two different styles: Angle Cut or Straight Cut. Both are available in Chrome, Black or Stainless Steel finish, as well, so you can pick the tip and overall look that best suits your vehicle.
The Heartthrob Resonator Exhaust Tip can be welded on to any vehicle and is made in the USA. Bring solid sound and style to your ride today.
Heartthrob Resonator Exhaust Tip

Customer Reviews
Overall:
Performance:
Quality:
Appearance:
Average Install Time: 30-60 minutes
Quality products, would buy again.
Install Time: 30-60 minutes
I figured I'd go ahead and write up a review since there's not a whole lot on the web about bolting these bad boys on to motorcycles. If you look around for bolt on exhaust setups for any kind of bike, it will cost you an arm and a leg. This is a $44 dollar can that sounds great and is almost as open, if not equal, to straight pipes on a motorcycle. I just sent my bike kart-wheeling down the street, goofing off with wheelies and whatnot, and got one of my cans all banged up. But I got a new one to my front door in a couple of days thanks to autoaccesoriesgarage.com's banging customer service... and all for 45 bux, like WTF... and with a few simple mods (20-30min) it will bolt in on in like 5 minutes. These things are literally easier to replace than mess up. I have an aprilia Dorsoduro 750, and these compliment that vtwin rumble perfectly with a nice deep tone. If you're not into your bike sounding like a whiny child's toy but you don't want the unrefined poppy straight pipes, this is the perfect balance. And these things will sound good on kind of bike! I did have to take off 1 star for quality but only because not all the cans come out 100% exactly like one another. Don't get me wrong, performance wise these are right on the money. But the perforations on the inside baffling do not always come down the same length inside; some cans the perforations reach all the way to the very end but sometimes it stops 3-4 inches away from the end. This would be completely unnoticeable bolted up under your truck or car. but on my bike the cans are kind of staring you in the face so it is noticeable. All in all though these things are overlooked and underrated. This Resonator tip needs to be marketed more in the motorcycle world for exactly what it is; awesome affordable pipes that you can bust up, replace, bolt on, and repeat.
Install Time: Under 30 minutes
Very simple ordering, arrived quickly and correct. Thanks.
Install Time: 30-60 minutes
If you have never tried these Heartthrob resonators your missing out on a GREAT sound.These are stand alone,(no mufflers required) and are deep and throaty,not raspy like glasspaks.Try em,you'll love em.