Injen Exhaust & Mufflers
Trust Injen Exhaust, and trust that your ride will have more power! Their mufflers reduce engine-robbing backpressure to smooth out your exhaust process. Pair it with a full Injen Exhuast System, and unleash your engine's full torque and horsepower capability. Whether you race or simply prefer the feel and performance of an engine set to maximize output, these components will make sure your engine never settles.
From $407.95
Free Shipping
Quick View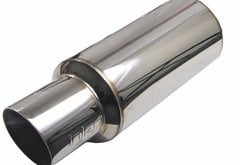 From $240.95
Free Shipping
Quick View
About Injen Exhaust
Some companies are better at certain things than others, allowing you to expect big things. Injen Exhaust is one of these companies, and whether you go for a simple muffler swap or a full exhaust system renovation, you're in good hands. They're dedicated to quality and performance, ensuring nothing but the best for your vehicle. When you feel the difference for yourself, you'll be blown away.
Injen Exhuast is easy to find when you shop AutoAccessoriesGarage.com. Better yet, the Injen Mufflers you'll find here will be custom-made to your specific vehicle and easy-to-find thanks to our handy selector widget. Go over the detailed description and see what sounds good: if a particular part is right for you, buy it and it will ship to you for free! Simple and clear, at AAG it's our job to get you back to cruising faster. We don't want you here any longer than you have to be, not with so much road to travel.