Keeping your carpets clean is extremely important if you want to maintain your vehicle's resale value, and it can get pretty tough once the weather turns. Luckily for you, there is a full line of Husky Floor Liners that provide the shielding you need to keep your carpets in tip top shape. Let's take a look at Husky's four models of floor liners and figure out which is the best one for your vehicle and your driving needs.
Husky Standard Floor Liners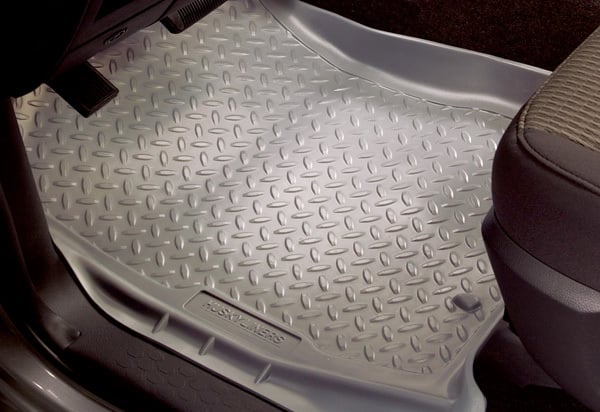 When you want reliable interior protection for the everyday hazards of your commute, Husky Liners Floor Mats do a great job. They're crafted from a rubberized vinyl that withstands frequent abuse, and they're cut to your vehicle's exact dimensions for an excellent fit. Their SPiN Sta-Put cleats keep the mats in place and prevent sliding, and the diamond-tread profile adds a little extra toughness to your interior style.
Husky WeatherBeaters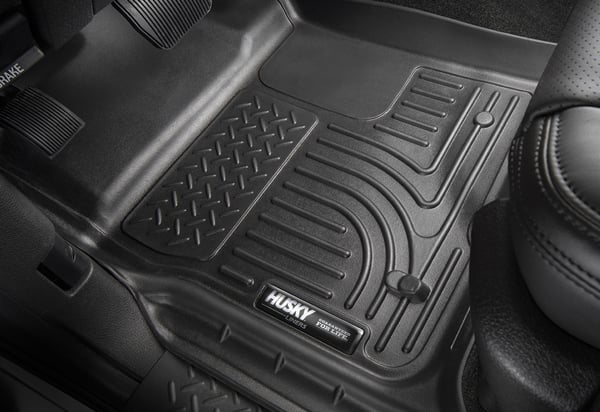 Husky WeatherBeater Liners are the way to go if you have to bring slushy, muddy shoes into your ride. Custom-molded to your vehicle's contours, these liners have raised outer edges that keep spills and liquids safely contained. Aside from that, grooves and ridges are placed at strategic locations to trap grime and slush. They offer a wider area of protection than Husky's regular liners, so they're ready for anything. Plus, the material is thick and rugged enough to last for years, no matter how intense the seasons get.
Husky Heavy Duty Floor Liners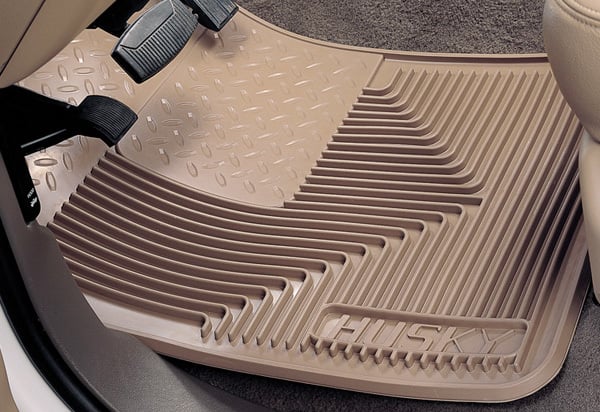 With a thick, deep-ridged design, Husky Heavy Duty Liners are made to take a beating. They're ideal for vehicles that see a lot of heavy boots and tough cargo - you don't have to worry about kicking any holes in these liners. The tall outer lip and deep ridges keep mud and liquids contained, and when they get dirty you can simply hose them off. Just note that Husky Heavy Duty Liners are not 100% custom-formed to your vehicle, so you may have to do a bit of easy trimming with household scissors.
Husky X-Act Contour Floor Liners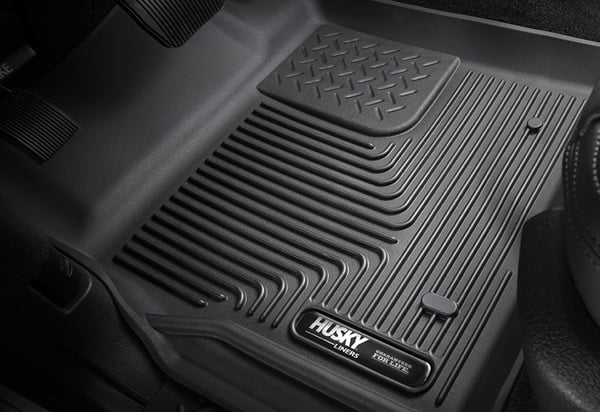 For top-notch coverage and durability, Husky X-Act Liners are what you need. These custom-molded mats fit precisely in your vehicle, and they feature tall outer walls as well as a lip that goes over the door sill. That means what used to be a delicate act of lifting the soiled mat out of your vehicle is now as easy as tipping it towards your door. The rubber-like material is sturdy and soft, while also resistant to even the harshest chemicals. And like all Husky Floor Liners, the X-Act comes backed with a Lifetime Warranty.
Husky Liners Comparison
 
Price
from $56.95
from $48.95
from $33.95
from $95.95
Shipping
Free Shipping
Free Shipping
Free Shipping
Free Shipping

Rating

Overall:
Performance:
Quality:
Appearance:

Install Time
Instant
Instant
Instant
Instant
Fit
Vehicle-Specific Fit
Vehicle-Specific Fit
Vehicle-Specific Fit
Vehicle-Specific Fit
Colors
 
Logo Available
No
No
No
No
Material
Rubberized Thermo-Plastic
Rubberized Thermoplastic
Rubberized Vinyl
Seepage Free, Rubber-Like
Retention System
Factory Retention Grommets/Cutouts
 
None
Factory Retention Grommets/Cutouts
Shape
Tall Side Walls
Tall Side Walls
Flat Edges
Tall Side Walls
Underside Texture
Spikes
Spikes
Spikes
Nibs
Warranty
Lifetime Warranty Against Breaking Or Cracking
Lifetime Warranty
Lifetime Warranty
Lifetime Warranty
 
More Details
More Details
More Details
More Details