Garage Flooring
If you spend a lot of time working in the garage, don't let a drab concrete floor bring you down. With our Garage Floor Tiles and other flooring products, you can dress your workshop up and add a high-performance look that matches that of your vehicle. With Garage Mats and Tiles you can also shield your concrete from the hazards of oil, gas, and other chemicals and protect your investment. Best of all, many Garage Flooring products give you the power to design a custom floor design that's all your own.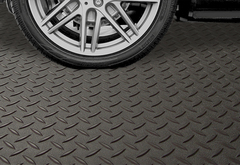 Pick up your garage's style with Park Smart Diamond Deck Roll-On Garage Flooring. This 2 mm flooring comes in a wide variety of sizes and styles to fit most-sized rooms and nearly any vehicle. You can cut your particular roll of flooring down to size or easily combine different sections for a perfect fit for your area.
From $34.96
Free Shipping
Quick View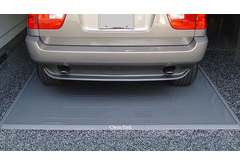 Protect your garage floor from unsightly stains and dangerous puddles with a Park Smart Clean Park Garage Floor Mat. These 20mil or 50mil thick vinyl mats collect any leaked liquid that falls beneath your vehicle when it's parked. A 1" high lip surrounds the parking area to hold and trap those liquids until your mat can be cleaned using a hose, squeegee, or bucket of soap and water.
From $47.36
Free Shipping
Quick View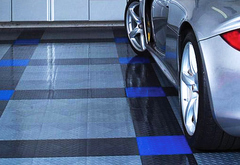 Give your garage supreme looks with RaceDeck Garage Flooring. These interlocking garage floor tiles simply snap into place, with no tools, fumes, or mess. They're available in several colors to let you design your own custom look, and you can use these tiles virtually anywhere inside and out.
From $11.50
Free Shipping
Quick View