Garage Storage & Organization
All too often a disorganized garage leads people to spend hours looking for something, buying a tool they forgot they already had, or slipping on a spray paint can and taking a tumble. Don't let your garage turn into a mess - keep it in order with Garage Storage Systems and Garage Organizers. Our Garage Organization accessories give you handy places to store bottles, cans, and hoses. When you have the right garage shelves, garage toolboxes, and garage organizers, working in your garage is a stress-free experience.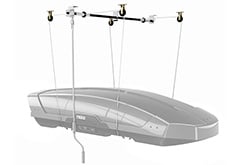 The roof of your vehicle is the perfect storage spot for kayaks, surfboards, and cargo boxes. But getting your gear up onto your roof and off again that can be difficult. With the Thule MultiLift Cargo Box Storage System, you can simply hoist your gear up to your garage ceiling and let it hang there until you need it again!
From $329.95
Free Shipping
Quick View