Gauge Faces
Gauge Faces transform your vehicle's interior style. Whereas your factory configuration is designed not to ruffle any feathers, a Custom Gauge Face Kit allows you to put your own stamp on your vehicle. Looking down at a Custom Gauge Overlay when you check your speed changes the way you feel when you drive. These are also easy to install and made of the finest Stainless Steel or ABS plastic.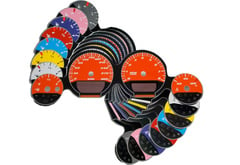 Reconfigure your vehicle's gauges to fit your preferred style with the US Speedo Color Gauge Face Kit. Multiple options and many colors are available to get the exact look and feel you're going for. These gauge overlays are designed to fit your specific year, make, and model vehicle, and they will work with your factory lighting after a simple installation.
From $69.98
Free Shipping
Quick View
Add a new layer of sleek, metallic style to your instrument panel with the US Speedo Stainless Steel Gauge Face Kit. These kits are custom-cut from high-quality Stainless Steel to perfectly match your factory gauge cluster. Choose among three face and needle color options or further customize your set with a variety of additional needle and hub combinations.
From $69.98
Free Shipping
Quick View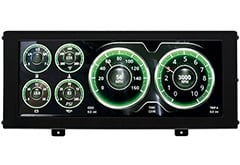 Nothing catches the eye in your interior quite like the gauges and instrumentation on your dash board. But if you're still rocking that factory look inside your ride, you should know that it's easy to upgrade your style at any time with the AutoMeter Invision LCD Dash Kit. This easy-to-read LCD screen system will put your speedometer, tachometer, fuel level, oil pressure, water temperature, and volts all in one place!
From $1,079.99
Free Shipping
Quick View
About Gauge Faces
For as great as your car makes you feel, there's still another element or two that could be improved upon. Get some more slick style in your dash panel with Gauge Faces! These handsome overlays add another element of flash to your interior, and better still they work with your vehicle lighting to ensure that your gauges are easily readable in any light. If you drive a Ford and need Ford Mustang Gauge Faces, look no further. Everything is easy to install and brings another accent to your already sleek and styled ride!
At AutoAccessoriesGarage.com, we pride ourselves on making your life simpler. Which makes sense, since shopping for Gauge Faces has never been so easy! Enter your vehicle into our selector widget, and we'll show you the various Gauge Faces and Face Kits available for it. Everything is presented with color photography and a detailed description, and everything ships to you for free. We know that shopping can be a pain, but when you go with AAG you'll find the opposite is true.
More Popular Gauge Faces Vehicles: