Gauge Mounts & Accessories
Your gauges are made for one reason - to be seen! With our gauge mounts you can place your gauges right in your sight, wherever you need them. stylish mounting cups and panels are available in a variety of finishes to up your interior style. For proper interfacing of your gauges, you need the senders to match. Our AutoMeter senders are a direct replacement for almost every variety of AutoMeter gauge.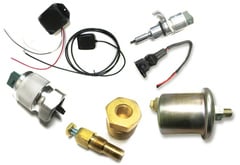 Put the finishing touches on your Intellitronix gauges with an Intellitronix Sending Unit. For the specific Intellitronix gauges that need an additional sending unit, this is the part you're after. Easy to install to any application, these sending units tie everything together for total access to your vehicle's information.
From $54.99
Free Shipping
Quick View
About Gauge Mounts & Accessories
Keep those new gauges where you see them with gauge mounts and accessories. You don't want to have to work to hard to keep track of your various engine parameters, and with these helpful pieces of equipment you won't. Your gauges will be in a perfect, easy sightline, allowing you to wring the best performance possible from your ride.
You'll find shopping for your gauge mounts and accessories is simple at AutoAccessoriesGarage.com. That's because we've designed it that way. We don't want to make you have to work for the information you need to make an informed decision. Therefore, you'll find clear descriptions and color photography that lays out exactly what you can expect from every product. Decide to purchase something, and it ships to you for free. Easy as that: AAG is here to help.
More Popular Gauges Vehicles: