The summer sun can be brutal, especially in the interior of your car, truck, or SUV. If you've ever returned to your car after a long day of shopping or after work on a sunny summer day - you know it can get as hot as an oven in there, literally! Not only is this uncomfortable and potentially hazardous, but it will also speed up the wear and tear of your interior. Cracked dashboards, warped upholstery and leather, and sun bleached seats are just a few of the issues that years of UV-rays will bring to your car.
Luckily there's a pretty simple solution, a sun shade. Simple as it is, a sun shade will keep your interior cool and comfortable, and it will protect your dash and interior from irreversible sun damage. But how can you be sure you've found a quality sun shade with so many on the market? At Auto Accessories Garage we know a thing or two about sun shades and we thought we could help point a few confused consumers in the right direction. Based on years of sales data, customer reviews, and industry experience we've narrowed down the top sun shades. Presenting the Top 10 Best Car Sun Shades of 2022:
The Best Car Sun Shade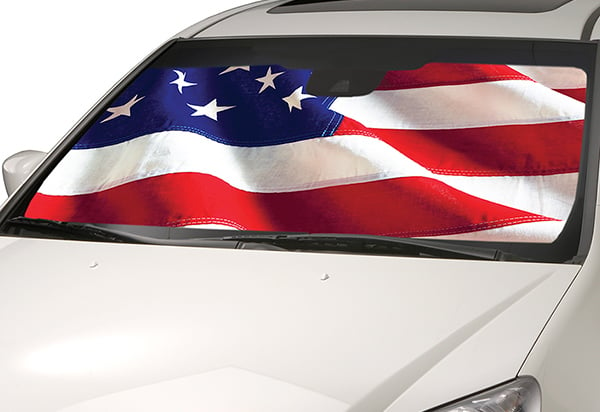 When you want to block the sun and rep your patriotism at the same time, the Intro-Tech American Flag Sun Shade is the way to go. This custom-made shade will lower your interior temperatures by as much as 40 degrees in the dead of summer and it comes backed by a Lifetime Warranty.
Very well made, easy to install, I would recommend this product to anyone custom fit to SUV and easy to remove and has a velcro strap for easy storage.

Read More Intro-Tech American Flag Sun Shade Reviews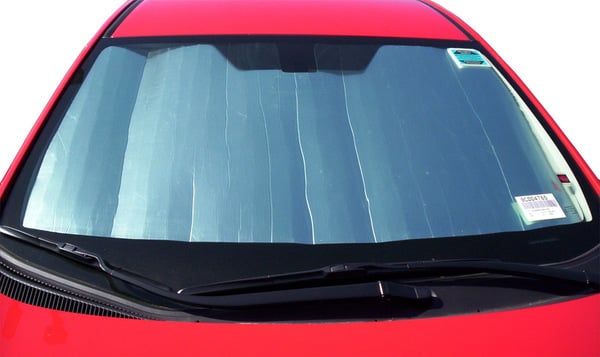 One of the great features of the Dash Designs Silver Shield Sun Shade is its 3-ply construction and its precise fit that gives your vehicle total and complete coverage. Installing in just seconds, a handy sewn-in Velcro strap will make this shield as easy as can be to roll up and store when not in use.
The sun shield appears to be very effective as a reflector. The Florida sun causes it to get very hot and I frequently use the white side instead of the reflector side.

Read More Dash Designs Silver Shield Sun Shade Reviews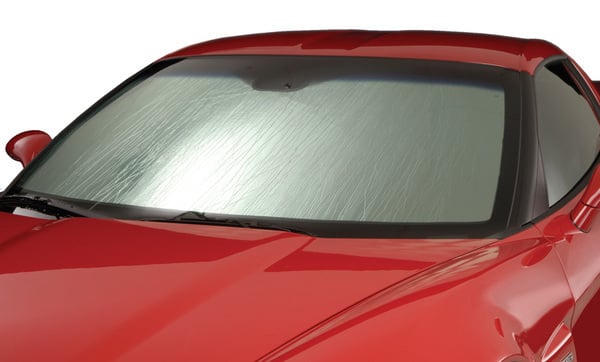 Custom-tailored to fit every inch of your windshield, the Intro-Tech Windshield Sun Shade also features a velour binding that holds together the multi-layer core and prevents the shield from scratching or scraping your roof or dash. This shield quickly and easily rolls up for storage and is backed with a Lifetime Warranty.
I love this sun shade it fits perfectly and keeps my car much cooler.

Read More Intro-Tech Windshield Sun Shade Reviews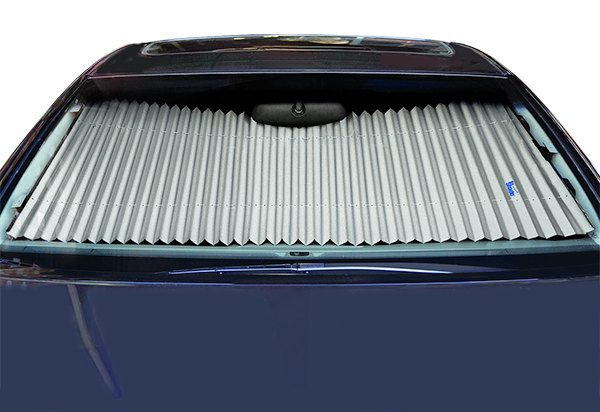 With the classic "accordion" look that so many drivers know and love, the Dash Designs Original Sun Shade looks great and performs even better. What sets it apart from so many others, is that you don't have to store it anywhere. This shade just retracts into a slim casing on the side of your windshield.
Unbelievable! I had a shade for my previous car and loved the ease of installment and use after installation. I have recommended these to my family and friends. Great, fabulous design!

Read More Dash Designs Original Sun Shade Reviews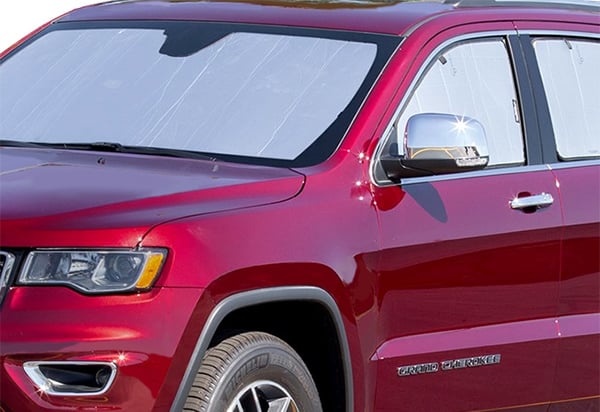 Best known for their floor liners, WeatherTech also makes a wide variety of other auto accessories, including a durable sun shade. The WeatherTech TechShade Sun Shade gives you the brand name you trust in a slim and reflective sun shade that is made in the USA and backed by a Limited Lifetime Warranty.
Very pleased. Good fit, a little tight getting around mirror but that's expected since it fits so well. Glad I purchased.

Read More WeatherTech TechShade Sun Shade Reviews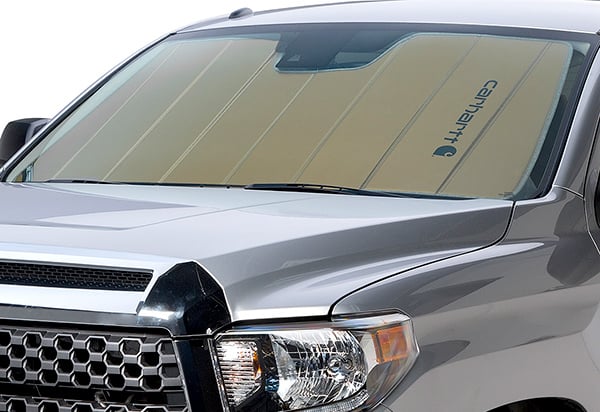 If you know the Carhartt name, you know it means toughness. It's just as simple as that. So when Carhartt announced they were going to be manufacturing a sun shied, there were plenty of believers ready to throw their old sun shade in the trash. What you'll see here is a custom fitting sun shield that can really take on the brutal rays of the sun. Plus, it brings a nice, rugged, workman look to your vehicle.
Much Better quality than the competition. Spend a few dollars - it's worth it. Fits great and looks great.

Read More Carhartt Sun Shade Reviews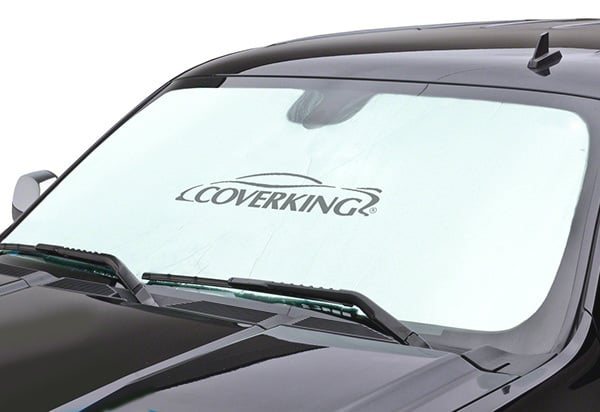 With a Mylar layer designed ot repel 100% of UV rays, the Coverking Sun Shield will bring an unbelievable temperature difference to your vehicle. This windshield cover easily rolls up for stowing, and simple rolls back into place over your windshield when you need it again. An interior foam core insulates your windshield and prevents harsh exterior temperatures form permeating inside of your vehicle.
First Sun Shield I have ever bought that fits perfectly, keeps its shape and is affordable. So pleased that I bought one for my Ford Escape. The reviews were all true-thank you!

Read More Coverking Sun Shield Reviews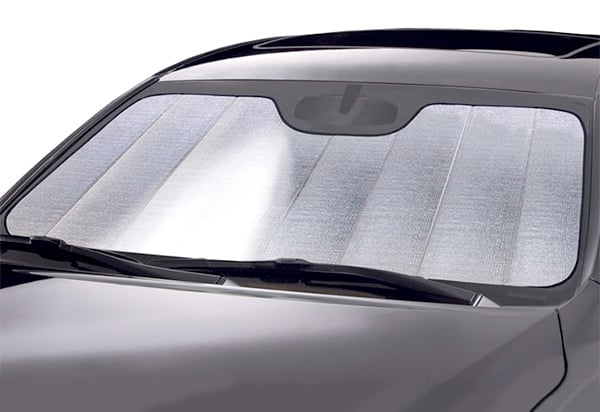 Custom designed for your make and model's exact specifications, the Intro-Tech Sunshade offers protection for every season. A UV and heat reflective side bounces hot summer rays back where they came from, keeping your interior nice and cool and for the colder months a black reverse side attracts any sunlight there is to keep your interior nice and cozy for when you return. The six-layer design is durable and well insulated meaning this windshield cover can keep you comfortable all year for years to come.
The shade came in a kook carrying case. I took it out and was extremely impressed with the quality feel. The inside of it is really nice touch and the shield side looked great. It fits absolutely perfect and won't mind it being in my 08 BULLITT! Thank you folks for actually making this to fit as ya'll promised.

Read More Intro-Tech Ultimate Reflector Sun Shade Reviews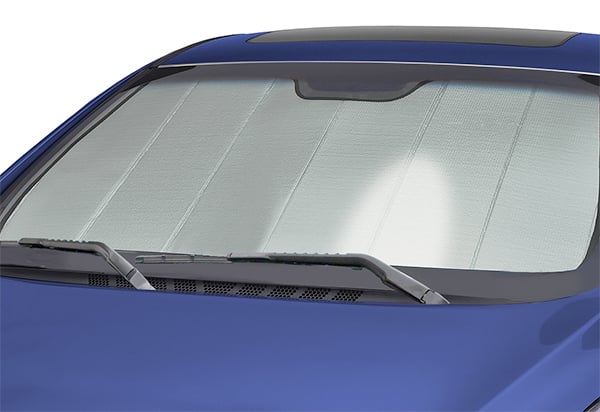 Thanks to two, seven-layer re-enforced panels, all of the damaging UV-rays the sun has to offer will be bounced back and out of your interior when you have the Northern Frontier Premium Windshield Sun Shade. A smooth and gentle velour binding will prevent any scratching to your dash and interior, and the Northern Frontier Sun Shade has been tested to lower the temperature of your interior by as much as 40 degrees.
I am in love with this sun shade and it fits my SUV like a glove. I was also impressed to find it comes with a handy dandy storage sleeve to store when not in use.

Read More Northern Frontier Premium Windshield Sun Shade Reviews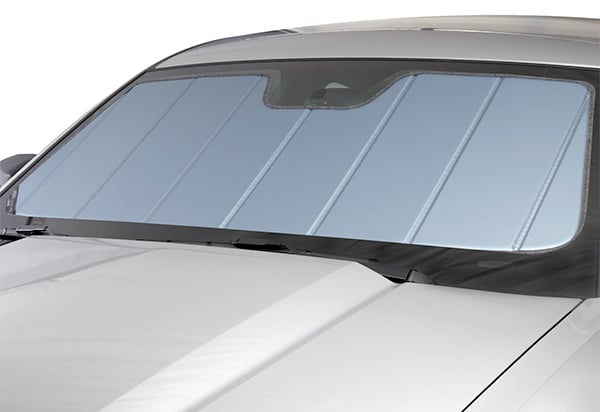 The Covercraft Sun Shade is everything a sun shade should be. A triple layer design both reflects sun, and insulates your interior from excess heat. In fact, studies show this windshield cover can reduce your interior temperature by as much as forty degrees. As you can imagine, the difference is like night and day. This sun shade also comes in your choice of five different colors so you can find one that suits your style. And like the best of them, this folding cover is custom cut to fit your vehicle exactly, right out of the box.
Great product and definitely perfect window shade. Covercraft items are durable and long lasting. I own many of this brand's items and have never had an issue.

Read More Covercraft Sun Shade Reviews
What's the Best Fit for Your Vehicle? Enter Your Info Below to Find Out!