Rampage LED Tailgate Light Bar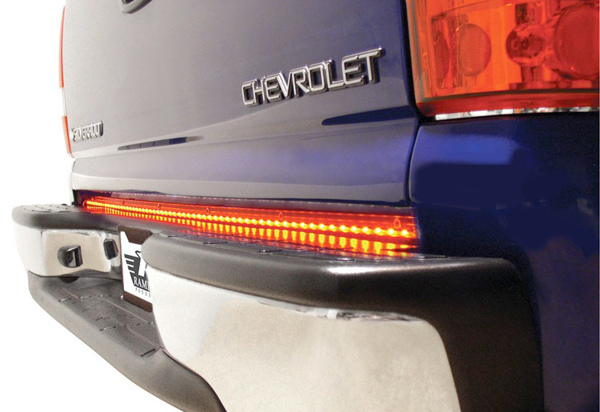 Our Price:

$69.49

- 123.49

Shipping:

FREE SHIPPING
Add attention-getting style to your truck or SUV's back end
High-intensity LEDs have a super-fast response time and bright output
Choose Running Light/Brake Light/Turn Signals or Running Light/Brake Light/Turn Signals/Reverse
Waterproof, fully-sealed electrical system - No shorting out!
Simple plug-in wiring
Flat four hitch connector included to easily plug in to existing trailer hitch wiring
Installs quickly with foam tape - no drilling
Universal fit - available in 49 in. and 60 in. lengths
Make your truck or SUV stand out in the crowd with a Rampage LED Tailgate Light Bar. Its bright, attention-grabbing LEDs work with your running lights, brake lights, turn signals, and even reverse lights to grab the attention of drivers behind you. The Light Bar adds a custom look to your tailgate without breaking the bank - or wasting your weekend fumbling with tools.
The Rampage LED Tailgate Light Bar is a breeze to install. It mounts just between your tailgate and bumper with included adhesive foam tape. Don't worry about cutting and splicing wires - the Light Bar plugs right in to your factory lights with the included plugs. It even includes a flat four hitch connector if you want to use it on a trailer. Best of all, this LED light bar is 100% waterproof, with a new and improved sealing system that prevents moisture from collecting near sensitive electrical equipment. Electrical shorts are a thing of the past, thanks to a rigid, injection-molded cap that completely incapsulates your light bar's circuit board. Your LEDs will be brighter, longer, with no mishaps.
LEDs don't just look great on your truck - they actually make it safer, too. LEDs have a response time that's 200 times faster than traditional incandescent bulbs, meaning drivers behind you get much more time to see your braking intentions. The Rampage Tailgate Light Bar is available with red LEDs to indicate braking, as well as running lights and turn signal functions. It is also available with an extra set of white LEDs to work with your reverse lights.
Give your truck or SUV's style a boost with the Rampage LED Tailgate Light Bar!
Rampage LED Tailgate Light Bar

Customer Reviews
Overall:
Performance:
Quality:
Appearance:
Average Install Time: Under 30 minutes
Showing 10 of 46 reviews. See All Reviews.
Looks good. Wired direct to lights so took extra time.
Excellent product. Timely delivery!
Install Time: 30-60 minutes
Light bar is awesome, but for 2021 Ram Dodge 1500 the wiring harness is 2 feet short since Dodge moved the connection to the right side of bumper. Had to splice in 2 feet of wire, solder connections, and shrink wrap to secure all connections!
3rd truck 3rd light bar none have failed and all look great. I will continue purchasing these bars. I wish they made other lights.
Install Time: 30-60 minutes
I saw a truck with one of these on it and I had to get one. It was very easy to install and works awesome. Very visible. I recommend it if you want to juice up your truck.
Install Time: Under 30 minutes
This product has a lot of LED missing and so there are big gaps between each LED and so that makes it a bad looking light. The installation was a real pain because the cable wasn't long enough to just plug-n-play type of install.
Install Time: 30-60 minutes
Looks and performs great.
Install Time: Under 30 minutes
Light strip works great, once tailgate is removed, installation is a snap, good product!
Install Time: 30-60 minutes
Looks and works great!
Install Time: Under 30 minutes
I was a little surprise that the light bar was so compact. My truck is a 2010 and the installation was a little different than what the YouTube video showed. On my truck there was a lip that curled up so I just placed the light bar on that and after removing the tape I just pressed the light bar so it would stick to the truck. In my opinion, the lights don't seem to be as bright as what the You tube reveals. I had no trouble installing the wire for the reverse light as I have been there with another item I installed on my truck that required a connection to the reverse situation. I am not sure about the vehicle that are behind me at night if they are able to see the lights or not because the lights are recessed back under the tailgate. I put down the time between 1-2 hours as I was taking my time plus reviewing You tube videos. The presenters of the videos like to hard wire all the wires, but I chose not to at this time. The reverse lights on the bar alternate white and red lights. I am using the product at this time, but I will be looking for other brands to see what they have to offer. I will give the rating the middle of the road and I will keep my truck between the mustard and mayonnaise when I'm driving and y'all do the same.
Showing 10 of 46 reviews. See All Reviews.