A set of mud flaps or stone guards is essential for not only protecting your vehicle's paint job, but also enhancing your looks. Our rugged mud flaps let you tear it up in all kinds of mud and rocky terrain, without sending debris flying. And with a wide range of styles and designs available, you can get the perfect looks, performance, and attitude you want for your vehicle. Adding some extras to your truck is even more rewarding when you do it yourself, so let's take a look at some typical mud flap installation instructions.
Choosing The Best Mud Flaps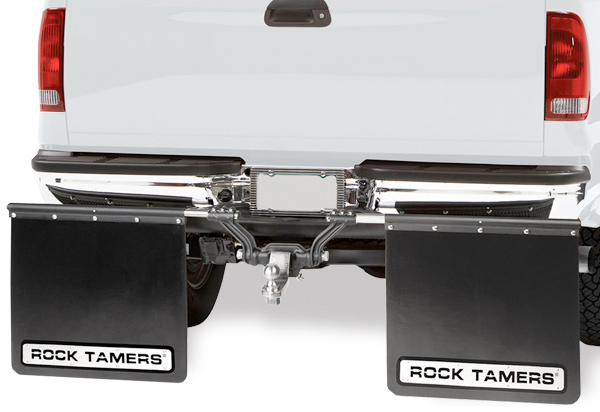 Whether you're looking to install some Silverado Mud Flaps or a set of Ford F-150 Mud Guards, we've got the right set for you. Which ones you choose come down to your visual tastes and where you do most of your driving. If you want sleek style with a bit of extra protection, check out Husky Molded Mud Guards, Putco Stainless Mud Flaps or easy-to-install WeatherTech No-Drill Mud Flaps. But if you're doing heavy-duty off-roading or construction site driving, you'll need the burly construction and long-lasting looks of Rock Tamers Mud Guards or Blue Ox Sport Guards. Many of our Truck Mud Guards are fully custom-designed to your exact vehicle, ensuring a perfect fit and easier installation.
Installing Your Mud Flaps
Once you've selected the best Truck Mud Flaps for you, it's time to install them to your vehicle. The installation process for most of our Mud Flaps is generally the same, but be sure to read the included instructions just in case there are some particular details that pertain to your exact guards. But in general, your installation process will be as follows:
Test the fit of your new flaps. Hold them up to your wheel wells to ensure that they fit the curves of your vehicle and allow enough clearance for your wheels.
Thoroughly clean the mounting surfaces on your wheel wells to get rid of any mud, tar, or other muck that has built up over time.
Some vehicles are already equipped with factory-drilled mounting holes for mud flaps. If your vehicle has them, attach the guards to the holes without fully tightening the mounting screws.
If your vehicle is not pre-drilled for mud flaps, drill the holes as needed, using the flaps as a template.
Make sure your new Mud Guards are level and parallel, and fully tighten the screws.
Check out this installation video featuring Weathertech DigitalFit Mud Flaps for a more detailed look:
That's all it takes! You don't need to deal with the super-high markups of dealership flaps, nor do you have to pay the local body shop to do the installation for you. In under an hour you'll be hitting the road in tough style and with rugged mud protection. If you have any more questions about our Mud Flaps, give our customer service team a ring at 800-663-1570. Also, don't forget to read our customer-written Mud Flaps Reviews to see what your fellow mud-flingers have to say.