Mud, tar, dust, salt, rocks, motor oil and more – all of these things are all over the roads you drive on (and if you're not careful they'll end up on the tail end of your truck or SUV). Not only is it a mess to have mud on your tailgate, more corrosive materials like rock salt will actually start to strip away your paint and heavier objects like rocks and pebbles could make permanent dents or crack glass. But when you install a set of mud flaps on your hitch or wheel wells, you can spin your tires all you want and stop the sediment dead in its tracks.
There are a ton of mud guards on the market – front mud guards, rear mud guards, some metal, some rubber, some mount to a receiver hitch, some mount to you wheel wells, and this is just to name a few. With so many mud stoppers out there, it can be difficult to find the perfect set for your make and model. That's why at Auto Accessories Garage we've decided to make things easy. We took a look at our customer ratings, reviews, and sales data in order to create our take on the Top 10 Best Mud Flaps of 2023.
The Best Mud Flaps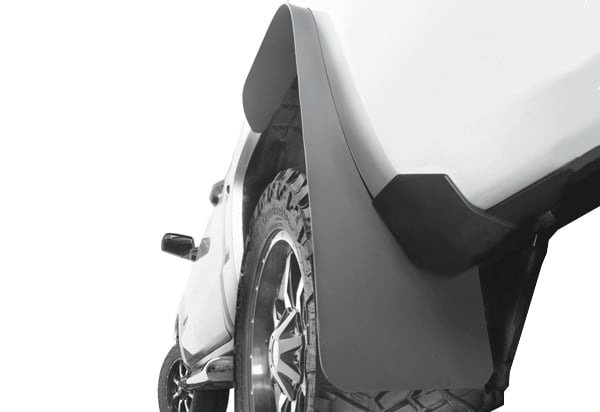 Long and strong, the Husky Liners Long John Mud Flaps cover a large area for ultimate protection. These flaps are built from durable Thermoplastic Olefin and are available in your choice of three sizes. An installation kit is included to make it easy to install these mud flaps. Husky Liners Long John Mud Flaps are made in the USA and backed by a Lifetime Warranty.
The mud flaps are as expected. Easy to work with and easily customizable. I used them on my UTV and had to customize them so that the box could still dump, and it worked perfect. No more mud and water kicking up from tires.

Read More Husky Liners Long John Mud Flaps Reviews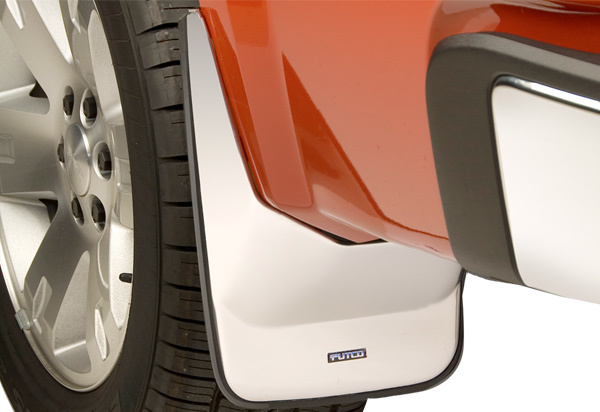 Putco proudly proclaims that their Stainless Steel Mud Flaps are unlike anything else in the industry – and it's true! Available for your front or rear wheel wells, these patented mud skins are forged from steel to fit your make and model, and polished to a mirror shine. Plus with the included hardware they are very easy to install.
Metal clips and plastic grommets work great and I love the look and functionality of these mud flaps. Thanks AAG!

Read More Putco Stainless Steel Mud Flaps Reviews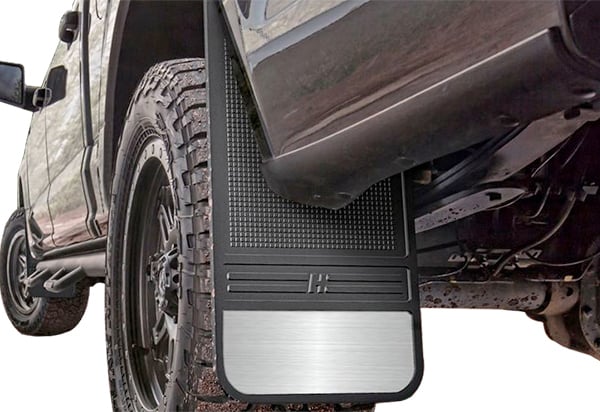 Made in the USA and backed by a Lifetime Warranty, it's just hard to beat the MudDog Mud Flaps from Husky Liners. A foot wide with stylish Steel accents, these are some flaps that flap back! The impact resistant rubber stops dirt, grime, debris, and more – protecting your vehicle, your paint, and the people behind you.
This was easy to purchase. Easy to install in the factory holes. No drilling required. AND, it fit amazingly. The entire process from the ease of the website to the finished install was so simple!

Read More Husky Liners MudDog Mud Flaps Reviews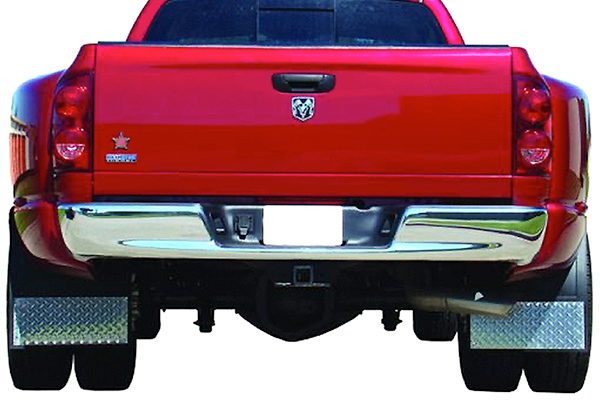 Sold in pairs for the rear of your vehicle, Go Industries Diamond Tread Mud Flaps bring an unmistakably industrial look to your rig. These heavy-duty rubber-backed flaps can handle top speeds and heavy use without flapping in the wind. All of the installation brackets are delivered alongside the flaps so after some minor drilling on your vehicle, these flaps will stay securely in place.
Good sized for my vehicle, well made and heavy material. The install took a little longer than most due to having to remove the dual wheels on my truck, but other than that good product overall.

Read More Go Industries Diamond Tread Mud Flaps Reviews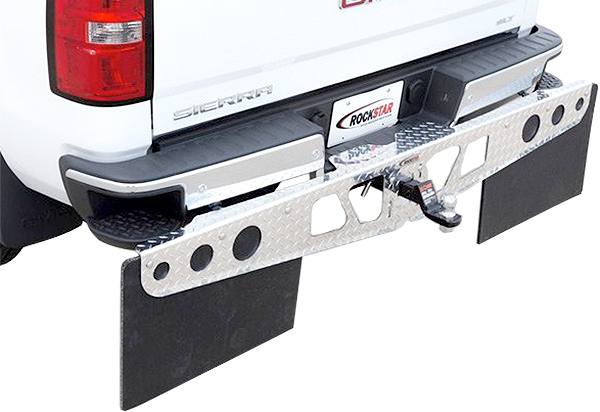 If you want to party like a rock star, a good start is a set of ROCKSTAR Hitch Mount Mud Flaps. Securing themselves to the hitch in the rear of your truck, these extra wide mud mats are also a half inch thick and will stop everything in their path and comes in your choice of two corrosion resistant materials.
Easy to install and in fact easy to remove for when I get a new truck. I lease a new truck every year, but that doesn't stop me from wanting to add some of my own flair along the way. This is perfect for taking with me.

Read More ROCKSTAR Hitch Mount Mud Flaps Reviews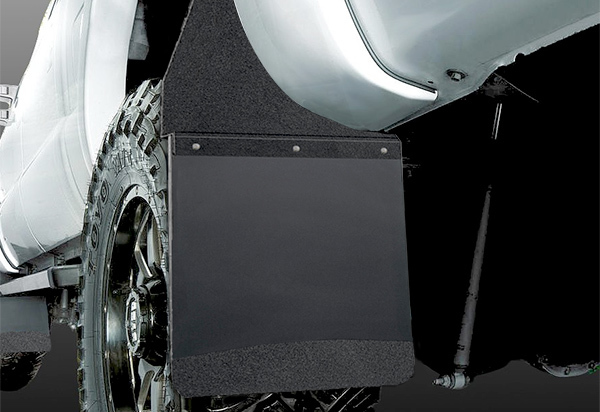 Injection molded for an absolutely perfect fit, the Element Bug Deflector from Putco comes in your choice of an ABS Chrome, or a Polycarbonate Tinted Smoke. All of the necessary installation hardware ships right along with it for a quick and easy installation. In short, this shield looks great and protects your ride from dents, scratches, and cracked glass.
I really like the appearance that this adds to my truck. It was very easy to install and it fits perfectly.

Read More Husky Liners KickBack Mud Flaps Reviews
Forged from a form-fitting thermos-plastic, the raised edges and ribbed top texture of Northern Frontier ToughLiner Floor Liners is enough to handle the filthiest of work boots. These durable mats are designed specifically truck and SUV drivers in mind. The results are a tremendously tough liner that's made in the USA and backed by a Limited Lifetime Warranty.
These are probably the best mats I've ever had and the first ones I haven't had to replace. I spend every day on a different site and never know what mud or muck I'll end up in. These mats can handle gas and oil and a can easily wash them off in my front yard.

Read More Dee Zee Universal Mud Flaps Reviews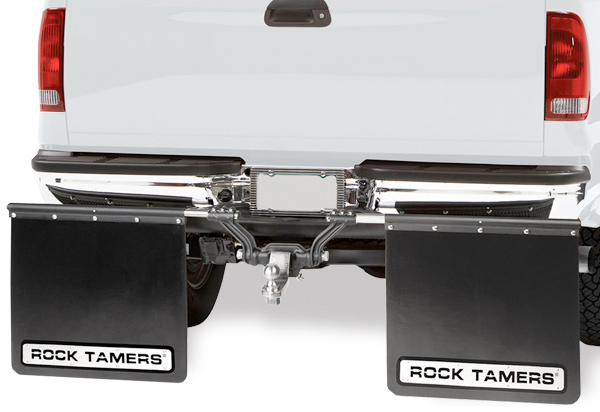 Three eights of an inch thick and made from Aluminum, Rubber, and Steel, the Rock Tamers Mud Flaps really live up to their name. Two widths available, these mud guards install easily on any 2.5" ball mount and come backed by a 1-Year Warranty. Plus, with the name printed right there on the weights of each flap, these guards look sharp too.
Look like they would work great. Only used a couple of times and maybe I need to do some adjusting, but I am still getting some rock craters in my tailgate from deflections off of my dump trailer. Otherwise, relatively easy to install but takes some time due to all of the small parts. If I can get the adjustments made before I run out of touch-up paint, should be a nice and useful product.

Read More Rock Tamers Mud Flaps Reviews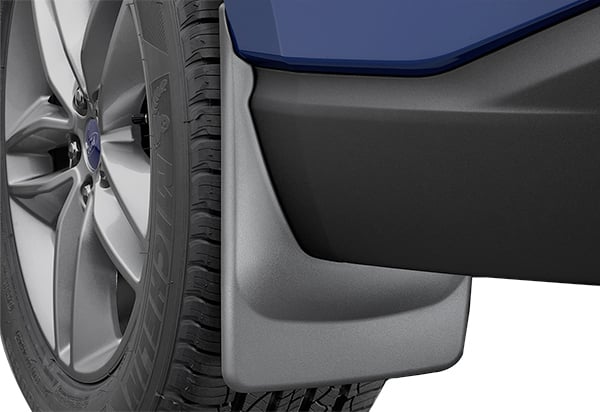 Made from tough Thermoplastic Resin, the DigitalFit No Drill Mud Flaps from WeatherTech are every bit as trusted as their floor mat counterparts. The no drill installation is great too, most customers have these on in just a matter of minutes with no drilling and no tire removal required. Even with a no-drill, no-frill installation these mud guards will stay strong against it all.
The product looks great was easy to in stall in 30 or 40 minutes. Made of sturdy material and conforms to the shape of the truck perfectly, looks like factory installed.

Read More WeatherTech DigitalFit No Drill Mud Flaps Reviews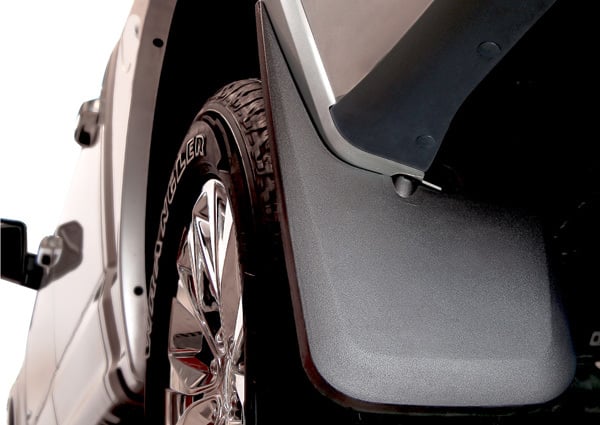 The heavy-duty rubber used to construct Husky Liners Mud Guards will stop any muck or mayhem dead in its tracks. Some minor drilling is required for the installation, but these flaps are usually on in under an hour. Husky calls these mats scratch-free and backs up that claim with a Lifetime Warranty.
They fit great well molded to the body contour. The metal fastener could be better as it won't fit over the edge to pass the bolt through.

Read More Husky Liners Mud Guards Reviews
What's the Best Fit for Your Vehicle? Enter Your Info Below to Find Out!