Aries Seat Covers
If you are interested in maintaining the value of your car for resale purposes, then the importance of long lasting interior protection can't be overstated. Our Aries seat covers are 100% water proof and made from a terelene material that protects your upholstery from scratches, spills and even mud. If you are looking for a better place to buy Aries seat covers on the web, you won't find it - AAG has the best prices around. Not to mention our always free shipping!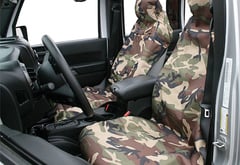 From $76.99
Free Shipping
Quick View
From $72.99
Free Shipping
Quick View
About Aries Seat Covers
When you shop with AutoAccessoriesGarage.com for your Aries seat cover needs, you are guaranteed free shipping right to your door. That's right - free shipping. No minimum purchase needed. If you have any questions about our selection of Aries seat covers, our customer service reps are happy to take any questions you might have about the super durable telerene material they are made out of or the conditions on the 1-year Warranty. Our product experts are available 7 days a week.
Aries Seat Covers Reviews
Brian
from Sutherlin, OR wrote:
Great for heated seats. You can install & take off instantly when you want to turn on your heated seats. They move around very little, but no more than regular ones. Should stop the wear & tear on my seats. A++ Read more Aries Seat Defender Canvas Seat Cover customer reviews.
George N
from Groton, NY wrote:
I really enjoy the reassurance from these seat covers will protect my seats from many unpredictable stains. I love these seat covers! They are easy to install and are well made. I would definitely buy these seat covers again.
Trout Hound
from Castle Rock, CO says:
I bought this seat cover based on advice from AutoAccessoriesGarage.com and I'm glad I did. I won't normally need a seat cover, except when I go fishing and drive from one location to another in my waders. So one criteria was to be able to install the seat cover in the morning and remove it at the end of the day. The Aries covers certainly make that easy. Another criteria was that the seat cover should not slide out of position when one gets in the car or out of it. Due to the undercoating, this is not a problem at all. These seat covers are supposed to be water proof, which is important to me. I also expect that it won't stain or stick to the light colored seats on hot Summer days--this remains to be seen.
Ryan M
from Apex, NC said:
I bought two bucket seat protectors and the bench seat protector for my Yukon. I bought them because I fish, woodwork, boat and have 3 kids. They work awesome! They are easy and waterproof. The only issue I had with the bench seat cover is that it does not allow the shoulder strap for the middle seat to be used. I took the cover to a tailor shop and had them cut it and put in a Velcro flap. Great product!
John S
from Wexford, PA says:
Outstanding product. Best cover ever invented. Great fit, stays put, super easy installation and removal; 15 seconds or less.
Keith G
from Tulsa, OK says:
This seat cover is the best utilitarian seat cover I've ever used. It's easy to install, rugged, and non-slip. I have two of them now.