Coverking Tactical Cover Pouches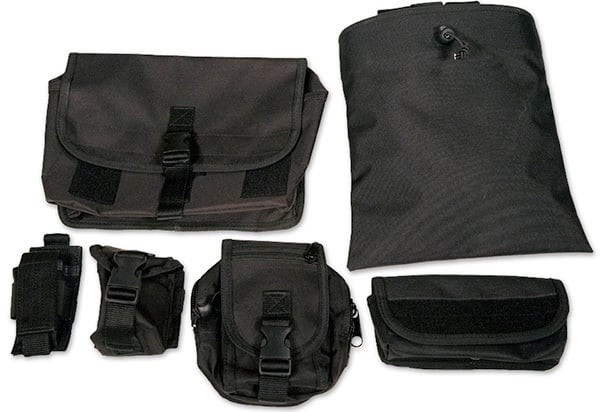 Our Price:

$59.99

Shipping:

FREE SHIPPING
Pick-up additional storage space or replace a worn-out MOLLE set-up with Coverking Tactical Cover Pouches
Collection of six (6) pouches and one (1) storage bag
Great-sized pouches for all manner of accessories, including flashlights, camping gear, shotgun shells, and hunting accessories
Made of same material as those that came with your original Coverking Tactical Seat Covers
Available in Black, Charcoal, and Cashmere
1-Year Warranty
You love your Coverking Tactical Seat Covers, but you need new pouches. Whether that's because your original set wore out with heavy use or you could simply use more space to bring along more stuff, Coverking Tactical Cover Pouches are the answer.
Simply put, this is another set of the six pouches which came standard with your original covers. All the specs are the same, as is the integrated MOLLE design. You'll receive a new version of all the Coverking Tactical Cover Pouches you purchased, made of the same material, available in the same color. You'll also receive a handy storage bag for when you don't need to use every pouch.
Your lifestyle and habits demand more supplies at-the-ready. Be prepared with a new set of Coverking Tactical Cover Pouches. Backed by a 1-Year Warranty.
Coverking Tactical Cover Pouches

Customer Reviews
Overall:
Performance:
Quality:
Appearance:
Average Install Time: Under 30 minutes
I have not installed it yet, but it looks nice. I have them on my other vehicle in black and they look great!
Awesome molle packs that were larger than I expected which is great. My 64 oz yeti fits in the bag shaped one which keeps it from rolling around in the truck. :)
Install Time: Under 30 minutes
A well made set of pouches that fit onto my tactical seat covers. Easy to install. I ordered an additional set to have for my passenger seat but looking back I would have been better off to just get one of this particular set. For my needs some of the pouches are not highly useful. I am mostly storing dog gear and outdoor products in them.
Install Time: Under 30 minutes
Great product, but could be better. My only complaint is that the molle webbing only goes half way up the seat back. It would have a perfect rating if it did went all the way up.
Install Time: Under 30 minutes
Very well made,sturdy material great buckles would recommend to anyone looking for a heavy duty seat cover and pouch set
Install Time: Under 30 minutes
Seem to be made well. The two larger pouches don't seem to bebe very well thought out: the one has a shock cord drawstring that is too short, so we just removed it. The other is made to be installed to the opening "flap" is on the side and when it is opened everything falls out. It should have been made with the flap on top. I have two sets of these now....wish the larger ones were more useful. The build quality seems good, they just needed to be better thought out.
Install Time: Under 30 minutes
I like the pockets, except the big square one that mounts sideways. I don't like that, I wish it mounted up right, cause you have to be careful what you put in there, so it won't spill.
Install Time: 30-60 minutes
These are especially great if you have kids in the car. Easy access lets the kids store their Ipods, headphones, etc... My only negative comment is that the large pouch has to be mounted sideways. Don't like that! Maybe you can change that and offer two options.
Install Time: Under 30 minutes
Very good gear good storage and well made.
Install Time: 30-60 minutes