We get it, you want to keep your car nice. But the simple act of daily driving will eventually bring wear and tear to your interior - especially to your factory seats. A form fitting set of seat covers will not only protect your investment from thrills and spills, but can also improve your style, and impress your passengers. Cover King Seat Covers are one example of a brand of custom seat covers that provides protection while adding a sleek look to the interior of your car, truck, or SUV.
Once you start to shop for a set of custom seat covers, you might soon feel overwhelmed. There are a ton of options on the market. That's why we here at AutoAccessoriesGarage decided to make things a little easier with our list of the Top Ten Best Car Seat Covers of 2019. Taking a look at our top selling covers, we cross-checked them against a list of our best rated covers. After confirming with our on-site customer reviews, we're confident that our list will lead you to the perfect automotive seat covers.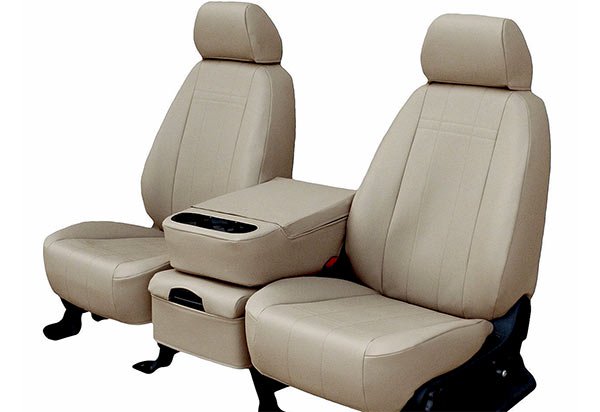 When CalTrend suggests they "Can't Believe It's Not Leather", they mean it. These form-fitting seat covers not only look the part, but they feel like the real thing too. With reinforced seams and UV-protection, these faux leather seat covers will look and feel great for years and years to come - and in your choice of a variety of colors.
The closest thing to a factory looking product I have ever seen. Looks like leather without the maintenance and wear of leather. Sandstone matches the 2015 tan rogue interior perfect. American high quality at a great price.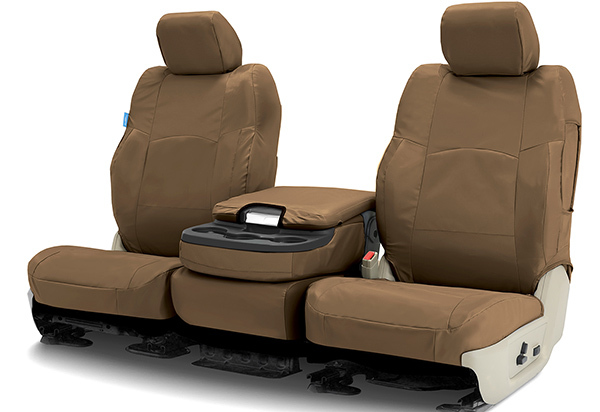 When the bottom line is toughness and ruggedness, Ballistic Seat Covers by Coverking are always up to the task. These UV-treated, anti-mildew, carbon-fiber-like covers are ideal for hauling messy kids, mangy mutts, tools, and camping gear. A waterproof inner liner will keep the factory seats completely unharmed in the event of a spill.
This is the 3rd set of these seat covers I have ordered for my vehicles and they all look great and fit real nice. You can get out of the car and they won't slide out with you like the cheap seat covers do. Each kit comes with a install tool which makes shoving the material into those small places easier. I would recommend to anyone who is looking for nice seat covers to come order these.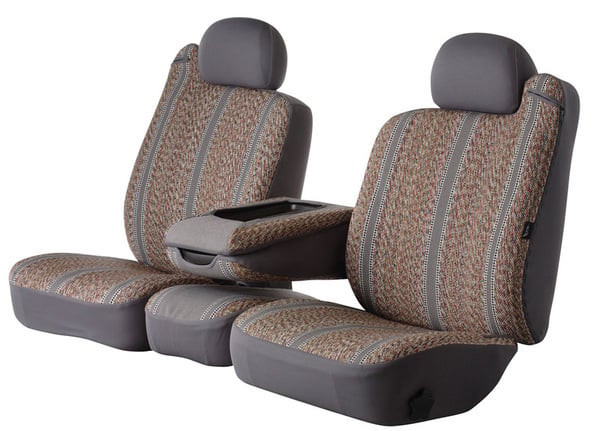 For a more country western feel, with uncompromisingly strong protection, Wrangler Saddle Blanket Seat Covers from Fia are the perfect combination. Available in five different colors, these seat liners are sure to bring a distinct and unforgettable appearance to your interior. These textile woven covers can be washed by hand and drip-dried.
Great custom fit and easy to install; took about 30 minutes to include the center console. Fabric seems durable and although saddle blanket material is somewhat stiff at first, it softened up within a week.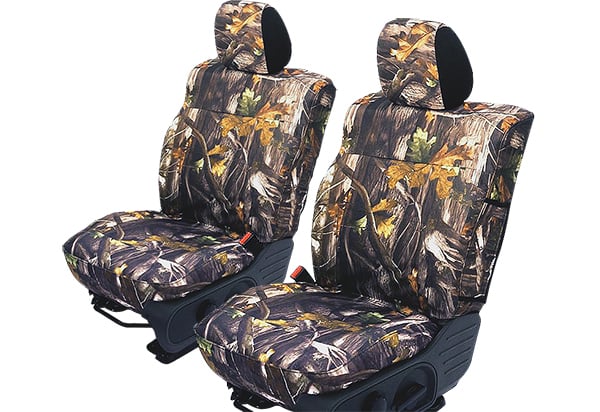 The superior breathability of non-woven polyester makes it the perfect material for custom seat covers. And the eye-catching design of hunter's camouflage makes Saddleman's Camo series the ideal cover for outdoorsmen. Custom cut for a snug fit, these covers are machine washable, and made right here in the USA.
These seat covers are fantastic. Easy to install, print is really nice, and they are comfortable. I haven't fully installed the passenger one yet, as we are having a heat wave right now.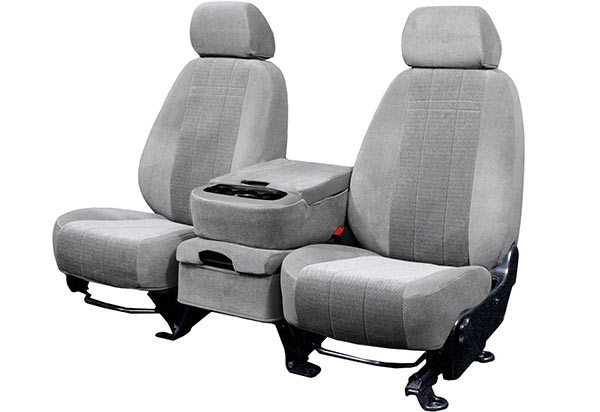 Adding class and refined style to your interior is easy with Velour seat covers from CalTrend. Made from a high-quality Velour, these covers are reinforced at the seams, and UV-treated to completely ward off sun damage. The ultra-comfortable oxford velour material is padded with foam lining for an even cozier seat.
I was pleasantly surprised with how well they fit and the detail that was built into the covers. There was even a pouch in the back of the front bucket seats for the people in the middle row!. I prefer velour to the leather on my seats.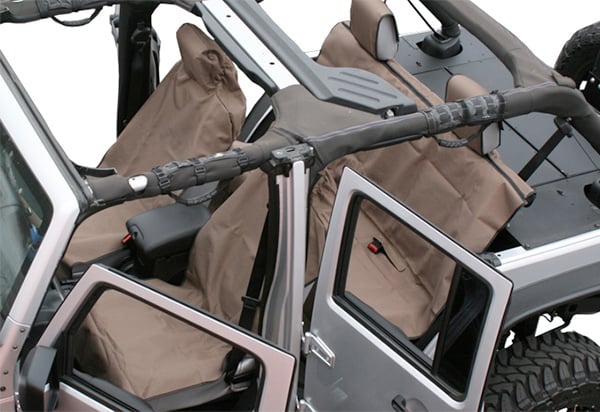 The 600 Denier Terelene used in Aries Seat Defenders is a reliable protector against mud, spills, and scratches. Plus, it's easy to clean in the convenience of your own house. This canvas material is anti-slip and 100% waterproof. What's more, it will bring a rugged, workmanlike appearance to your interior. Also available in camo.
Much better value option, for me, than a traditional seat cover (about 1/3 to 1/2 the price). Made of very sturdy materials, with a rubber-ish backing that will ensure no moisture from your wet dog gets on the seats it covers. Easy enough to stow when not needed.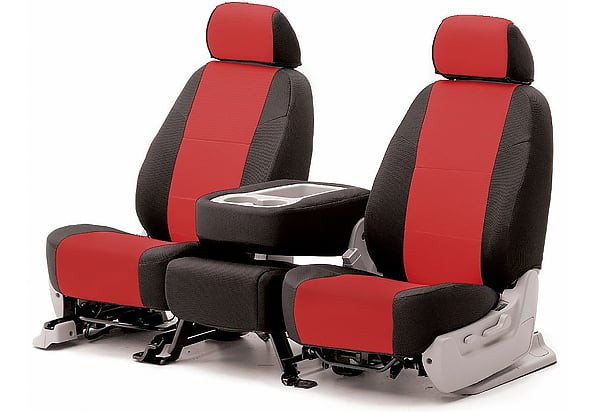 If you want your sporty racer to look as sharp on the inside as it does on the outside, the Spacer Mesh seat covers from Coverking are your ace in the hole. Hundreds of evenly spaced breaks in the fabric make these covers incredibly cool and breathable. Plus the sporty two-tone color scheme will match your vehicle, and make it look as sharp as can be.
Easy to install. Fit great, feel great, look great. Put them in an '89 Toyota pickup. The drivers side of the bench seat was pretty worn and falling apart. Now I can simply get in the truck again, rather than carefully placing myself in the seat.. Lol! These seat covers did the trick.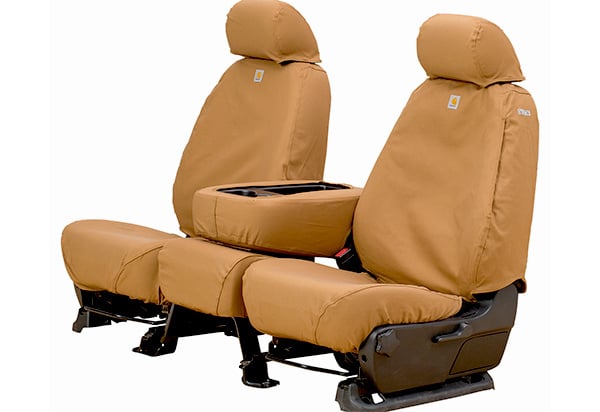 If you've heard the name Carhartt, then you know it's a trusted brand. Trusted in clothing, shoes, and gear, it's a name that's synonymous with toughness. So when Carhartt announced they'd throw their hat into the world of seat covers with a sturdy Duck Weave material, they turned a lot of heads. This material sports a DWR (Durable Water Repellency) which will keep any liquid you could throw at it from seeping through. Plus, you can wash them at home in your machine.
Just like their clothing, built to last. I am hard on seat covers and I feel these will do the job. I have not had the cover long enough to speak on it's durability, but it's ease of installation and initial appearances make it one of the better seat covers I've used.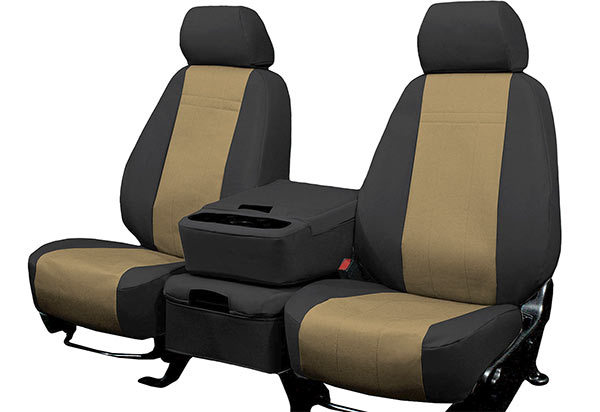 If you put extra strain on your seats, either from being an outdoor adventurer or from being an avid lover of dogs, Dura-Plus Seat Covers from CalTrend could be the perfect solution for you. These covers are not only heavy duty, but soft and comfortable too. Resistant to mildew, these covers come custom-made. If your vehicle has arm rests and headrests, so will these.
Nice heavy material which will be required for our work environment. Had several comments from people who thought they were newly upholstered seats, not covers. Installation was quick and straightforward.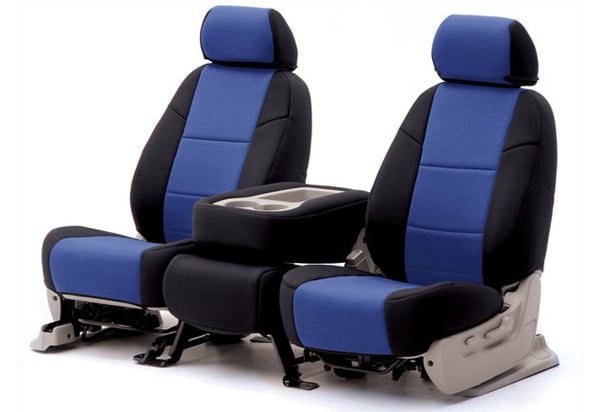 Neoprene is the material use to make wetsuits for scuba divers. So what is Neosupreme? Well, it's very similar but at a much more manageable price point. They'll save you some money, and still deliver on superior durability and comfort. These are the tightest fitting covers around, providing a fully custom, upholstered look. They come in black, or in your choice of a sporty, two-tone look.
Purchased as a gift for my son that owns a Chevrolet Colorado with a 60/40 split seat. Upon arrival we were more than impressed with the quality of the covers. Installation was not difficult but found it easier with 2 people. Seat covers fit like a glove... well worth the money!!!!
What's the Best Fit for Your Vehicle? Enter Your Info Below to Find Out!