Updated 2022-12-06 for the Winter season. In our Winter 2022 update, we've focused on seat covers that are capable of keeping up with the demands of a snowy, Winter season. With these seat covers, you'll be able to deal with the snowy, muddy elements of Winter without a worry about staining your OE upholstery.

We get it, you want to keep your car nice. But the simple act of daily driving will eventually bring wear and tear to your interior - especially to your factory seats. A form fitting set of seat covers will not only protect your investment from thrills and spills, but can also improve your style, and impress your passengers. Cover King Seat Covers are one example of a brand of custom seat covers that provides protection while adding a sleek look to the interior of your car, truck, or SUV.
Once you start to shop for a set of custom seat covers, you might soon feel overwhelmed. There are a ton of options on the market. From leather to polyester to neoprene, you have a number of materials available to you for your next set of seat covers. There are also a wide variety of color designs and patterns that you can choose from and this can be equally vexing. How does one narrow the field to find the perfect fit for you and your particular vehicle?
That's why we here at AutoAccessoriesGarage decided to make things a little easier with our list of the Top Ten Best Car Seat Covers of 2023. Taking a look at our top selling covers, we cross-checked them against a list of our best rated covers. After confirming with our on-site customer reviews, we're confident that our list will lead you to the perfect automotive seat covers. Without further ado, here is the list of our top choices:
The Best Car Seat Cover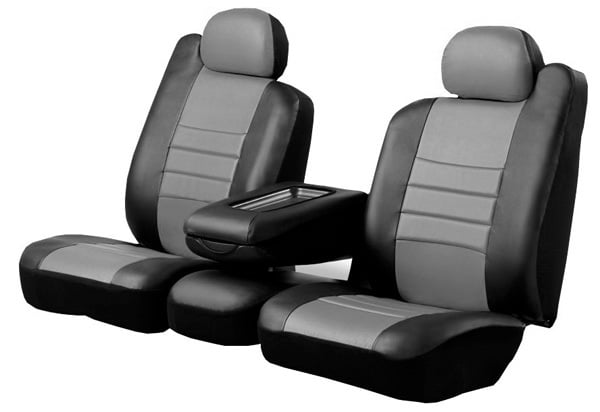 For a high-end look without the high-end price, you really can't beat the style and sophistication of the Fia LeatherLite Seat Covers. With multiple configurations available depending on your vehicle, it's easy to find the perfect set of these leatherette covers for your existing vehicle and style.
The closest thing to a factory looking product I have ever seen. Looks like leather without the maintenance and wear of leather. Sandstone matches the 2015 tan [SUV] interior perfect. American high quality at a great price.

Read More Fia LeatherLite Seat Covers Reviews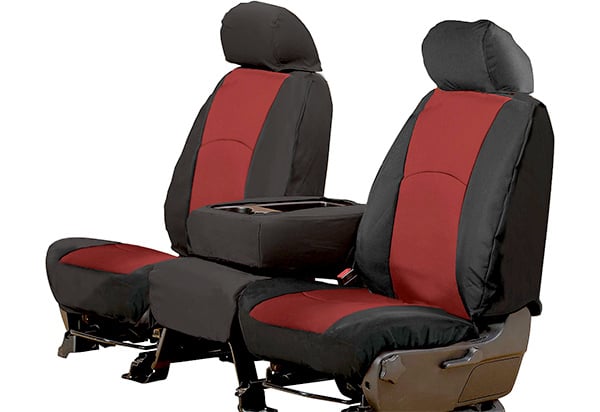 If you are looking for the perfect blend of protection, style, and comfort, look no further than Covercraft Precision Fit Endura Seat Covers. These custom-fit seat covers are waterproof and will provide superior protection against spilled drinks and wet, muddy clothes. They also come in a variety of color combinations, including Black, Charcoal, Blue, Red, Silver, and Tan.
These seat covers were a little more money than the generic ones off the store shelves. However - these were made to fit my truck seats - they look good and they are snug and not bunchy looking. ALSO - they're thick and really good material. I can tell they'll last a long time. EXACTLY what I was looking for.

Read More Covercraft Precision Fit Endura Seat Covers Reviews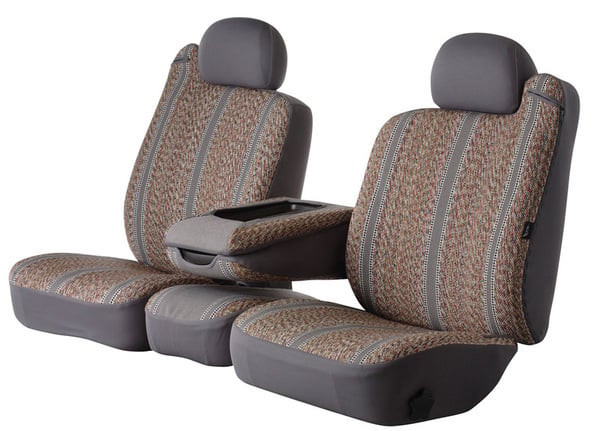 For a more country western feel, with uncompromisingly strong protection, Wrangler Saddle Blanket Seat Covers from Fia are the perfect combination. Available in five different colors, these seat liners are sure to bring a distinct and unforgettable appearance to your interior. These textile woven covers can be washed by hand and drip-dried.
Great custom fit and easy to install; took about 30 minutes to include the center console. Fabric seems durable and although saddle blanket material is somewhat stiff at first, it softened up within a week.

Read More Fia TR40 Wrangler Saddle Blanket Seat Covers Reviews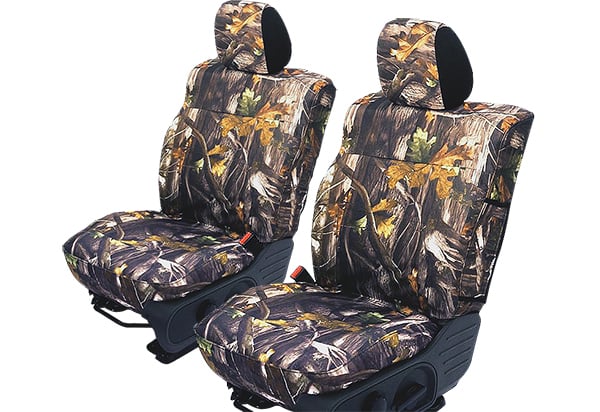 The superior breathability of non-woven polyester makes it the perfect material for custom seat covers. And the eye-catching design of hunter's camouflage makes Saddleman's Camo series the ideal cover for outdoorsmen. Custom cut for a snug fit, these covers are machine washable, and made right here in the USA.
These seat covers are fantastic. Easy to install, print is really nice, and they are comfortable. I haven't fully installed the passenger one yet, as we are having a heat wave right now.

Read More Saddleman Camo Seat Cover Reviews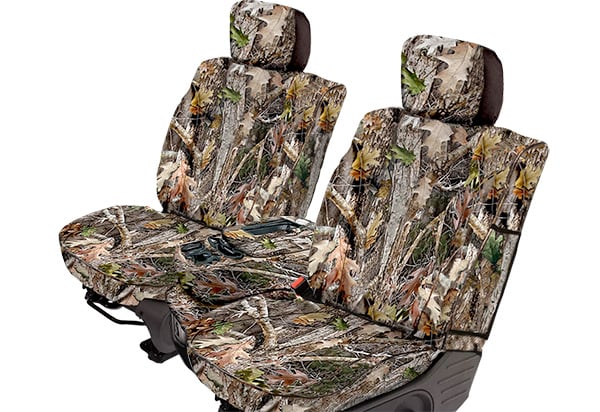 Made of a durable, Cotton-Polyester blend, Northern Frontier TrueTimber Camo Seat Covers add a striking, woodsy look to the interior of your vehicle. Excellent for hunters, fisherman, and outdoors enthusiasts, these seat covers are custom made to fit your vehicle's seats and are simple to clean.
Got both for front and back seats. Love the protection. Custom fit is excellent and not hard to follow the instructions. Took about 35-40 min to install both sets.

Read More Northern Frontier TrueTimber Camo Seat Covers Reviews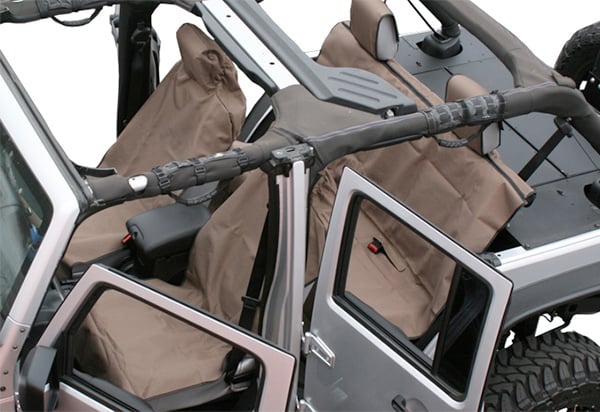 The 600 Denier Terelene used in Aries Seat Defenders is a reliable protector against mud, spills, and scratches. Plus, it's easy to clean in the convenience of your own house. This canvas material is anti-slip and 100% waterproof. What's more, it will bring a rugged, workmanlike appearance to your interior. Also available in camo.
Much better value option, for me, than a traditional seat cover (about 1/3 to 1/2 the price). Made of very sturdy materials, with a rubber-ish backing that will ensure no moisture from your wet dog gets on the seats it covers. Easy enough to stow when not needed.

Read More Aries Seat Defender Canvas Seat Cover Reviews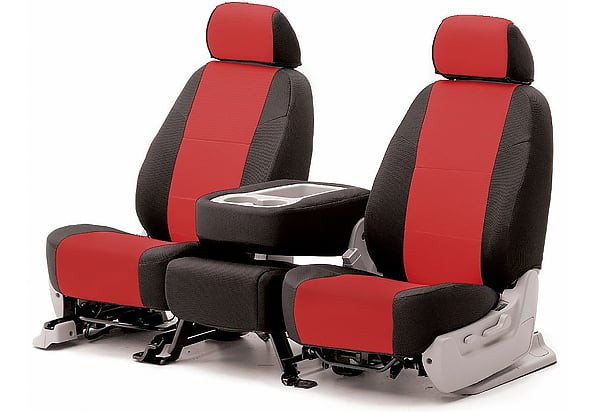 If you want your sporty racer to look as sharp on the inside as it does on the outside, the Spacer Mesh seat covers from Coverking are your ace in the hole. Hundreds of evenly spaced breaks in the fabric make these covers incredibly cool and breathable. Plus the sporty two-tone color scheme will match your vehicle, and make it look as sharp as can be.
Easy to install. Fit great, feel great, look great. Put them in an '89 Toyota pickup. The drivers side of the bench seat was pretty worn and falling apart. Now I can simply get in the truck again, rather than carefully placing myself in the seat.. Lol! These seat covers did the trick.

Read More Coverking Spacer Mesh Seat Covers Reviews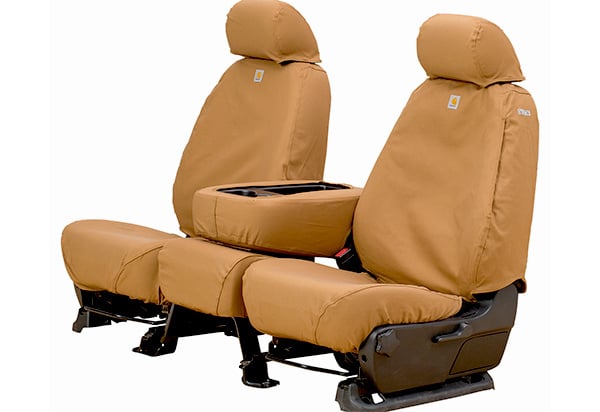 If you've heard the name Carhartt, then you know it's a trusted brand. Trusted in clothing, shoes, and gear, it's a name that's synonymous with toughness. So when Carhartt announced they'd throw their hat into the world of seat covers with a sturdy Duck Weave material, they turned a lot of heads. This material sports a DWR (Durable Water Repellency) which will keep any liquid you could throw at it from seeping through. Plus, you can wash them at home in your machine.
Just like their clothing, built to last. I am hard on seat covers and I feel these will do the job. I have not had the cover long enough to speak on it's durability, but it's ease of installation and initial appearances make it one of the better seat covers I've used.

Read More Carhartt Duck Weave Seat Covers Reviews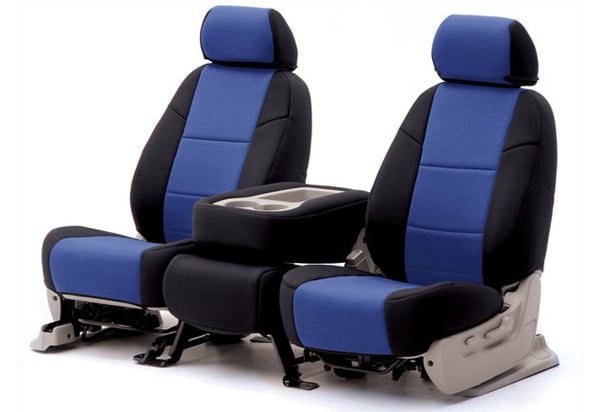 Neoprene is the material use to make wetsuits for scuba divers. So what is Neosupreme? Well, it's very similar but at a much more manageable price point. They'll save you some money, and still deliver on superior durability and comfort. These are the tightest fitting covers around, providing a fully custom, upholstered look. They come in black, or in your choice of a sporty, two-tone look.
Purchased as a gift for my son that owns a Chevrolet [pickup truck] with a 60/40 split seat. Upon arrival we were more than impressed with the quality of the covers. Installation was not difficult but found it easier with 2 people. Seat covers fit like a glove... well worth the money!!!!

Read More Coverking Neosupreme Seat Covers Reviews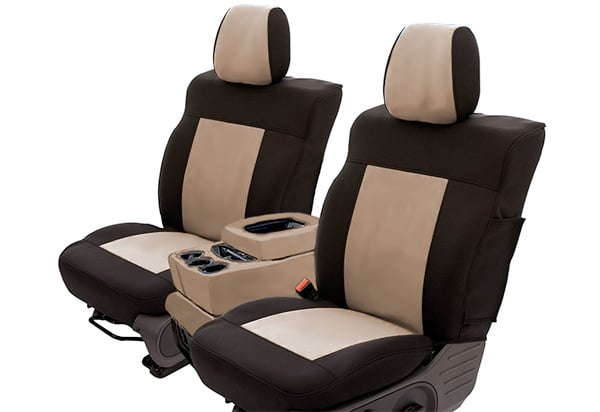 Made in the USA and available in a variety of solid colors or sporty two-tone options, the Neosupreme Seat Covers from Northern Frontier bring style and strength under one roof. Headrest and console covers are included where applicable, and an adjustable installation system makes a custom fit easy to achieve.
Nice heavy material which will be required for our work environment. Had several comments from people who thought they were newly upholstered seats, not covers. Installation was quick and straightforward.

Read More Northern Frontier Neosupreme Seat Covers Reviews
What's the Best Fit for Your Vehicle? Enter Your Info Below to Find Out!
Seat Covers Buying Guide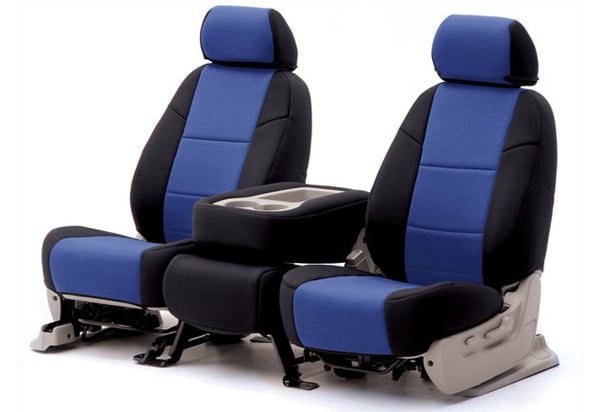 If your seats are stained from years of spilled coffee and muddy pet paws, you may want to revamp your interior with a set of our stylish seat covers. Seat protectors breathe new life into your interior, covering up old stains and tears while adding unique style you won't find in factory seats. They also protect your seats against wear and block future stains. Whether you're into classic, luxury, or modern racing style, you can let your personality take center stage with these fancy and functional interior accents.
What do seat covers do?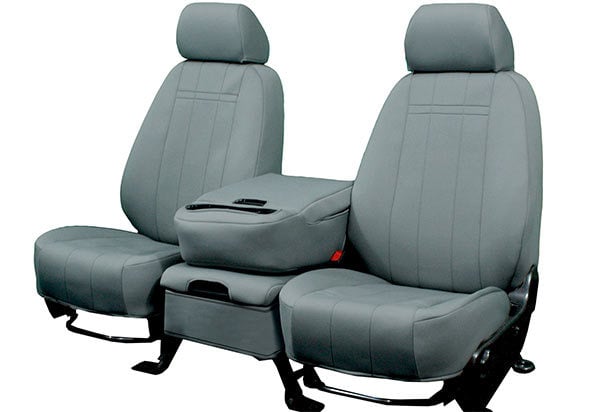 Spilled drinks and fast food are just a few of the unavoidable messes your seats endure every day. While there's no way to truly accident-proof your car, you can prevent these unfortunate occurrences from damaging your Tahoe's interior with a pair of RealTree Seat Covers. On the surface they may seem like a wholly cosmetic auto accessory, but seat covers offer a level protection that can potentially save you hundreds of dollars in repair and reupholstery costs.
Pet Wear
He might be your best friend, but Fido is no ally of your car seats. Between muddy pet paws, sharp claws, and dog hair, the damage your pets can wreak on your interior is immeasurable. Equip your interior with a set of foam-lined pet seat protectors, and your dog can ride shotgun without ruining the front seat.
Stains, Spills, and Water Damage
Those wet bathing suits in the back seat may seem like a minor inconvenience now, but over time they can leave a permanent mark on your interior. Moisture is especially destructive on leather seats. Water damage produces unsightly mold that can stink up your car and ruin your interior's looks. If swim meets and trips to the beach are a part of your everyday life, pick up some Waterproof seat covers and prevent leftover moisture from tarnishing your seats.
UV Rays
Little rays of sunshine do wonders for one's mood and complexion, but suntans do the opposite to your car's interior. Prolonged exposure to sunlight can cause fading and make your Dakota's seats more susceptible to wear. Our Dodge Dakota seat covers block sunlight, and many are specially treated to resist UV rays for long-lasting looks.
Every Day Wear
Even the most delicate backsides do, in some way, cause damage to the seat surface through friction. Every time your jeans nuzzle against the surface of your seats they file away your seat's finish, causing it to fade and crack. The more you drive, the more vulnerable your seats become to wear and tear. Protect your Prius, then, with Toyota Prius seat covers.
Types of seat covers
Helpful Tip: Having a hard time picking out a seat cover? Take a look at our customer reviews to find the best car seat cover for your vehicle.

Before you can pick out the best seat cover for your car, get to know the materials. There are a ton of seat cover materials out there, and each, such as Caltrend Seat Covers, have their own unique set of attributes. We've picked out a few of the most popular seat cover fabrics to help you make a more informed purchase.
Seat Cover Materials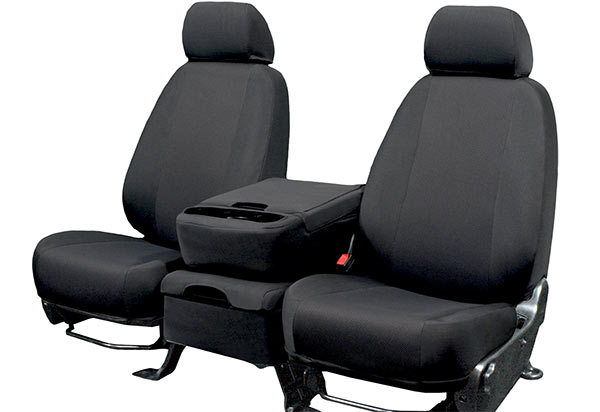 Neoprene Seat Covers: From CalTrend to Coverking seat covers, manufacturers across the world have lauded neoprene for its waterproofing abilities. Constructed from the same material used to make scuba suits, Neoprene seat covers offer total protection against against water damage. Neoprene is an especially good material for off-road enthusiasts who like to get messy; that's why many Jeep Seat Covers are made from it.
Ballistic Nylon Seat Covers: It isn't the most comfortable fabric in the world, but Ballistic covers provide your seats with a heavy-duty shield against water and UV damage. Ballistic seat covers are among the most durable covers on the market, and they can take on attacks from spilled drinks, muddy pet paws, and other messes without breaking a sweat. In fact, this material was originally used to make flak jackets for WWII fighter pilots.
Velour Seat Covers: Velour is a plush knitted fabric usually made from cotton or polyester. Similar to velvet, this material features an extra-soft finish and offers unmatched comfort for you and your passengers. It doesn't offer much in the form of water resistance, but for clean drivers looking for added comfort and style, velour is the best bang for your buck. For the luxurious look and feel of velour, check out Saddleman Seat Covers.
Leather Seat Covers: Leather seat covers offer more protection than you may think. Unlike cloth, leather doesn't absorb spills. Instead, most liquids sit on top of the surface, making them easy to clean. However, leather Hyundai Elantra seat covers, for instance, can get sticky on hot days and are more vulnerable to wear than other materials.
Suede Seat Covers: A cost-effective alternative to leather, suede seat covers are tougher and less susceptible to wear. But like leather, suede isn't naturally resistant to UV rays or water damage. When looking at suede seat covers, make sure you select a cover that's treated with weather resistant materials.
Tweed Seat Covers: Tweed provides you with a similar level of comfort as velour, but it's significantly more resistant to wear and won't stain as easily. Plus, if you're looking for a textured pattern for your seats, tweed is the only way to go.
Saddle Blanket Seat Covers: If you're looking for a durable seat cover with a rugged "western" look, check out Saddle Blanket Seat Covers. These covers feature a tightly-woven fabric that stands up to heavy-duty use and is easy to clean. With Saddle Blanket Car Seat Covers you can enjoy a comfortable ride, a stylish interior, and reliable protection from stains and tears.
The Fit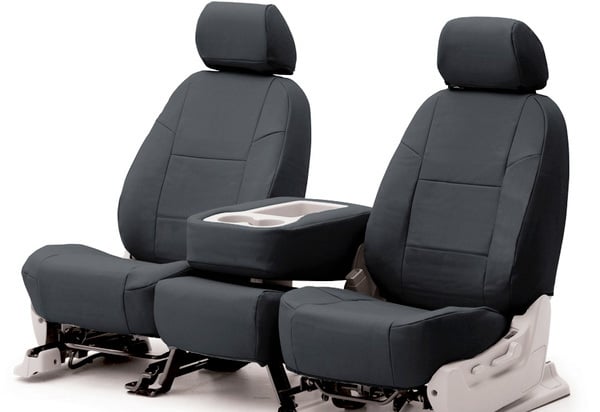 Custom Seat Covers: As any tailor worth their salt will tell you: in the end, it's all about the fit. Custom car seat covers are ideal for a true, seamless look and fit. Formed to fit the exact dimensions of your Scion's car seats, Scion tC seat covers protect every nook and cranny of the seating area, from the headrests and arm-restss to the center console.

Semi-Custom Seat Covers: Sure, custom seat protectors are great, but if you're on a budget, you may want a set of semi-custom car seat covers instead. Semi-custom covers offer the same level of protection as custom seat covers, and they do it without the hefty price tag. You may lose some style points, but they're just fine for the daily driver.
Frequently Asked Questions about Seat Covers
Seat Covers FAQs Answers
Are seat covers necessary?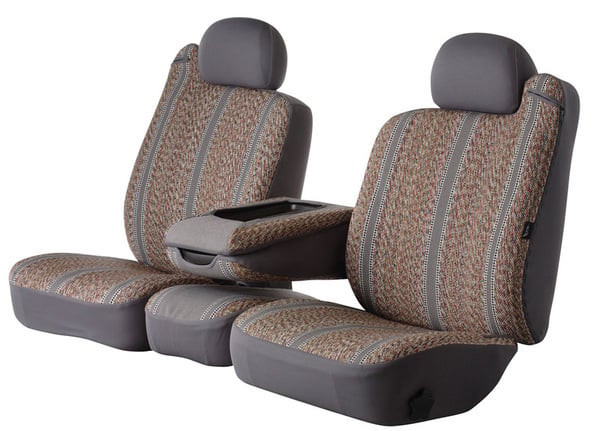 There are two main reasons a vehicle owner should consider purchasing seat covers. The first is to provide a custom look to a vehicle's interior. Lots of drivers enjoy the look and feel of leather, others would simply prefer a different color, pattern, or material. Replacement Mazda 3 seat covers offer you the chance to outfit your interior with a look and feel that's more your style.
The second reason to consider new Nissan Xterra seat covers is to protect your upholstery in the name of upping your vehicle's resale value. Most covers are moisture-resistant and easy to wash, not to mention a breeze to install and remove. Keeping your seats free of stains, burns, and smells can only help when it comes time for you to sell the vehicle.
Do seat covers fit all cars?
Nearly all of the seat covers we sell are custom seat covers that have been cut to a particular year, make, and model vehicle's exact seat specifications. This being the case, any Toyota Highlander seat covers you find should provide an exact, glove-like fit for your Highlander's seats. If you choose a universal seat cover, conversely, it will not provide a tight fit on a par with one of our custom covers. Universal covers function more as a sort of heavy-duty protective drape to be laid over your car seats than as any sort of exact-fitting custom addition.
Are seat covers hard to install?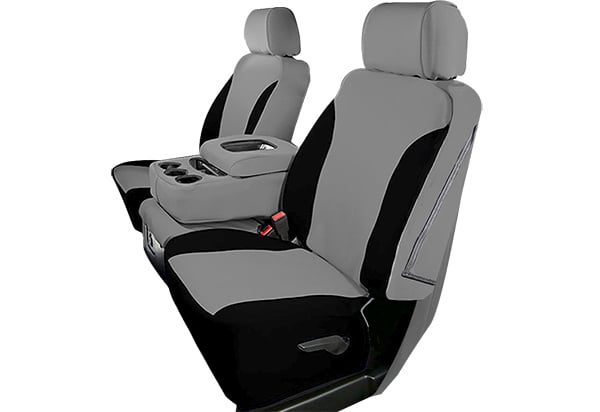 In general, installation is easy. The custom cuts of Subaru Forester seat covers, for instance, account for dimensional peculiarities of the Forester. Most of our covers attach via velcro, buckles, or straps that connect beneath the seat itself. Rear seat covers are slightly harder to install than front seat covers, since seat removal may be involved. Even so, front seat covers should take no longer than thirty minutes or so.
Are seat covers easy to clean and maintain?
It really depends on the particular Mossy Oak seat covers you purchase. Some materials can be machine-washed and hung out to dry, while others must be spot-cleaned or hand-washed. The process isn't difficult, but it is important to read the manufacturer's directions exactly so as to know what is and is not okay for a particular fabric. All covers, be they Nissan Frontier seat covers or any other make and model, should be regularly vacuumed and/or brushed for general cleanliness, but full removal for deep-cleaning is only necessary every once in a great while, barring unfortunate accidents.
How much do seat covers cost?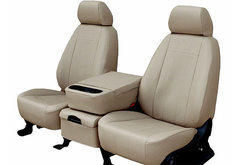 The pricing question nearly always comes down to fabric and construction process. Some companies scan a car's seat with lasers, upload the information into a computer, and calibrate large machines to exact cutting specifications for a tight cut and custom fit. Other companies do not go to a similar effort. Likewise, some materials used to make your seat covers are simply more expensive than others. For example, high tech CR Grade Neoprene costs more to manufacture than simple mesh fabric.
Why do all of your product descriptions feature a disclaimer at the bottom warning about variations in computer monitor settings?
It is important for customers to understand that the particular computer monitor they are using determines the particular colors they will see displayed. Monitors have a wide variety of settings, and most are set to slightly different contrast and color ratios. As such, the colors each individual customer sees on his or her computer screen will not 100% accurately reflect the colors of these seat covers as they actually are. But they will be very, very close. If you have questions about this issue, please call our friendly Customer Service team.
Which type of seat cover provides the best moisture protection?
The best material to protect against water and moisture is neoprene. Think about it this way: wouldn't the material they use to make scuba suits bead water pretty well? Some fabrics are treated with a solution that aids in moisture-resistance, but closely read each product's description to gauge how moisture-resistant it is. As a general rule, imagine the material used to make your Ford Fusion seat covers as though it were a raincoat, and you'll be pretty close to determing its general moisture-resistance.
Do I need a seat cover if I have a dog?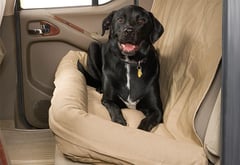 While you don't absolutely need a set of seat covers to account for your beloved pet, it's probably a good idea to pick some up if you intend to re-sell your vehicle. For instance, our wide array of Canine Covers seat covers are both durable and machine-washable, and they will prevent lingering pet odors, chewed upholstery, and stains from submarining your vehicle's open market value.
What seat cover is best for my vehicle?
Helpful Tip: Stains and spills don't have to set the tone for your vehicle's interior. Our washable seat covers can help protect your interior and keep it looking off-the-lot new for years to come.
Beyond simply picking out the materials and fit, there are a number of factors to consider as you shop for a new set of Mossy Tree seat covers. With the right car seat cover, you can transform your automobile from a simple mode of transportation to a bold statement that reflects your lifestyle and personality, and we've come up with just a few helpful hints to make your decision a little easier.
Choose a Seat Cover that Meshes with your Lifestyle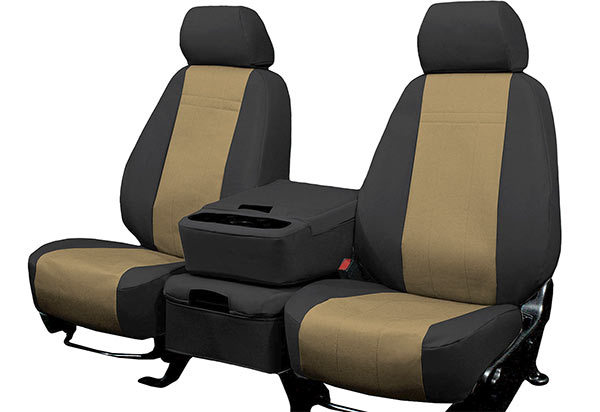 Before you pick out the color, you need to find a seat cover that gels with your lifestyle. For road warriors whose car doubles as a home office, strike a balance between comfort and durability with the CalTrend Tweed Seat Cover. Ideal for drivers who face long commutes each morning, these tweed seat covers feature a soft foam backing that forms to the shape of your body, providing you with additional comfort and support. Plus, they're also treated to resist UV rays and can be easily cleaned with a damp cloth. If stain protection is your main priority, you may want to get a neoprene seat cover. In this situation, we suggest Coverking Seat Covers. Made from heavy duty CR grade neoprene, these Coverking Covers are completely waterproof and are custom cut to fit snug on your seats like a wetsuit.
Add Style to your Interior with a Car Seat Cover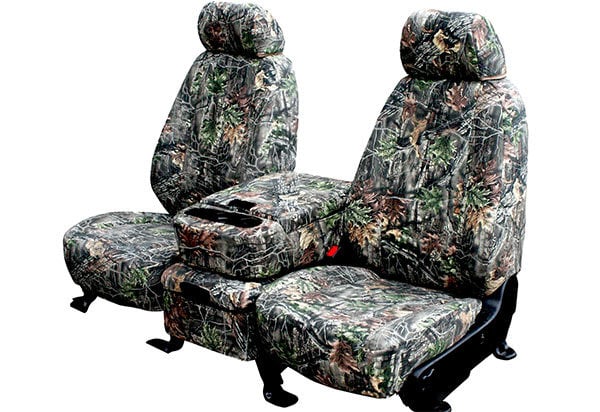 With a set of custom seat covers, you can transform your drab interior into a bold centerpiece that reflects your personality. From camo seat covers to leatherette car seat covers, the variety of looks and styles is limited only by your own imagination. If you're at a loss or overwhelmed, start by picking a theme for your interior and go from there. Car owners pining for a look that'll never go out of style can't go wrong with a set of leather seat covers. Leather is the gold standard of auto luxury, and these seat covers can give your cloth interior a luxury upgrade at a fraction of the cost it takes to reupholster your seats. If you want some seats with more swagger, consider picking up a pair of seats with a cool pattern or screen print on the front, or add some continental style with CalTrend European Seat Covers. These CalTrend Covers are built tough to handle all of life's messes, but feature a sleek European design that looks great in any vehicle.