You need to protect your vehicle's upholstery, but you also want your interior to look good. The easiest solution to both of these problems is a pair of custom Seat Covers. There are many options in this industry, and every one is designed to up your vehicle's resale value and providing a nice look in the meantime. Many different fabrics accomplish these goals in many different ways, and any set is guaranteed to keep your ride looking fresh.
The two most-varied brands of Seat Covers are Coverking and CalTrend. Each company offers a wide variety of options designed to appeal to as many sections of the market as possible. But which is the right choice for your vehicle?
Coverking Seat Covers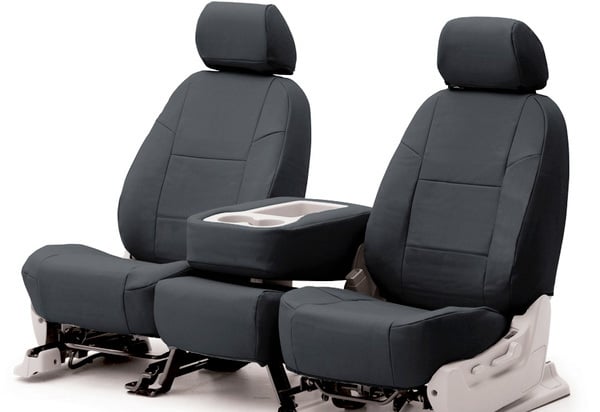 Coverking offers the most varied product line of any Seat Cover brands we sell. Whether you go with Neoprene, Saddle Blanket, or Alcantara fabric, your covers will be custom-designed for your vehicle's specific dimensions. In fact, thanks to this perfect custom fit Coverking is the only OE seat cover supplier, providing both GM and Mazda with their covers as a factory option. And unlike any other seat cover manufacturer on the planet, Coverking actually paid to have their covers crash-tested by GM (full disclosure: yes, they passed!).
Easy to install and laser-cut for ultimate precision, Coverking Seat Covers are a versatile solution to your protection needs. Their thick fabric layers let you to keep your seats clean and stain-free while adding another stylistic accent to your interior. No matter what you're into, Coverking can take care of you with their skillful blend of form and function. Simply put, Seat Covers don't get much better than this! Coverking also offer a state-of-the-art car sun shade so be sure to check that out as well.
CalTrend Seat Covers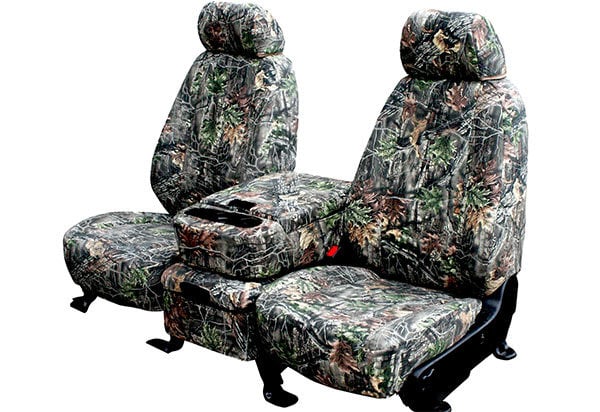 A close second to Coverking's diversity comes from CalTrend Seat Covers. The only thing this company makes is Seat Covers, so they are able to put their entire focus towards developing their product line with the finest available processes and fabrics. The offer all the standard fabrics like Leather and Velour, but CalTrend also offers their own proprietary options like top-quality SuperSuede and Dura-Plus (Cordura) fabrics. For the outdoorsmen out there, check out their selection of camouflage covers and get the look that fits your lifestyle. Custom-fit to your vehicle's dimensions, many of these covers also feature extra padding at contact points for a more comfortable ride.
Some companies do many things well, and others focus on just one. CalTrend Seat Covers are made by the latter kind of company, and that singular devotion yields some reliable, high-quality products.
Coverking vs. CalTrend: Which Are The Right Seat Covers For Your Vehicle?
The single most important thing for you to consider when looking for Seat Covers is what, exactly, you'd like to get out of them. A specific style like Saddle Blanket, say, or the water-proof protection of Neoprene: there are both Coverking and CalTrend Seat Covers for many different uses. Be sure to keep an eye on your budget, too. If you need further help, consult our Seat Covers Buying Guide or call our knowledgeable Customer Service staff at 800-663-1570. Good luck with your purchase, and thanks so much for stopping by!
| | | |
| --- | --- | --- |
| | | |
| Starting At | $119.99 | $186.01 |
| Different Cover Choices | 13 | 11 |
| Available Fabrics & Styles | Neoprene, Neosupreme, Spacer Mesh, Velour, Leather, Leatherette, Poly Cotton, Saddle Blanket, Ballistic, Suede, Tactical | Leather, Imitation Leather, Suede, SuperSuede, Tweed, Velour, Neosupreme, Dura-Plus, EuroSport, SportsTex, Camouflage |
| Accessories or Special Options | Jeep-specific Neoprene cover, Texumbra fabric protectant | No |
| Universal Options | No | No |
| Installation | Easy: slip over individual back rest and cushion sections and lock-in Velcro or seat buckles | Easy: slip over individual back rest and cushion sections and lock-in Velcro or seat buckles |
| Warranty | 1-Year | 2-Year |
| Shipping | FREE | FREE |
| | | |