Access makes a host of aftermarket automotive parts, but they've become an industry leader thanks in large part to their tonneau covers. What follows are a variety of Access tonneau cover reviews made by people just like yourself. They don't work for us, but their Access tonneau reviews are as good an indication as any as to exactly what kind of product you can expect.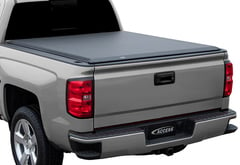 A functional design and sporty look are the hallmarks of the Access Rollup tonneau cover. A model-specific custom-fit ensures a tight seal, while the Rollup's hook-and-loop sealing system won't drag unwanted debris into the slide-locks at each rear corner. All-aluminum construction brings rugged durability, and EZ-DIAL tension adjusters allow you to control your cover's tightness in any conditions.
The tension control is a great addition compared to my old snap tonneau. I like that it get's really tight without the need for the old school cross-over bars to support the cover. Good purchase.
Cedric N from Montauk, NY - Dodge Ram 1500
Excellent product. I watched the video several times. It made following the installation instructions very easy. I would recommend this product to my friends.
Al F from Carson City, NV - Ford F-150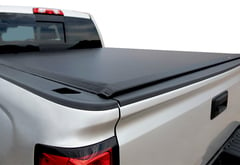 The low-profile angled rails of an Access Lorado tonneau cover compliment your truck's sleek contours while also offering durable cargo hauling solutions. A double-coated, polyester-infused, UV-treated vinyl tarp stays flexible down to -40 degrees, and adjusting the tension to your exact specifications is as simple as turning the XT DIAL tension adjusters to your preferred setting.
I'm very happy with the look of the cover. The "inside the rail" installation and the low profile were exactly what I was looking for.
Matt from Memphis, TN - GMC Sierra
Installed as represented. Immedialey drove 2500 miles from Texas to Colorado in all types of weather...worked as expected.
Doug P from Denver, CO - Ford F-150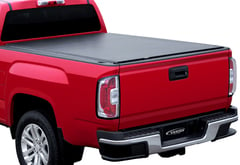 The Access Vanish tonneau cover does exactly that, vanish, with style! Sitting barely 1/2" above your bed rails, the Vanish is nearly invisible from side and rear profiles. This is Access' lowest-profile tonneau, at a low price, and it's amazingly easy to install. When in use, this tonneau's strong Velcro fasteners and weather-tight seal will keep the elements out and your cargo protected.
I could not be more satisfied with the cover. The installation with truck bed rails installed was a snap. After 5 minutes of reviewing the instructions, it took 30 minutes to install and adjust. The low profile is great and the highway mpg jumped 4 mpg. I will have a good return on this investment.
James P from Hampton Beach, NH - Toyota Tundra
Like this cover a lot, actually. I've had a few over the years, some were good and some were not so much, but this one is great. No real complaints, don't know the numbers on any upgrades but I feel as though I'm spending less, and that makes quite a bit of difference. Do yourself a favor and get one, pronto.
Jefferson from Waukegan, IL - Ford F-150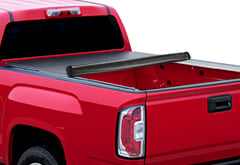 The Access TonnoSport tonneau cover is Access' most affordable tonneau. Opening and closing without snaps, rails, or clamps, this easy-on/easy-off tonneau features a low-profile design and patented slide locks for additional security and protection. Simple set bolt-in tension adjusters allow you to set your preferred cover tightness, which this cover will maintain in nearly any weather.
Excellent product and pretty darn easy to install. I like the look which matches my bed caps nicely. Had the entire thing installed in under a half an hour.
Tom N from Montgomery, AL - Dodge Ram 1500
Good inexpensive option for a truck bed cover. The materials aren't particularly hearty or intense, but it gives you the necessary coverage at a price you can't really beat for one of these guys.
Kenny B from Long Beach, NY - Toyota Tundra