Your truck was made for hauling cargo, which is why unfortunately your truck bed is one of the first areas to degrade. Heavy cargo can dent your bed, and scratch it while it rolls around – this can be bad for your cargo and bad for your bed. That's why many truck owners tend to protect their investment with a truck bed liner or mat. These durable and cushioned liners can protect your truck from permanent damages, and keep your gear in better shape too.
There are tons of bed liners and mats on the market, and at AAG we took a look at sales, customer reviews, and more to find what we feel qualified in calling the best of the best. In fact, we even broke down the differences between a bed liner and a bed mat below. Finding the best truck bed protection is easy when you take a look at our list and customer reviews. Presenting the Top 10 Best Truck Bed Liners & Mats of 2019: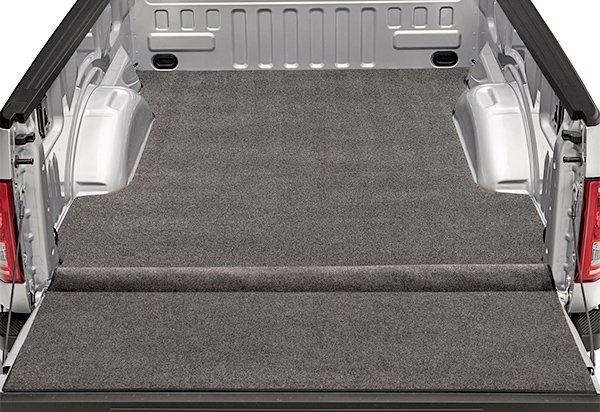 The XLT Bed Mat from BedRug is designed with both comfort and quality in mind. It's thick and cushy all over and even covers your tailgate and the hinge gap. Though it looks just like carpet, this mat is resistant to snow, rain, oil, gasoline, and other chemical. This three-quarter inch mat offers the comfort you want and the protection you need.
This is the second truck I have installed a bed rug in and both times I have been extremely pleased with it. It looks great and was really easy to install.

Read More BedRug XLT Bed Mat Reviews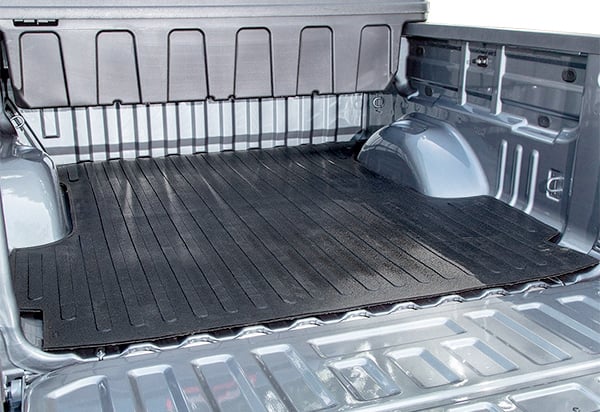 Though it's a low cost option compared to many truck bed protection options, the Dee Zee Heavyweight Truck Bed Mat doesn't skimp when it comes to reliable defense against impacts, scratches, shifting cargo. This mat will stand up to common chemical spills and is designed to never crack, break, or fall apart even in extreme climates.
I wanted to protect the bed of my sprayed-in liner so I measured my bed and went directly to the AAG web site and found the exact model for my truck. It fit perfectly and is so heavy, there's no chance it will blow out and made the bed look great.

Read More Dee Zee Heavyweight Truck Bed Mat Reviews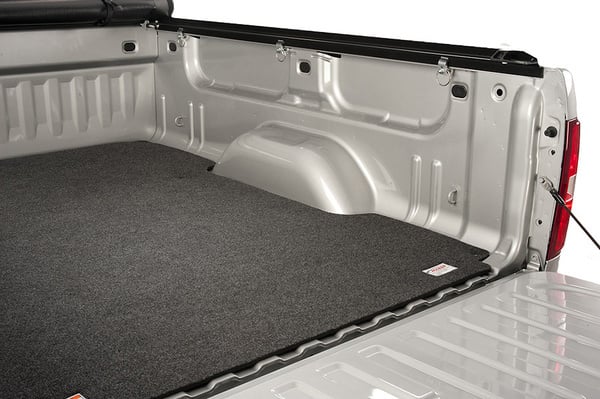 Made from 100% recycled soda bottles, the Access Truck Bed Mat is as eco-friendly as it is attractive. Marine-grade carpet stands up to all weather and all elements, and the waterproof foam material is easy on your knees when you crawl around your bed. Simply snapping in and snapping out, this mat will install in minutes.
Great quality product! Looks sharp and fits like a glove. I have a 2016 Frontier crew cab with the 5 foot bed. The hardest part was rolling the mat the opposite way to straighten it out. Mark where the snaps are, drill seven holes, apply corrosion block and boom! Done!

Read More Access Truck Bed Mat Reviews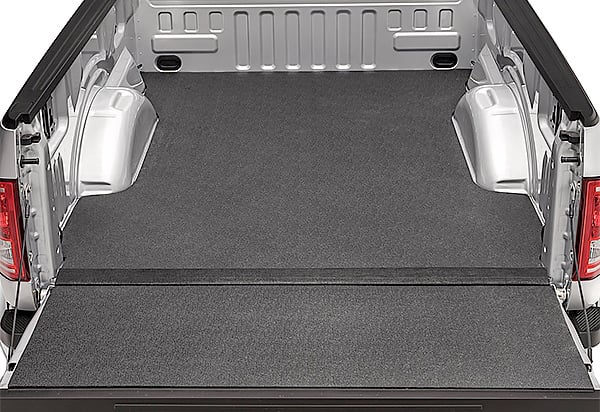 With an anti-skid TPO layer for relied upon protection, the BedRug Impact Bed Mat is great for people who are always dealing with sliding cargo. A tailgate mat and gap cover are included and this mat installs easily with Velcro in just about 15 minutes. Three quarters of an inch in thickness, this mat is nice and sturdy and comes backed by a Limited Lifetime Warranty.
I have always purchased the bedrug before and hated the long install. This impact mat was super easy to install and fits perfectly. Comfortable and easy to clean up.

Read More BedRug Impact Bed Mat Reviews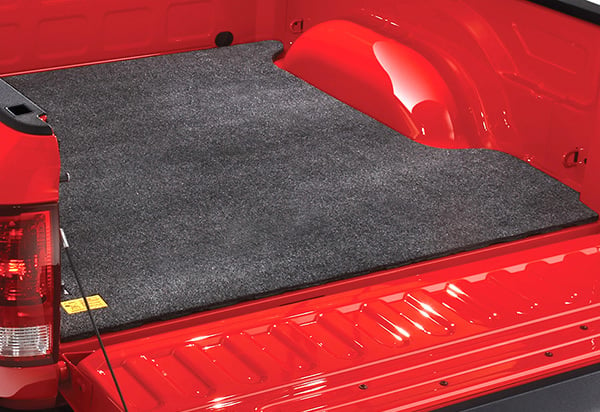 One of the most ubiquitous names in truck bed protectors is the BedRug Bed Mat. This mat is not only luxurious, but durable too. Made from soft polypropylene, this cover can easily drop into bare beds or beds with spray-on liners. Withstanding both chemical spills and impacts, this mat has it all!
The bedrug material is terrific-- soft, durable, resistant to all sorts of abuse, and it won't absorb any liquid. The quality of the rug is excellent, it looks great, and it is soft but tough.

Read More BedRug Bed Mat Reviews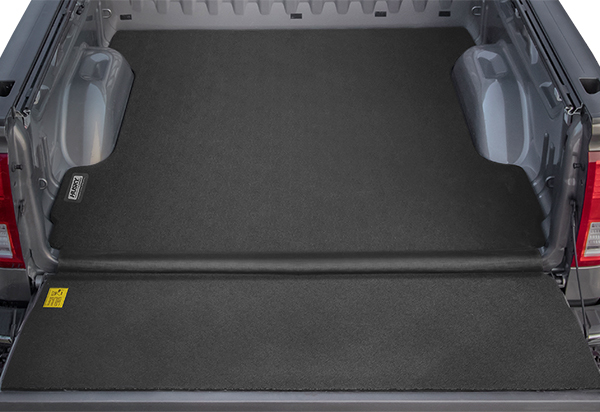 Known for their commitment to American-made products, Husky Liners are big players in the floor mat game. So they had everyone's attention when they announced they had designed a new line of truck bed liners. The Ultra Grip Truck Bed Mat will not only protect your bed from impacts and scratches, it will also keep your gear from sliding around.
Installed easily. Love the way it looks, and so far, the way it is performing. I highly recommend.

Read More Husky Liners UltraGrip Truck Bed Mat Reviews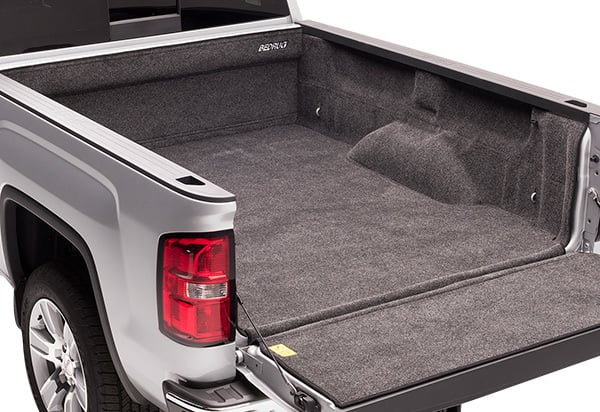 The Complete Truck Bed Liner from BedRug offers complete truck bed protection with a soft surface that could pass for carpet, but it actually a durable plastic material that can handles gas, chemicals, and any type of weather with no issues. This plastic material is also soft on your truck's paint, so it will never scratch or scuff.
I just got my Bedrug truck liner for my 2010 Dodge [pickup] truck. The installation was under an hour with professional results. I love the way it looks over those hard plastic bed liners.

Read More BedRug Complete Truck Bed Liner Reviews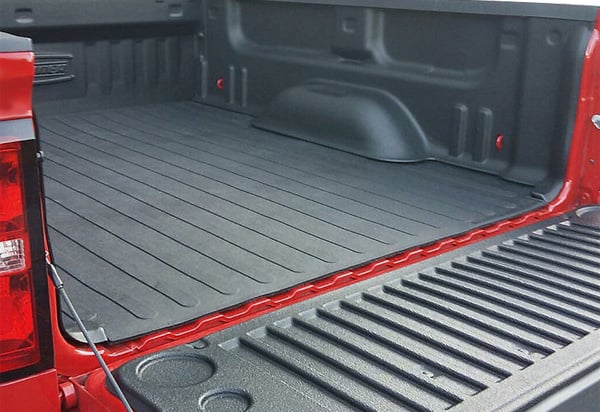 The great thing about the DualLiner Truck Bed Liner is that it never traps water and dirt. It also offers one of the most high-friction textures available thanks to the ZeroSkid rubber construction. This material also dissipates static charges and this set-up includes hard sidewalls that further protect your truck bed.
The Dual Liner cover does a nice job protecting my bed. I took it out to Lowes for a test this week and it performed flawlessly. Another added bonus that I didn't even think about is it's quieter, you dont' hear your tools rattling around.

Read More DualLiner Truck Bed Liner Reviews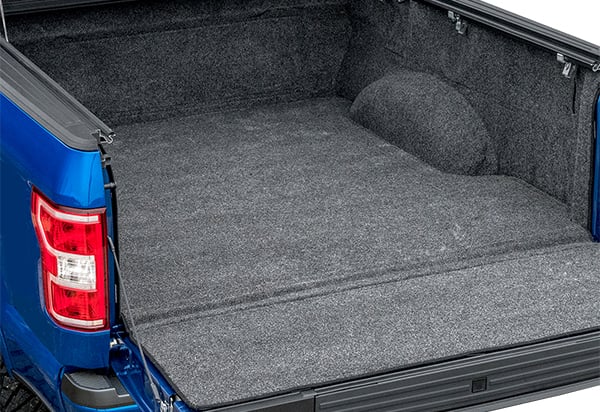 For protection not only on the bottom of your truck bed, but along the sides and the tailgate as well, you have to take a look at the Husky Liners UltraFiber Complete Bed Liner. While this material may look and feel like plush carpet, it can handle anything you throw at it including rain and other sever whether. Made in the USA and backed by a Lifetime Warranty.
As always Husky are of very good quality. The fit was a perfect match and was easy to install. The install could have taken less time but adding the my time to wash and dry the bed of the truck and taking my time added a little extra time to the install. Finished product looks great!

Read More Husky Liners UltraFiber Complete Truck Bed Liner Reviews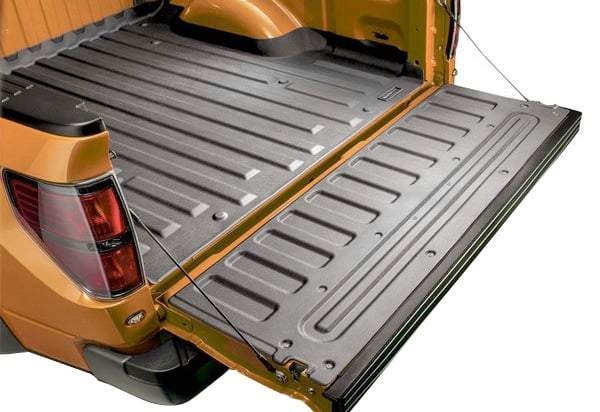 WeatherTech is known for their high-quality products, their Lifetime Warranty, and the fact that all of their products are always made in the USA. Their TechLiner Truck Bed Mat is no exception to any of these rules and it's as easy to remove as it is to install. Specifically designed to fit your truck exactly, this mat falls right into place and looks great!
Very satisfied with purchase. Easy installation. Fit perfectly. Looks great. Another quality WeatherTech product.

Read More WeatherTech TechLiner Truck Bed Mat Reviews
What's the Best Fit for Your Vehicle? Enter Your Info Below to Find Out!
Truck Bed Liners Buying Guide
You do all kinds of work, and haul all kinds of cargo, with your pickup truck bed. Day in and day out, the constant onslaught of lumber, equipment, and toys can scrape up and dent your bed. Before long your bed will be looking pretty beat up - or worse yet, it'll begin to rust through. Therefore, a Bed Liner is a downright essential addition to your rig if you use your bed frequently. There are two main types of liners out there: Drop-In and Spray-On. Check out their features below and find the best Bed Liner for your truck.
Spray-On Bed Liners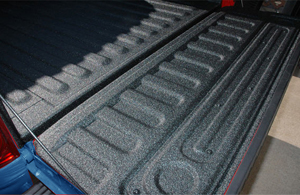 Spray-On Bed Liners act like an extra layer of paint-like material that is tough enough to resist scratches and dings. These liners are usually applied via spray guns or cans, with an epoxy-like mixture that is Often utilized in industrial, commercial, and agricultural applications, Spray-On Liners are known to provide an excellent level of protection, with a look and feel that's both tough and stylish. Plus, because they're applied in a liquid state, they perfectly fit every ridge, curve, and contour of your truck bed - even if you have existing dents and dings.
Problems with Spray-On Bed Liners
While durable and versatile, Spray-On Truck Bed Liners have their share of problems, as well. For one thing, once applied they are permanently bonded to your bed. This can be a problem if you are leasing your truck, or if you simply decide you don't want to keep the liner on. Certain brands of Spray-On Liners utilize chemicals that can be hazardous to your health and the environment, so special care needs to be taken when applying. Speaking of applying, the whole installing process can be difficult, messy, or even require dropping your truck off for an expensive professional installation.
Drop-In Bed Liners & Mats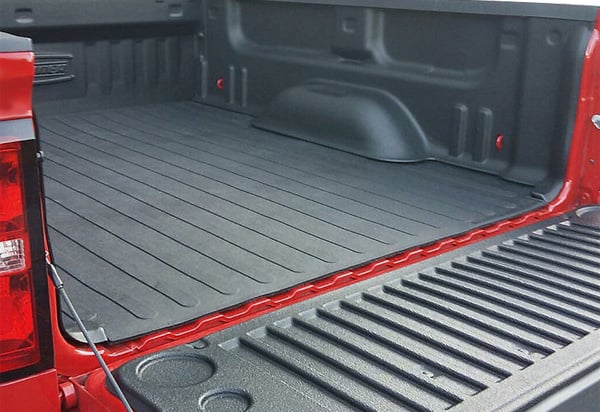 Drop-In Bed Mats and Truck Bed Liners are designed to give you rugged bed protection without the dangers, hassles, and expenses of Spray-In Bed Liners. Drop-In Liners can be made from molded hard plastics, flexible rubber, or carpet-like materials. They're typically custom-designed to your exact year, make, and model truck, so they're bound to fit your bed's features about as well as a Spray-On Liner.
At AutoAccessoriesGarage.com, we offer several options when it comes to Drop-In Bed Liners. The DualLiner Bed Liner is designed to wrap your whole bed in trustworthy protection, with hard side walls and a high-friction rubber floor that holds cargo in place. If you want a rugged liner with a softer feel, check out the BedRug Bed Liner. This model features a super-durable plastic construction that looks and feels like carpet. And like molded plastic liners, the BedRug is custom-molded and holds its shape through every season.
Spray-On or Drop-In: Which Is The Best Truck Bed Liner for You?
Both Spray-On and Drop-In Bed Liners offer excellent protection and looks for your truck bed. So which type should you choose? Consider your budget, whether you own or lease your truck, and how simple of an installation you would like. Be sure to read all of our Truck Bed Liner reviews and see what other truck drivers like and dislike about their liners. And finally, you can always call our customer support team at 800-663-1570.