Air is as important to your engine's performance and power output as gasoline. Without proper airflow coming into your engine, your vehicle will become sluggish, unresponsive, and inefficient. With a clean, new, well-designed performance auto air filter, however, you can feed extra oxygen into your cylinders and experience a whole new level of performance. Replacing your car air filter is a simple process, and if you do it yourself you can save a bunch compared to letting the shop do it.
Replacing Your Engine Air Filter
First things first: you need to pick up the right air filter for your engine. Whether you go for a K&N Filter, an S&B Air Filter, or a filter from any other brand, you're bound to enjoy some extra air flow and power while still protecting your engine from the elements. The key is that you get a performance engine air filter that's custom-designed to your exact vehicle so it'll simply drop in. At AutoAccessoriesGarage.com we make that simple - just enter the year, make, and model of your vehicle on any of our pages and we'll only serve up the filters that fit it.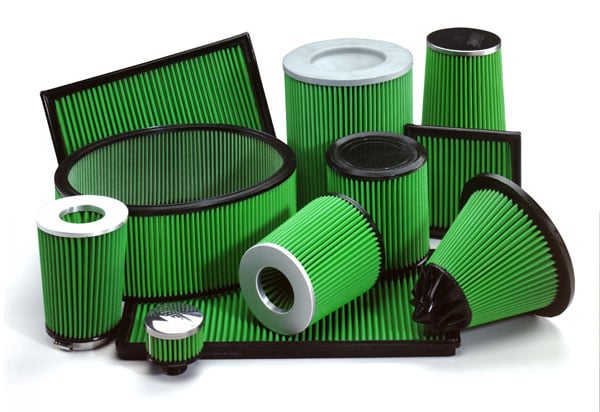 Once you've got your new filter, it's time to get started:
Make sure your vehicle is parked on level ground, turn off the ignition, and open the hood.
Find the air filter unit. The unit is usually located on top of the engine, with the filter hidden by a plastic or metal cover
Loosen the clamp that seals the filter unit to the air conduct and remove the cover.
Using an air compressor or vacuum, clean the air filter housing and make sure there's no dust or debris left behind. Cover up the air conduit with some easily-removable tape so no dirt or dust gets into your engine.
Drop the new filter into the housing, making sure the rubber rim seals all the edges.
Carefully put the cover back on and ensure that it's secure and straight. If the cover is not properly aligned you may lose some performance.
Air Filter Maintenance
Now that you know how to install your new performance air filter, you should know how to maintain it and/or when to replace it. Most standard air filters should be changed every 30,000 miles, or about once every 12 months. You will need to replace the filter more often if you live in a dusty region.
Unlike stock filters, many of our performance air filters can actually be cleaned and re-used many times over. If you have one of these dry or oiled air filters, check out our article on how to clean air filters. If you have any other questions about replacing and maintaining your car's air filter, feel free to give our customer service experts a call at 800-663-1570.
This page was written by Packy AutoAccessoriesGarage