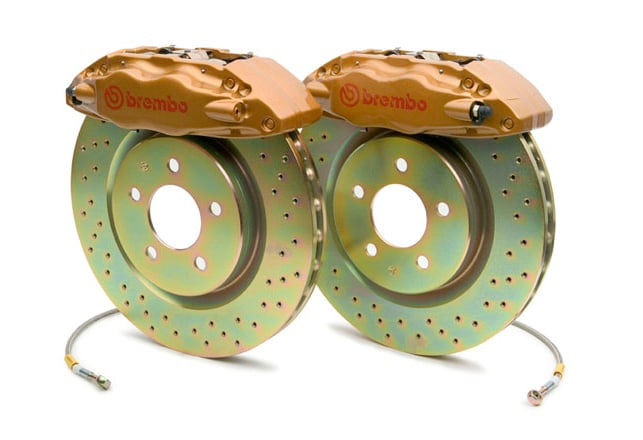 If there is one thing you need to be able to count on from your vehicle, it's the brakes. By outfitting your ride with a performance brake kit, you are giving it the ability to succeed on the most basic level. Whether you race on the weekends or you just use your vehicle to get around town, the fact remains the same. You're not going very far without a trustworthy set of brakes.
But what performance brake kit to choose? Well, two of the leading brands in the industry are StopTech and Brembo. Below, you'll find a comparison of each brand's full brake kit. Hopefully this helps when you find yourself choosing between the two.
StopTech Brake Kits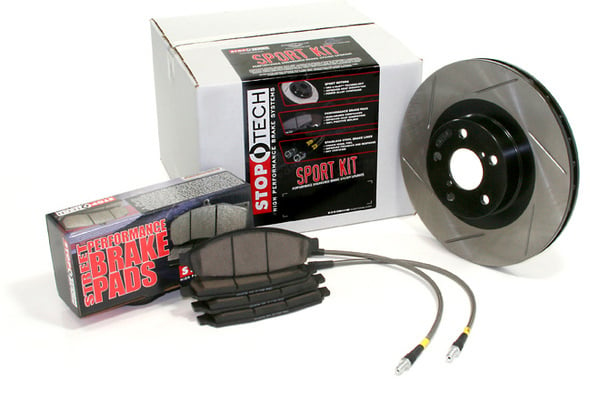 At the turn of the twenty-first century, StopTech Brakes was founded with one simple goal: to craft the most innovative, highest-performing brakes on the market today. Started by a group of performance enthusiasts, the folks at StopTech knew exactly what they were looking for, and they set out to get it with a desire to reset industry paradigms. When you go with StopTech, you can choose the exact perfect kit for your preferences. Better still, a StopTech brake kit comes with a set-up for all four of your vehicle's wheels, and they can be integrated with your stock system without any need for a full system overhaul.
You want better brakes for your vehicle. The people behind StopTech Brake Kits know what you have in mind, and they've made it their business to find you the perfect parts not just for your needs, but for your desires, too. Affordable and forward-thinking, there is a great StopTech brake kit for you, no matter what kind of driver you are.
Brembo Brake Kits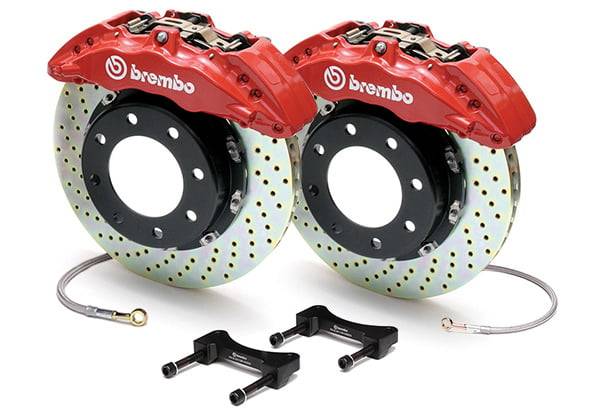 Every industry has its leader, and when it comes to brakes, that company is Brembo. Since 1961, Brembo Brakes have set a new standard for luxury and high-performance braking systems. As the brand has grown, they've moved from sport cars to actual Formula 1 racers, and the braking technology they've developed and put into Brembo brake systems is often imitated but never quite duplicated. When you pick up a full Brembo brake kit, you get every piece necessary to completely overhaul your vehicle's brakes. That means rotors, pads, lines, calipers, and even knuckles, when necessary.
Brembo brakes necessitate quite an investment, but if you insist on nothing but the highest quality for your sports car or luxury vehicle, then there is no other way to go. They don't try to be anything other than the most superior braking system available on the market today. You cannot do better by your ride than a Brembo brake kit.
StopTech or Brembo - What's the right brake kit for your vehicle?
While they offer similar products, the differences between StopTech brake kits and Brembo brake kits are important to consider. Below, you'll find a full comparison table that lays out those differences in fairly stark relief. It's important to give proper weight to factors like price, what each kit includes, and construction materials. There is a perfect brake kit out there for you somewhere: it's on you to find it. For further help with this decision, be sure to check out our Brakes FAQs and Brakes Buying Guide. Good luck, and happy shopping!
Full Kits Starting From

$443.52
$1,435.20
Materials
Cast-iron
Lightweight Aircraft-grade Aluminum
Styles
Drilled, Slotted, Drilled & Slotted
Drilled, Slotted
Kits Include
Rotors, Pads, Brake Lines
Rotors, Pads, Brake Lines, Calipers, Knuckles (when necessary)
Calipers
Stock
Five different color choices available
Sold As
Four-wheel Kit
Pairs for Front or Back
Warranty
90-Day
2-Year
Shipping
FREE
FREE