Classic Accessories Car Covers
Keeping your vehicle's exterior in top shape requires a quality cover - and that's just what you'll get with car covers by Classic Accessories. Every one of these covers is stitched from superior fabrics, and every panel is custom-cut to your exact vehicle. This ensures a stunning fit, as well as optimized protection that lasts for years. And if you're looking for the best Classic Accessories covers at the best prcies, you've come to the right place.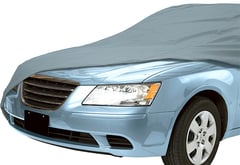 From $51.49
Free Shipping
Quick View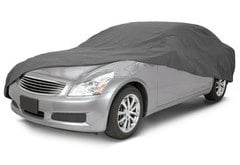 From $77.99
Free Shipping
Quick View
About Classic Accessories Car Covers
You love your ride, and you want to make sure it looks its best. The best way to do that is to keep it covered when not in use, and if you use Classic Accessories car covers then you're on the right track! You'll get full-fit protection for your ride from front to back, whether you park it inside or outside. That means dust won't sully your exterior, nor will rain, snow, bird droppings, or shrubbery.
When you have confidence in the way your vehicle looks, it changes the way you drive. There's a lot of pride in showing off how slick is your car or truck, how nice it looks, how sweet it shines in the sun. Beyond this, maintaining your paint job and keeping everything looking great can improve your resale value. No doubt: Classic Accessories car covers keep your ride looking great.
If you want to go with a Classic Accessories car cover, and you want to save cash in the process, go with AutoAccessoriesGarage.com. We work closely with the best brands in the industry to provide the lowest prices we can, and you'll even get free shipping on your whole order. Plus, from choosing the right cover for your needs to tracking your shipment, our skilled customer service reps are on call to help you out. When it comes to getting car covers with the best prices and support, nobody does it like AAG.
Classic Accessories Car Covers Reviews
Katie S
from Asheville, NC wrote:
Literally the only thing I was disappointed about was the fact that it never tracked. I was worried that meant that it hadn't even shipped out yet, but nope, it arrived within a couple days! The product seems a bit smaller than I expected, but it does exactly what I need it to and fits my Corolla snugly. It's worth every penny, as far as I'm concerned! Read more Classic Accessories OverDrive PolyPro 1 Car Cover customer reviews.
Robert W
from Fort Mohave, AZ says:
Wife's 2008 Mercedes Benz C-230 parked in Arizona Mohave Desert sun. Cover fit perfect. Light-weight but good quality at a decent price. Shipping was fast. Very happy and would recommend this to my friends.
Timothy B
from Mount Morris, NY says:
Excellent people, great company. Will do business again and recommend this to other people!
Allison W
from Stockton, CA says:
I had been meaning to purchase a cover for my 2008 Escape for a while, but now that I am cleaning it up to sell it, I decided I better get a cover so I don't have keep washing it. The box actually had my car on it so I figured it would fit and it does. Even your ad right now has the car. We recently had some rain and it kept the car dry and clean.
Tracy K
from Sugar Hill, GA wrote:
Very satisfied with this product. Price was right and delivery satisfactory. I will definitely be back.