Chrome Fuel Doors
A little splash of flash comes to your ride courtesy of Chrome Fuel Doors. Positioned right smack in the middle of your ride's back half for all to see, a Chrome Gas Door or Fuel Door Cover shines a gleaming endorsement of your personal style to anyone you drive past. Simple to install, often with little effort needed beyond an easy swap out, adding this extra pop to your car or truck is guaranteed to get you noticed.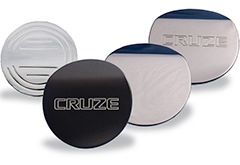 Keep your ride's style up to speed from front to back with an ABD Billet Fuel Door. Precision-cut from aircraft-grade aluminum, these chrome caps fit in place of your factory fuel door and bring extra flash to your ride. Available with a choice of finishes and designs, these fuel doors are a breeze to install.
From $149.95
Free Shipping
Quick View
Make a point to keep your vehicle looking its best with a DefenderWorx Fuel Door. Multiple design and finish options are available for your Camaro, Mustang, or Hummer, and everything is made of durable billet aluminum. There are even Transformers designs for your Camaro, both Decepticons and Autobots, and everything is easy to install and built-to-last.
From $161.49
Free Shipping
Quick View
About Chrome Fuel Doors
Extra style here and there along your vehicle adds up to one slick-looking ride. Chrome fuel doors are just another piece in the puzzle to get your vehicle looking its best. Whether you need Lincoln Navigator Chrome Fuel Doors or Dodge Charger Chrome Fuel Doors, we've got you covered. If they're available for your car, we can personally guarantee we've got them in stock. It won't be long now, and one day soon you'll have a ride that turns heads no matter where you drive.
When you shop for chrome fuel doors at AutoAccessoriesGarage.com, you won't have to put up with any hassle. We'll show you pictures and we'll offer detailed descriptions, and when you find the perfect one we'll ship it free! You can trust AAG: all we care about is you having as good an experience as possible.
More Popular Chrome Fuel Doors Vehicles: