Tailgate Handles
Bring a bit of bling to your truck's back end with chrome or stainless steel Tailgate Handles! Made from the finest materials to guarantee a mirror shine, these chrome Tailgate Handle covers will make your truck stand out from the rest. Installation is usually a breeze, with either 3M vehicle tape or a simple swap out all that's standing between you and the slick accents your truck deserves.
Keep your tailgate flashy with a Putco Chrome Trim Tailgate Handle Cover. Made of automotive-grade ABS, these tailgate handle covers won't yellow or fade but will match your OEM chrome perfectly. Custom-designed for your truck, installation is easy thanks to pre-applied 3M tape.
From $65.58
Free Shipping
Quick View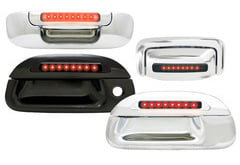 Outfit your tailgate with a bright, vibrant IPCW LED Tailgate Handle. A row of red LED lights comes in a variety of lens and finish configurations for the perfect look for your truck. Easy to install and custom-fit to each truck, it won't take long once you decide on something to have this LED tailgate handle on the back of your truck.
From $58.99
Free Shipping
Quick View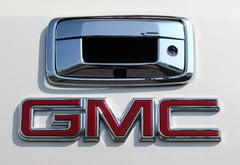 Bring sparkling new style the back of your truck with the Carrichs Chrome Tailgate Handle Cover. The durable ABS Plastic construction is sturdy,resistant to UV-radiation, and triple-dipped chrome finish matches any OEM chrome pieces. Backed by a Limited Lifetime Warranty.
From $38.44
Free Shipping
Quick View
About Tailgate Handles
Every inch of your truck affords you opportunity to add your own personal style. Do so with Tailgate Handles and smile every time you open your truck bed. We've got the new Chevy Silverado Chrome Tailgate Handles and Ford F150 Chrome Tailgate Handles you need to get your truck in line with the best way it can possibly look. Easy to install, hooking up your choice of Toyota Tundra Chrome Tailgate Handles brings a simple extra pop to your truck's back end. When you're ready to join the ranks of the slick and stylish, you and your truck both are then ready for some sleek Tailgate Handles!
When it's time to shop for Tailgate Handles, it's time to come see AAG. We arrange everything to ensure the easiest shopping process possible, whether you need GMC Sonoma Chrome Tailgate Handles or whatever your vehicle may be. Everything is presented with color photos and in-depth product descriptions, and once you buy something it ships to you for free. In and out and on your way, looking good all the while: AutoAccessoriesGarage.com is here to make your life easier.
More Popular Chrome Fuel Doors Vehicles: