So you're cruising along on the highway, your mind in a million places, and then WAP! A bug, or a stone, or a piece of sediment from a semi came done fast and hard – scratching your finish, denting your hood, or cracking your windshield. It's an awful feeling because you know there is now permanent damage to your vehicle (until you repair it) and what's worse is there was nothing you could do to prevent it – but actually there was!
When you have a bug deflector, not only are you covering the leading edge of your vehicle's hood – you're also redirecting wind as you drive. This aerodynamic redirection of wind will actually hurl bugs, rocks, and other highway hazards out of the way as you drive, ensuring they never make contact. All you'll have to do is pull over for gas on a road trip to see what a difference a good hood shield can make! So what is a good hood shield? Read on, because we've collected our Top 10 Best Bug Deflectors, Bug Shields, and Hood Protectors of 2023!
The Best Bug Deflector
Made from scratch-resistant acrylic material, the Stampede VP Series Hood Protector is available in Chrome, Clear, or Smoke finishes. Plus, the stand-away design makes it easy to clean both sides of this bugflector and your vehicle's finish underneath. Smoke and Clear finishes are backed by a Lifetime Warranty.
Great product! No metal clips that could damage the paint. Constructed out of one solid piece and the installation brackets are custom for my truck, using existing holes under the hood!

Read More Stampede VP Series Hood Protector Reviews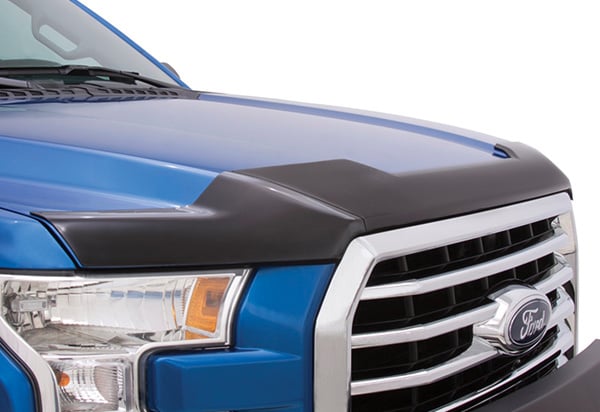 Available only for pickup trucks, the Lund Hood Defender does one specific thing, and it does it well. This attractive bug shield will hug the curves and contours of your trucks hood tightly for an augmented style. What's more, this deflector will send pest and pebbles packing while you cruise down the highway in your pickup.
This product is awesome! I love the the way it changed the look of my truck and it was super easy to install! Great product by Lund! I would recommend it 100%!!

Read More Lund Hood Defender Reviews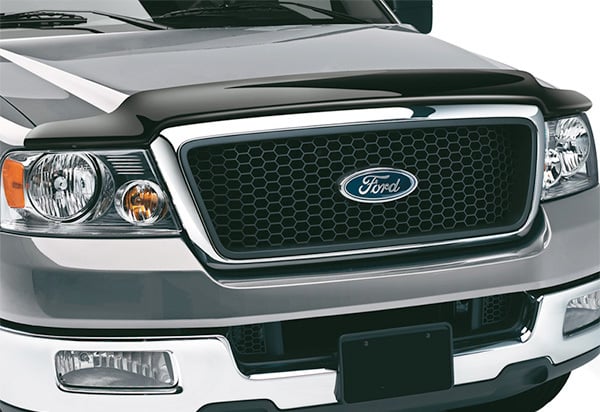 Eight on our list, the EGR Aerowrap Bug Deflector is a hood shield that means business. Offering a full wrap design and a standard dark smoke finish, this deflectors shields your hood from scratches and resists vibrations, flexing, and fluttering. The installation is easy and the included hardware prevents this shield from even touching your hood.
This was easy to purchase. Easy to install in the factory holes. No drilling required. AND, it fit amazingly. The entire process from the ease of the website to the finished install was so simple!

Read More EGR Aerowrap Bug Deflector Reviews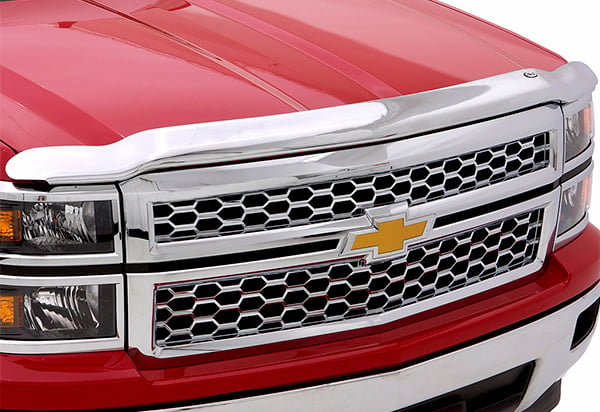 While it might not jive with everyone's style, some people only want to go chrome. And if a stylish shine is what you want for your ride, look no further than the AutoVentshade Chrome Hood Shield. This off-hood mounting deflector looks great and is easily cleaned or waxed for a sparkling shine.
The AutoVentshade Chrome Hood Shield fits perfectly. Everyone thought it came with my [pickup truck]. It makes the front end look awesome.

Read More AutoVentshade Chrome Hood Shield Reviews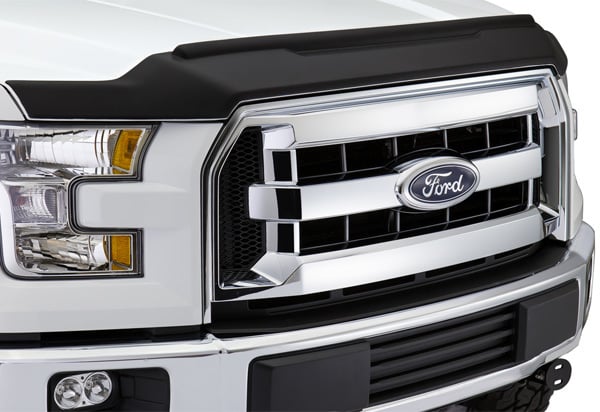 For AVS's famous Aeroskin II Bug Deflector in a stylish Matte Black finish, truly the only option is the AVS Matte Black Aeroskin II Bug Deflector. This product is made in the USA and comes backed by a Limited Lifetime Warranty. Plus, the impact-resistant TPO material is custom-made to fit your vehicle exactly.
I really like the appearance that this adds to my truck. It was very easy to install and it fits perfectly.

Read More AVS Matte Black Aeroskin II Bug Deflector Reviews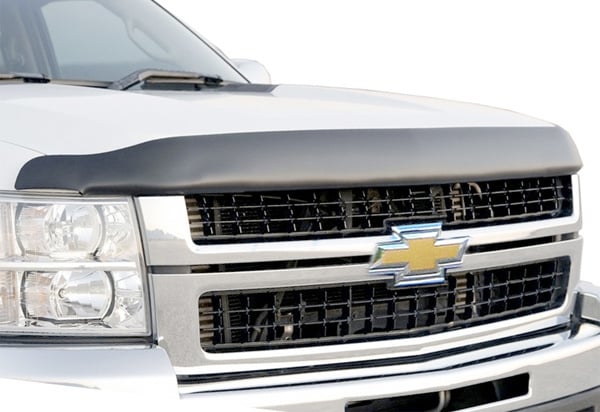 When a sinister black look is the goal, you simply can't beat the EGR Superguard Matte Black Bug Deflector. This bus shield is designed for the extra wide hoods that come with trucks and larger vehicles. With all that surface area, you're a sitting duck to dents, scrapes, and shatters – that's why a high impact aerodynamic bug shield such as this one is so great.
Looks awesome on my [pickup truck], a little tricky getting clips between hood and grille. Good, solid no-drill mount.

Read More EGR Superguard Matte Black Bug Deflector Reviews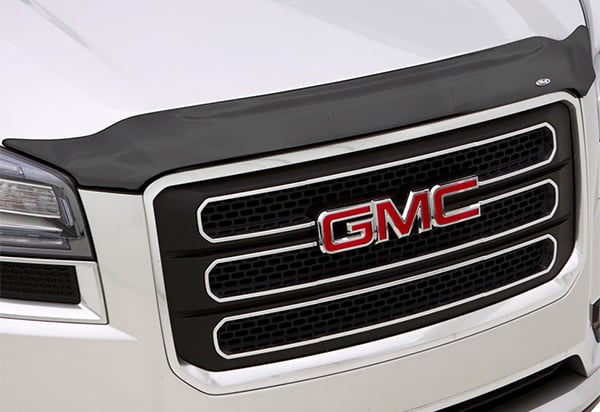 Custom made to your make and model of vehicle for an absolutely custom fit, the AutoVentshade Aeroskin Hood Deflector is backed by a Lifetime Warranty and comes in your choice of finish – smoke or chrome. Plus, thanks to the included automotive grade 3M tape, this deflector is as easy as can be to install on your vehicle.
I installed the transparent bug shield. Took about 5 minutes to install. The shield works well, deflects 99% of the bugs/stones that traditionally beat up the leading edge of the hood paint.

Read More AutoVentshade Aeroskin Hood Deflector Reviews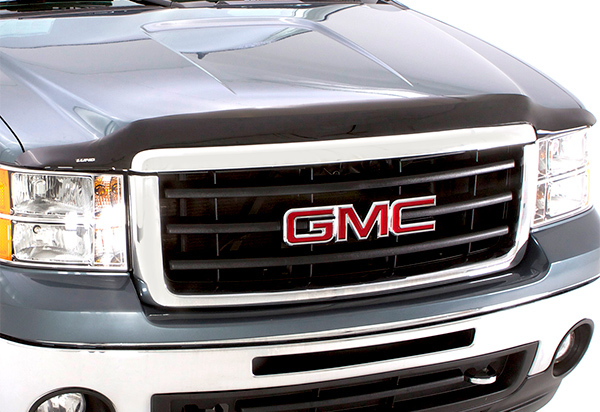 The perfect wrap-around that comes with a Lund Interceptor Bug Shield is hard to come by. In fact, this wrap-around style is patented by Lund! So if you want a hood shield that sits just like this you'll need to go with the Lund. But you're in luck because Lund hood shields are also available in your choice of finished and backed by a Lifetime Warranty.
The installation was simple, and it was the perfect finishing touch to a front end makeover on my truck. Quality construction and good looks!

Read More Lund Interceptor Bug Shield Reviews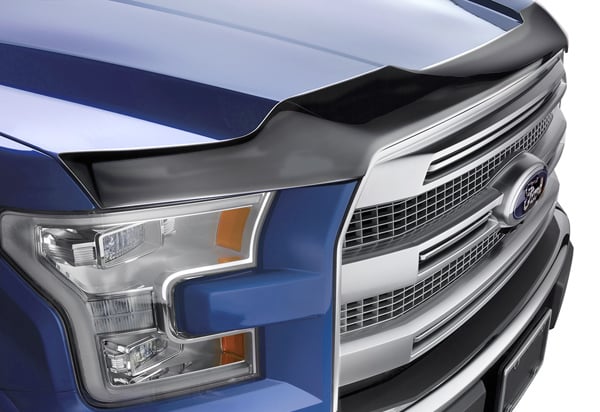 With a strong and low-profile construction that will stand up to all of the many road hazards, the WeatherTech Bug Deflector comes custom made to fit your vehicle exactly. The ultra-strong, scratch resistant acrylic used to construct this hood shield is available in a smoke finish and backed by a Limited Lifetime Warranty
Nice fit and style. Tape seemed strong enough to hold but I decided to use the provided screws also since it will see off-road use.

Read More WeatherTech Bug Deflector Reviews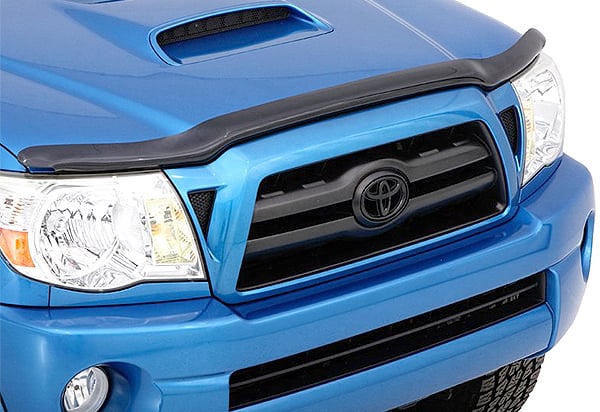 One of the top names in the industry, AutoVentshade really knows what they're doing. This fact has never been more clear than with the Bugflector II Bug & Stone Deflector. Impact-molded ABS Acrylic is used to construct this durable bug shield, and a full height offers complete and total hood protection against anything sailing down the highway.
Delivered on time, easy to install without any drilling. Fits nicely without compromising the integrity of my truck. This item was fairly priced, is of quality material, and was very simple to install.

Read More AutoVentshade Bugflector II Bug & Stone Deflector Reviews
What's the Best Fit for Your Vehicle? Enter Your Info Below to Find Out!