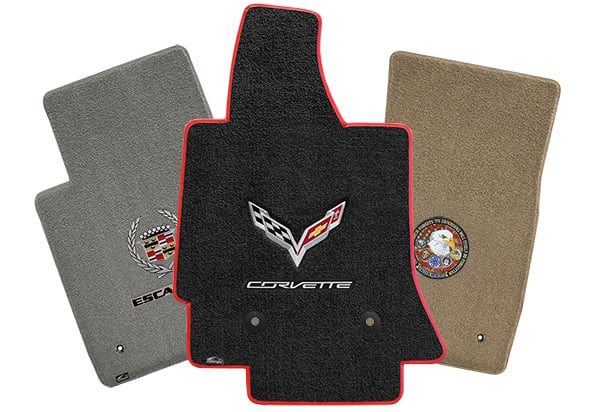 Your vehicle's carpet sees more action than any other part of your interior. From bags of mulch in the cargo area to muddy soccer shoes in the back seat, your car's carpet is under constant attack from messes, spills, and wear. If your carpet is starting to stain or rip, a floor liner may be just the thing you need to brighten up your vehicle. Floor Liners and Mats extend the life of your carpet by blocking spills and wear and provide you with a practical way to revitalize your car's interior. From logo mats to rugged all weather liners, these interior accessories offer both protection and style.
How Do Floor Mats and Liners Protect my Interior?
Stains and Spills
Life's little messes can leave a big mark on your interior. Spilled sodas and cups of coffee can permanently stain your carpet and decrease your car's resale value. While these accidents are largely unavoidable, you can at least prevent them from taking a toll on your carpet with a set of floor liners. As you shop, look for liners with raised edges and extra-thick construction. If stains and spills are a part of your every day life, take a look at Nifty Floor Mats and WeatherTech Floor Liners. These liners are available in a variety of finishes and feature a rugged design to help prevent liquid from seeping through to your factory carpet. For a full-proof check out Husky Floor Liners. These mats are made for all weather materials and feature a spiked bike to keep the mat in place to ensure total coverage in any condition.
Dirt and Grime
Dirt is everywhere. It's on your shoes, on your pet's paws, and on the tools you keep in the trunk. If you aren't careful, dirt can sink into and damage your factory carpet. Plus, heavy foot traffic smears clumps of mud and grime into your carpet and ruins your interior. Construction vehicles are especially susceptible to damage from dirt and mud. However, you can keep your carpet protected by installing a set of Car Floor Mats. If your vehicle is exposed to dirt and grime on a daily basis, consider the Husky Weatherbeater. This all weather mat is made of durable thermoplastic that stands up to dirt, motor oil, and even battery acid.
Helpful Tip: Having a hard time picking out the right floor mat? Take a look at our customer reviews to find the best floor liner for your vehicle.
Every Day Wear & Tear
Even if you keep your interior spotless, unprotected carpets are still susceptible to wear. Chances are you've seen worn-down heel marks on the driver's side carpet in many vehicles. By simply resting shoes and heels against your carpet, you're exposing it to harmful friction. Friction grates away at your carpet, leaving it drab, faded, and torn. This wear lowers your vehicle's resale value and can be very costly to repair. Car floor liners from brands like Lloyd Mats and Husky Liner act as a buffer between you carpet and your feet, and will help slow down the wear process. Many even feature extra heel pads near the pedals to stand up to heavy foot traffic.
Types of Floor Mats
Carpet Floor Mats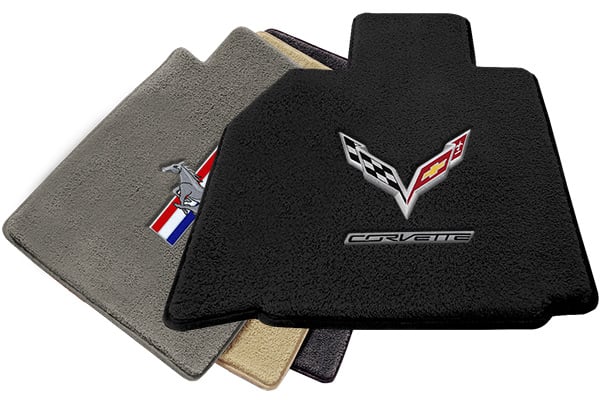 Carpet floor mats add classic style to your interior and protect your factory carpets from wear and dirt. For vehicles in sunny climates, these floor mats and cargo liners can help protect against UV damage and prevent fading. If you need a cover that will meet your every day driving needs, check out Lloyds Mats. These carpet mats come in a variety of finishes to match the rest of your interior and feature an extra-thick design to shield against spills and wear. While these mats make for a solid buffer against mud and light spills, they may not be the best choice for vehicles that have to endure extreme rain and snow on a consistent basis.
All Weather Floor Mats
If you need comprehensive protection against stains and spills, then all weather floor mats are what you're looking for. All weather mats like Husky Floor Liners from heavy-duty molded plastics to shield your carpets from wear and provide unmatched resistance to water and mud. Plus, unlike carpet mat these liners come built with a ribbed surface to keep messes contained on the mat and away from your car's interior. Whether you frequently drive with muddy boots or haul corrosive materials in your trunk, these mats have what it takes to keep your seats and cargo areas protected in any condition.
Helpful Tip: Need to find a solid weather resistant liner for your workhorse? Make sure you pick one that's constructed of rubberized vinyl, like the material found in certain Husky Floor Mats. Rubberized vinyl is resistant to water damage and stands up to corrosive materials without breaking a sweat.

Cargo Liners
A cargo floor liner lets your preserve your factory carpet without taking away the functionality from your trunk or SUV cargo area. Your cargo carpet endures abuse on a daily basis. Over time, messy gardening tools and heavy cargo can leave your trunk carpet looking drab, stained, and ripped. By simply keeping your cargo area covered with a heavy duty liner, you can prevent your daily hauls from causing permanent damage to your carpet. Like floor mats, cargo liners come in a variety of styles and materials to help shield your carpet from corrosive liquids, dirt, and every day wear. If you want a stylish accent for your SUV that will keep your carpet looking great, pick up the Weather Tech Cargo Mat. This cargo liner is custom cut to your trunk and features a raised lip to keep dirt and liquids contained on the mat and away from your carpet.
Compare Our Top Selling Mats
Price
from $56.95
from $74.95
from $86.90
from $39.99
from $19.90
Shipping
Free Shipping
Free Shipping
Free Shipping
Free Shipping
Free Shipping
Special Offers

Free Gift

Rating

Overall:
Performance:
Quality:
Appearance:

Install Time
Instant
Instant
Instant
Instant
Instant
Fit
Vehicle-Specific Fit
Vehicle-Specific Fit
Vehicle-Specific Fit
Vehicle-Specific Fit
Vehicle-Specific Fit
Colors
Logo Available
No
No
Yes
No
No
Material
Rubberized Thermo-Plastic
High-Density Tri-Extruded
32 oz. Nylon
Low-Density Polyethylene
Rubber Composite
Retention System
Factory Retention Grommets/Cutouts
Factory Retention Grommets/Cutouts
Factory Retention Grommets/Cutouts
Factory Retention Grommets/Cutouts
Factory Retention Grommets/Cutouts
Shape
Tall Side Walls
Tall Side Walls
Flat Edges
Tall Side Walls
Flat Edges
Underside Texture
Spikes
Smooth
TractionBac dimples
Smooth
Nibs
Warranty
Lifetime Warranty Against Breaking Or Cracking
3-Year Warranty
5-Year Warranty
Lifetime Warranty
5-Year Warranty
More Details
More Details
More Details
More Details
More Details
How To Pick The Best Floor Liners For Your Car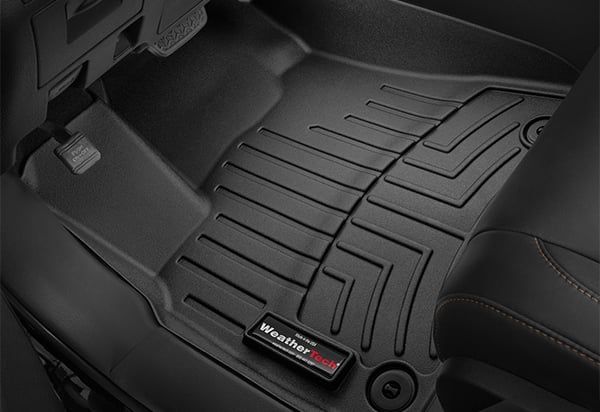 Choose Floor Mats That Fit Your Lifestyle
Before you start thinking about styles and colors, make sure the floor liners you want suit your driving needs. First, think about the weather in your area. If you face rain and snow on a frequent basis, then pick up a set of Weather Tech Floor Mats. These floor liners are constructed from Weathertech's patented weatherproof materials and feature a unique multichannel design to help keep spills away from your carpet. Weather Tech mats are also ideal for construction workers and contractors who want to protect their cargo area from the messes of the job site. If WeatherTech Mats don't suit your style, check out Husky Liners Floor Mats. Husky builds their mats out of durable thermoplastic and rubberized vinyl to resist wear and water damage. If your vehicle is under constant attack from the elements pick up Husky Liner Floor Mats. These heavy-duty liners are constructed with rubberized vinyl and feature extra-deep ridges to contain messes of all sizes. Drivers who live in warmer climates may want a carpet floor mat instead of an all weather liner. These mats offer the protection you need, but in a way that adds understated style to your interior.
Add Style to your Interior with a Car Floor Liner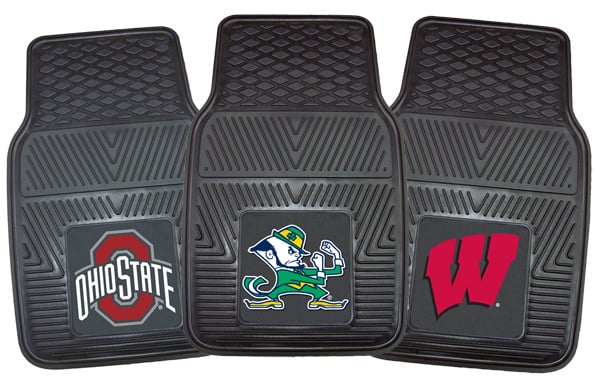 Sure, mats and liners protect your interior, but they also let you flex your creative muscles. If your interior is starting to look bland, spruce it up with a custom logo mat. These mats give you the opportunity to use your car as a billboard for your favorite sports team or university. Collegiate floor mats and pro sports liners come in a variety styles and all the logos are officially licensed. If sports aren't your thing, check out Lloyd Luxe Mats. These carpet mats are cut to fit the exact dimensions of your interior and feature a variety of popular car logos, including Corvette, Dodge, and Cadillac. You can even customize your Lloyd floor mats with custom embroidered text or fun lifestyle logos.
Final Thoughts
Floor mats and liners can protect your carpet from wear and enhance your vehicle's interior looks. We hope this research guide will help you make a more informed purchase while you browse our site. If you have any additional questions about the car floor mats we carry, please contact our highly trained Customer Service Department at 800-663-1570.
This page was written by Packy AutoAccessoriesGarage