Updated 2022-12-06 for the Winter season with new product recommendations. The frigid days of Winter can include snow and muck on your boots. With our Winter 2023 update, we looked for floor mats that will keep your interior clean throughout the inclement weather of the Winter season.

For many, keeping your car, truck, van, or SUV in good condition is of the utmost importance. Not only do you want to retain a solid resale value, but you also want your ride to look nice for yourself and your passengers. That's why so many customers tell us that the first thing they do when they get a new car is to order a set of custom floor mats.
Floor liners will protect your factory carpet, and when you go with a custom made set, you can keep your car spotless for as long as you own it. However, with the variety of floor mat types and brands available to you, deciding on the right set of floor mats that suit your personal taste and fit the interior of your vehicle can be a daunting task. There are carpet floor mats that are excellent for soaking up moisture, but many rubber floor mats come with walls that protect the sides of your vehicle's lower interior.
With so many colors, styles, and materials on the market, the product specialists at Auto Accessories Garage decided it might be a good idea for us to create a top ten list of floor mats for easy browsing. The following are our top-selling, and top-rated floor mats we've selected from years of data and floor mat reviews.
Presenting the Top 10 Best Car Floor Mats and Floor Liners of 2023:
The Best Floor Mat & Floor Liner for Cars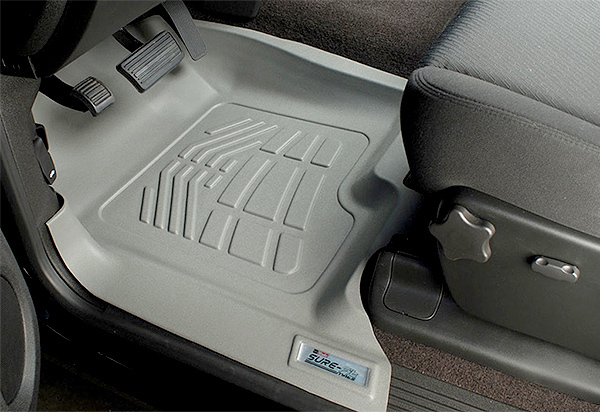 Plenty of mats have tall walls and reservoirs to keep liquids at bay, but the Sure Fit mats from Wade take it one step further. These mats feature drip barriers designed to pool your spills in the rear, safely away from your shoes and pant cuffs. These floor liners are backed by a Lifetiem Warranty.
We bought a set of Sure Fit floor mats three years ago for our SUV and like them so much we bought a set for our new Prius. They fit and look great and do everything we want them to.

Read More Wade Sure-Fit Floor Mats Reviews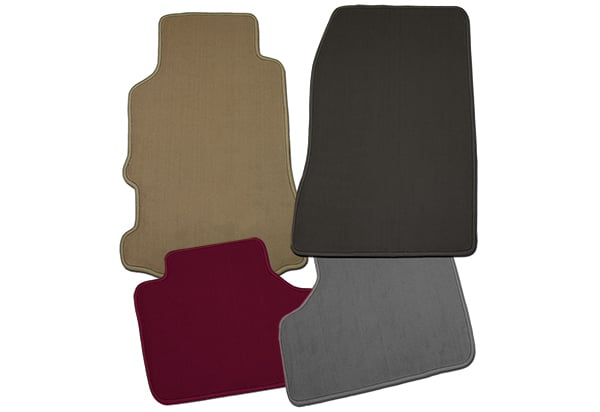 The genius of Avery's Touring Floor Mats can't immediately be seen by the naked eye. Plush and comfortable nylon carpet adorns the top, but it's the high-grade rubber backing that really makes these mats shine. This way, you can have the comfort of carpet with the security of a mat that won't let spills reach the factory floor. Plus, each set is custom made in the USA.
Very happy with this product. Quality was beyond my expectations. Will definitely order from this company in the future. By the way, Honda wanted $340 for car mats… yeah right. These are much higher quality anyway.

Read More Avery's Touring Floor Mats Reviews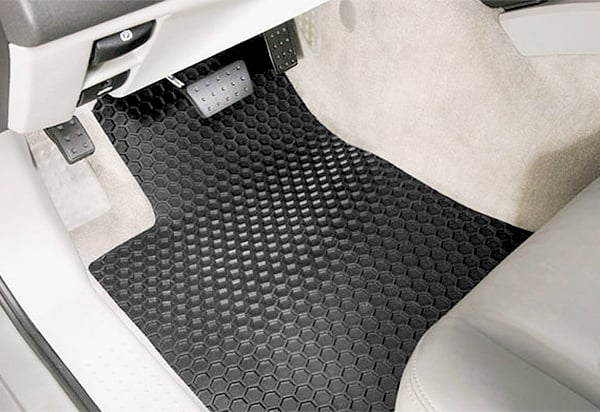 The Hexomats floor mats from Intro-Tech get their name from the hexagonal pattern stamped into each one. Not only does this honeycomb design look cool, but it will keep spilled liquids from sloshing around until you can hose them off. The durable rubber construction will never crack or fade, which is why Intro-Tech backs these with a Lifetime Warranty.
Very nice/functional floor mats. The low profile doesn't get in the way of your feet when getting in and out of vehicle like some mats that have the big ridges on them. Very satisfied.

Read More Intro-Tech Hexomat Rubber Floor Mats Reviews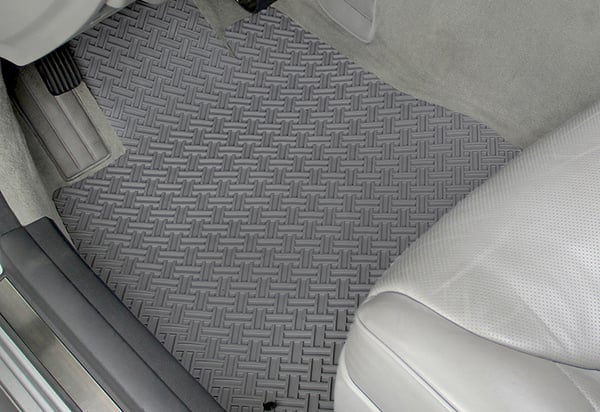 From the tried and trusted Lloyd brand, the NorthRIDGE floor mats guard your OE flooring, while upgrading your interior style. Completely waterproof and featuring a ridged surface, these mats can handle spilled coffee, ice cream, or pretty much anything else you can throw at them. Lloyd mats will send free color swatches if you like!
Great fit and they looked awesome! These don't have that heavy look to them. They actually look kind of sporty. I like the looks of them better than the carpeted ones that came with my truck. The backing material is also great for keeping them in place.

Read More Lloyd NorthRIDGE All-Weather Floor Mats Reviews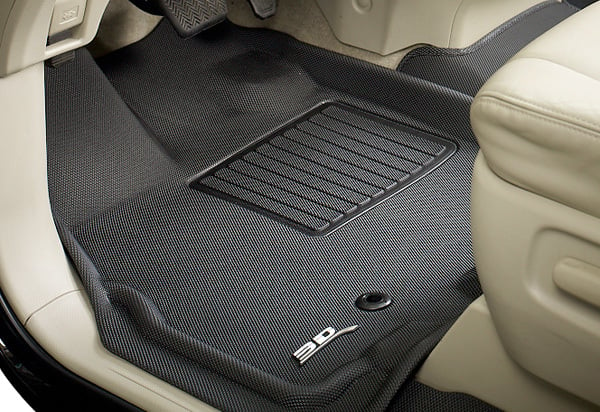 The Kagu floor mat from 3D Maxpider is truly one of a kind. Each mat contains three distinct layers for ultimate protection. The thermoplastic top layer is crack resistant and carbon-fiber-textured for an uncompromising grip. A XPE middle layer offers both insulation as well as shock absorption. And finally, fibers on the underside grip your factory carpet to keep your mats in place.
I bought this set of floor liners for my new Buick Envision. They were super easy to install and fit perfectly. I have the black and tan interior so bought the tan set which look really good with that color scheme. The mats are of excellent quality and I expect they will last a long time. They look so much better than the other custom fit liners available. The Velcro like material on the bottom really holds them in place. I highly recommend this product!

Read More 3D Maxpider Kagu Floor Mats Reviews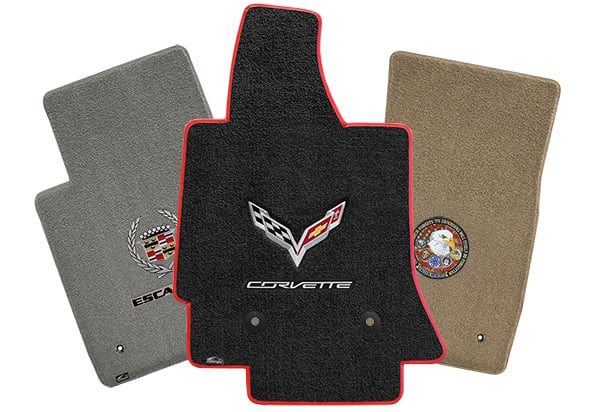 The high-quality carpet of Lloyd's Ultimat floor mat is made from plush, 32 ounce nylon. That's more than twice the weight and thickness of most factory flooring. Not only will these floor mats protect your factory flooring from spills and dirt, they'll also dress the interior up with a variety of color options and the option to add custom logos.
I was very pleased with the Lloyd Ultimate Custom fit mats I ordered. The quality of the yarn, color matched mat edging, and most importantly, the nonskid backing were as good or better (backing) than the original mats. And the color matched exactly to the originals thanks to advice from the order taker. My Audi is 30 years old and I have the factory replacement mats from 15 years ago with deteriorating backing. This company stands behind their product.

Read More Lloyd Ultimat Floor Mats Reviews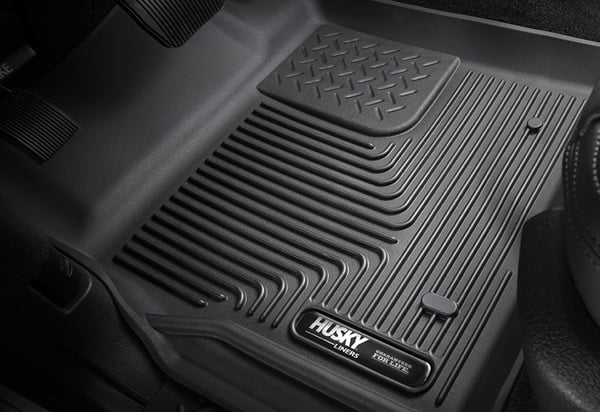 Forged from a form-fitting thermo-plastic, the raised edges and ribbed top texture of Husky Liners X-act Contour Floor Liners are enough to handle the filthiest of work boots. These durable mats are designed specifically with daily drivers in mind. The result is a tremendously tough liner that comes backed by a Lifetime Warranty.
These are probably the best mats I've ever had and the first ones I haven't had to replace. I spend every day on a different site and never know what mud or muck I'll end up in. These mats can handle gas and oil and a can easily wash them off in my front yard. Thanks Husky Liners!

Read More Husky Liners X-act Contour Floor Liners Reviews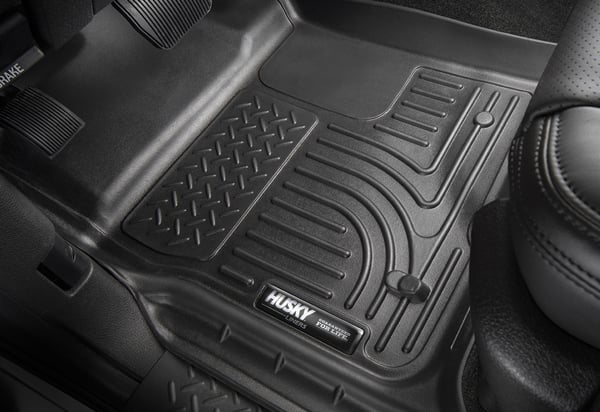 Also available in a cargo liner, the WeatherBeater line from Husky Liners is always a top seller. With a thermoplastic construction and extra-tall exterior walls, these mats will stand up to any weather and any climate for years and years to come. Each set comes custom-made to cover every inch of your interior carpet, and Husky backs these with a Lifetime Warranty. Plus, cleanup is as easy as can be - just remove the mats and hose them off in your front yard.
Great purchase, perfect fit. Already had 3 people tell me how good they look. Now clean up is so easy, no more having to vacuum the carpet, all is on the floor mats. I recommend these mats to everyone.

Read More Husky Liners WeatherBeater Floor Liners Reviews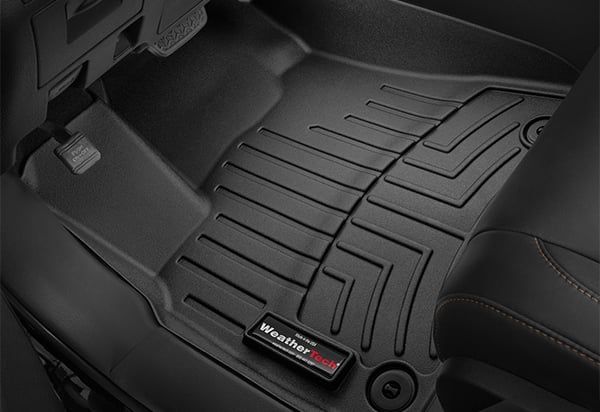 First off, one of the biggest names in the industry, WeatherTech. Their DigitalFit floor liners get their name from the precise, laser-measured process through which WeatherTech attains such a perfect fit. Designed for vehicles with factory carpet, this high-density tri-extruded semi-flexible material is simply as good as it gets for many. After all, the reputation didn't come from nowhere.
Weathertech mats are the first accessory I buy for every one of my vehicles. Currently, I have them in my 2009 Ford F-150 and my 2013 Honda CRV. When my Brother in Law recently purchased a CRV, I ordered Weathertech mats for his car. The fit is flawless, the appearance is great, and I know from experience that the degree of protection that they provide is unmatched.

Read More WeatherTech DigitalFit Floor Liners Reviews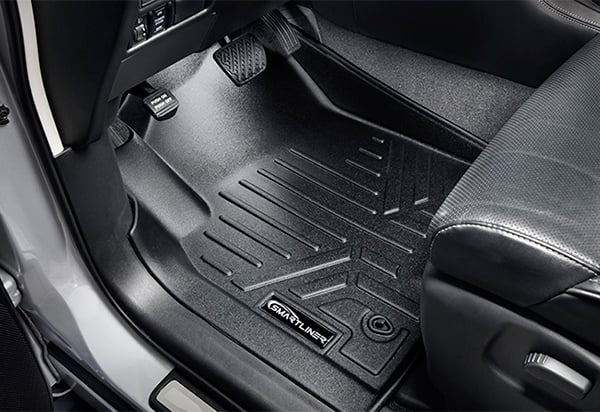 Using computer technology to measure the exact specifications of your make and model, Smartliner (formerly known as Maxliner) Floor Mats will cover every inch of your "danger-zone" with durable polyethylene. This low-density material is both flexible and durable – give you a mat that's both functional and fashionable. With reinforced edges and textured for traction, these mats are definitely tough enough for the job.
I am extremely happy with the price and quality of the car mats. They are nice and plush and I am very happy with the choice of colors for the Camaro brand. I opted for the tan banding around the edge. The driver mat lines up perfectly for the safety hold down pins. I would order again form this company.

Read More Smartliner (Maxliner) Floor Mats Reviews
What's the Best Fit for Your Vehicle? Enter Your Info Below to Find Out!
Floor Mats & Liners Buying Guide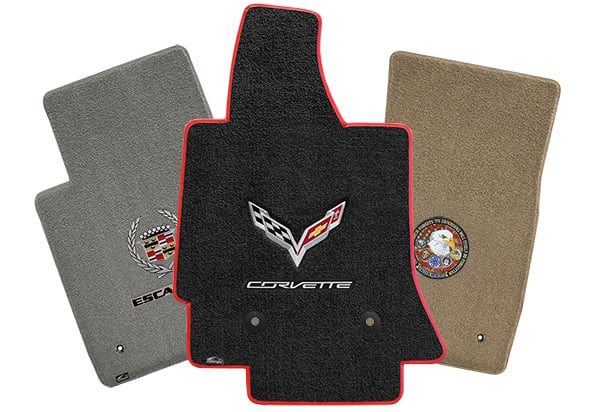 Your vehicle's carpet sees more action than any other part of your interior. From bags of mulch in the cargo area to muddy soccer shoes in the back seat, your car's carpet is under constant attack from messes, spills, and wear. If your carpet is starting to stain or rip, a floor liner may be just the thing you need to brighten up your vehicle. Floor Liners and Mats extend the life of your carpet by blocking spills and wear and provide you with a practical way to revitalize your car's interior. From logo mats to rugged all weather liners, these interior accessories offer both protection and style.
How Do Floor Mats and Liners Protect my Interior?
Stains and Spills
Life's little messes can leave a big mark on your interior. Spilled sodas and cups of coffee can permanently stain your carpet and decrease your car's resale value. While these accidents are largely unavoidable, you can at least prevent them from taking a toll on your carpet with a set of floor liners. As you shop, look for liners with raised edges and extra-thick construction. If stains and spills are a part of your every day life, take a look at Nifty Floor Mats and WeatherTech Floor Liners. These liners are available in a variety of finishes and feature a rugged design to help prevent liquid from seeping through to your factory carpet. For a full-proof check out Husky Floor Liners. These mats are made for all weather materials and feature a spiked bike to keep the mat in place to ensure total coverage in any condition.
Dirt and Grime
Dirt is everywhere. It's on your shoes, on your pet's paws, and on the tools you keep in the trunk. If you aren't careful, dirt can sink into and damage your factory carpet. Plus, heavy foot traffic smears clumps of mud and grime into your carpet and ruins your interior. Construction vehicles are especially susceptible to damage from dirt and mud. However, you can keep your carpet protected by installing a set of Car Floor Mats. If your vehicle is exposed to dirt and grime on a daily basis, consider the Husky Weatherbeater. This all weather mat is made of durable thermoplastic that stands up to dirt, motor oil, and even battery acid.
Helpful Tip: Having a hard time picking out the right floor mat? Take a look at our customer reviews to find the best floor liner for your vehicle.
Every Day Wear & Tear
Even if you keep your interior spotless, unprotected carpets are still susceptible to wear. Chances are you've seen worn-down heel marks on the driver's side carpet in many vehicles. By simply resting shoes and heels against your carpet, you're exposing it to harmful friction. Friction grates away at your carpet, leaving it drab, faded, and torn. This wear lowers your vehicle's resale value and can be very costly to repair. Car floor liners from brands like Lloyd Mats and Husky Liner act as a buffer between you carpet and your feet, and will help slow down the wear process. Many even feature extra heel pads near the pedals to stand up to heavy foot traffic.
Types of Floor Mats
Carpet Floor Mats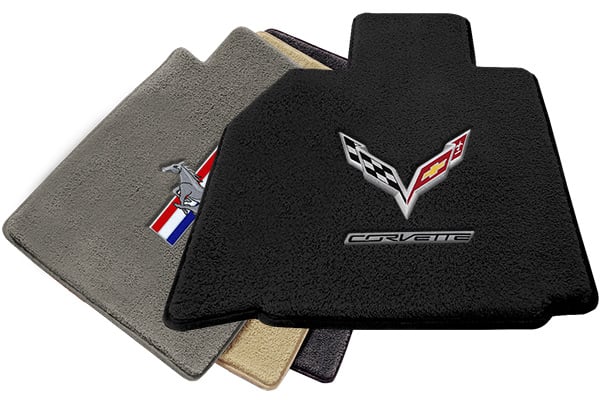 Carpet floor mats add classic style to your interior and protect your factory carpets from wear and dirt. For vehicles in sunny climates, these floor mats and cargo liners can help protect against UV damage and prevent fading. If you need a cover that will meet your every day driving needs, check out Lloyds Mats. These carpet mats come in a variety of finishes to match the rest of your interior and feature an extra-thick design to shield against spills and wear. While these mats make for a solid buffer against mud and light spills, they may not be the best choice for vehicles that have to endure extreme rain and snow on a consistent basis.
All Weather Floor Mats
If you need comprehensive protection against stains and spills, then all weather floor mats are what you're looking for. All weather mats like Husky Floor Liners from heavy-duty molded plastics to shield your carpets from wear and provide unmatched resistance to water and mud. Plus, unlike carpet mat these liners come built with a ribbed surface to keep messes contained on the mat and away from your car's interior. Whether you frequently drive with muddy boots or haul corrosive materials in your trunk, these mats have what it takes to keep your seats and cargo areas protected in any condition.
Helpful Tip: Need to find a solid weather resistant liner for your workhorse? Make sure you pick one that's constructed of rubberized vinyl, like the material found in certain Husky Floor Mats. Rubberized vinyl is resistant to water damage and stands up to corrosive materials without breaking a sweat.

Cargo Liners
A cargo floor liner lets your preserve your factory carpet without taking away the functionality from your trunk or SUV cargo area. Your cargo carpet endures abuse on a daily basis. Over time, messy gardening tools and heavy cargo can leave your trunk carpet looking drab, stained, and ripped. By simply keeping your cargo area covered with a heavy duty liner, you can prevent your daily hauls from causing permanent damage to your carpet. Like floor mats, cargo liners come in a variety of styles and materials to help shield your carpet from corrosive liquids, dirt, and every day wear. If you want a stylish accent for your SUV that will keep your carpet looking great, pick up the Weather Tech Cargo Mat. This cargo liner is custom cut to your trunk and features a raised lip to keep dirt and liquids contained on the mat and away from your carpet.
Frequently Asked Questions about Floor Mats & Liners
Floor Mats & Liners FAQs Answers
Will I need tools to install new floor mats?
No. Every floor mat we sell is intended to be laid out on your vehicle's floor. No tools of any kind are required, and installation is quite simple.
All-weather floor mats vs. carpet floor mats: which is better?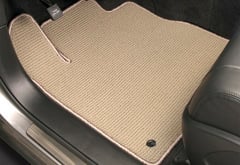 All-weather floor mats offer thicker protection against moisture, mud, dirt, and messes. Made of a durable synthetic material, they have tall outer walls to trap mud and moisture until they can be hosed off. Carpeted mats come in a wide variety of colors to match your vehicle's interior and are made of thicker, longer-lasting, more crush-resistant material than factory mats. These are cleaned via vacuuming, shaking out, hand-washing, or with carpet cleaner.
Neither is better than the other, however. They are both useful in different ways, for different lifestyles.
Should I buy a 1-piece floor mat or 2-piece set?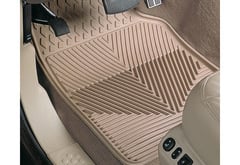 This mostly depends on your particular vehicle's floor configuration. The vast majority of trucks, vans, and SUVs will use a 1-piece full-size rear floor mat, and some of them (though not all) also have a 1-piece full-size in front. Nearly all car floor mats come as a set of two, both front and rear. Pay attention to your vehicle's configuration and do a little research to find out what the optimal set-up is for your particular automobile.
What's the difference between these floor mats and my factory mats?
While the floor mats you purchase from Auto Accessories garage may look similar to your factory mats, replacement floor mats, in many ways, are an improvement upon factory models. They are usually more durable, thicker, longer-lasting, and protect a larger area than factory mats. The idea with the purchase of a new floor mat is to upgrade beyond what a factory mat can do for you.
Is there any appreciable difference between all-weather floor mats and all-weather floor liners?
All-weather floor mats are thick and heavy, for concentrated protection immediately below the feet of passengers. All-weather floor liners cover more surface area while at the same time retaining a greater volume of mud and moisture. Both are intended to be cleaned off with a hose. Outside of your vehicle, of course.
Of what material are all-weather floor mats and all-weather floor liners made?
Most all-weather floor mats are made of heavy-duty rubber or vinyl. Most all-weather floor liners are made with their manufacturer's proprietary synthetic formula.
How do I match a floor mat to my vehicle's interior?
Carpeted floor mats are available in several different colors, universal enough to match or at least accentuate any vehicle interior. All-weather floor mats usually only come in a few different colors, but these are versatile enough to ensure you can accentuate your interior if not match it outright.
What is a Semi-Custom floor mat?
A custom floor mat is made to the exact year, make, and model of your particular vehicle. Semi-Custom floor mats, on the other hand, will fit a vehicle's dimensions with relative ease but won't fit them exactly. They are made to accomodate MOST vehicles within a certain set of sizes. Measure your vehicle before purchasing these kinds of mats so you buy the right size for your car or truck.
Why are the floor mats I received a slightly different color than the ones on the website?
Every computer monitor represents colors differently. The colors on your particular monitor will very closely resemble the actual color of each floor mat, but there may be some slight variation upon receipt. Feel free to contact our customer service department with any questions that arise.
Will these floor mats stain?
All-weather floor mats are made of rubber and are designed to trap mud and moisture prior to being hosed off, and so should never stain. Replacement carpeted floor mats are treated with stain-resistant formulas. That said, resistance does not mean something unfortunate definitely will not happen. Consult the manufacturer's instructions for proper cleaning procedures. Household carpet cleaner can also be used on most carpeted mats.
Will these floor mats stay in place?
Many of the floor mats on our site have some sort of underside spike, snap, or lock to keep them in place. The ones that don't will have a non-slip backing surface. In short: every floor mat we sell should stay in place without any extra effort on your part.
How To Pick The Best Floor Liners For Your Car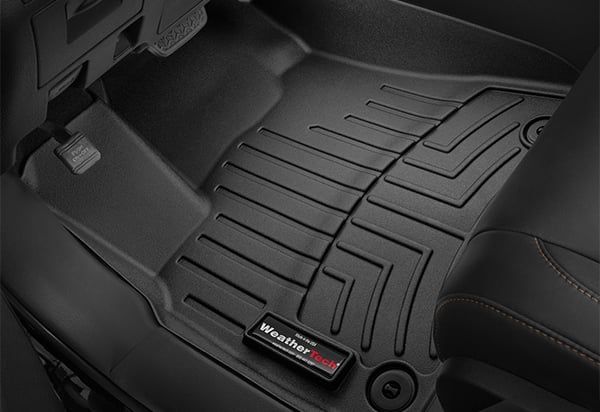 Choose Floor Mats That Fit Your Lifestyle
Before you start thinking about styles and colors, make sure the floor liners you want suit your driving needs. First, think about the weather in your area. If you face rain and snow on a frequent basis, then pick up a set of Weather Tech Floor Mats. These floor liners are constructed from Weathertech's patented weatherproof materials and feature a unique multichannel design to help keep spills away from your carpet. Weather Tech mats are also ideal for construction workers and contractors who want to protect their cargo area from the messes of the job site. If WeatherTech Mats don't suit your style, check out Husky Liners Floor Mats. Husky builds their mats out of durable thermoplastic and rubberized vinyl to resist wear and water damage. If your vehicle is under constant attack from the elements pick up Husky Liner Floor Mats. These heavy-duty liners are constructed with rubberized vinyl and feature extra-deep ridges to contain messes of all sizes. Drivers who live in warmer climates may want a carpet floor mat instead of an all weather liner. These mats offer the protection you need, but in a way that adds understated style to your interior.
Add Style to your Interior with a Car Floor Liner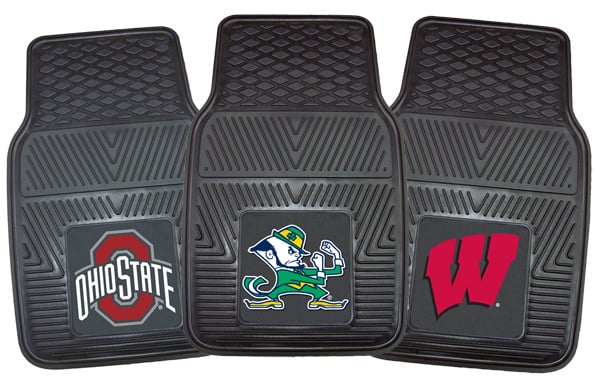 Sure, mats and liners protect your interior, but they also let you flex your creative muscles. If your interior is starting to look bland, spruce it up with a custom logo mat. These mats give you the opportunity to use your car as a billboard for your favorite sports team or university. Collegiate floor mats and pro sports liners come in a variety styles and all the logos are officially licensed. If sports aren't your thing, check out Lloyd Luxe Mats. These carpet mats are cut to fit the exact dimensions of your interior and feature a variety of popular car logos, including Corvette, Dodge, and Cadillac. You can even customize your Lloyd floor mats with custom embroidered text or fun lifestyle logos.