For many, keeping your car, truck, van, or SUV in good condition is of the utmost importance. Not only do you want to retain a solid resale value, but you also want your ride to look nice for yourself and your passengers. That's why so many customers tell us that the first thing they do when they get a new car is order a set of floor mats.
Floor liners will protect your factory carpet, and when you go with a custom made set, you can keep your car spotless for as long as you own it. With so many colors, styles, and materials on the market, the product specialists at Auto Accessories Garage decided it might be a good idea for us to create a top ten list of floor mats for easy browsing. The following are our top selling, and top rated floor mats we've selected from years of data and customer service know-how.
Presenting, the Top Ten Automotive Floor Mats of 2017: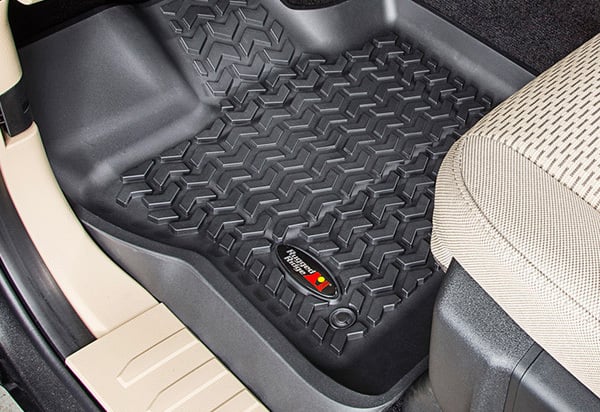 Zeroing in on the truck, Jeep, and SUV market, Rugged Ridge's answer to floor mats are as rough and tumble as they come. Injection-molded for a unique design, the thick thermoplastic of these mats creates an unstoppable barrier for snow, ice, mud, and even spilled smoothies. Plus, cleaning them couldn't be easier. Since they're 100% waterproof, all you have to do is hose them off in your yard.
I was attracted to the aggressive style which traps dirt and stones really well. The fit was exact. I was a Weather Tech guy but appreciate the thickness and pliable nature of the Rugged Ridge liners. I'm sold, will show others, and will be back to buy additional products.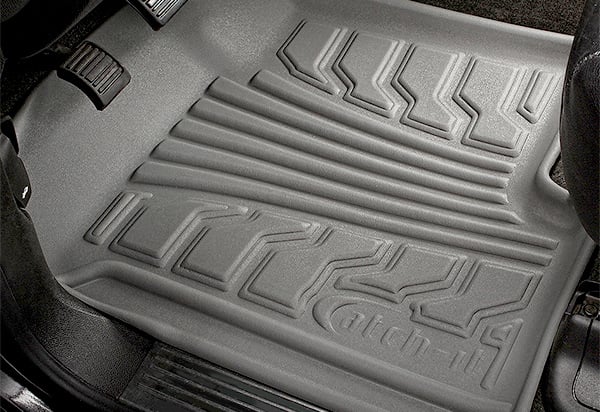 Plenty of mats have tall walls and reservoirs to keep liquids at bay, but the Catch It mats from Lund take it one step further. These mats feature drip channels designed to pool your spills in the rear, safely away from your shoes and pant cuffs. Plus, raised scraping blocks give you a spot to wipe the bottom of your shoes off. These floor liners are completely American made.
We bought a set of Catch it floor mats three years ago for our SUV and like them so much we bought a set for our new Prius. They fit and look great and do everything we want them to.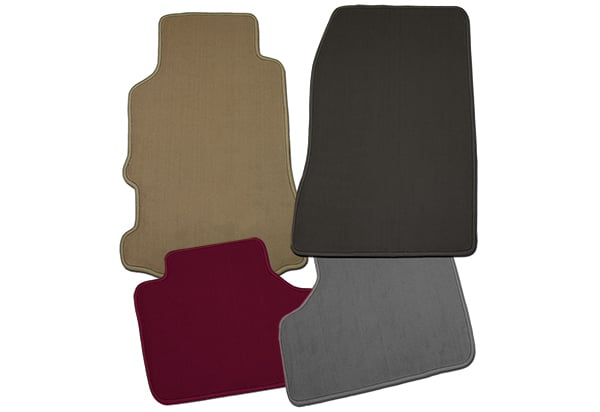 The genius of Avery's Touring Floor Mats can't immediately be seen by the naked eye. Plush and comfortable nylon carpet adorns the top, but it's the high-grade rubber backing that really makes these mats shine. This way, you can have the comfort of carpet with the security of a mat that won't let spills reach the factory floor. Plus, each set is custom made in the USA.
Very happy with this product. Quality was beyond my expectations. Will definitely order from this company in the future. By the way, Honda wanted $340 for car mats… yeah right. These are much higher quality anyway.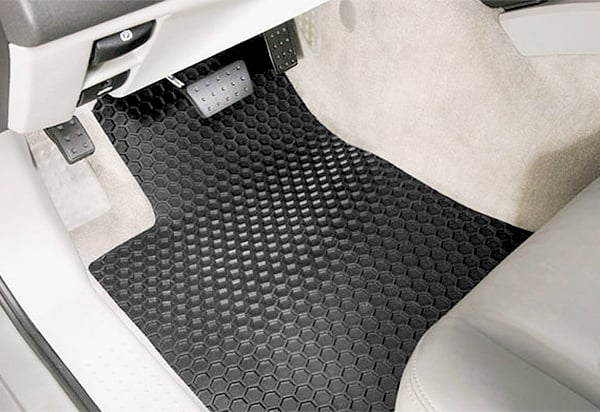 The Hexomats from Intro-Tech get their name from the hexagonal pattern stamped into each one. Not only does this honeycomb design look cool, but it will keep spilled liquids from sloshing around until you can hose them off. The durable rubber construction will never crack or fade, which is why Intro-Tech backs these with a Lifetime Warranty.
Very nice/functional floor mats. The low profile doesn't get in the way of your feet when getting in and out of vehicle like some mats that have the big ridges on them. Very satisfied.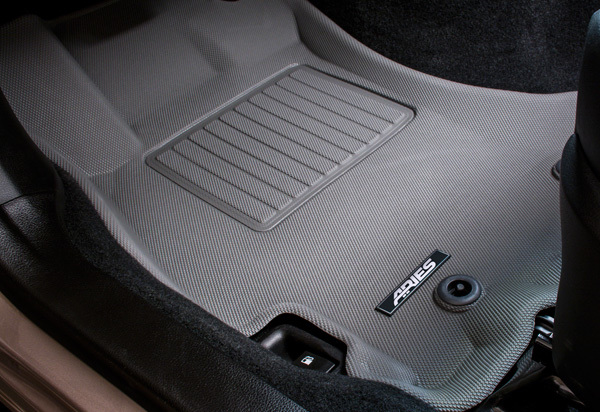 From the tried and trusted Aries brand, the StyleGuard floor mats guard your OE flooring, while upgrading your interior style. Completely waterproof and featuring tall sides, these mats can handle spilled coffee, ice cream, or pretty much anything else you can throw at them. Three layers make these mats nice and tough on the top and bottom, and soft and plush in the middle.
Great fit and they looked awesome! These don't have that heavy look to them. They actually look kind of sporty. I like the looks of them better than the carpeted ones that came with my truck. The backing material is also great for keeping them in place.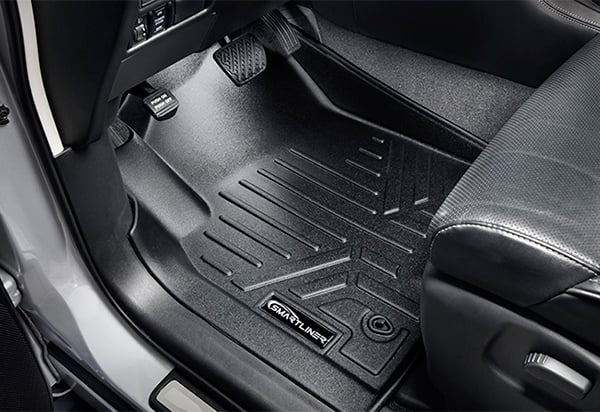 Using computer technology to measure the exact specifications of your make and model, Maxliner MaxFloormats will cover every inch of your "danger-zone" with durable polyethylene. This low-density material is both flexible and durable – give you a mat that's both functional and fashionable. With reinforced edges and textured for traction, these mats are definitely tough enough for the job.
I am extremely happy with the price and quality of the car mats. They are nice and plush and I am very happy with the choice of colors for the Camaro brand. I opted for the tan banding around the edge. The driver mat lines up perfectly for the safety hold down pins. I would order again form this company.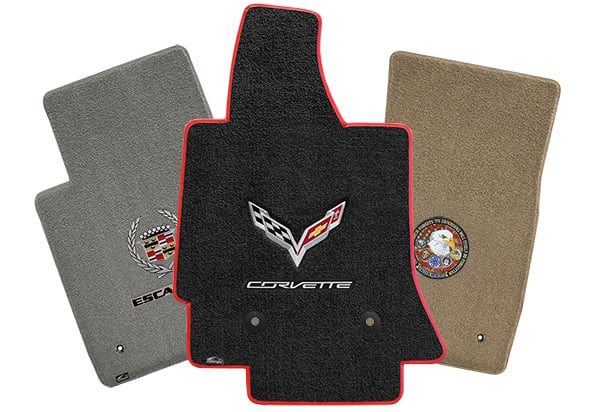 The high-quality carpet of Lloyd's Ultimat floor mats is made from plush, 32 ounce nylon. That's more than twice the weight and thickness of most factory flooring. Not only will these floor mats protect your factory flooring from spills and dirt, they'll also dress the interior up with a variety of color options and the option to add custom logos.
I was very pleased with the Lloyd Ultimate Custom fit mats I ordered. The quality of the yarn, color matched mat edging, and most importantly, the nonskid backing were as good or better (backing) than the original mats. And the color matched exactly to the originals thanks to advice from the order taker. My Audi is 30 years old and I have the factory replacement mats from 15 years ago with deteriorating backing. This company stands behind their product.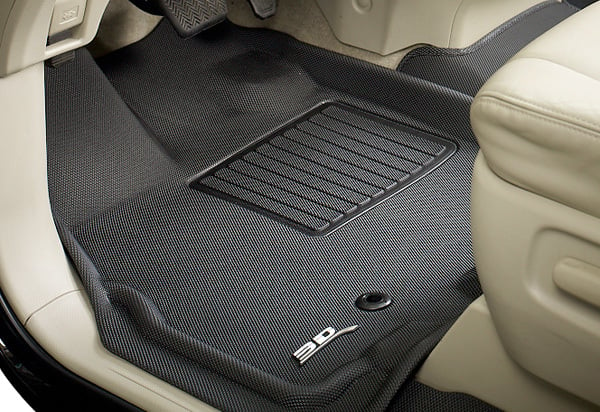 The Kagu mats from 3D Maxpider are truly one of a kind. Each mat contains three distinct layers for ultimate protection. The thermoplastic top layer is crack resistant and carbon-fiber-textured for an uncompromising grip. A XPE middle layer offers both insulation as well as shock absorption. And finally, fibers on the underside grip your factory carpet to keep your mats in place.
I bought this set of floor liners for my new Buick Envision. They were super easy to install and fit perfectly. I have the black and tan interior so bought the tan set which look really good with that color scheme. The mats are of excellent quality and I expect they will last a long time. They look so much better than the other custom fit liners available. The Velcro like material on the bottom really holds them in place. I highly recommend this product!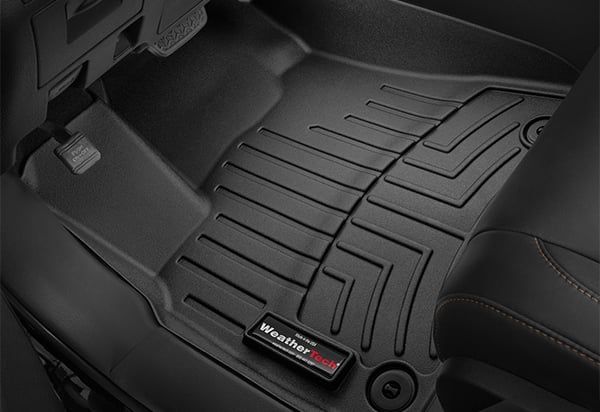 First off, one of the biggest names in the industry, WeatherTech. Their DigitalFit floor liners get their name from the precise, laser-measured process through which WeatherTech attains such a perfect fit. Designed for vehicles with factory carpet, this high-density tri-extruded semi-flexible material is simply as good as it gets for many. After all, the reputation didn't come from nowhere.
Weathertech mats are the first accessory I buy for every one of my vehicles. Currently, I have them in my 2009 Ford F-150 and my 2013 Honda CRV. When my Brother in Law recently purchased a CRV, I ordered Weathertech mats for his car. The fit is flawless, the appearance is great, and I know from experience that the degree of protection that they provide is unmatched.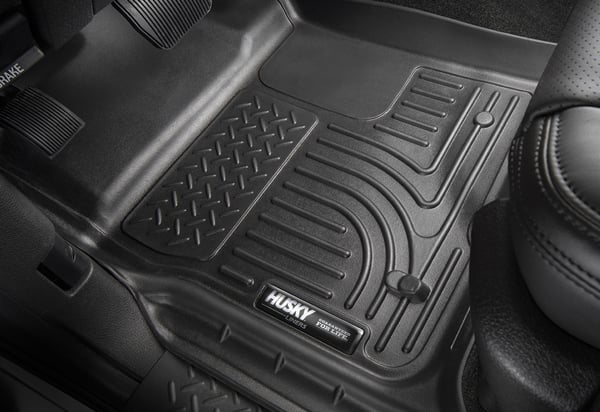 Also available in a cargo liner, the WeatherBeater line from Husky Liners is always a top seller. With a thermoplastic construction and extra-tall exterior walls, these mats will stand up to any weather and any climate for years and years to come. Each set comes custom-made to cover every inch of your interior carpet, and Husky backs these with a Lifetime Warranty. Plus, cleanup is as easy as can be - just remove the mats and hose them off in your front yard.
Great purchase, perfect fit. Already had 3 people tell me how good they look. Now clean up is so easy, no more having to vacuum the carpet, all is on the floor mats. I recommend these mats to everyone.