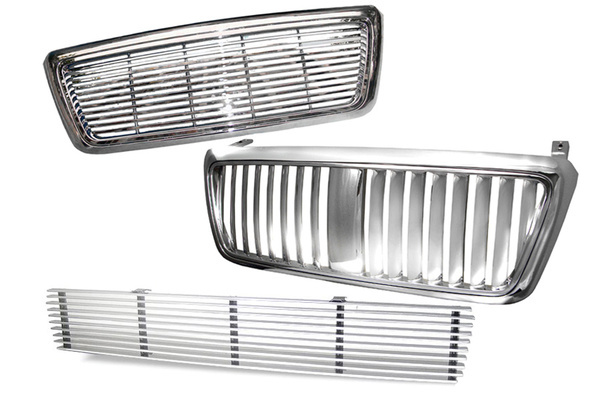 Your truck is a handsome machine, but installing a quality Billet Grille allows you remake your rig's style in your own image. The folks at Chevy, Dodge, and Ford make good-looking vehicles, but the dash of personal style a Putco Grille or T-Rex Grille will give your truck goes a long way towards fully customizing your truck.
At first thought, it might seem as though the process of installing a Billet Grille is the sort of intimidating, painstaking process best reserved for your mechanic. That assumption couldn't be more wrong. In fact, installing your choice of custom Nissan Frontier Grills on the front of your vehicle is one of the simplest customizing procedures you can undertake. In a matter of minutes, with a complete absence of backbreaking effort, you can have the styled-out truck you're looking for thanks to custom grilles like Nissan Armada Grilles.
How to Install a Billet Grille
Please note:In order to properly tighten your Billet Grille, it may be necessary to remove your truck's radiator shroud/dust cover. Be sure to do so carefully, only when your engine is cold, and to keep track of all nuts and connecting materials during removal for easy reattachment.
Open your Honda Ridgeline Grilles packaging and make sure all necessary materials are present. This will include grille covers and mounting brackets, as well as any product-specific materials. Read your instructions, and make sure you have what you need.
Attach the mounting brackets, bolts, and fasteners to your grille. You are going to attach custom Dodge Nitro Grilles by virtue of these mechanisms, so make sure to closely follow the product's directions to make sure you are installing them in the proper areas.
When all fasteners and bolts are attached, firmly press the new grille cover into the requisite space on your vehicle's front end. You may need to remove your truck manufacturer's logo to facilitate this process, depending both on your car or truck and which of our available Chevy S10 Grills you purcashed. Remember, these grilles are custom-designed to your truck, so they should fit perfectly into all mounting areas.
Once each piece is where it is supposed to be, use a screwdriver to tighten all bolts and fasteners. They should connect through the grille and behind the egg crate or mesh factory divider. When in the proper place, they will pull everything together into a perfect fit when tightened. It's important that you do not begin to tighten until everything is lined up exactly where it should be.
Check a final time to make sure that all pieces are secure and tight before driving around with your new grille. The last thing you want is for your vehicle's facelift to come out and break when you're driving. A good way to ensure Cadillac DTS Grilles last for years is to periodically check to make sure the bolts are tight.
Here is an installation instruction video for a Carriage Works Billet Grille on a 2007 Chevrolet Silverado:
Conclusion
As you can see, the process is relatively painless. Pay attention, follow your manufacturer's instructions, use the above guide for help, and within minutes your truck can have the good looks a Billet Grille brings to any truck. If you have any further questions, please feel free to contact our helpful and friendly Customer Service staff at 800-663-1570.
This page was written by John AutoAccessoriesGarage