Strut Tower Braces
A lot of drivers see modifications to their suspension system as essential for getting the quality of driving and handling they're looking for. The savvy driver knows that a strut tower brace is crucial to ensuring you get the most out of your suspension, especially if you've already added modifications to your system. The type of strut brace that's right for you has a lot to do with personal preference - which is why at AutoAccessoriesGarage.com, we stay stocked in the latest strut tower braces from all of the top brands.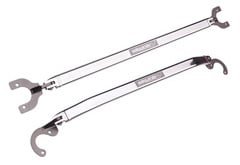 Skunk2 Strut Tower Bars tie your left and right suspension systems together into one unit, increasing the rigidity and strength of your chassis. This cuts down on body flex for superior handling, especially when cornering hard. They're crafted from 6061 aluminum and have the highest strength-to-weight ratio in the industry.
From $167.99
Free Shipping
Quick View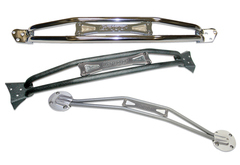 Eliminate wobbly handling with a BBK Gripp Strut Tower Brace. This brace strengthens your strut tower for tighter turning and better overall control of your vehicle. Precision welding attaches to your ride via bolt-on installation that is a breeze for any DIY mechanic.
From $209.99
Free Shipping
Quick View
Want to learn more? Read our:
About Strut Tower Braces
Strut tower braces, or STBs, are designed to reduce your chassis flex by bracing your strut towers in their factory positions. With the reduced body roll that comes with a strut bar, you'll be able to accelerate through tight turns, where you used to have to brake. And the best part is they take minutes to install with nothing but simple hand tools.
At AAG we carry only the best strut tower brace manufacturers such as Skunk2, DC Sports, and Whiteline. And with real world product reviews, you'll be able to get a feel for which strut brace is right for you and your driving style. A STB is one of the fastest and easiest ways to notice dramatic improvement in your suspension and handling. Click or call 800.663.1570 today to speak with one of our strut tower brace specialists.