Folding Tonneau Cover Reviews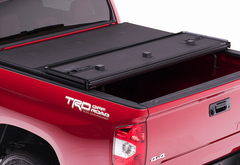 When it comes to easy bed access, reliable weather protection, and trusty cargo security, a Folding Tonneau Cover does it all. Customers report that they like these covers because they're easy to install and use, and they provide a nicely finished look on any truck bed. Folding tonneaus are available in both hard-top and soft-top designs, giving you a few different style options.
I am very pleased with this product. I easily installed it myself in less than 30 minutes with simple hand tools. The unit comes completely off in minutes, to allow access to the entire bed, and opens and closes securely and easily. I just drove through 5 hours of hard rain without a drop of water getting inside. I highly recommend this cover.
Robb R. from Denton, TX - Honda Ridgeline

Very pleased with this cover. Looks great and built well. Because it can be folded up, this cover does not limit what can be carried in the truck bed like a solid one piece cover does. I did a lot of research on many types of truck bed covers and this is the one I thought was the best in looks, style and versatility. I would recommend this cover to others. Also one of the features that attracted me was how it can be opened/accessed from either end.
James T. from Las Vegas, NV - Toyota Tundra

Retracting Tonneau Cover Reviews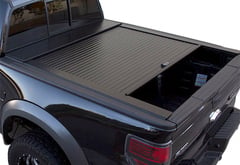 Like a garage door for your truck bed, retractable tonneau covers open and close on a rolling track. This provides nearly full access to your truck bed in just seconds, and a sleek low-profile look when closed. Some retracting tonneau covers even operate with a wireless remote, so you can open and close the cover from a distance. Best of all, these covers offer an excellent level of security and protection against wet weather.
This cover works and looks like a dream! Yes it's expensive, but there's nothing else on the road like it. You should see the look on my buddies' faces when I open and close it with the remote! Also, the remote has a pretty good range so it's really convenient to open the cover while waking out of the store in the rain.
Barry H. from Clarksville, TN - Ford F-150

Pretty solid cover though not the easiest thing to install. Still having some trouble getting top to retract back and forth smoothly. The plastic rail covers that the cover glides on could be made more durable and more naturally slick for better operation. Top is very solid and looks great.
Grace C. from Perry, GA - Nissan Frontier

Soft Roll-Up Tonneau Cover Reviews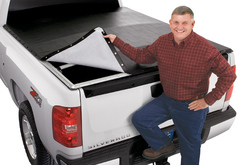 For the easiest bed access and the best value, go with a soft-top tonneau cover. Also known as a roll-up tonneau, many of these covers simply roll up (hence the name!) towards the back of your cab so you can use the whole bed when you need it. Soft top tonneaus can also be made to open in sections, so they double as folding tonneau covers. Most importantly, their high-quality vinyl tarps give your truck bed a classy look that lasts.
The cover is great. Easy to install, took maybe 15 minutes. Keeps the bed dry after really heavy rains. Only very minor downside is that since the middle supports are flat instead of bowed, water does pool but runs off as soon as you start moving. Easily rolls up from one side, with no need to store anything like the bowed versions. I love it and highly recommend it.
Jason S. from Granville, OH - GMC Sierra

I instantly loved this unit while doing my research. The functionality of it was unlike anything else on the market. I then read some reviews that complained of the weatherstripping and the install. The install was tricky and required me to cut 2 small sections of of the bedliner to make it fit. Otherwise, everything else went according to plan. I love it and everybody that sees it loves it too! Highly recommend it!
Dan G. from Seattle, WA - Chevrolet C/K

Hard Tonneau Cover Reviews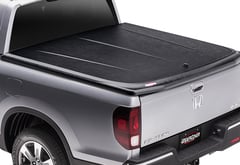 For the maximum protection against theft and water damage, choose a hard tonneau cover. These covers are super durable and supply the most secure coverage for your cargo. There's always a trade-off, however - these covers are usually a bit heavier and more cumbersome to operate, so they're not the best choice if you often need wide-open truck bed access. See what your fellow truck drivers have to say about these rugged covers:
This cover went onto my 2009 Ram 1500 in about 20 minutes, with adjustment time. Everything fit perfectly, very durable with a sleek profile. No worries at all when it rains, everything stays dry. Now my dad wants to put one on his truck!
Christian D. from Wichita, KS - Dodge Ram 1500

Great product, money well spent! Looks great on my F-150 and it's very, very durable (though time will tell). I tried to make installation more difficult than it had to be at first, but then I re-read the instructions...very simple to install.
Tim N. from Colorado Springs, CO - Ford F150

This page was written by Packy AutoAccessoriesGarage