Windshield Covers
Windshield Covers guard your windshield from freezing over even in the dead of winter. Windshield snow covers keep snow and sleet from piling up, so your vehicle cleans up easier and defrosts much quicker. Our Windshield Covers and Snow Shades are custom-made for a flawless fit and total windshield coverage, and windshield snow covers are crafted to stand up to extreme cold temperatures and piles of ice and snow. Once you start using a Windshield Cover, you'll never want to go another winter without one.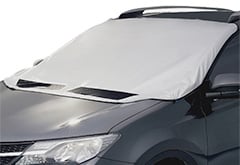 Never scrape ice off your windshield again with the 3D Maxpider Wintect All Season Windshield Cover. Designed to withstand sever weather, convenient magnetic strips allow for easy installation. Wind and UV resistant, this frost guard is backed by a 1-Year Warranty.
From $36.99
Free Shipping
Quick View
Want to learn more? Read our:
About Windshield Covers
Give yourself a leg up on the cold weather this winter with a Windshield Cover. Whether you need a Mini Cooper Windshield Cover or a Ford F150 Windshield Cover, it will be designed to make your life easier. Slide your Scion xB Windshield Cover over top of your windshield and later peel it off to remove any accumulated snow and ice. As opposed to scraping and scraping every morning before going to work, the utter functionality of our Windshield Covers saves you time and hassle at the start of another long work day.
Trust AutoAccessoriesGarage.com with your Windshield Cover purchase because we know what our customers expect, and our main goal is to give them what they want. Available in both custom and universal designs guaranteed to completely cover your windshield, a Ford F250 Windshield Cover is a great way to beat the weather next winter. And best of all, when purchased from us they'll ship to you FREE of charge, every time! AAG is here to make your life easier.
More Popular Windshield Covers Vehicles: