When you drive a truck or SUV, bigger is always better. That's why so many truck and SUV drivers might be seen with oversized wheels, tires, and driving out on the offroad trails. But burly as your rig may be you won't be able to put extra large tires and hit the trails with just any old OE suspension system. That's where a lift kit comes in. These simple suspension upgrades can help your vehicle fit larger tires, and handle batter on roads and off.
With so many lift kits available on the market, it can be hard to find the perfect one for you. But at Auto Accessories Garage, we know all about each and every lift kit that we carry, and we know from experience which ones our customers end up being happy with. That's why we decided to put together a short list that may help you in your search for the perfect lift kit. Presenting the Top 10 Best Lift Kits of 2023 with real customer reviews: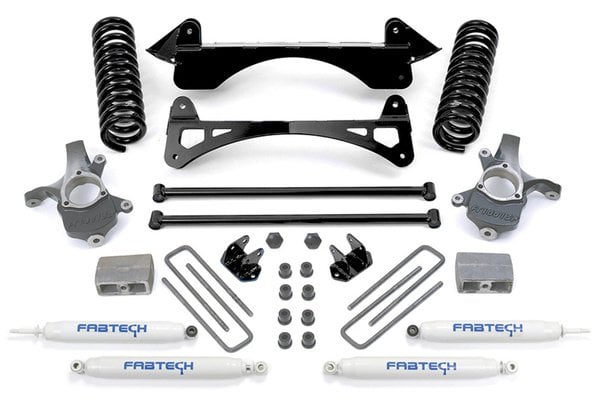 The Fabtech Spindle Lift System makes everything easy when it comes to lifting up your truck or SUV. Netting you as much as four and a half inches of additional stature, a press-in axle snub system brings strength and durability to this set-up. This kit works with your stock or oversized tires and comes backed by a Lifetime Warranty.
Best quality I have ever seen in a lift kit and my son and I put it on my truck over an afternoon. This is my first time doing business with Fabtech or Auto Accessories Garage but I can assure you I will be a return customer to both companies.

Read More Fabtech Spindle Lift System Reviews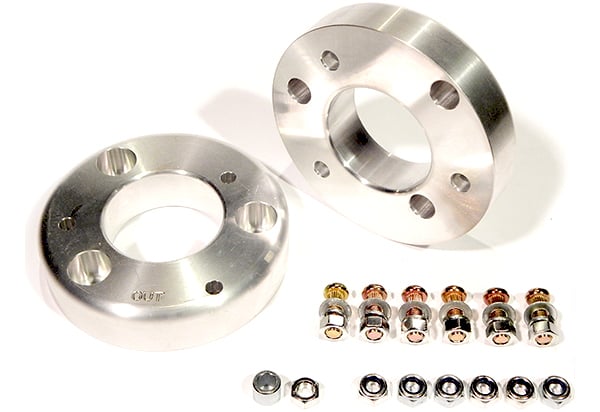 Raising your front end will bring your rig a tough style and additional clearance, and one of the easiest ways to accomplish this is with a Southern Lift Leveling Kit. Built from heavy-duty Steel and Aluminum, this kit bolts on usually in under an hour and will raise your rig's front end by anywhere from 1.5 to 3" for some seriously aggressive gains.
Awesome lift kit! I bought this because my OEM suspension was too low, now it looks and feels a whole lot better. I have an 04 Tacoma and I have to say it has never driven better!

Read More Southern Truck Leveling Kit Reviews
Handling and performance are both zeroed in on with the Belltech Lowering and Lifting Strut. This system works best on lowered trucks and SUVs, and allows you to lower or lift your vehicle by up to two inches. This component provides a custom fit and comes backed by a Lifetime Warranty.
Great product. Really helps out my truck. Installation is definitely hard to do at home. Harder than I expected but I got it done and I'm happy with the results.

Read More Belltech Lowering & Lifting Strut Reviews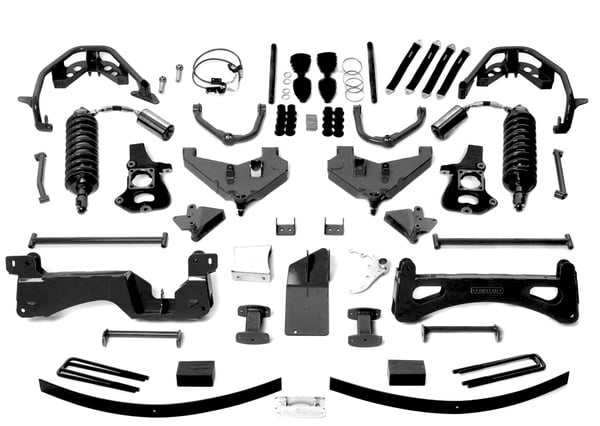 For more extreme lift you might take a look at the Fabtech Lift Kit. While specific lift amounts vary by truck, the Fabtech kit is designed to provide up to eight inches of additional height to your rig. This is perfect if you're rocking oversized tires and are a regular out on the off-road trails. This will definitely turn heads.
This was the first time I've installed a lift kit myself. Fairly easy but probably not for a total novice. The end result is exactly what I wanted which is to tower over all my buddies.

Read More Fabtech Lift Kit Reviews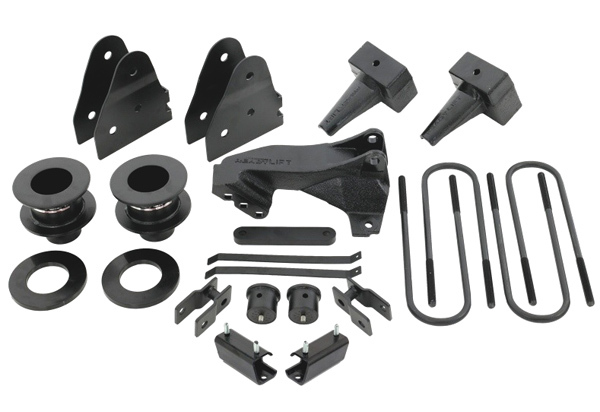 The first Ready Lift kit on our list, the SST Lift Kit is guaranteed to never breakdown by a Lifetime Warranty. It's not only easy to install, but easy to remove as well – making it perfect for leased vehicles. This kit also includes rear lift blocks to augment your hauling and towing capacity in addition to heightening your off-road capabilities.
A summer father and son project on my son's first truck. Lift kit went on easy enough if you have some mechanical skills. Full disclosure it took us about eight hours with a lunch break. Overall, the truck looks great with 18" rims and 33" tires. I would definitely buy again!
Read More Ready Lift SST Lift Kit Reviews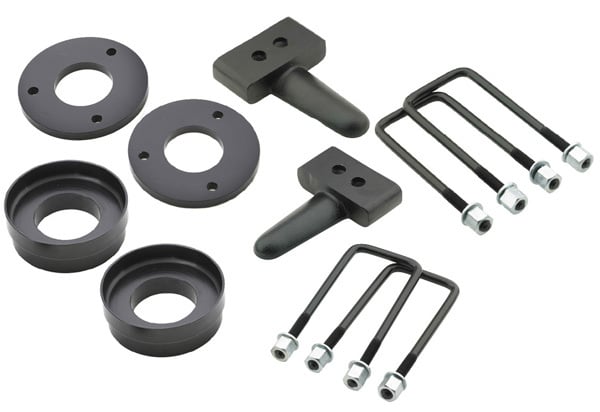 For a lift kit that won't break the bank, the Pro Comp Nitro Lift Kit fits the bill quite nicely. This affordable alternative to a complete suspension overhaul is engineered for a perfect fit and will easily accommodate oversized wheel and tire combos. Plus, this kit is completely manufactured in the USA and backed by a Lifetime Warranty.
Lifted my 2016 F250 and it looks great! The ride fell was only positively effected and now the truck can house my 35" tires easily. Now I love to drive into work and back, and especially on weekends.

Read More Pro Comp Nitro Lift Kit Reviews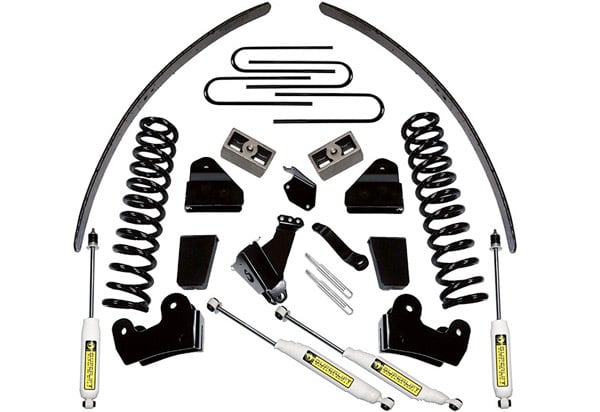 The interesting thing about the Superlift Lift Kit is that it doesn't alter your steering or handling at all. This lift kit raises your truck for a slick look and makes way for oversized wheels and tires, but the OE steering you've already grown accustomed to will stay in place. Plus, each component is made in the USA and backed by a Limited Lifetime Warranty.
Nice heavy -uty product. Very easy to install. I installed 38" tires under it with the 7" lift option. Really makes my SUV pop!

Read More Superlift Lift Kit Reviews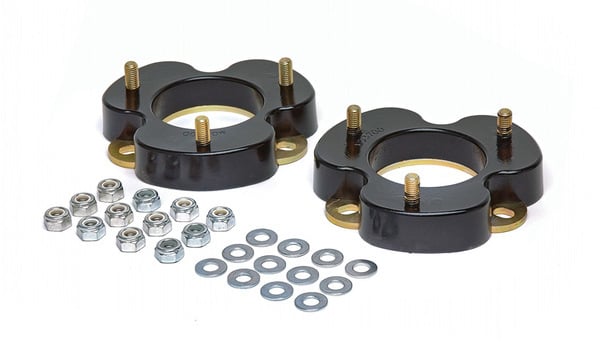 Thanks to a custom-molded Polyurethane construction, the Daystar Comfort Ride Lift & Leveling Kit provides one to three inches of lift and a comfortable and luxurious ride feel. A torsion key system allows you to dial in the specific amount of lift you're looking for and this entire kit is American-made and backed by a Lifetime Warranty.
This kit gave my 2005 Xterra S the look I had been wanting. Also gave me a little more clearance for the rear diff. Kit went on fine. I would research installation before attempting it. You may need extra help getting it on if you do not have a fully outfitted garage. I give this product an A+.
Read More Daystar Comfort Ride Leveling & Lift Kit Reviews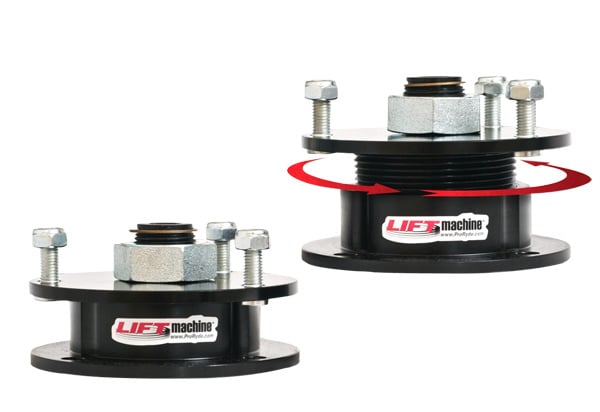 Adjustability is the name of the game when it comes to the ProRYDE LIFTmachine Leveling Kit. An ingenious Helix-Drive design allows you to adjust this bad boy when it's already on the truck. With this kit installed you can roll with wheels up to 35" and you can complete the installation without removing any of your OEM equipment.
I love it. Now my ride sits higher and rides even smoother than before. I've got my big wheels in place and couldn't ask for much more. Thanks Proryde.

Read More ProRYDE LIFTmachine Leveling Kit Reviews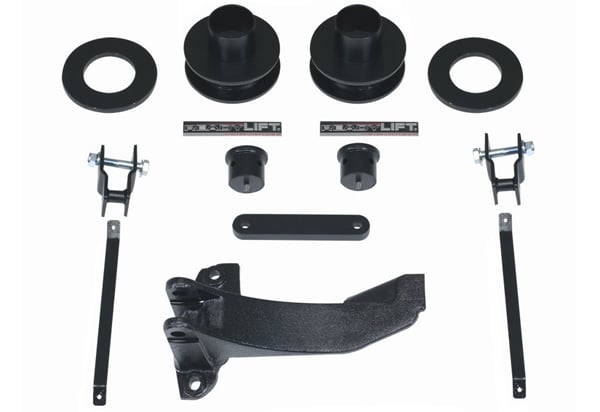 Mounting right on top of your factory studs, the ReadyLift Leveling Kit goes on easy with no cutting or modifications needed on your factory equipment. No swapping from side to side, no over-extended ball joints, this system is without a doubt the most cost effective way to level your vehicle. This versatile kit is designed to work seamlessly with oversized wheel and tire combinations.
My Avalanche rides much better than stock now. I've even had passengers notice a difference. I put the complete kit on my truck and all I can say is that it's AWESOME!

Read More Ready Lift Leveling Kit Reviews
What's the Best Fit for Your Vehicle? Enter Your Info Below to Find Out!