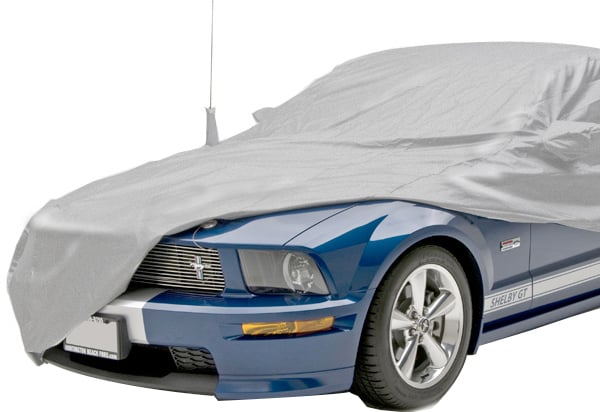 Dents and dings on the road are unavoidable, but your car is also exposed to plenty of dangers while it's parked. Keep your paint job shielded against bad weather, dirt, and day to day hazards with a car cover. By simply covering your car while it's parked, you can maintain your paint job's off-the-lot shine and keep your car's finish protected from a long list of corrosive agents.
What Does Weather Do to my car?

Rain
April showers bring May flowers - and plenty of trouble for your car's finish. Cars left out in the rain for long periods of time are much more prone to rust, acid rain can cause serious deterioration for your finish. However, you can prevent rain from harming your paint with a waterproof car cover.
Snow
The winter months are brutal for cars. Heavy snows can put unneeded pressure on your exterior and accelerate the wear process. Additionally, when ice is left on your car's surface for extended periods of time it can cause unsightly dents and scratches. If you plan on keeping your Jeep Wrangler outside next winter, protect its paint job with a heavy-duty Wrangler car cover.
UV Damage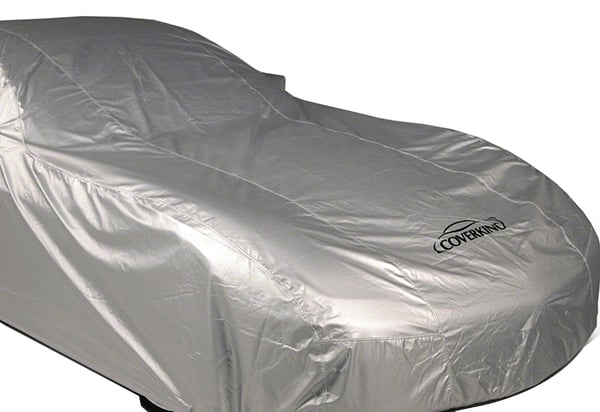 Harmful UV rays and high temperatures can bake a vehicle like your Mazda Miata's paint job beyond recognition. The sun also cranks up the temperature in your interior and turns shiny new dashboards into cracked, warped chunks of vinyl. Cars that spend an abnormal amount of time out in the sun should stay under a UV-treated car cover made with acrylic fibers or high grade polyester fabrics. Miata covers, for example, help reflect harmful UV rays and keep interior temperatures low, making them essential for parking in deserts and other sunny environments.
Birds and Debris
That old oak tree next to your driveway may provide you with shade from the sun, but it doesn't offer much else in the way of vehicle protection. From nesting birds to falling branches, parking your car underneath heavy foliage can cause major damage to your vehicle. Plus, the pollen, bird droppings and sap can harm your finish and give your exterior a spotty, unattractive look. If you park in the shade, make sure you keep your vehicle under an outdoor car cover.
Compare Our Top Selling Car Covers
Price
from $185.01
from $172.28
from $239.99
from $245.47
from $229.99
Shipping
Free Shipping
Free Shipping
Free Shipping
Free Shipping
Free Shipping

Rating

Overall:
Performance:
Quality:
Appearance:

Install Time
Instant
Instant
Instant
Instant
Instant
Fit
Vehicle-Specific Fit
Vehicle-Specific Fit
Vehicle-Specific Fit
Vehicle-Specific Fit
Vehicle-Specific Fit
Colors
Care & Cleaning
Air Dry, Commercial Wash
Air Dry, Commercial Wash
Air Dry, Machine Wash
Air Dry, Hand Wash
Climate
Heavy Rain/Snow
Indoor Garage
Heavy Rain/Snow
Heavy Rain/Snow
Indoor Garage
Material
Polypropylene
Polypropylene/Polyethylene Blend
Neoprene Blend
Silicone
Satin/Lycra Blend
Recommended Use
Everyday Use
Ding Protection

---

Everyday Use
Everyday Use
Everyday Use
Everyday Use
Weight
Midweight
Heavyweight
Lightweight
Lightweight
Midweight
Warranty
4-Year Warranty
4-Year Warranty
2-Year Warranty
4-Year Warranty
1-Year Warranty
More Details
More Details
More Details
More Details
More Details
The Dangers of Storing your Car Indoors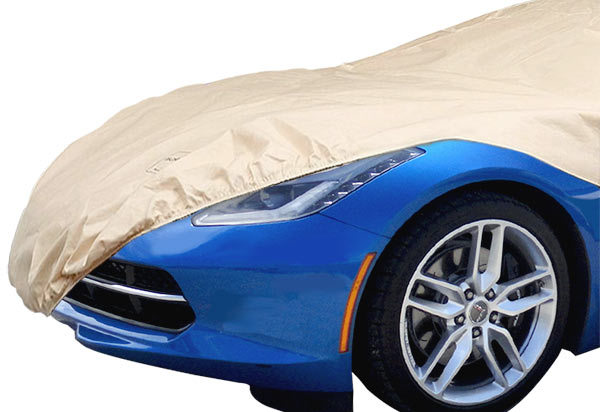 Dust
Dust may tiny, but these little particles can cause severe damage to your vehicle. Even when you store your ride in the garage, dust can settle onto your paint job and cause tiny nicks and scratches that ruin your finish. Throw in a wave of summer humidity and condensation and before you know it your pristine vehicle is covered in grime. Your precious car deserves better than that - keep it safe from harm with a dust-blocking indoor car cover.
Condensation
Unfortunately, even if you store your Mini Cooper indoors it is susceptible to water damage. Most garages lack proper air circulation, which makes them a breeding ground for condensation. Like rainwater, condensation can seep into the cracks of your dents and scratches and exacerbate preexisting exterior blemishes. Condensation can also fade your finish and take the life out of your vibrant paint job. To prevent condensation from wrecking your paint job, choose a Mini Cooper car cover, for example, that is made of breathable fabric so moisture can escape underneath the cover.
Garage Clutter
Helpful Tip: Car covers provide more than just weather and dent protection. They can also help prevent theft and discourage vandals from tinkering with your ride.
The number of potential hazards in a garage or storage unit is immeasurable. Every time a box knocks against your door or a ladder nudges your rear end, it leaves a mark. Plus, with kids running in and out of your garage all day, your vehicle's bound to get hit with the occasional basketball or bike handlebar. If your garage is stacked to the brim, make sure your protect your finish from falling odds and ends with a heavy-duty indoor car cover.
Types of Car Covers
Outdoor Car Covers
If you're leaving your car unattended for extended periods of time, an outdoor car cover is essential. From heavy rain and snow to sweltering summer days, outdoor car covers are made from tough materials to keep your car shielded from bad weather and debris year-round. While the materials may vary from model to model, most of today's covers feature a multi-layered design to provide total protection against dust, dings, and weather damage. Covercraft car covers, like the Windshield HP, Block It 380, and Evolution, are some of the most popular car covers that provide excellent protection against outdoor conditions.
Indoor Car Covers
Just because your car is out of reach of mother nature's temper tantrums, doesn't mean it's safe from dents and water damage. Even in the garage your vehicle is still vulnerable to scratches and condensation. Luckily, some of the auto world's top brands offer covers designed specifically to address these issues. If your vehicle is parked in your garage, a good place to start is the Covercraft Dustop. This snug-fitting custom shield is constructed of a unique polypropylene/polyethylene blend that keeps dust and air particles away from your vehicle.
Custom Car Covers
Helpful Tip: Got an RV? Keep it protected from bad weather with one of our RV covers!
From the side mirrors to the headlights, custom covers hug every curve of your vehicle like an expensive Italian suit, and give your car a stylish showroom look wherever you store it. Most custom covers are weather resistant and come with their own storage bag for easy transport. All of our covers are custom-fit for your exact make and model, so whether you're looking for a car cover for your Mustang, or any other vehicle, we've got it.
Universal Car Covers
Universal car covers give you peace of mind without taking a big piece of your bank account. Because they aren't fully custom-designed to your exact vehicle, universal covers are the affordable way to protect your vehicle from indoor and outdoor hazards. They come in a wide variety of sizes and styles to fit just about any vehicle.
What to look for in a Car Cover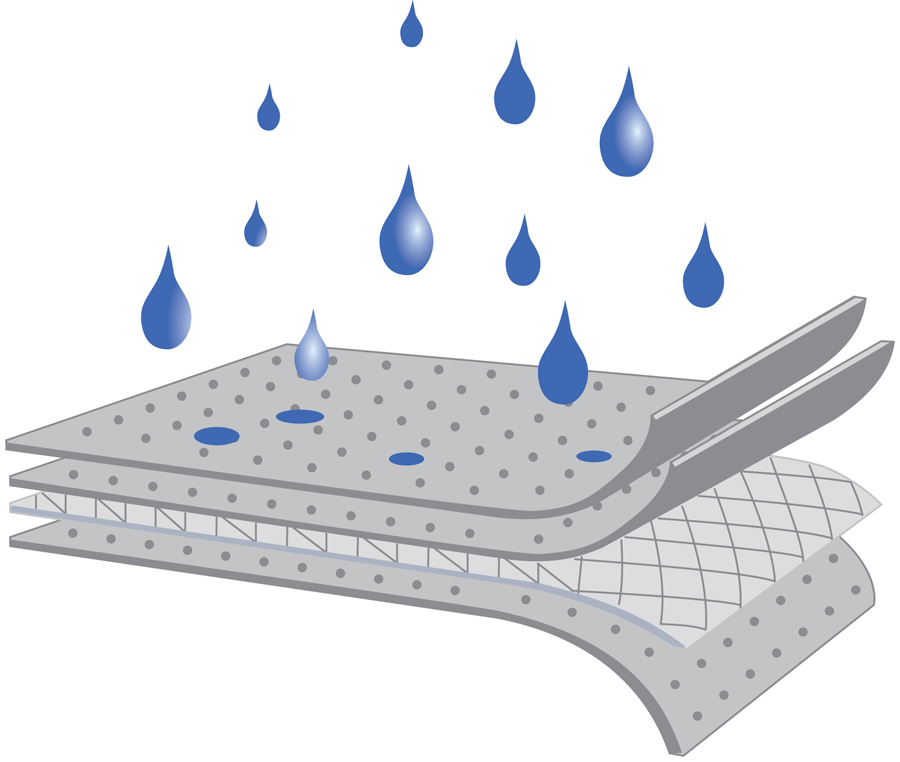 Find a fabric that breathes
Regardless of where you store your vehicle, it's important that it's made of a breathable fabric. Unlike a cloth cover or plastic tarp, breathable fabrics like multi-layer polyester or satin allow moisture to escape from underneath the cover and prevent condensation from building up on your finish.
Weather Resistance
As you search for the right outdoor cover for your car, make sure you're looking for covers made of weather-resistant materials. The only way to truly protect against rain and snow is to get a cover that's built to last in those environments. For cars that have to withstand inclement weather, we suggest selecting a cover that utilizes a multi-layered design or one made from a blend of fabrics. Layered covers like the Covercraft Noah feature a rugged top to block UV rays and resist water, as well as a polypropylene middle layer to guard against dents and dings from hail and other impacts.
A Soft Finish
The average paint job is only 0.006 inches thick and even the most rugged looking vehicles are vulnerable to scratches. Select a car cover with a soft satin lining, like the Coverking Satin Stretch, to keep your vehicle scratch-free while you store it.
Helpful Tip: Take a look at the customer car cover reviews on our site and see what people are saying about Coverking, Classic Accessories, and Covercraft car covers.
Mildew Resistance
Mildew and mold can wreak havoc on covers. The condensation lurking in your garage, as well as the rain and snow outside, can help breed these fungi and rot your cover. As you shop, make sure you're looking at car covers made from mildew resistant materials. For a shield that works great in any environment, we suggest the Intro Tech Car Cover. The Intro Tech Intro-Guard is made of mildew resistant aluminized polyurethane acrylic and works great as both an indoor and outdoor car cover.
How to Find the Right Car Cover for your Vehicle
Choose a cover that Suits your Lifestyle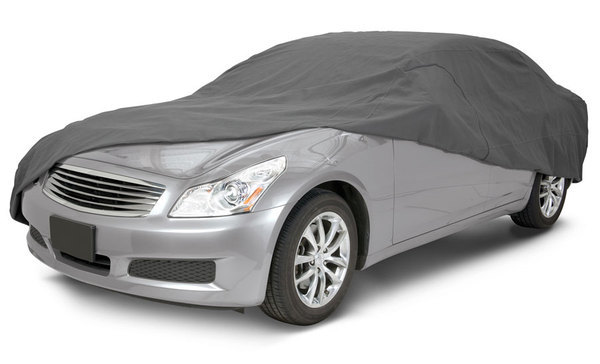 Before you start picking out the color of your new cover, make sure it suits your specific needs. How long you're storing your vehicle and where you're storing it are two factors that should drive your purchase. If you simply need a nighttime cover to protect against theft and light weather, check out the EZ car cover. This overnight shield comes in a variety of sizes to fit cars and SUVs and stores easily into the attached case within minutes. It also makes for a great indoor cover. For long-term storage, consider a custom outdoor car cover. Outdoor covers come in a variety styles and applications, but regardless of the brand you pick, make sure it's UV-treated made of water resistant materials, and built to handle the weather in your region.
Get to know the Weather in your area
As you've probably noticed by now, no two car covers are the same. What may work for warm weather might not be as effective in a colder climate. Before you make your purchase, think about the weather in your region. For car owners who endure heavy snows and blizzards, consider the Coverking Car Covers. Constructed of microscopic weather-resistant yarn, this cover is designed to resist heavy snow and ice, and prevents your finish from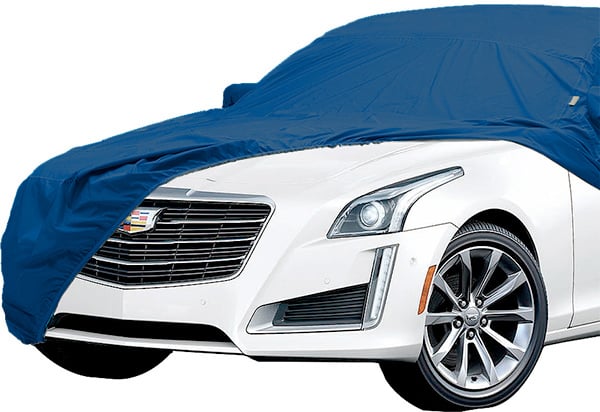 fading in the winter months. Those in warmer and sunnier climates require a cover that's UV resistant and keeps surface temperatures low. To help cut down on the temperature, select a lightly-colored or reflective cover for your vehicle. Among the many UV treated covers we have available, the most popular include the Covercraft Sunbrella and the Coverking SilverGuard Car Cover.
Final Thoughts
Unprotected paint jobs can cost you thousands in repair costs and diminish your car's resale value - protect your vehicle and your wallet from damage with a car cover. To learn more about the variety of universal and custom car covers we have on our website, check out our car cover reviews or dial 800-663-1570 to speak with a member of our trained customer service team.
This page was written by Packy AutoAccessoriesGarage