Outdoor Car Cover Reviews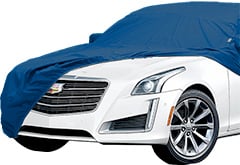 Storing your vehicle outdoors demands a high level of protection, which is why outdoor car covers are designed and built more ruggedly than their indoor counterparts. Customers look for covers that are weather-resistant and stand up to potential scratches and scuffs. When you check out our customer reviews, beware of mentions about leaky seams or covers that easily blow off in the wind.
This is the third car cover of this kind I have purchased for our cars. They are great. I highly recommend them to anyone who has to keep their car in the weather. We have a carport instead of a garage so we keep our 'Vette covered with this car cover. It works great in keeping the dust off of the car and safe in bad weather. It's also easy to put on and take off.
Jeannie I. from Salt Lake City, UT - Chevy Corvette
I've bought four of these covers for my different cars and they're well worth the money. With a minimum amount of maintenance my last car cover lasted 9 years. My cover has protected my car from the harsh Southern Calfifornia sun and protected my exterior and interior from any sun damage.
Harry T from Jacksonville, FL - BMW 325i

Indoor Car Covers Reviews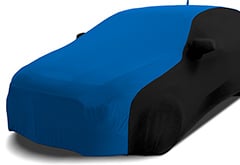 For lighter-duty protection from dust and nicks, go with an indoor car cover. When reading customer reviews, make note of how well the cover fits, how it looks, and also how well it keeps the vehicle clean. As you may find, some customers take issue with details like the fit of mirror pockets and antenna grommets, so compare how drivers in different vehicles have different experiences.
This is by far the best cover I've purchased. So much nicer than my previous cover. It's also much lighter than my old cover and you can wash it. It's a real nice material, nice and soft on the inside so it's safe on the paint. I like how snug it fits and even has pockets for my mirrors. Can't go wrong with getting the free storage bag too.
Thom P. from Oakland, CA - BMW Z4
The car cover is OK, but the rearview mirror holes are made for mirrors on a Freightliner truck, not a Corvette. I have the same cover for my 2008 Corvette and the mirror holes fit perfectly. That is why I ordered the same cover for my 1997 C-5 Corvette and would have to say I am disappointed in the results.
Darrell B. from Hillard, OH - Chevy Corvette
This page was written by Packy AutoAccessoriesGarage