Mother nature can be a cruel force, but even if you park your car in a garage, you're not exempt from the damaging effects of scratches, scrapes, and dust. That's why if your ride is worth protecting, a car, truck, or SUV cover is essential. Whether you park indoors our outdoors, your ride is a sitting duck without one.
There is no shortage of types and styles of car covers on the market - and as a result it can feel dizzying trying to pick the right one. Thankfully, at AutoAccessoriesGarage.com we have the unique ability of matching our list of top selling car covers with our top rated covers per our car cover customer reviews sections by way of lengthy analysis and deliberation from our product specialists. Presenting the Top Ten Best Car Covers of 2019:
The Best Car Cover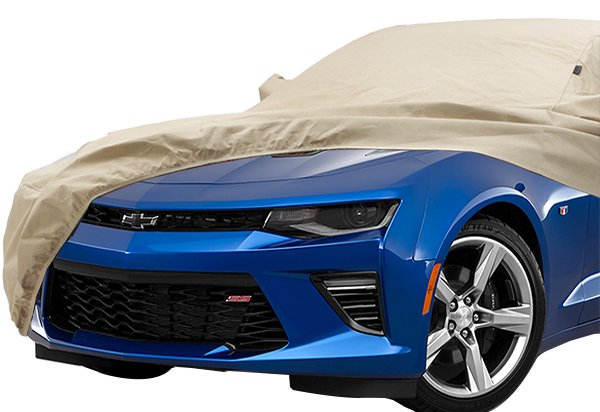 A thick car cover is great, because it will keep the elements off of your finish. But another silent killer where your paint job is concerned is when moisture gets trapped underneath and bakes under the sun. With the Evolution Car Cover, Covercraft has set out to get the best of both worlds - an ultra-thick cover with enough breathability to let vapors out, without letting anything in.
I am very pleased with my cover. Very easy to put on the car. It took about a few minutes and it fits perfect on my Volvo S80. Excellent quality material and it looks very nice on. I definitely recommend this product!

Read More Covercraft Evolution Breathable Car Cover Reviews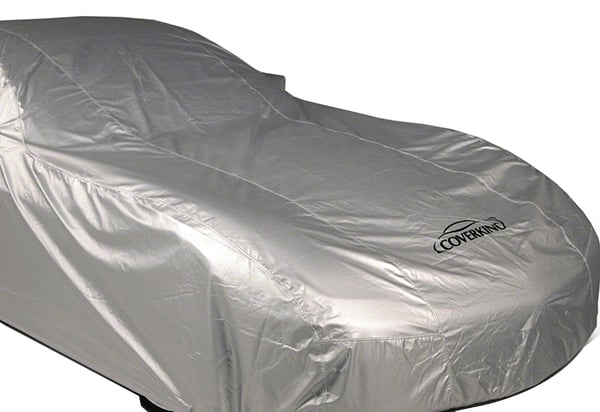 While many car covers try to remain as lightweight as they can, the SilverGuard by Coverking has no such pretensions. The woven 300 denier polyester fabric is as heavy as it is tough, but one tug will tell you that this fabric means business. Plus, the silver top coat reflects the sun's rays, keeping your car nice and cool underneath. In the long haul, that shade and cool temperature will make a big difference!
Absolutely fantastic! I cover my vehicle everyday under the hot Houston sun. And I have been sticking with SilverGuard for decades now. It'll outlast the car as far as I know. They only time I have to buy a new one is when I buy a new car!

Read More Coverking SilverGuard Car Cover Reviews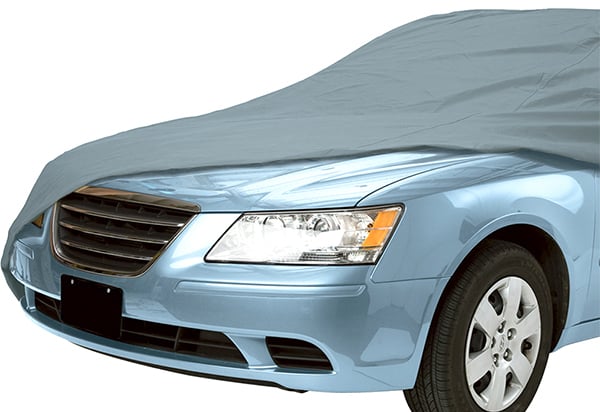 Sometimes parking outside is a necessity, but when you have a cover as tough as the OverDrive PolyPro, it's like you're leaving your ride in a tiny car-sized garage. Soft on the inside, to keep your finish brilliant, and tough on the outside to keep Mother Nature's hands off, the OverDrive PolyPro 1 is a great cover that is available in a variety of shapes and sizes.
Wife's 2008 Mercedes Benz C-230 parked in Arizona Mohave Desert sun. Cover fit perfect. Light-weight but good quality at a decent price. Shipping was fast. Very happy and would recommend this to my friends.

Read More Classic Accessories OverDrive PolyPro 1 Car Cover Reviews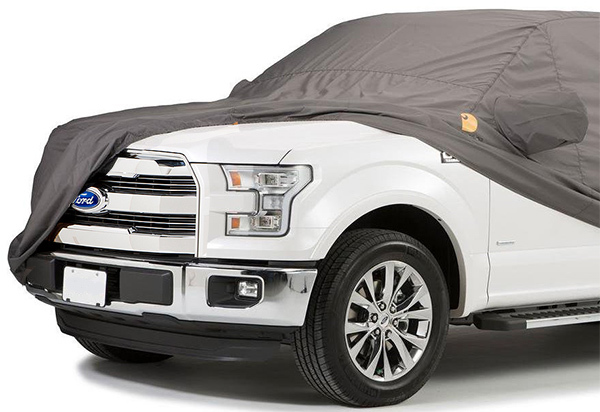 Overlapped and triple-stitched at each seam, one look at this cover will tell you that it's seriously tough. Although for many of us, all we needed was to hear the name "Carhartt". This cover is constructed from Ultra'tect® fabric which is then with Rain Defender®. They call this the Work Truck & SUV Cover, and that's exactly what it's for. Your tough rig needs tough protection whether it's in the garage, on the curb, or at the work site.
The product is well made and seems built to last. Customer service was very nice when I called to try and get the correct model for my truck. Keeps dust off in the garage when I go out of town for work, and keeps rain and muck off when I park outside. Best of both worlds.

Read More Carhartt Brand Work Truck & SUV Cover Reviews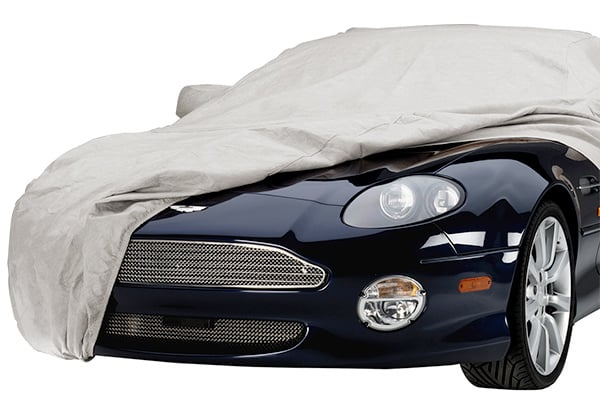 When you park your vehicle indoors or in a garage, especially for long periods of time, dirt, dust, and other airborne particles like mold spores are your biggest threat. But when you tuck your car in under a Covercraft Dustop Car Cover, you can rest easy with the peace of mind that your vehicle is protected by a high-temp polypropylene that blocks dirt, dust, and airborne particles.
The cover I received for my classic 1967 Cadillac Convertible is very nice, soft, good quality fabric and very east to install. It fits perfectly. I couldn't be more pleased with it and it is doing the job I needed it to do.

Read More Covercraft Dustop Car Cover Reviews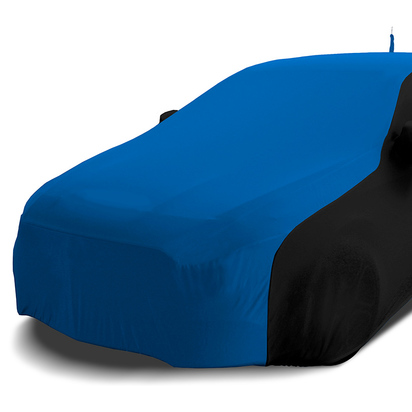 For an indoor car cover that has a little bit of pizazz, Coverking has you (and your car) covered with the Satin Stretch Car Cover. The satin material is not only soft and good-looking, but it's safe on your finish - no scratches here. Invisible seams and a stretchy lyca blend will have that cover hugging your vehicle smoothly for a superb aesthetic.
This is my second Covercraft Satin Stretch cover. The old one was used for 14 years and was still in great condition with many years of life left. These are excellent covers!!!

Read More Coverking Satin Stretch Car Covers Reviews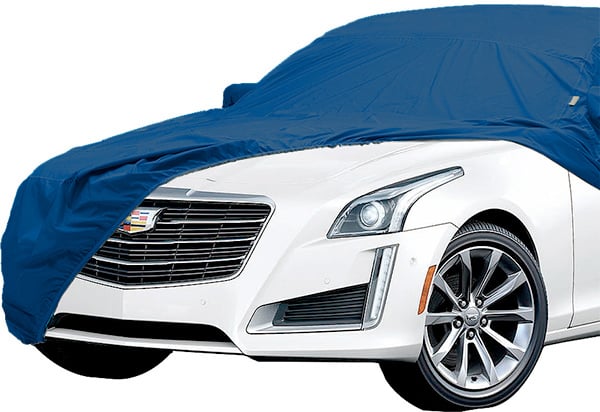 The Weathershield HP from Covercraft represents the latest and greatest in car covers. Each fiber of this cover is solution dyed for unprecedented color retention, both in the cover itself, and on the precious vehicle underneath. Custom cut to fit your vehicle exactly, this cover even includes grommets for your radio antenna if necessary.
Have had this cover for a few months now and is easy to install and wash. Also, the color matches well with the Blue Focus RS. Its been complemented when put alongside the other cars covered in something else. Also bought from AAG before and have to say that their customer service has been great. When I have had issues they have corrected things in a professional manner.

Read More Covercraft Weathershield HP Car Cover Reviews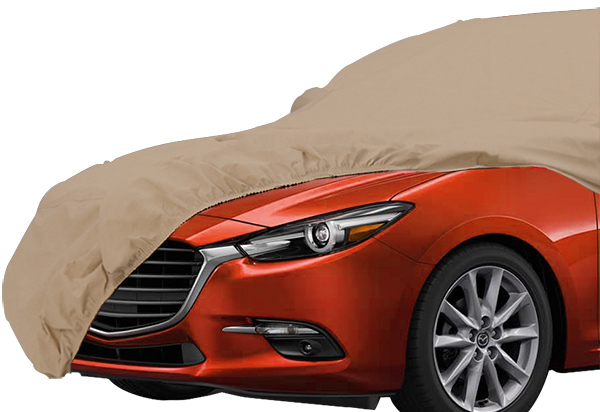 Designed with indoor storage in mind, the Covercraft Block It 380 protects your paint from dirt, dust, grime, and sunlight. The UV-treated 3-layer polypropylene fabric allows moisture to escape, but allows nothing to enter. The material is soft to the touch, making scrapes and scuffs a non-issue.
I am very happy with my Covercraft Block-It 380 car cover. The price was right, free shipping, and it fit perfectly. I recommend it. I already use one Covercraft car cover and when I needed one for another car it was a no brainer! As long as they keep making them this good I'll will buy again if the need arises.

Read More Covercraft Block It 380 Car Cover Reviews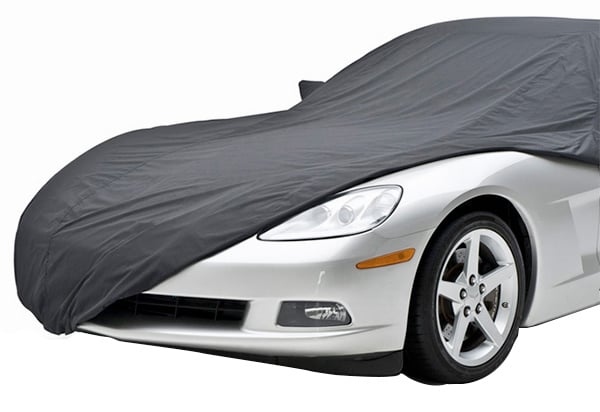 The Stormproof cover from Coverking is just that - storm proof. And yet, this cover is among the more lightweight covers on the market. The trick is a tightly woven microscopic yarn that doesn't weigh you down as it resists rain, ice, snow, and sunrays. This cover comes custom-made to fit your vehicle and is available in your choice of color.
The coverking cover for my Mercedes Benz cl 500 Fits very well and is very nice quality ease of using is great. The service from AAG was very good and quicker than expected. Very good price for a quality car cover. I have had several covers over the past 20 years for my show cars this is very good. I would buy this product again.

Read More Coverking Stormproof Car Cover Reviews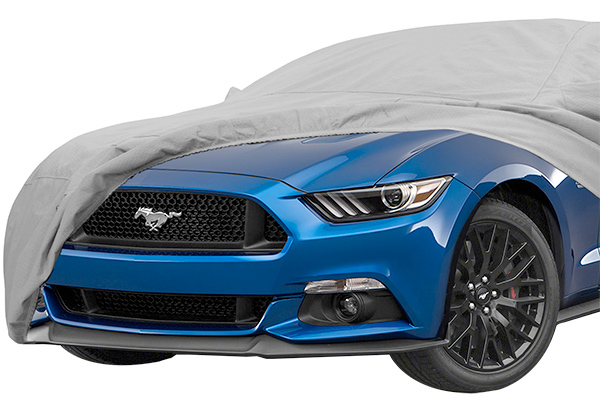 Our top seller, the Noah from Covercraft is capable of stopping weather of epic proportions. Firm barrier technology stops dust, moisture, and UV rays, while remaining breathable enough for water vapors to escape - but not enter. This cover is made in the USA and is perfect for both indoor, or outdoor storage. If you go back and forth with your wheels, this could be the perfect choice.
The cover arrived one day ahead of schedule. The cover fits exactly right and has met my expectations. The seams are well sewn and the mirror pockets fit just right. The vehicle is stored in a "tent type" structure, so it is not in direct sunlight, but I expect the fabric to be gentle on the vehicle finish and should last a long time. The elastic front and rear ends hold the cover snugly. I am well satisfied with this cover.

Read More Covercraft Noah Car Cover Reviews
What's the Best Fit for Your Vehicle? Enter Your Info Below to Find Out!
Top 3 Best Outdoor Car Covers
Top 3 Best Indoor Car Covers
Car Cover Buying Guide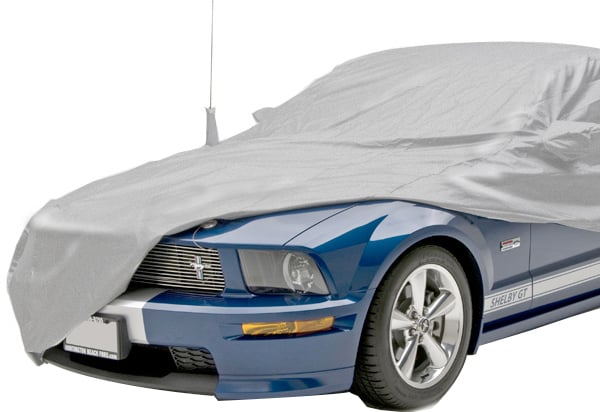 Dents and dings on the road are unavoidable, but your car is also exposed to plenty of dangers while it's parked. Keep your paint job shielded against bad weather, dirt, and day to day hazards with a car cover. By simply covering your car while it's parked, you can maintain your paint job's off-the-lot shine and keep your car's finish protected from a long list of corrosive agents.
What Does Weather Do to My Car?

Rain
April showers bring May flowers - and plenty of trouble for your car's finish. Cars left out in the rain for long periods of time are much more prone to rust, acid rain can cause serious deterioration for your finish. However, you can prevent rain from harming your paint with a rain-ready car cover.
Snow
The winter months are brutal for cars. Heavy snows can put unneeded pressure on your exterior and accelerate the wear process. Additionally, when ice is left on your car's surface for extended periods of time it can cause unsightly dents and scratches. If you plan on keeping your Jeep Wrangler outside next winter, protect its paint job with a heavy-duty Wrangler car cover.
UV Damage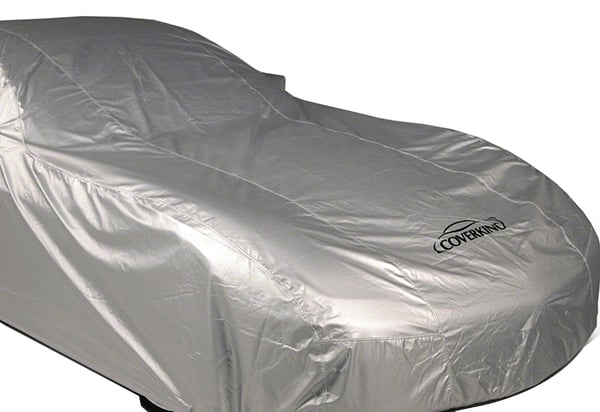 Harmful UV rays and high temperatures can bake a vehicle like your Mazda Miata's paint job beyond recognition. The sun also cranks up the temperature in your interior and turns shiny new dashboards into cracked, warped chunks of vinyl. Cars that spend an abnormal amount of time out in the sun should stay under a UV-treated car cover made with acrylic fibers or high grade polyester fabrics. Miata covers, for example, help reflect harmful UV rays and keep interior temperatures low, making them essential for parking in deserts and other sunny environments.
Birds and Debris
That old oak tree next to your driveway may provide you with shade from the sun, but it doesn't offer much else in the way of vehicle protection. From nesting birds to falling branches, parking your car underneath heavy foliage can cause major damage to your vehicle. Plus, the pollen, bird droppings and sap can harm your finish and give your exterior a spotty, unattractive look. If you park in the shade, make sure you keep your vehicle under an outdoor car cover.
The Dangers of Storing Your Car Indoors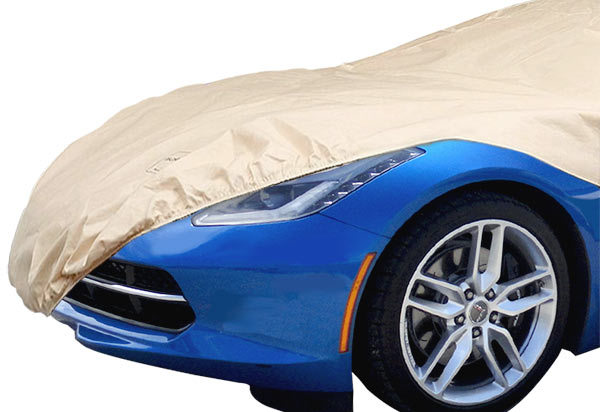 Dust
Dust may tiny, but these little particles can cause severe damage to your vehicle. Even when you store your ride in the garage, dust can settle onto your paint job and cause tiny nicks and scratches that ruin your finish. Throw in a wave of summer humidity and condensation and before you know it your pristine vehicle is covered in grime. Your precious car deserves better than that - keep it safe from harm with a dust-blocking indoor car cover.
Condensation
Unfortunately, even if you store your Mini Cooper indoors it is susceptible to water damage. Most garages lack proper air circulation, which makes them a breeding ground for condensation. Like rainwater, condensation can seep into the cracks of your dents and scratches and exacerbate preexisting exterior blemishes. Condensation can also fade your finish and take the life out of your vibrant paint job. To prevent condensation from wrecking your paint job, choose a Mini Cooper car cover, for example, that is made of breathable fabric so moisture can escape underneath the cover.
Garage Clutter
Helpful Tip: Car covers provide more than just weather and dent protection. They can also help prevent theft and discourage vandals from tinkering with your ride.
The number of potential hazards in a garage or storage unit is immeasurable. Every time a box knocks against your door or a ladder nudges your rear end, it leaves a mark. Plus, with kids running in and out of your garage all day, your vehicle's bound to get hit with the occasional basketball or bike handlebar. If your garage is stacked to the brim, make sure your protect your finish from falling odds and ends with a heavy-duty indoor car cover.
Types of Car Covers
Outdoor Car Covers
If you're leaving your car unattended for extended periods of time, an outdoor car cover is essential. From heavy rain and snow to sweltering summer days, outdoor car covers are made from tough materials to keep your car shielded from bad weather and debris year-round. While the materials may vary from model to model, most of today's covers feature a multi-layered design to provide total protection against dust, dings, and weather damage. Covercraft car covers, like the Windshield HP, Block It 380, and Evolution, are some of the most popular car covers that provide excellent protection against outdoor conditions.
Indoor Car Covers
Just because your car is out of reach of mother nature's temper tantrums, doesn't mean it's safe from dents and water damage. Even in the garage your vehicle is still vulnerable to scratches and condensation. Luckily, some of the auto world's top brands offer covers designed specifically to address these issues. If your vehicle is parked in your garage, a good place to start is the Covercraft Dustop. This snug-fitting custom shield is constructed of a unique polypropylene/polyethylene blend that keeps dust and air particles away from your vehicle.
Custom Car Covers
Helpful Tip: Got an RV? Keep it protected from bad weather with one of our RV covers!
From the side mirrors to the headlights, custom covers hug every curve of your vehicle like an expensive Italian suit, and give your car a stylish showroom look wherever you store it. Most custom covers are weather resistant and come with their own storage bag for easy transport. All of our covers are custom-fit for your exact make and model, so whether you're looking for a car cover for your Mustang, or any other vehicle, we've got it.
Universal Car Covers
Universal car covers give you peace of mind without taking a big piece of your bank account. Because they aren't fully custom-designed to your exact vehicle, universal covers are the affordable way to protect your vehicle from indoor and outdoor hazards. They come in a wide variety of sizes and styles to fit just about any vehicle.
Car Cover FAQs and Answers
How do I install a car cover?
There is no single correct way to cover your Porsche 911, nor any other car. That said, a universally easy way is to place your particular Porsche 911 car cover on top of your vehicle and cover the roof and windows first. If the cover has side-view mirror pockets, use them to cover your mirrors first and then unfold the rest. As a general rule, cover your front and rear bumpers last, snapping the entire cover into place via its elastic hems or an included lock-and-cable system.
What's the most optimal way to remove a car cover?
As with putting one on, there is no single way to remove, for instance, your Corvette car cover. That said, an easy way is to fold the front and rear ends up to the roof, and then fold it up again, and so on, until the folds are a manageable size. Next, roll one side up to the roof, pulling everything together as you do until you can easily remove the rolled-up cover. This way works because it prevents your cover from dragging along your vehicle; it prevents your cover from dragging along the ground and picking up excess debris; and it makes the cover easier to safely store until its next use.
What's the most optimal way to store a car cover?
If your auto car cover came with a storage bag, fold your cover up and store it within this bag when not in use. If there is no bag, fold the cover up and store it in a cool, dry place, preferably one that is as dust-free as possible. It is not advisable to crumple up your cover and throw it in a corner somewhere, as this can attract debris, leave the cover exposed, and take up unnecessary space.
How does a car cover stay in place?
Nearly every car cover, both custom F-150 car covers made specifically for that truck and universal ones alike, will have elastic hems at the bottom for fitting around a vehicle's front and rear bumper to hold the cover in place. If your cover allows, we also recommend using a lock-and-cable system (included with many models) to secure your cover to your vehicle.
How do I properly care for my car cover?
Proper storage is the single most important detail to remember as regards caring for your car cover. Take steps to ensure your cover stays dry, dust-free, and away from potential debris when not in use.
Do I need to wash my car cover?
As the point of any cover, like your BMW M3 car cover, is to keep your car clean, it picks up a fair amount of dirt, debris, moisture, and dust during use, especially when used outdoors. In general, a garden hose combined with a 1/4 cup of simple detergent will work. HOWEVER, the most optimal way to clean a car cover varies depending on the particular model's fabric construction, so be sure to read the manufacturer's instructions carefully to figure out the most optimal way to care for your particular car cover.
Do car covers scratch cars?
It shouldn't. Rather, it's job is to protect it. If a car cover is properly removed and stored, it should provide years of scratch-free protection. If you allow it to drag on the ground, or do not remove debris prior to storage, or do not properly fold and store it, then debris can sneak into the cover's fibers and potentially damage your vehicle's paint job. Proper care and maintenance of your car cover will prevent this from happening.
What makes a car cover "custom"?
Custom Camaro car covers, for instance, are made using a combination of machine-cutting and fiber-optic technology. A scanner reads the exact contours of a particular year, make, and model vehicle and inputs this information into a computer. That computer then has a bank of measurements from which to draw when orders are made, cutting each piece of cloth to each vehicle's exact specifications and then sewing the cloth in a form-fitting, snug cover that accentuates a vehicle's shape and contours.
Are there car covers available for vintage automobiles?
Absolutely. Vintage vehicle's maintain their value in large part based on their exterior condition. Auto Accessories garage has a host of covers to fit nearly every vehicle. Happy hunting.
Is there a way to enhance a car cover's moisture-resistance?
Almost every car cover you can buy will arrive pre-treated with moisture-resistant solutions. Buying Scotch-Guard or a similar water-repelleant solution for "extra protection" is a waste of money. Repelling moisture is one of an outdoor car cover's signature purposes.
Will a car cover prevent vehicle theft?
They certainly make it more difficult to steal a car. Consider that as a robbery happens, a car thief's biggest enemy is time. The easier and quicker a thief can get into your Honda, the less time he spends exposed and the faster he can get away. Having to first remove a Honda S2000 car cover increases this exposure time, and why would a car thief risk it if there's an uncovered target nearby? Covers also prevent random theft of in-vehicle valuables by hiding them from outside view.
Are car covers easy to steal?
Only if they are left unprotected. Many car covers come with a lock-and-cable accessory that tightens the cover and prevents it from being easily removed while locked. Another trick to prevent a cover from being stolen is to write the owner's name on the inside of it.

Will lock-and-cable accessories damage my vehicle's paint job?
Not if they are installed correctly. The cables themselves should be covered with a vinyl protection sheath to prevent them from harming your vehicle's paint job. The lock should hang below your vehicle or on the outside of the cover when in use to prevent its metal from contacting your paint job.
Should I ever put a wet cover on my car?
This is actually the most optimal way to dry off a car cover if the sun is out. Since a cover should always be dry before being packed up, this should also be the only time someone would do this.
What are UVR inhibitors?
UVR stands for Ultra-Violet Rays, destructive and harmful sun rays. As with moisture-resistance, nearly all car covers, like your Dodge Challenger car cover, come pre-washed with UVR inhibitors to prevent cover degradation due to exposure to sunlight. You cannot smell, see, or touch these inhibitors, but they are there, doing their job.
How do I keep my car cover from damaging my vehicle's antenna?
Most vehicle antennas go down when not in use. Others will easily unscrew to accommodate a car cover. If your particular fixed antenna will not go down or unscrew, you should consider buying a custom car cover, as these will be cut to a vehicle's exact specifications, allowing for a fixed antenna's location.
Is there an ideal weight for a car cover?
This depends on the size of a vehicle's owner relative to that vehicle. A heavy, bulky cover can be a hassle to get off and on for a smaller or thinner person. An extra-lightweight cover is not necessarily a good thing in response, though, as these can be blown around in even a modest breeze. It is generally accepted that 4-7 oz. is a good range of sizes for just about everyone.
What to look for in a Car Cover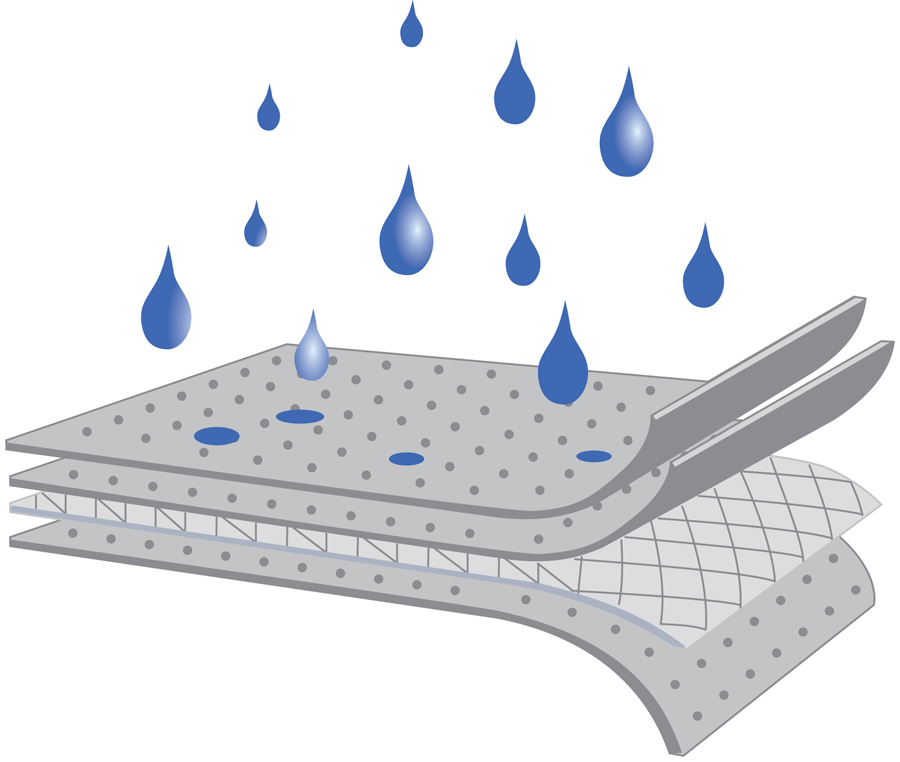 Find a fabric that breathes
Regardless of where you store your vehicle, it's important that it's made of a breathable fabric. Unlike a cloth cover or plastic tarp, breathable fabrics like multi-layer polyester or satin allow moisture to escape from underneath the cover and prevent condensation from building up on your finish.
Weather Resistance
As you search for the right outdoor cover for your car, make sure you're looking for covers made of weather-resistant materials. The only way to truly protect against rain and snow is to get a cover that's built to last in those environments. For cars that have to withstand inclement weather, we suggest selecting a cover that utilizes a multi-layered design or one made from a blend of fabrics. Layered covers like the Covercraft Noah feature a rugged top to block UV rays and resist water, as well as a polypropylene middle layer to guard against dents and dings from hail and other impacts.
A Soft Finish
The average paint job is only 0.006 inches thick and even the most rugged looking vehicles are vulnerable to scratches. Select a car cover with a soft satin lining, like the Coverking Satin Stretch, to keep your vehicle scratch-free while you store it.
Helpful Tip: Take a look at the customer car cover reviews on our site and see what people are saying about Coverking, Classic Accessories, and Covercraft car covers.
Mildew Resistance
Mildew and mold can wreak havoc on covers. The condensation lurking in your garage, as well as the rain and snow outside, can help breed these fungi and rot your cover. As you shop, make sure you're looking at car covers made from mildew resistant materials. For a shield that works great in any environment, we suggest the Intro Tech Car Cover. The Intro Tech Intro-Guard is made of mildew resistant aluminized polyurethane acrylic and works great as both an indoor and outdoor car cover.
How to Find the Right Car Cover for your Vehicle
Choose a cover that Suits your Lifestyle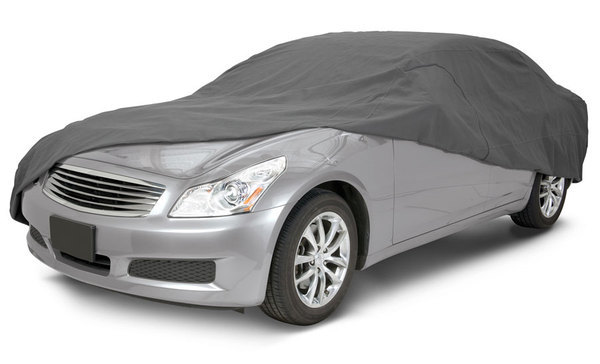 Before you start picking out the color of your new cover, make sure it suits your specific needs. How long you're storing your vehicle and where you're storing it are two factors that should drive your purchase. If you simply need a nighttime cover to protect against theft and light weather, check out the EZ car cover. This overnight shield comes in a variety of sizes to fit cars and SUVs and stores easily into the attached case within minutes. It also makes for a great indoor cover. For long-term storage, consider a custom outdoor car cover. Outdoor covers come in a variety styles and applications, but regardless of the brand you pick, make sure it's UV-treated made of water resistant materials, and built to handle the weather in your region.
Get to know the Weather in your area
As you've probably noticed by now, no two car covers are the same. What may work for warm weather might not be as effective in a colder climate. Before you make your purchase, think about the weather in your region. For car owners who endure heavy snows and blizzards, consider the Coverking Car Covers. Constructed of microscopic weather-resistant yarn, this cover is designed to resist heavy snow and ice, and prevents your finish from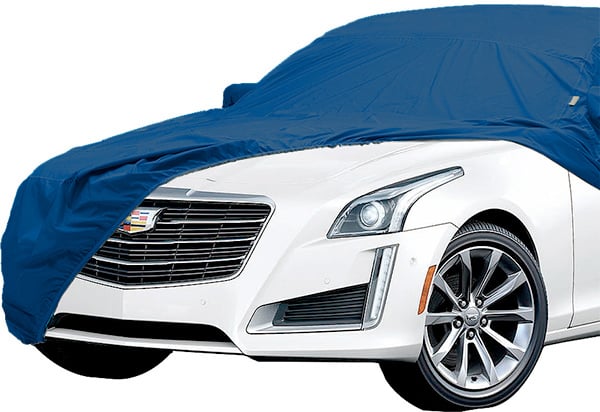 fading in the winter months. Those in warmer and sunnier climates require a cover that's UV resistant and keeps surface temperatures low. To help cut down on the temperature, select a lightly-colored or reflective cover for your vehicle. Among the many UV treated covers we have available, the most popular include the Covercraft Sunbrella and the Coverking SilverGuard Car Cover.