Mother nature can be a cruel force, but even if you park your car in a garage, you're not exempt from the damaging effects of scratches, scrapes, and dust. That's why if your ride is worth protecting, a car, truck, or SUV cover is essential. Whether you park indoors our outdoors, your ride is a sitting duck without one.
Whether you plan to park your ride inside, outside, or a little bit of both, there are tons of elements you need to protect your car from. The outdoors feature harmful UV rays that will diminish your finish, falling leaves that will get caught under your hood and promote rust, and of course the dirt that comes with rain, snow, and general wind. Indoors is no cakewalk either, dust particles and other present moisture can degrade your finish over time. The answer to all of these problems is a car cover.
There is no shortage of types and styles of car covers on the market - and as a result it can feel dizzying trying to pick the right one. Thankfully, at AutoAccessoriesGarage.com we have the unique ability of matching our list of top selling car covers with our top rated covers per our car cover customer reviews sections by way of lengthy analysis and deliberation from our product specialists. Presenting the Top Ten Best Car Covers of 2023:
The Best Car Cover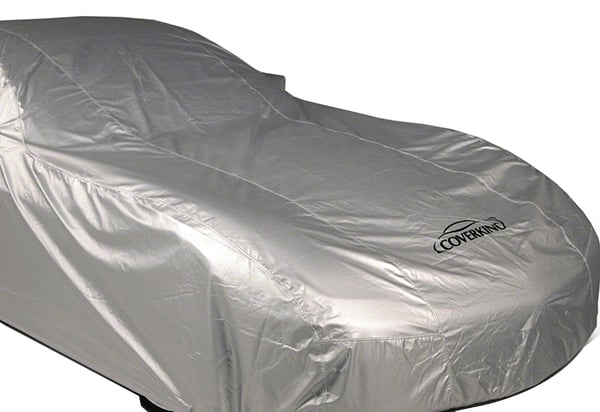 While many car covers try to remain as lightweight as they can, the SilverGuard by Coverking has no such pretensions. The woven 300 denier polyester fabric is as heavy as it is tough, but one tug will tell you that this fabric means business. Plus, the silver top coat reflects the sun's rays, keeping your car nice and cool underneath. In the long haul, that shade and cool temperature will make a big difference!
Absolutely fantastic! I cover my vehicle everyday under the hot Houston sun. And I have been sticking with SilverGuard for decades now. It'll outlast the car as far as I know. They only time I have to buy a new one is when I buy a new car!

Read More Coverking SilverGuard Car Cover Reviews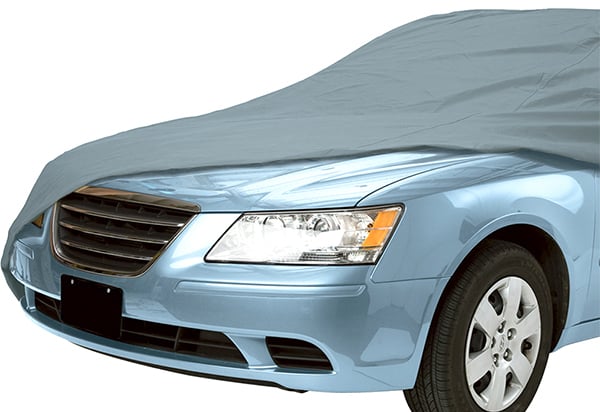 Sometimes parking outside is a necessity, but when you have a cover as tough as the OverDrive PolyPro, it's like you're leaving your ride in a tiny car-sized garage. Soft on the inside, to keep your finish brilliant, and tough on the outside to keep Mother Nature's hands off, the OverDrive PolyPro 1 is a great cover that is available in a variety of shapes and sizes.
Wife's 2008 Mercedes Benz C-230 parked in Arizona Mohave Desert sun. Cover fit perfect. Light-weight but good quality at a decent price. Shipping was fast. Very happy and would recommend this to my friends.

Read More Classic Accessories OverDrive PolyPro 1 Car Cover Reviews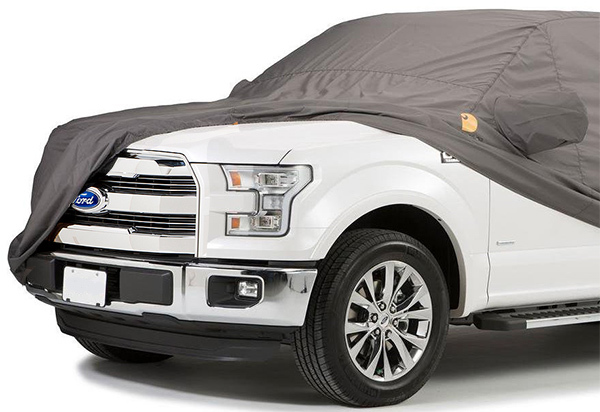 Overlapped and triple-stitched at each seam, one look at this cover will tell you that it's seriously tough. Although for many of us, all we needed was to hear the name "Carhartt". This cover is constructed from Ultra'tect® fabric which is then with Rain Defender®. They call this the Work Truck & SUV Cover, and that's exactly what it's for. Your tough rig needs tough protection whether it's in the garage, on the curb, or at the work site.
The product is well made and seems built to last. Customer service was very nice when I called to try and get the correct model for my truck. Keeps dust off in the garage when I go out of town for work, and keeps rain and muck off when I park outside. Best of both worlds.

Read More Carhartt Brand Work Truck & SUV Cover Reviews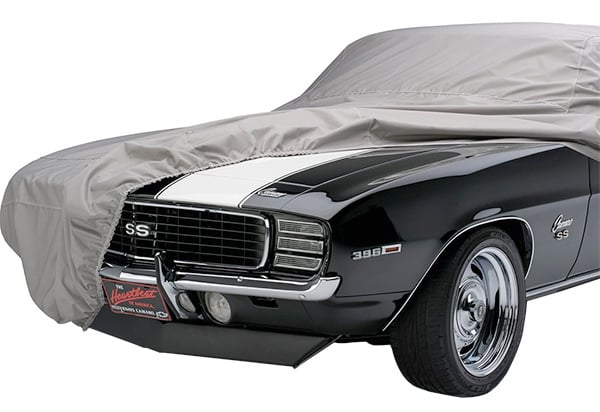 The WeatherShield HD is constructed for 100% blockage of UV rays, as well as superior protection from dust, dirt, and tree and bird droppings. Patented processes reinforce the fabric with polymers that protect against both moisture and dirt. The space-age material is elastic and durable, but also breathable, so that moisture and heat can escape from underneath. From a design perspective, achieving this balance of protection and breathability is not easy and that is why this outdoor car cover is one of the best.
Very easy to install. Extremely water proof. Very well made yet lightweight. Excellent custom made fit. Best protection for outdoor short or long term storage.

Read More Covercraft Weathershield HD Car Cover Reviews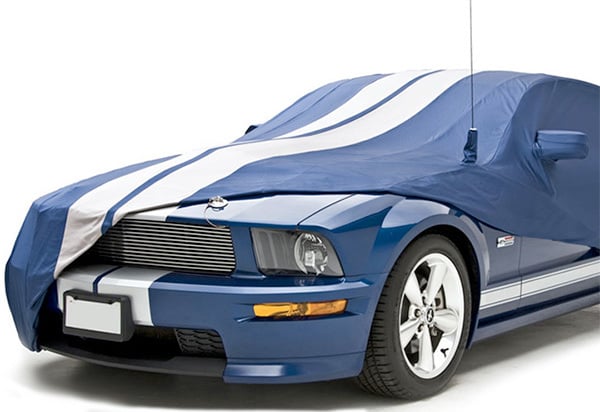 When you park your vehicle indoors or in a garage, especially for long periods of time, dirt, dust, and other airborne particles like mold spores are your biggest threat. But when you tuck your car in under a Coverking Satin Stretch Racing Stripe Car Cover, you can rest easy with the peace of mind that your vehicle is protected by a high-temp satin blend that blocks dirt and dust while looking great.
The cover I received for my classic 1967 Cadillac Convertible is very nice, soft, good quality fabric and very east to install. It fits perfectly. I couldn't be more pleased with it and it is doing the job I needed it to do.

Read More Coverking Satin Stretch Racing Stripe Car Cover Reviews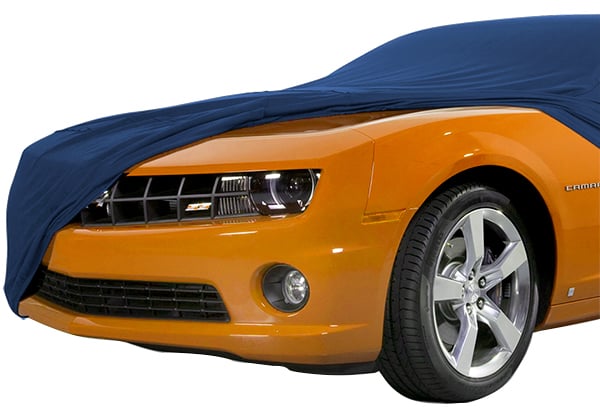 A superior indoor car cover, the Covercraft Form Fit Car Cover utilizes a blend of soft and strong materials with the addition of Lycra/Spandex fibers to produce its stretchy properties. This cover is made to custom-fit tightly over your vehicle while not overstretching or losing its shape. It comes with grommets for a tie-down and fitting over your antenna and includes a matching storage bag.
I've had a lot of classic and exotic cars for which I have bought many covers over the years. I have never been as pleased as I am now with this new cover. It went on in less than a minute and the fit is absolutely perfect. From past experience I spent 15 minutes actually trying to find something wrong and could not. I recommend everyone buy a form fit cover made by Covercraft, a little more expensive but well worth the difference. You definitely get what you pay for.

Read More Covercraft Form Fit Car Cover Reviews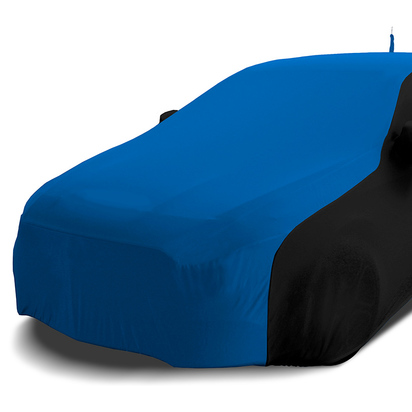 For an indoor car cover that has a little bit of pizazz, Coverking has you (and your car) covered with the Satin Stretch Car Cover. The satin material is not only soft and good-looking, but it's safe on your finish - no scratches here. Invisible seams and a stretchy lyca blend will have that cover hugging your vehicle smoothly for a superb aesthetic.
This is my second Covercraft Satin Stretch cover. The old one was used for 14 years and was still in great condition with many years of life left. These are excellent covers!!!

Read More Coverking Satin Stretch Car Covers Reviews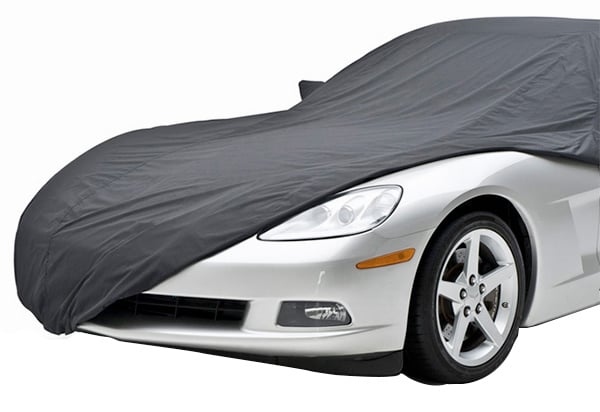 The Stormproof cover from Coverking is just that - storm proof. And yet, this cover is among the more lightweight covers on the market. The trick is a tightly woven microscopic yarn that doesn't weigh you down as it resists rain, ice, snow, and sunrays. This cover comes custom-made to fit your vehicle and is available in your choice of color.
The coverking cover for my Mercedes Benz cl 500 Fits very well and is very nice quality ease of using is great. The service from AAG was very good and quicker than expected. Very good price for a quality car cover. I have had several covers over the past 20 years for my show cars this is very good. I would buy this product again.

Read More Coverking Stormproof Car Cover Reviews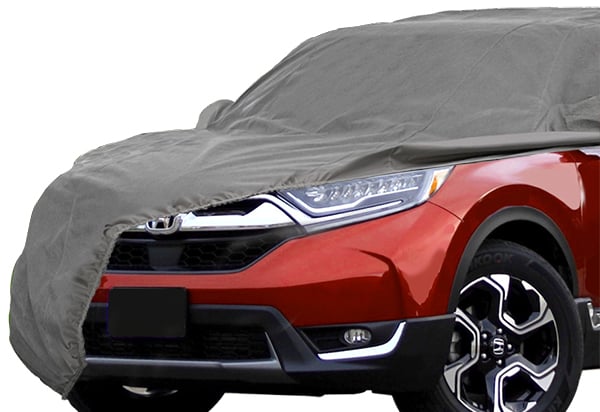 The Coverbond 4 is one of the most durable, thickest universal car covers that the Coverking brand has produced. Made up of 4 layers of thick fabric, it stands up to harsh conditions and shields your vehicle from sunlight, heavy storms, and bird droppings. It is a universal-fit cover and will fit everything from subcompacts to full-sized trucks and even limos.
It was difficult to find a car cover that fit my classic car PERFECTLY... until I came here! Very satisfied and will continue to support this business!!

Read More Coverking Coverbond 4 Car Cover Reviews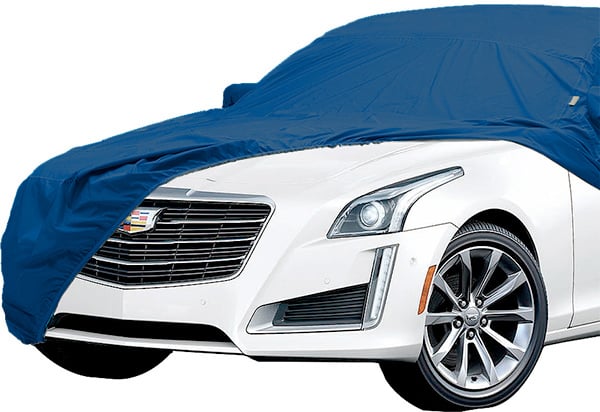 The Weathershield HP from Covercraft represents the latest and greatest in car covers. Each fiber of this cover is solution dyed for unprecedented color retention, both in the cover itself, and on the precious vehicle underneath. Custom cut to fit your vehicle exactly, this cover even includes grommets for your radio antenna if necessary.
Have had this cover for a few months now and is easy to install and wash. Also, the color matches well with the Blue Focus RS. Its been complemented when put alongside the other cars covered in something else. Also bought from AAG before and have to say that their customer service has been great. When I have had issues they have corrected things in a professional manner.

Read More Covercraft Weathershield HP Car Cover Reviews
What's the Best Fit for Your Vehicle? Enter Your Info Below to Find Out!
Top 3 Best Outdoor Car Covers
Top 3 Best Indoor Car Covers