Some people think only large trucks and SUVs can be used as tow vehicles, but the truth is almost any vehicle can support a hitch. Even if your vehicle didn't include one, there are a variety of aftermarket tow bars, trailer hitches, and gooseneck hitches that you can install on your vehicle. In fact there are so many options on the market, it can be difficult to choose what you should install on your vehicle.
Besides obvious fitment issues like 5th wheel hitches installing only on truck beds, there are actually a lot of great options on the market. At Auto Accessories Garage we know a thing or two about towing and hitches which is why we decided to put some our industry experience, technical know-how, and customer reviews to good use. We present to you, the Top 10 Best Trailer Hitches and Towing Accessories of 2022:
The Best Trailer Hitch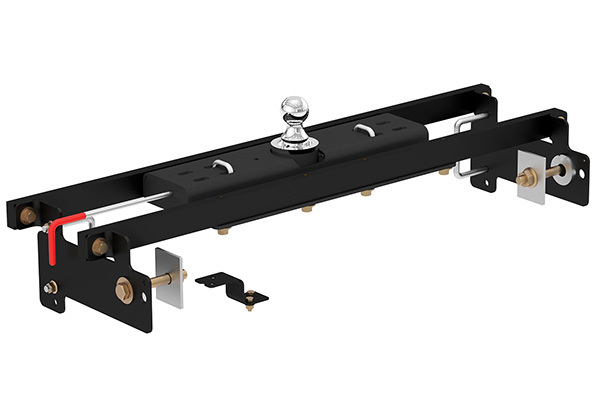 The Curt Double Lock Gooseneck Hitch & Installation Kit includes everything you need to set up a secure, double-locking system for dependable towing you can rely on. A 2 5/16" chrome trailer ball is included and you can easily remove this ball and even store it upside down so it's safe and out of the way when not in use.
Installation took 4 hours because parts of it are challenging and I'm a perfectionist, but I am very pleased with the final results.

Read More Curt Double Lock Gooseneck Hitch & Installation Kit Reviews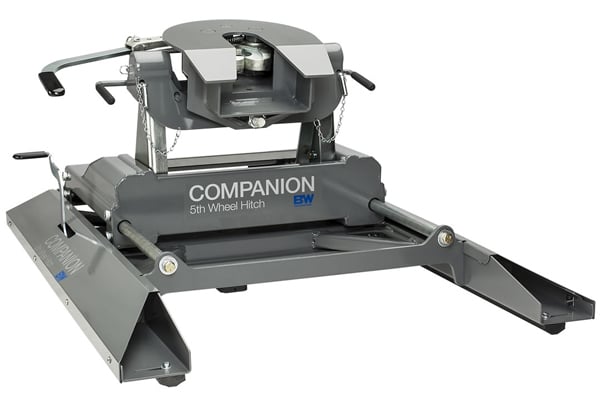 When it comes to fifth wheel hitches, the B&W Gooseneck Companion Slider 5th Wheel Hitch has got it all. Up to 18,000 lbs. of towing power and three vertical positions, this gooseneck hitch is also easily removable so you can totally free up your truck bed when you don't need a fifth wheel hitch to be there. And weighs less than 300 lbs.
AAG's price is very literally unbeatable on this. By a few hundred dollars. Very reliable 5th wheel hitch. Heavy-duty housing you don't have to leave mounting rails in your bed forever.

Read More B&W Gooseneck Companion Slider 5th Wheel Hitch Reviews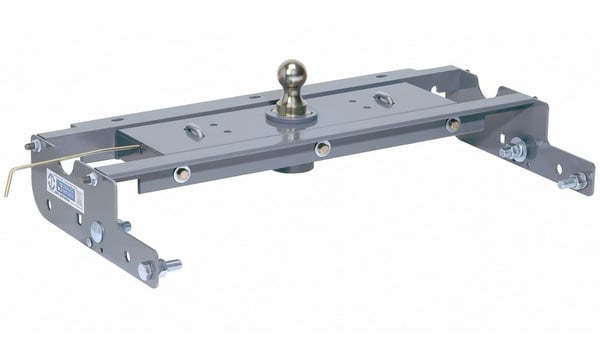 If you've ever wanted to convert your level bed into a hitch and back in a matter of seconds, then do we have some good news for you! You can do exactly that with the B&W Turnover Ball Gooseneck Hitch. With no drilling required whatsoever, you can bolt this gooseneck hitch right into the existing holes in your frame. Plus it's made in the USA.
This product is a really nice and simple unit to install. the instructions are a little confusing but overall went in pretty easy and using it is a nice.

Read More B&W Turnover Ball Gooseneck Hitch Reviews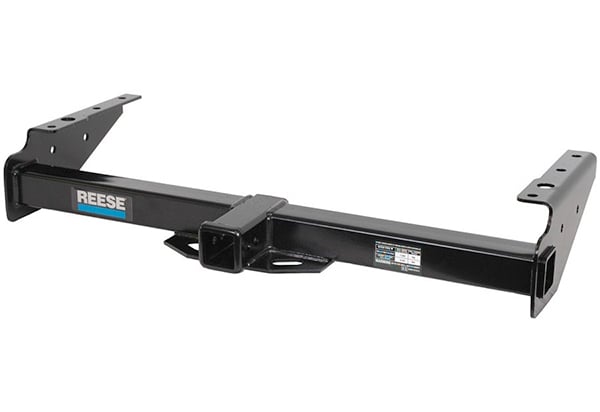 While it's not filled with peanut butter, the Reese Receiver Hitch will still provide a treat to your vehicle. Welded together as one piece, this component is about as high-strength as they come and will install easily with no drilling necessary on most vehicles. This piece is manufactured with round or square tubes, and comes backed by a Limited Lifetime Warranty.
The reciever hitch came promptly and I was able to install it myself without much difficulty. It appears to be well made.

Read More Reese Receiver Hitch Reviews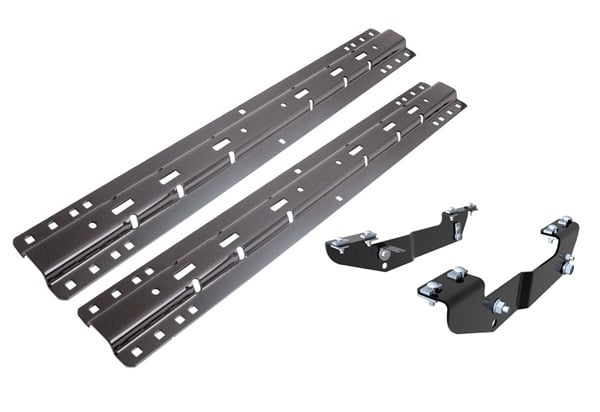 Some loads are just too heavy for a standard hitch to tow. That's when your fifth wheel hitches come into play. And when it comes to fifth wheel hitches, no set-up can be complete without the Curt Fifth Wheel Hitch Bracket & Base Rail Kit. This kit is some of the strongest hardware on the market for your fifth wheel system.
The system seems to work well and do the job. Strong and looks good too.

Read More Curt Fifth Wheel Hitch Bracket & Base Rail Kit Reviews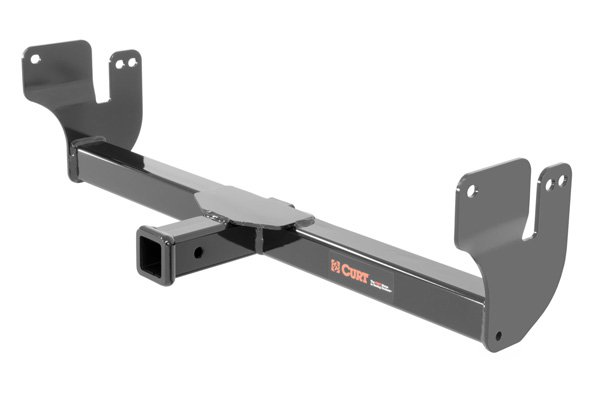 While we normally think our towing and hitch related items relating to the back end of our vehicles, sometimes a front mounting receiver hitch is the tool for the job. If you plan to put a snow plow for example on the front end of your truck, Jeep, or SUV, then a Curt Front Mount Receiver Hitch could be exactly what you're looking for.
Received hitch in 3 or 4 days, had it installed in about 2 hours, had all needed tools for installation, plus a heated garage certainly helped!

Read More Curt Front Mount Receiver Hitch Reviews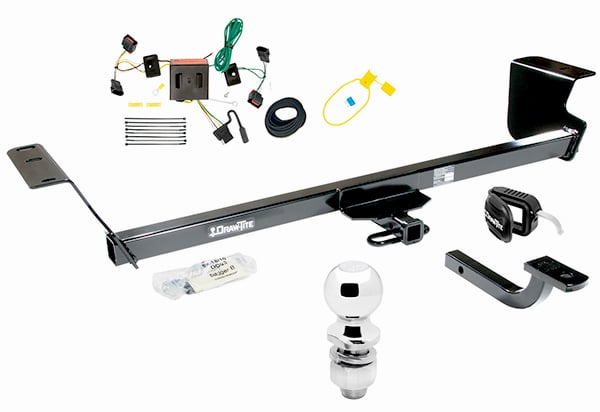 If you want everything you need in one easy-to-order kit, the Draw-Tite Trailer Hitch Kit is the product for you. This set includes the ball mount, the hitch ball, the tube cover, and even a Tekonsha T-Connector. Custom-built to your specific vehicle, this hitch will go on easily and stay strong while hauling and towing.
Perfect. Just what I needed to tow my boat, attach a bike rack, and more.

Read More Draw-Tite Trailer Hitch Kit Reviews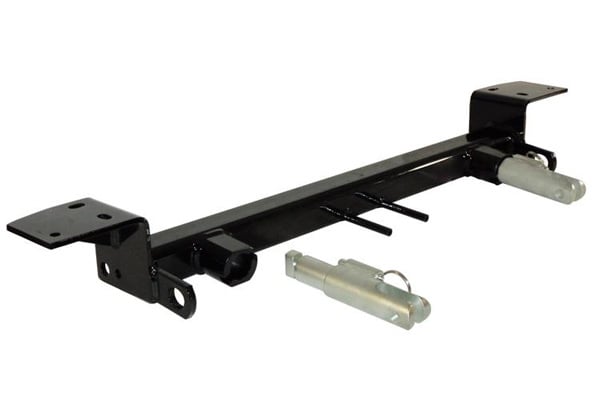 Before you get into any towing operation, safety and security should be on the forefront of your mind. Luckily, safety and security are the name of the game when it comes to the Blue Ox Baseplate. This item comes custom made to fit your vehicle exactly and attaches easily to tow bars with the use of two pins.
It's interesting that 5 other suppliers on the internet said no baseplate was available for my car, a 2000 Pontiac Sunfire convertible and this one fit perfectly. No problems installing at all; took about 3 hours. When the attachment pins are removed nothing shows at all on the car.

Read More Blue Ox Baseplate Reviews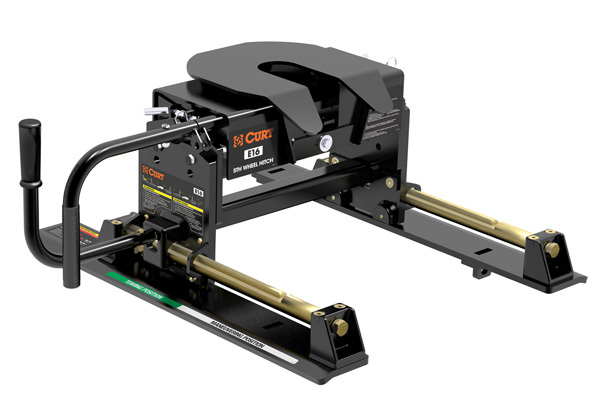 When it comes to fifth wheel hitches, serious inquirers usually find themselves admiring the Curt E5 Fifth Wheel Hitch. This absolute beast boasts up to 16,000 lbs. of towing capacity and offers four different height positions. Plus, the head comes off after removing just two pins, and the whole unit will come off after you remove four.
Excellent product. I'm very happy with it. The performance is great and AAG's price can't be beat.

Read More Curt E5 Fifth Wheel Hitch Reviews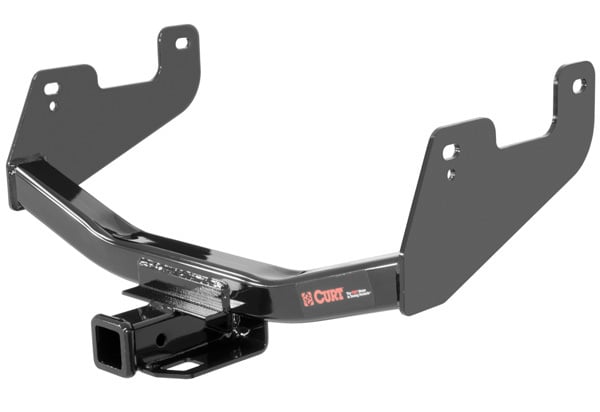 One of the most trusted and top selling products on the towing and hitch market is the Curt Receiver Hitch. Some people think just because their vehicle didn't come with a hitch that it's not able to tow anything. This hitch will prove to anyone that you can find an OE quality towing component in the aftermarket world.
Excellent quality, easiest installation. perfect fit, looks great!

Read More Curt Receiver Hitch Reviews
What's the Best Fit for Your Vehicle? Enter Your Info Below to Find Out!
Trailer and Towing Hitch Buying Guide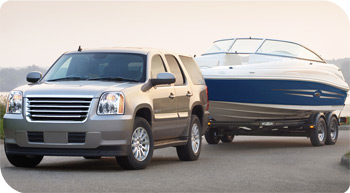 No matter where you want to go and what you want to bring with you, our hitches & towing accessories help you turn your vehicle into a road trip ready trailer-hauling machine. At AutoAccessoriesGarage.com we offer a complete selection of hitches for cars, SUVs, and trucks, as well as a huge collection of accessories that make your towing experience safe, stress-free, and fun. Read below to learn how to choose the right hitch for your needs and how to tow your gear safely.
Choosing The Best Hitch For Your Vehicle
There are a wide variety of trailer hitches out there, each designed for different applications and trailer types. Don't let the wide selection intimidate you - there are several factors you should take into consideration when shopping for a hitch, including your vehicle and what you plan to haul with it.
First, be sure to check your vehicle's owners manual when looking for a new hitch. There you'll find the TW and GTW that your vehicle can tow safely. GTW (Gross Trailer Weight) means the total mass of your trailer, including all of your cargo and hardware. TW (Tongue Weight) is the amount of weight that rests directly on your hitch. Once you know these two figures you can easily figure out what type of hitch you can install on your vehicle.
Trailer Weight and Class Ratings
Once you know the weight of your trailer and your vehicle's towing capacity you can zero in on the type of hitch you need. Trailer hitches come in five weight classes to accommodate for different trailer and vehicle types. Use the guide below to find the hitch class you'll need for your towing rig.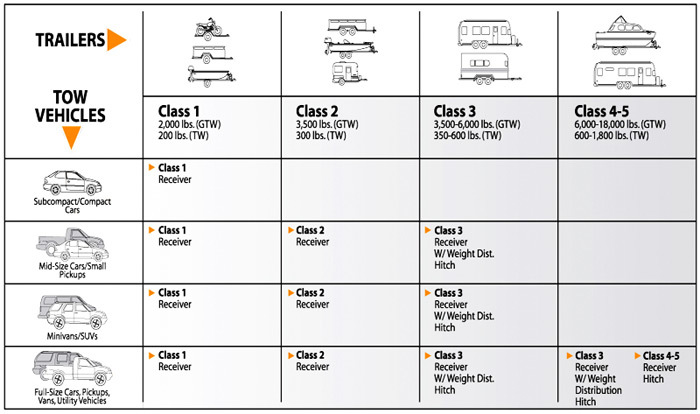 There are plenty of hitch manufacturers out there, so be sure to check out their different features to find the right hitch for your needs. Curt hitches are among our most popular for their well-fitting vehicle-specific designs and rust-resistant powder coat finishes. If it's a low-profile look you're after, the Hidden Hitch receiver hitch features removable drawbars that make it virtually invisible when not in use.
Compare Our Top Selling Hitch Receivers
Price
from $71.52
from $76.47
from $81.85
from $72.49
from $216.23
Shipping
Free Shipping
Free Shipping
Free Shipping
Free Shipping
Free Shipping

Rating

Overall:
Performance:
Quality:
Appearance:

Install Time
30-60 minutes
30-60 minutes
1-2 hours
Under 30 minutes
Under 30 minutes
Fit
Vehicle-Specific Fit
Vehicle-Specific Fit
Vehicle-Specific Fit
Vehicle-Specific Fit
Vehicle-Specific Fit
Finish
A-Coat Pre-Finish

---

Black Powder-Coat
Black "Metalshield" Powder-Coat
Black Powder-Coat
Black Powder-Coat
Carbide Black Powder-Coat
Mounting Style
Rear Mount
Rear Mount
Rear Mount
Rear Mount
Rear Mount
Capacity
12,000 lbs. GTW / 1,200 lbs. TW
12,000 lbs. GTW
10,000 lbs. GTW
10,000 lbs. GTW
15,000 lbs. GTW / 1,500 lbs. TW

---

16,000 lbs. GTW / 1,600 lbs w/Weight Distribution System
Warranty
Lifetime Warranty
Limited Lifetime Warranty
Limited Lifetime warranty
Lifetime Warranty
Lifetime Warranty
More Details
More Details
More Details
More Details
More Details
Heavy Duty Hitches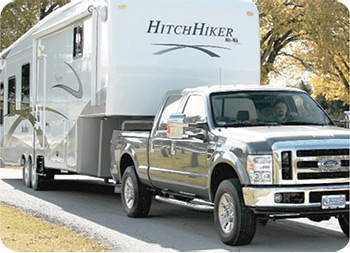 Class 1-5 receiver hitches are designed to pull most trailers and light boats, but sometimes you need even more strength to pull your huge campers and horse trailers. Heavy duty hitches and towing equipment let you haul even the biggest loads out there. They do this by placing the hitching point in the truck bed, over the rear axle. By mounting the hitch over the axles your truck can support much more weight than a traditional bumper hitch.
There are two types of hitches used in most heavy-duty towing situations, each with a different type of coupler: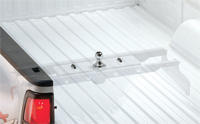 Gooseneck Hitches have trailer balls like standard hitches, but the ball mounts in the middle of your truck bed. Your Gooseneck hitch equipped truck can support much more weight, making it able to carry larger campers and trailers (up to 30,000 lbs. GTW/6,000 lbs. TW). Plus, gooseneck-type trailers can make tighter turns than standard trailers and hitches due to their more forward pivot point. These hitches are typically used on trucks with 4-wheel rear axles to handle the weight. Many models like the B&W Gooseneck hitch can be easily removed or folded down to give you full truck bed access when you aren't towing.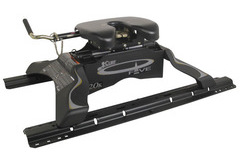 Fifth Wheel Hitches resemble the heavy-duty hitches you see on semi trucks. Like Gooseneck hitches, they also have a high weight capacity (16,000-30,000 lbs. GTW/5,000 lbs. TW) due to their bed-mounted design. People who tow larger trailers like big campers and car haulers love 5th wheel hitches because they're extremely stable and easy to maneuver. Most have a pivoting design that absorbs and adjusts to bumps and changing road conditions, giving you a smoother towing experience. These heavy-duty fifth wheel hitches typically mount to rails you permanently bolt to your truck bed, and can usually be removed for bed access.
Compare Top Selling 5th Wheel Gooseneck Hitches
Price
from $439.00
from $978.03
from $287.39
from $507.17
from $499.88
Shipping
Free Shipping
Free Shipping
Free Shipping
Free Shipping
Free Shipping

Rating

Overall:
Performance:
Quality:
Appearance:

Install Time
1-2 hours
2+ Hours
Under 30 minutes
Fit
Vehicle-Specific Fit
Universal Fit
Universal Fit
Universal Fit
Vehicle-Specific Fit
Finish
Gray Powder-Coat
Gray Powder-Coat
Black Powder-Coat
Black Powder-Coat
Gray Powder-Coat
Mounting Style
Gooseneck
5th Wheel
5th Wheel
5th Wheel
5th Wheel
Capacity
30,000 lbs. GTW / 7,000 lb TW
22,000 lbs. GTW / 5,500 lbs. TW
16,000 lbs. GTW
24,000 lbs. GTW / 6,000 lbs. TW
16,000 lbs. GTW / 4,000 lbs. TW
Warranty
Lifetime Warranty
Lifetime Warranty
5-Year Warranty
10-Year Warranty
Lifetime Warranty
More Details
More Details
More Details
More Details
More Details
Weight Distributing Hitches
Standard receiver hitches and bumper hitches are considered "weight carrying hitches" because all of the trailer's tongue weight is carried by the ball and the receiver. Heavy tongue weight tends to pull your tow vehicle's rear end down and lift the front end up, causing an uneven and less stable ride. These problems can be solved by using a load equalizing hitch, more commonly known as a weight distributing hitch.
Weight distributing hitches from Blue Ox and Curt are similar to standard weight carrying hitches, except they utilize long rods (called spring bars) that exert more leverage on your vehicle's frame. This transfers some of your trailer's tongue weight to the forward wheels, keeping your vehicle level and enhancing your stability. More even weight distribution also means you can haul heavier loads, and do it more safely.
Weight distributing hitches like the Blue Ox Weight Distribution Hitch can be used on any vehicle with a Class 3-5 receiver hitch. Even if you already have a hitch installed on your vehicle you can add a weight distributor to accommodate for heavier loads.
Front Mount Hitches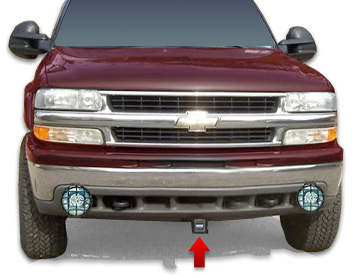 Sometimes it's handy to have a trailer hitch receiver mounted on the front of your vehicle. Front mount hitches are convenient for applications like using a boat ramp because they give you close control over your trailer. These hitches are also great for mounting accessories like snow plows and winch plates. Front mount hitches can be easily installed on most trucks, vans and SUVs.
Flat-Towing Behind Your RV
Towing a car with your motorhome requires different hardware than hauling trailers with your truck. The main piece you need is a tow bar. Brands like Blue Ox usually have a super-high weight capacity so you can tow even the heaviest trucks, and they connect your RV to your vehicle's baseplate. The Blue Ox base plate is custom-designed to your vehicle to bolt easily to your frame, and for many vehicles they have removable tabs so they won't affect your exterior looks.
How To Install A Trailer Hitch
Installing a trailer hitch isn't as tough as it may seem at first sight. Your hitch is fully custom-designed to your exact year, make, and model vehicle. Most receiver hitches are engineered to bolt directly to existing holes in your frame for a no-drill installation. Therefore, most hitch installations are relatively simple, do-it-yourself jobs. You will probably want to ask a friend to help, as it can be difficult to hold up both ends of the hitch while bolting certain pieces on. The following video is an example of a typical hitch installation:
In some cases you might have to temporarily move pieces of your exhaust system out of the way to fit the hitch in, but often this is a pretty simple task. Some vehicles do require drilling and extensive mechanical work to install. If you are not experienced with mechanical work, we suggest that you bring your hitch in to a shop for a professional installation.
Hitch Parts & Towing Accessories
Aside from your hitch, there are many parts that perform important tasks in your towing rig. From electrical connections to safety chains, each of these accessories ensures your towing is safe, secure, and stress-free.

Trailer Balls
Safety Tip: Just like hitches, Trailer Hitch Balls come in a range of weight ratings. Make sure your ball is properly rated to handle the weight of your trailer before towing.The Hitch ball (aka tow ball or trailer ball) is the "business end" of your hitch. Your trailer coupler mounts and locks on top of the hitch ball, making it the point where the trailer connects to your vehicle. Hitch balls are designed to allow your vehicle and trailer to turn corners and accommodate bumps and dips in the road. They come in a variety of sizes from 1 7/8" to 3". Generally, the lighter the trailer the smaller the hitch ball. Hitch balls also have a variety of shank diameters and lengths to fit different trailer heights.
Ball Mounts
The hitch ball is bolted to the Ball Mount. Also known as a draw bar or a stinger, a ball mount is a square steel tube that includes a heavy mounting plate to hold the hitch ball. Ball mounts come in a wide variety of sizes to suit different trailer balls. Plus, because trailer tongues come in many different heights, they're also available with different amounts of drop or lift to properly connect to your trailer. Many ball mounts are reversible - for example, you can install a Curt ball mount for a 3 1/4" drop, or flip it upside down for a 2 5/8" lift. There are also several adjustable ball mounts available, which let you select the amount of rise or drop you need without buying a separate mount.
Hitch Pins & Locks
Hitch pins hold the ball mount in the hitch. Most are shaped like a hockey stick and have a hole drilled in one end for mounting a hairpin-shaped retaining clip. Sometimes a long bolt with a lock-washer and a nut is used in place of a hitch pin.

Your trailer, aside from being a big investment itself, is often full of valuable equipment. Thieves often try to take advantage of how easy it can be to remove a trailer from a hitch and drive off with your goods. For extra security, add a Curt trailer hitch lock to secure the ball mount to your vehicle. These locks feature a dead bolt in place of the retaining clip, making it virtually impossible to remove your ball mount without a key. Reese trailer coupler locks are also available to secure your trailer to the hitch ball.
Safety Chains
Every trailer requires at least one safety chain for safe towing. In the event of a hitch or coupler failure, safety chains catch the nose of the trailer, helping restrain it and prevent it from completely separating from your vehicle. Heavy trailers utilize two safety chains that are crossed under the coupler for additional strength and stability.
Hitch Wiring
Your trailer has brake lights and turn signals that must be connected to your tow vehicle to legally use your rig on public roads. Therefore, you need some wiring to connect your trailer lights to your vehicle's lighting system.
Many late-model vehicles, from trucks and vans to RVs, have trailer lighting connectors pre-installed for easy wiring. If your vehicle is not equipped with trailer connections, you will need a hitch wiring harness to interface your electrical system with your trailer. Many light wiring harnesses, such as Curt T-Connectors, are custom-designed to your exact vehicle so you can easily add them to your lighting system without cutting or splicing any wires.
Trailer Brakes & Brake Controllers
Smaller, lighter trailers tend to have one or two axles that roll freely and are easily controlled by your vehicle's brakes. Many heavy and large trailers are required to have their own set of brakes to ensure safer stopping and better control over your towing rig. Your brake pedal needs to be interfaced with your trailer brakes so all your wheels slow down at the same time. This job is done with a trailer brake controller.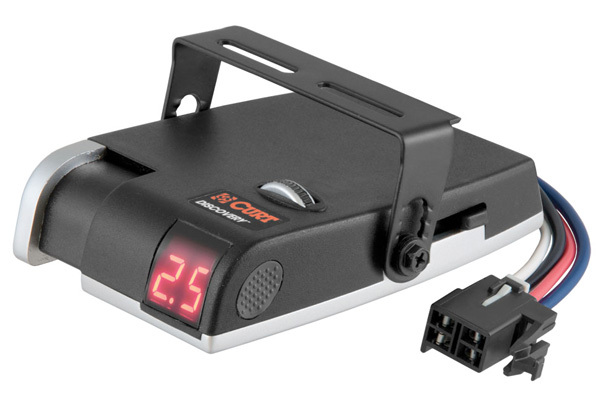 Brake controllers tell trailer brakes when to engage and how strongly they need to be applied. These controllers come in a variety of types, depending on your trailer's size, its brakes, and your towing habits:
Timed Brake Controllers are the simple, economical way to control your trailer brakes. They're designed to increase trailer brake pressure the longer your foot is on the brake pedal
Inertia Brake Controllers use an internal sensor attached to an external pendulum to detect the deceleration of your vehicle and engages the trailer brakes accordingly. Inertia trailer brake controllers are better at detecting how hard you're braking at any given time, making them more powerful and responsive than timed controllers.
Accelerometer/Proportional Brake Controllers use a completely internal sensor system to detect the braking force you're applying to your towing vehicle. These ultra-intelligent trailer brake controllers are excellent for larger trailers and more frequent/long-distance towing.
Tow Vehicle Braking Systems are designed for motorhomes that are flat-towing a car. Units like the Blue Ox Patriot Towing Brake System respond to your RV brakes and actually press the brake pedal on the towed vehicle using an electric piston. Like trailer brake controllers, these systems can also give you manual control over the tow vehicle's brakes if it starts swaying.
Virtually all trailer brake controllers have a lever that lets you manually activate the brakes if your trailer begins to sway. They also require special wiring to connect to your trailer brakes. Just like with trailer lights, many vehicles made after the mid-90s come with pre-installed brake controller connections, or you can purchse a Curt brake controller wiring harness for splice-free installation.
Towing Safety Tips
Towing can be a safe and easy activity, but there are many safety factors you need to consider with regard to your hitch before and during your trip. Your towing rig weighs more and is less nimble than other cars on the road, which can make it harder to control and stop in emergency situations. Plus, the many individual pieces needed to setup your towing hitch all need to be installed and maintained properly to ensure safe, accident-free towing. By simply observing a few safety rules and practices you can keep the likelihood of accidents to a minimum and take excellent control over your towing vehicle.
Check Your Tow Vehicle
Examine your tires and make sure they're in good shape and properly inflated
Check your lights, turning signals, and reverse lights
Check all fluids such as oil and coolant
Make sure your brakes are in good shape and working properly
Check Your Trailer
Check your tires for proper inflation and good condition
Test all lights and make sure they're fully connected
If your trailer has brakes, make sure they're in good shape and working properly
Load most of your cargo weight over the trailer's axle(s)
Tie down any loose cargo
Close and secure all doors and windows
Check Your Hitch Connections
Make sure your ball mount is properly secured with a hitch pin or lock, and that your hitch ball is tightly bolted on
Secure your socket or coupler over the ball and make sure it's providing a full range of motion
Ensure safety chains are securely attached and crossed
Double-check your trailer brake and trailer light wiring harnesses and make sure all electrical accessories are working correctly
Check your connections and adjustments after 50-100 miles of towing
Driving Tips
Practicing safe driving habits is essential when towing. Hauling a trailer drastically alters the way your vehicle handles and adds considerable weight and length to your rig. By following these rules you can minimize the chance of mishaps and ensure a safer and more confident towing experience.
Avoid sudden braking and jerky steering. Every little move you make with your vehicle affects your trailer in a big way. Sudden movements can cause your trailer to sway, skid, or jackknife.
Maintain reasonable speeds. Towing a trailer requires staying at a consistent and moderate speed to maintain full control. Keeping your speed down prevents your trailer from swaying and improves your ability to react to changing road conditions.
Learn how to keep sway under control. Sway can be caused by influences out of your control such as wind and air pressure changes. If your trailer starts swaying, let go of the accelerator and slow down. As your speed goes down the trailer should correct itself.

Do not step on the brake pedal

- braking will actually make the sway worse.
Leave lots of space between yourself and other drivers. The extra weight of a trailer greatly lengthens your braking distance. Don't follow too closely behind the drivers in front of you and minimize the chance of rear-ending.
Look ahead. Because it takes much longer to maneuver your towing vehicle, take a long view of the road ahead. Seeing upcoming traffic, changing road conditions, or construction gives you more time to make the speed lane changes you need.
Be careful and observant when changing lanes. Adding a trailer can make your rig over twice as long as your un-hitched vehicle. Make sure you have a clear view of the lanes next to you - we recommend adding a set of towing mirrors to improve your visibility. You also need extra room to change lanes, as you can't brake or accelerate as quickly as other vehicles.
Accommodate for faster and slower vehicles. You won't be able to keep up with the speed demons when you have a heavy trailer attached. Be courteous to faster traffic and allow other drivers to get past you efficiently. Also, if you need to pass a slower vehicle, allow much more distance to maneuver than you would in a normal car. Being moderate and courteous with faster and slower traffic makes driving safer and less frustrating for everyone on the road.
Backing Up
Backing up a vehicle with a trailer can be a tricky and intimidating task, but a few basic rules can help make it easier.
Hold the steering wheel at the 6 o'clock position. The rear of the trailer will swing in the direction you move your hand.
Make small steering adjustments. Your trailer greatly exaggerates the changes you make with the steering wheel, so make short and frequent wheel turns.
If possible, have another person outside of the vehicle for guidance. A backup camera could also come in handy.
Always walk a lap around your towing rig and make sure there aren't any obstacles behind you. Unless you have a backup camera installed on your trailer, you will have a severely limited rear view.
Hills and Declines
The extra weight attached puts extra stress on your engine, transmission, and brakes. Taking your rig on upgrades and downgrades pushes your vehicle especially hard. Keep these tips in mind when hitting hills and mountains to extend the life of your towing vehicle.
Downshift on downgrades. When you're coming down a hill, drop your vehicle into a lower gear and take it slow. Shifting into a lower gear helps slow down your vehicle without relying solely on your brakes.
Upshift when climbing hills. Shifting into a higher gear helps add some extra power when facing an upgrade.
Go easy on your brakes. Downshifting helps you slow down on declines, but if you need to apply the brakes, tap your brake pedal in firm, brief presses. Pause between taps to let your brake parts cool. Your heavy towing rig puts a huge demand on your brakes. If you plan ahead, downgrade, and use your brakes lightly, they'll perform better and last longer.
Keep an eye on your temperature gauges. Pulling heavy trailers and climbing hills can push your engine and transmission to its limits. If you notice your trans or engine heating up, pull over for a bit and give them a break. If you tow frequently, consider adding a transmission cooler to your vehicle for better performance with less overheating.
Final Thoughts
Hauling heavy trailers and toys is a breeze when you're equipped with the right towing gear. We hope this research guide helps you know a little more about towing and lets you make a more informed decision when shopping for trailer hitches and accessories. If you have any more questions or suggestions about the information in this guide please contact our experienced Customer Service Department at 800-663-1570.