Founded by a former aerospace engineer in 1986, Coverking set a new standard for precision design, establishing a reputation that it continues to build upon today. Below, you'll find a host of Coverking seat covers reviews. Real Coverking reviews from real Coverking customers. If we haven't sold you on Coverking's quality by now, we're certain that what follows will.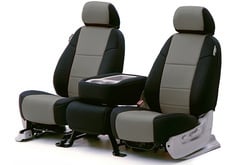 Neoprene is the best of the best, a watertight, handsome option for any vehicle. Moisture won't soak into the waterproof lining, neoprene being among the most moisture-resistant of all fabrics. Beyond moisture-resistance, extra padding provides extra support and comfort, and installation is easy. Coverking Neoprene seat covers, after all, are the industry's best-selling covers, and with good reason.
As always, Cover King came through. We recieved these seat covers, within a hour they were installed and dang, they look good, and as always they are very comfortable! The only downfall was the instructions to install the seat covers, it took about 2 minutes for me to figure out what seat cover went to what seat.
JEB from St. Louis, MO - Nissan Maxima
I put these covers on by myself in about 30 minutes total. Not only are these seat covers made of excellent material, they are an excellent dress up to any vehicle.In fact this truck was just in for servicing at my local dealer, and the service manager saw these covers and brought out several managers to look at these seat covers. They all commented on the excellent fit and workmanship. In fact they also asked for the company name and contact information. Overall, A++ all the way around.
JBeck from Bellingham, WA - Chevrolet Silverado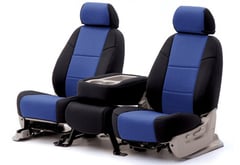 Neosupreme is a fabric very much like high-grade neoprene except for two factors: cost and moisture-resistance. Much more inexpensive than neoprene, neosupreme has the look and feel of the more expensive fabric without a waterproof lining. Custom-fit and comfortable, neosupreme is the perfect option for consumers who want sporty design and modest seat protection in an affordable package.
Seat covers are good but the stitching could be a little better. Had a couple of seams start to rip when I tried to stretch out the covers to readjust them. Just take your time and don't pull too hard.
Brian K from Cleveland, OH - GMC Sierra
The seat covers themselves are great quality, very comfortable too! The installation manual I received wasn't very clear. I'm still not sure if they're on completely right. Also, I'm not sure why, but they made my car smell the first few days after I installed them, but it did eventually disappear.
Ashley E from Waukesha, WI - Mitsubishi Eclipse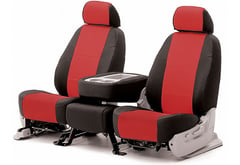 Coverking Spacer Mesh seat covers are made of a woven, breathable fabric that will keep your car seats cool, dry, and comfortable in any weather. These are also stylish, lending modern accents to your vehicle's interior in a wide range of colors.  Easy to install and priced right, Spacer Mesh seat covers are a solid seat cover option for consumers looking for a mix of comfort and affordability.
Living in Florida, my leather seats become unbearable during the hot weather. I am very pleased with the fit and comfort of these seat covers. They are very well made.
Stepstep from Fort Myers, FL - Chrysler Town & Country
The covers are excellent quality material and manufacture. My 20 year old daughter was able in install them herself in about an hour. Much better the the factory fabric!
Daniel K from Beaumont, TX - Mazda 3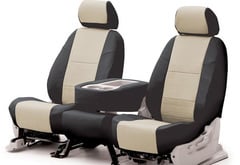 Coverking Leatherette seat covers have that leather feel and style, without the hefty price point. High-grade vinyl construction is durable and easy to clean, and these covers are custom-fit to your vehicle's exact specifications. With a sporty look and easy installation, it's no sweat to get the luxurious look of leather upholstery, one that will fool just about everybody. Only your checkbook will know for sure.
Everybody really loves my new covers. No problems putting them on and after a couple of days to form, fit was almost perfect. Can't wait to order for the back now. I gave a four on appearance but I'm sure they are a six compared to any other replacement covers.
Frankie from Athens, GA - Ford F-150
I recently purchased a set of Coverking leatherette seat covers for a 2000 Volvo S80. the fit was perfect, that quality exceptional and the installation realitvely easy. It was a great value for replaceing the worn factory seat covers
M Thigpen from Cicero, IL - Volvo S80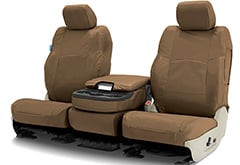 Triple-thick Coverking Cordura material makes the Coverking Ballistic seat covers among the strongest and most durable in the industry. UV-treated and resistant to rotting, mildew, and staining, these covers are perfect for parents with lots of children who get into lots of messes. As with all Coverking covers, the Ballistic covers are custom-designed and easy to both wash and install.
Ballistic is TOUGH!! It's like a super heavy-duty version of backpack material. Perfect for moving lots of cargo or especially carting the kids around. Seriously, my boys couldn't destroy it if I loaded them up with pixy stix and Kidz Bop. I'm sure pets would be no problem either. A great addition to the interior!
PLm85 from Indianapolis, IN - Chevrolet Astro
These things are great! They were easy to install and truly fit the front seats. Best of all, they seem to be wearing well and dog hair blends in with the fabric. I highly recommend them
Linda Bregartner from Tucson, AZ - Volkswagen Beetle