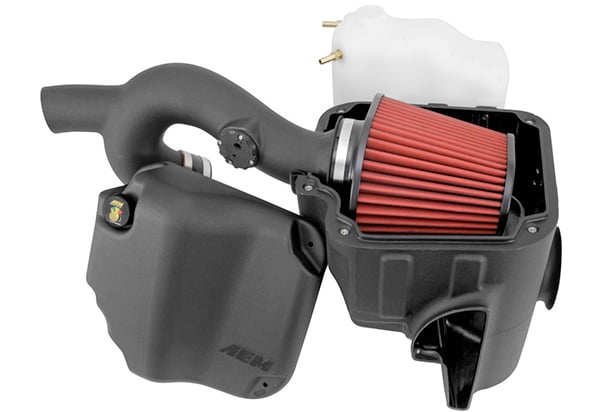 Are you looking to take your truck or car's performance to the next level? One of the easiest ways to enhance the performance and power of any vehicle is by upgrading your air intake. Our Performance Air Intake Systems help coax extra power out of your engine and maximize your car or truck's potential. Before you start shopping for an intake, learn how these systems work and brush up on the different Performance Air Intake styles and take a look at our Top 10 Best Air Intake Systems of 2018, complete with reviews.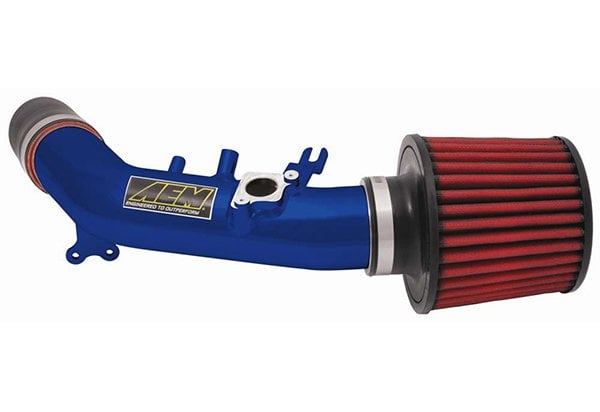 Built from mandrel-bent 6061 aluminum, the AEM Short Ram Air Intake brings torque and horsepower to your vehicle. Including a washable and reusable AEM Dryflow Filter, this custom-designed cold air intake will fit like a glove in your engine bay. Available in a red, blue, or polished finish, this air intake is backed by a Lifetime Warranty.
Very easy install. I had the kit on in under 15 minutes. I love the sound of my sentra now, better throttle response too -highly recommended!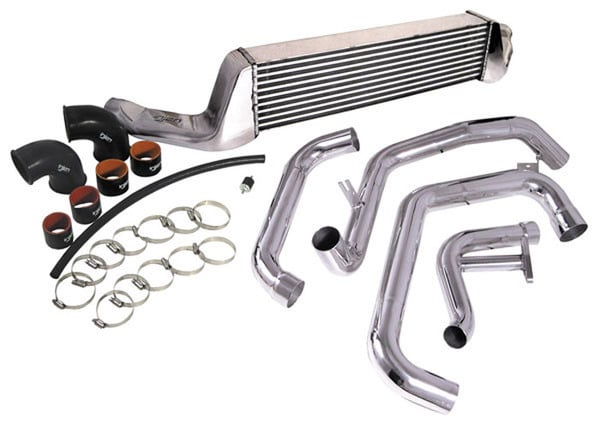 Upgrading a turbo-powered racing engine is easy with the Injen Forced Induction System. This system ships in a fully completed kit which comes specifically suited to your sports car's specific make and model. Every piece of this system is made in the USA and backed by a 1-Year Warranty.
Works and looks great. Impressed by how easy the install was. Wasn't in the market for an intake but the price was so good I couldn't pass on it.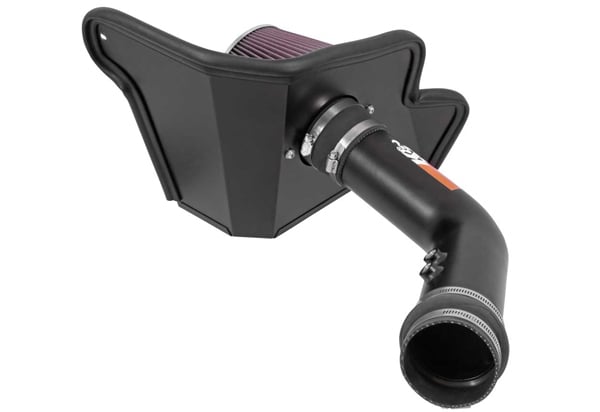 Bring the powerful blows of a tropical storm right into your engine with the K&N 69 Series Typhoon Air Intake. Adding as much as 15 horespower to your ride, this intake is available in a variety of finishes and includes a cotton-guaze K&N Xtream Airflow Filter. This system comes custom-designed to your vehicle and is backed by a 10-Year / 10,000 Mile Warranty.
My 05 Element has about 68K miles, It is underpowered when accelerating onto the freeway with the A/C on, the K&N air intake has made a noticeable difference making the vehicle much more fun to drive.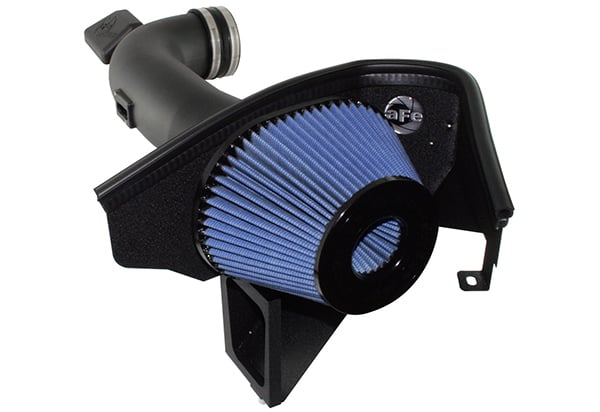 For increasing your acceleration capacity and overall power, the aFe Air Intake is designed to give your engine exactly what it needs. This system first replaces your air filter and stock air box, and has an optional add-on of an intake tube. The filters are completely cleanable and reusable and this system bolts-on for an easy installation.
Installed 5,000 Miles ago. AFE has an aggressive sound, increased throttle response. I have seen some change in miles per gallon as well.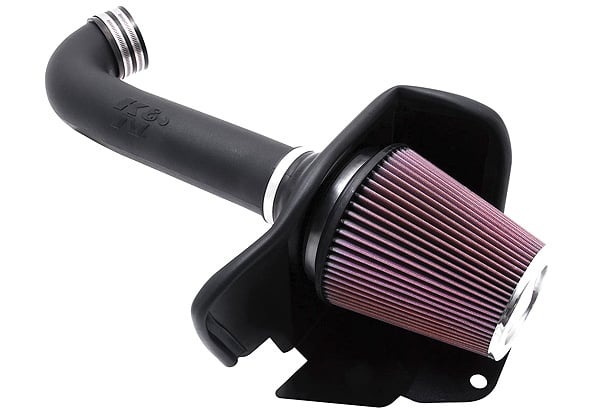 The "FIPK" in the K&N FIPK Air Intake stands for "Fuel Injection Performance Kit" and the result of having this system installed is a big boost in power, torque, and throttle response. Adding up to 26 horsepower, this kit includes a washable cotton-gauze air filter will last the lifetime of your vehicle and beyond.
This sounds excellent. Opened up the motor to its full potential. Very throaty more hp. And more mpg
Designed to unlock the true potential of your vehicle, the Specter Cold Air Intake is custom made to your make and model and includes all of the necessary clamps and brackets for a fast and easy installation. Your horsepower, torque, and fuel economy will go through the roof and a high-performance air intake is included.
Easy to install and way cheaper than others on the market with same performance.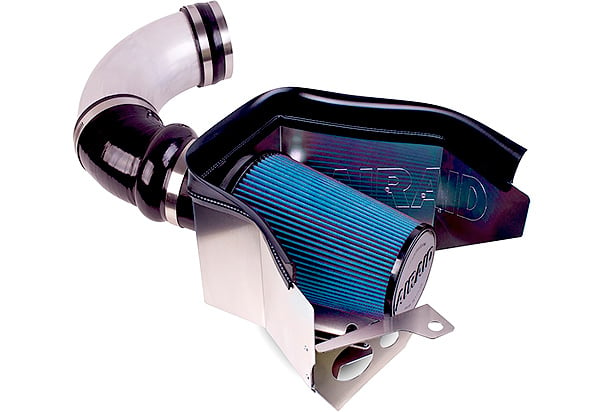 One of the most wide open airflow systems on the market, the Airaid Cold Air Intake System opens your horsepower and torque wide open. Installing easily with simple household tools, this kit includes your choice of a dry or oiled high-performance air intake and this system comes backed by a Lifetime Warranty.
This is the first accessory I've bought and installed on any car. It was very easy to install and the directions couldn't be more clear. You really do feel the difference when you hit the pedal, especially on the on-ramps. Shipping was much faster than I expected, and it looks really cool under the hood too!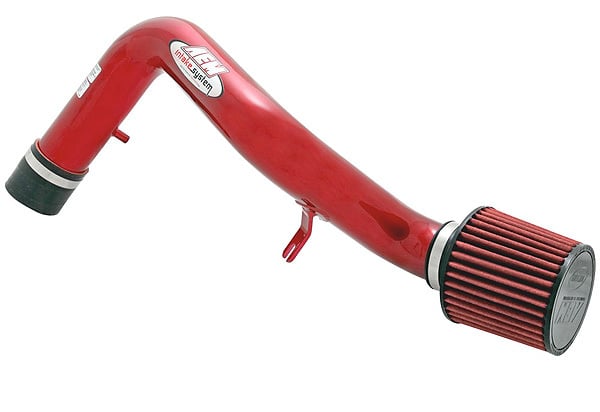 Made in the USA and CARB-exempt, the AEM Cold Air Induction System comes in your choice of a red, blue, grey, or polished finish. A soft-mount hardware kit is included along with detailed instructions for an easy installation. The mandrel-bent construction offers one of the smoothest possible flows of fresh cool oxygen for a great ride.
The AEM intakes never seem to disappoint. It was a fairly easy install on my G35 coupe and the performance difference was noticeable. It also looks and sounds great. The quality you get from AEM is unmatched when it comes to intakes.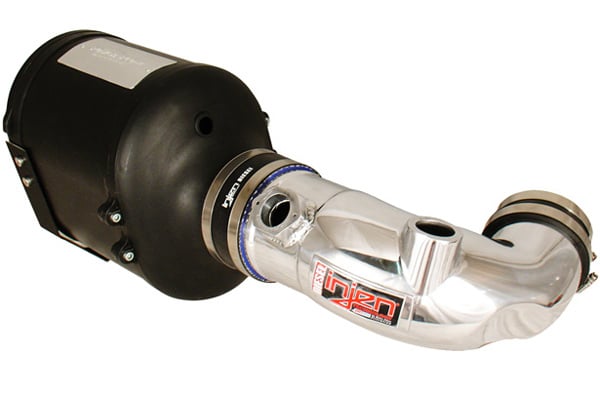 Backed by a Lifetime Warranty, the Injen PowerFlow Intake System ships custom-tuned to the exact application its ordered for. Boosted acceleration, more consistent power output, and a lightning fast throttle response, your vehicle is guaranteed to give your ride a more powerful ride feel and a no-drill installation.
I've noticed better throttle response and even a little better gas millage. Right out of the box you can tell the craftsmanship is tops. Took me about 2 1/2 hours to install.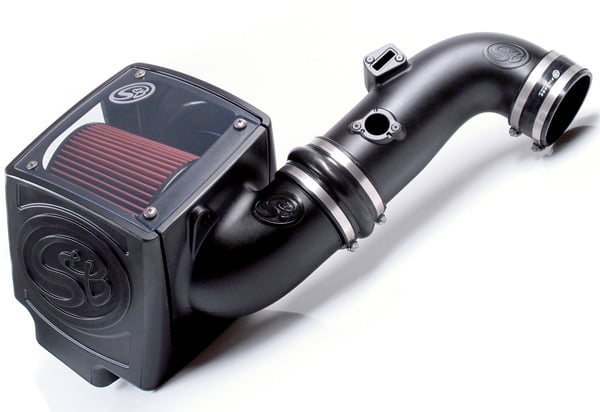 Tested to the ISO 15011 Standard, the S&B Cold Air Intake offers a clear window that allows you to easily inspect your high-performance air filter – and it looks cool when you pop the hood to show off your rig. Bringing your engine's airflow to the absolute max, the S&B Cold Air Intake is made in the USA and backed by an incredible Million Mile Warranty.
This intake is nice, it looks great and it has given my truck an awesome tone. I would definitely by another one for my next truck
Air Intakes Research Guide
What Do Performance Air Intake Systems Do?
Improved Combustion
The cylinders in internal combustion engines make controlled explosions with a mixture of fuel and air. Typically, your engine does not receive as much air as it should for optimal combustion. Stock vehicles are equipped with an air intake tube that's designed to keep your engine quiet by utilizing a series of restrictive bends and turns. Plus, the air box (where air is drawn into your engine) is usually located in your engine compartment, where the ambient air tends to be very hot. Finally, the stock air filter in your air box is likely made of cheap, disposable paper that severely slows down the air coming through it. All those flow restrictions and high air temperatures lower the amount of oxygen that gets delivered to your combustion chambers, causing a fuel-rich air/fuel mix that doesn't ignite powerfully or efficiently.
By freeing up restrictions and cooling down air flow, Performance Air Intake Kits and Cold Air Intakes solve the inherent problems with stock intakes and maximize combustion in your engine. Performance intakes utilize a wider intake tube with fewer bends than stock tubes, providing a higher volume of free air flow. This free-flowing design, combined with a high-flow air filter, fills your combustion chamber with extra oxygen. Plus, Cool Air Intake Kits move the air box outside of the engine compartment, allowing cooler and denser air to be sucked into your engine for even better ignition.
By improving the combustion in your vehicle, Performance Air Intakes will give your vehicle the following benefits:
Power Gains
By breathing huge amounts of cool, dense air thanks to a Mitsubishi Lancer Air Intake, your engine makes better use of fuel and pulls more power out of every cylinder stroke. By ditching your restrictive stock intake and replacing it with a performance system, you can add a noticeable boost to your engine's horsepower and torque. Air intake manufacturers usually claim gains of up to 10 HP, though depending on your vehicle and engine those gains can be more or less. Combine a Performance Cold Air Intake with other upgrades like a Performance Tuner or Exhaust System, and you're bound to see even more significant power gains.
The following dyno chart is an example of what a K&N Air Intake can do for a 1998 Camaro. This intake system adds a whopping 14 HP and 14 ft-lbs of torque!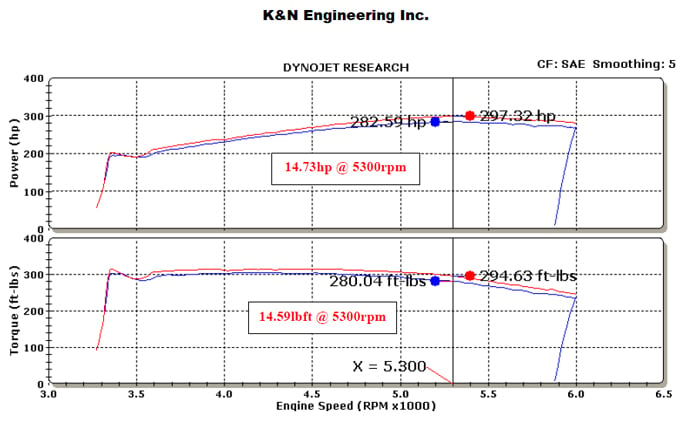 Increased Throttle Response
You may find your stock vehicle is a bit slow or sluggish when you need to get ahead of the pack. By increasing air flow and combustion in your engine with an Infiniti G35 Air Intake, your vehicle gets quicker and more responsive when you step on the gas pedal. Performance Air Intakes give your car or truck a little extra pep when passing, accelerating at stoplights, and hitting highway on-ramps.
Boosted Fuel Economy
You might think extra power and throttle response has to come at the expense of gas mileage, but not with a Performance Air Intake. Our intakes actually help boost your fuel economy and save you money at the pump. By improving your engine's combustion, you get more energy out of every drop of fuel so your engine uses less of it per mile. Systems like the Volant Intake produce average gains of about 1-2 miles per gallon. Of course, you have to maintain efficient driving habits to see your fuel economy improve. The extra power and acceleration you get from a performance air intake may inspire you to drive a lot harder, cancelling out your mileage gains. Keep your driving style modest, however, and you'll get power and pep when you need it without spending a fortune on gas.
Easy Installation
The best part about Performance Air Intakes is that they're relatively simple to install. Most intakes easily bolt in place of your stock system with simple hand tools. This video shows how quick and painless a performance intake can be to install:
Compare Our Most Popular Air Intake Systems
Price
from $153.99
from $129.99
from $153.99
from $182.89
from $112.49
Shipping
Free Shipping
Free Shipping
Free Shipping
Free Shipping
Free Shipping
Special Offers

Same Day Shipping

Same Day Shipping

Rating

Overall:
Performance:
Quality:
Appearance:

Install Time
1-2 hours
30-60 minutes
30-60 minutes
30-60 minutes
30-60 minutes
Fit
Vehicle-Specific Fit
Vehicle-Specific Fit
Vehicle-Specific Fit
Vehicle-Specific Fit
Vehicle-Specific Fit
Colors
Filter Style
Oil-Free
Oiled
Oiled
Oiled
Oil

---

Oiled
Finish
Blue

---

Gun Metal Gray

---

Polished

---

Red
Blue

---

Polished

---

Red

---

Silver
Black
Black
Chrome
Material
Aluminum
Aluminum
Cross-Linked Polyethylene
Cross-Linked Polyethylene
Aluminum
Style
Cold Air
Cold Air

---

Short Ram
Short Ram
Cold Air
Cold Air

---

Short Ram
Warranty
Lifetime Warranty
10-Year / 1,000,000-Mile Warranty
10-Year / Million-Mile Warranty
Million Mile Warranty
Lifetime Warranty
More Details
More Details
More Details
More Details
More Details
Air Intake Styles
Every Performance Air Intake we offer provides real gains in horsepower, throttle response, and gas mileage. Depending on your vehicle and your needs, you can choose either a standard Performance Air Intake or take your performance up another notch with a Cold Air Intake.

Standard Performance Air Intakes
Standard Air Intake Kits are the compact and most easy to install way to enhance your engine's breathing. They replace your restrictive factory intlet tube with a larger-diameter, mandrel-bent tube for more restriction-free flow. Standard Air Intakes usually include a new air box and performance air filter to help your engine breathe larger amounts of cleaner air.

Short Ram Air Intakes
Short Ram Air Intakes are similar to standard systems, except they utilize a much shorter intake tube. The goal of a short ram intake is to force more air directly into your engine, with minimal bends for constant air flow. Short Ram Injen Intakes and K&N Intakes don't draw in the coldest air due to the inlet's close proximity to the engine, but ideally the huge volume of air they draw in makes up for it.

Cold Air Intakes
Cold Air Intake Systems utilize a longer intake tube than stock intakes and relocate the air box outside of the engine compartment. This lets the intake pull in cooler air, which provides more oxygen to your engine. In case you didn't hold on to your chemistry notes from high school, here's why Cold Air Intake Kits have an advantage:
Gases become less dense as their temperature goes up. Your engine compartment is typically very hot, so a stock Acura Integra Air Intake pulls in warm air with sparse, spread-out oxygen molecules. By moving the air box away from the engine, a Cold Air Intake pulls in cooler air and therefore supplies more densely-packed oxygen to your combustion chamber. That dense oxygen feeds larger and more efficient explosions in your pistons.
Keep in mind that a cold air intake's air box is usually located above the tire in a front wheel well. If your vehicle travels through high waters, the air box can potentially suck up water and damage your engine. If you frequently drive through high waters, you should consider using a standard performance air intake instead.
Intake Manifolds
As air comes in through the intake tube it makes its way through the intake manifold. Intake Manifolds deliver the air from the intake tube into the combustion chamber. Just like your intake, smooth air flow is essential for maximum combustion and power. Your stock manifold inherently has restrictions that are robbing your engine of power-supplying oxygen, but Performance Intake Manifolds help feed more of it to your engine. By bolting on a Banks Intake Manifold or an aFe Intake Manifold, you can significantly increase your diesel engine's airflow for superior power. If you drive an import sport-compact, the Skunk2 Intake Manifold adds extra horsepower across a wide RPM range for total dominance on the highway and at the track.
Air Filters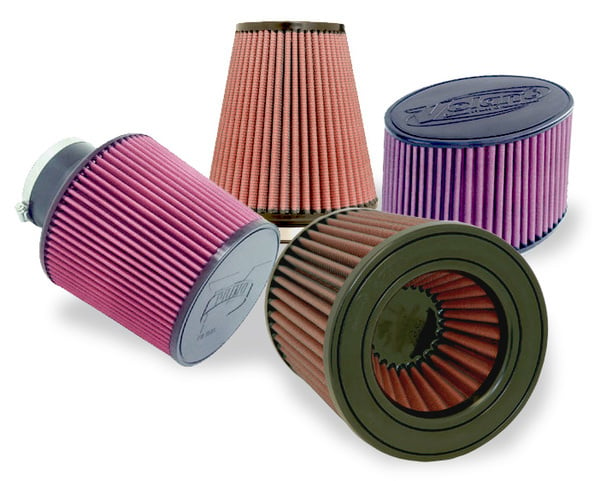 The Performance Air Filter is a key component of your air intake. These filters trap dirt and dust far better than paper filters, and allow more air to flow into your engine. One significant difference is in their shape. Performance filters are usually made with a conical design that pulls air in from every direction. Plus, the filter surface is folded into an accordion shape. This increases the filter material's surface area for even greater dirt-stopping potential.
Performance Air Filters are typically oiled, which helps catch more dirt than dry paper filters. They're also designed with several cloth layers that make the filter more breathable. Even with a bunch of dirt trapped in them, performance filters continue to draw in more air than paper filters. What you get is cleaner air, and more of it. As you know, more air flow means more performance and efficiency out of your vehicle.
Everyday paper air filters have to be replaced every 15,000 miles or so, but that's not the case with performance air filters. Your performance filter only needs some simple washing and re-oiling every 30,000 to 50,000 miles. Plus, most filters are guaranteed to last as long as you own your car. With proper maintenance, you'll never have to buy another air filter again!
Air Intake Upgrades
Upgrading your Toyota 4Runner Air Intake isn't the only way you can improve how your engine breathes. By adding and replacing some key intake accessories you can coax even more power out of your vehicle and optimize how your engine works with your newly-enhanced air flow.
Mass Air Flow Sensors
Your air flow sensor detects how much oxygen is coming into your engine and determines how much fuel to send to the cylinders. Once you bolt on a performance air intake, however, your stock sensor may not be properly designed to handle all that extra air. That's where a Mass Air Flow Sensor (aka MAF Sensor) comes in.
MAF sensors like the Jet Mass Air Flow Sensor are designed to more accurately detect your engine's air intake, providing a better air to fuel ratio for fine-tuned combustion. They're also built with a larger diameter than your stock sensor, providing extra air flow and a better fit with large-diameter performance air intake tubes. The result is more efficient combustion, higher power, and improved fuel economy.
Throttle Body Spacers

Throttle Body Spacers (also known as TBI Spacers) install between your throttle body and the intake tube. This may just look like a boring piece of metal, but it can greatly benefit your engine's combustion and power. Throttle Body Spacers feature a unique spiral bore that spins the air coming in from the intake tube. This creates an agitated vortex of air that mixes better with fuel to deliver even more power to your engine. You can install a TBI Spacer with your stock intake for better mileage and performance, but its benefits really shine when paired up with a performance air intake.
Helpful Tip:You may have heard in the past that Throttle Body Spacers create an annoying whistling sound. Don't worry - our spacers feature advanced designs that generate little to no noise.Spacers like the Airaid Throttle Body Spacer are custom-designed to your exact vehicle for a perfect fit. They're also crafted from strong and lightweight solid billet aluminum and are easy to install. With most spacers you'll put a new spin on performance in about a half hour.
If you're upgrading your vehicle with a performance intake as well as a throttle body spacer, make note that many TBI spacers are designed to fit stock intake sizes. Make sure you choose a throttle body spacer with the proper diameter to accommodate your intake's larger inlet tube.
How To Choose The Best Air Intake For Your Vehicle
There are a wide variety of Hyundai Tiburon Air Intake systems and components out there, each with their own benefits in style, price, and performance. How do you pick the best performance air intake for your car or truck? Here are a few factors to consider when shopping for an intake:
Vehicle
The type of vehicle you drive can influence what intake is best for you. If you drive a performance sport compact, an AEM Air Intake would be an appropriate (and popular) choice. Bigger trucks and SUVs, however, would benefit much better with a Banks Intake that's specially designed for the high torque and power required for heavy trucking. No matter what system you choose, remember that virtually all of our Performance Air Intakes are custom-designed to your exact vehicle to ensure superior performance and a perfect fit.
Budget
Air Intakes are available for economy-minded drivers and performance-obsessed racers alike. Some Pontiac Grand Am Air Intake kits utilize less expensive materials to lower their price tag. Systems like the Airaid Intake kit give you similar fine-tuned performance as more expensive kits without breaking the bank. You can also purchase individual parts like an intake tube on their own so you don't have to spring for a complete system.
If it's the ultimate in performance and style you're after, consider an intake with a painted or polished metal tube. If you have the budget to maximize your performance, give your vehicle a complete upgrade by bolting on an intake as well as an aFe Throttle Body Spacer and a MAF sensor.
If you aren't looking to make a huge investment but still want to improve your engine's breathing, you can always upgrade your intake with a replacement air filter. A new performance air filter will let your engine breathe larger amounts of cleaner air without the expense of a full system. Plus, because you'll never have to buy another filter again, our reusable filters basically pay for themselves.
Looks
Your stock intake tube is probably made from boring black plastic. That does the job just fine, but you may be looking for a little more inspiring style from your performance upgrades. We offer several options with a similar stock look and material, but there are plenty of options for if you're looking to dress up your engine bay. AEM Intakes and K&N Air Intakes are available in mirror-like polished finishes as well as a variety of anodized finishes that add a hot performance look under your hood.
Final Thoughts
Air Intake Systems fill your engine with the cool, plentiful air it needs to generate tire-squealing power. We offer a full range of easy-to-install air intakes and kits for just about any vehicle. If you have any more questions or suggestions about the information in this guide please contact our experienced Customer Service Department at 800-663-1570.
This page was written by Packy AutoAccessoriesGarage