A new set of Performance Shocks will take your vehicle's handling and ride feel to a whole new level. From tight cornering and road adhesion on the racetrack to a more comfortable daily drive in changing road conditions, these shocks will give you what you need. The performance suspension world is chock full of brands clamoring for your attention, though, so there are a lot of products to sort through. Take a look at two leading shock brands, Tokico and KYB, to find the right shock absorbers for your particular needs.
Tokico Shocks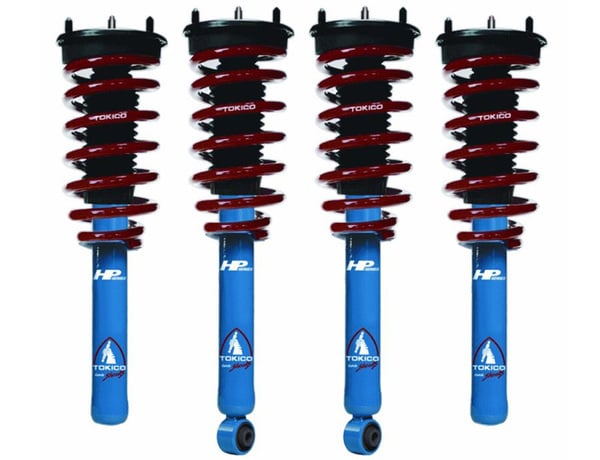 With over five decades in the shock absorber industry, Tokico has the art of shock design and manufacturing nailed. They're constantly growing and developing, and they truly listen to the demands of their customers to evolve their products into the nicest stuff out there. Every set of Tokico Shocks is specially tuned to give your exact vehicle a smooth feel, superior handling and responsiveness, and an excellent grip on the road.
Tokico's focus is on building performance shocks for sport-compacts and full-size cars. For versatile fine-tunable performance, choose the adjustable Tokico Illumina Shocks and enjoy a smooth street feel or more aggressive track performance. Or pick up a set of Tokico HP Shock Absorbers. These shocks (affectionately called Tokico Blues by performance enthusiasts) feature micro-polished piston rods and Teclon-coated bushings for virtually zero friction and super-smooth action. Both shock styles are also available in full kits, like the Tokico HP Kit or the Tokico Illumina Suspension Kit, which include four shocks and a full set of lowering springs.
KYB Shocks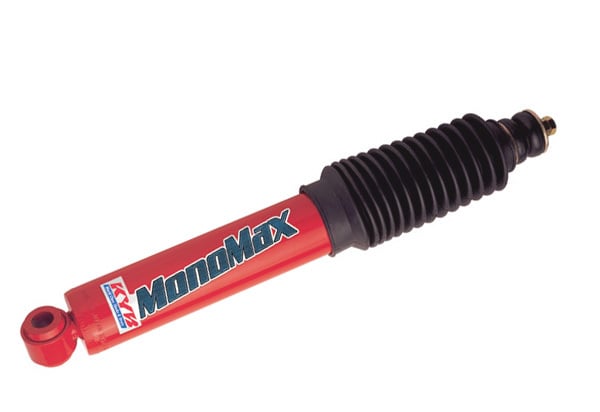 KYB Shocks are built to deliver awesome handling, performance, and even looks. It's with their commitment to quality that KYB became one of the largest suppliers of aftermarket and OE shocks in the world. That means you can really count on these shocks to give you exactly what you're looking for.
Whatever you do with your vehicle, from racing in a sport compact to working tough jobs in your truck, there are KYB Shock Absorbers for you. Go with the rugged monotube KYB MonoMax Shocks for heavy-duty offroad performance - these shocks feature multi-stage compression that's versatile enough for all kinds of driving styles. Or, put in a set of KYB AGS Adjustable Shocks, which have a damping rate you can adjust externally. This lets you dial in the exact feel and response you're looking for, whether you're just cruising or hitting the track.
KYB also designs their shocks to fit your exact year, make, and model, which ensures that they'll install without any hassles. Even more, they're built to handle all the abuses of the road, and come backed with a Lifetime Warranty.
KYB or Tokico - What Are The Right Shocks for Your Vehicle?
You'll come across a wide variety of brands when shopping for shocks, so it helps to have a little bit of guidance to make a more informed decision. Be sure to consider the type of vehicle you drive, as well as the kind of driving you'll be doing with it. Use the chart below to compare KYB and Tokico side by side. For more detailed info about our shocks, be sure to read our Suspension FAQ page as well as our customer-written Shocks Reviews.
| | | |
| --- | --- | --- |
| | | |
| Starting At | $26.04 | $46.37 |
| Available Models | 4 | 4 |
| Designs | Monotube, Adjustable | Monotube, Adjustable, Coilover Lowering Shocks |
| Finishes | White, Silver, Red | Blue, White |
| Warranty | Lifetime | Lifetime |
| Shipping | FREE | FREE |
| | | |