A Performance Suspension or a new set of shocks will give your truck or SUV the edge you need when hitting the trails and the work site. From a set of shocks to a full-blown lift kit, our products smooth out your ride feel, give you excellent handling, and even toughen up your exterior style. There are a lot of suspension brands out there, though, so let's take a look at Rough Country and Skyjacker in detail to help you find the right suspension for your SUV or truck.
Rough Country Shocks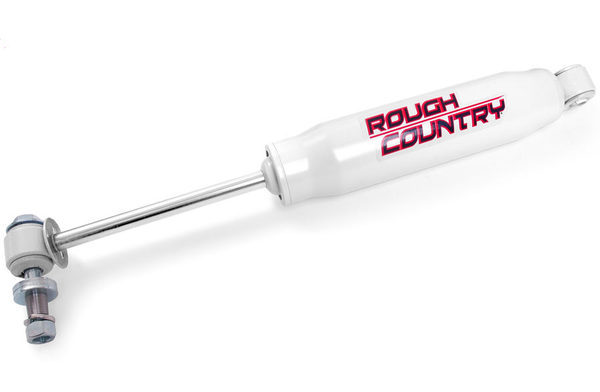 Rough Country has been giving drivers a smooth, confident ride on the back roads and trails since back in the early '70s. With decades of experience to draw from, it only follows that Rough Country Shocks are one of the leading brands in the game. Every product they make is built ultra-tough, so they can handle even the worst abuse.
Choose from two main styles of Rough Country shocks, each with a different type of filling. Rough Country Nitro 9000 Shocks are charged with nitrogen gas, whereas the Rough Country Hydro 8000 Series Shocks feature a hydraulic design. Beefed-up chrome steel piston rods and military-spec charges ensure awesome strength and durability, while these shocks' Velocity Sensitive Valving self-adjusts the amount of dampening based on the speed of the piston rod. This provides the nicest possible ride quality, as well as versatile performance in any road conditions without making any adjustments.
If you've got a lifted truck, oversize tires, or heavy equipment like a plow or winch, check out the Rough Country Steering Stabilizer. These stabilizers are built just as tough as Rough Country's shocks, and they minimize steering vibration for a better control. Plus, they extend the lifespan of your suspension components and tires. Every Rough Country Shock and Steering Stabilizer is backed with a Lifetime Warranty.
Skyjacker Suspension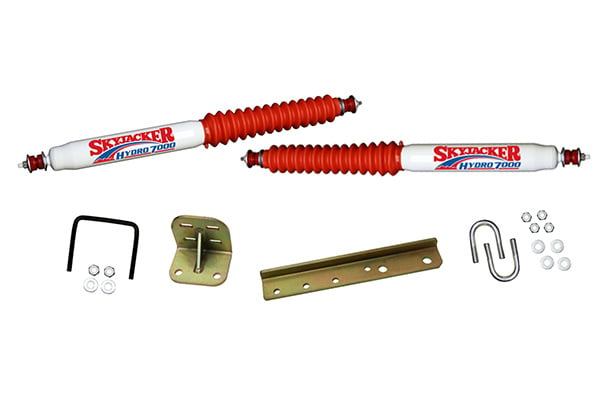 Skyjacker Suspension makes a complete line of suspension kits and parts that are specifically geared towards the world of off-roading. The engineers at Skyjacker are true off-road drivers in their spare time, so every part they build is inspired by real experience gained on the trails. Like Rough Country, they've been doing it since the early '70s, and those decades of passion are apparent in every product they offer.
Skyjacker offers a wide variety of suspension gear to suit your driving needs. Bolt on a Skyjacker Lift Kit for extra ground clearance and a beefed-up look, or just add some Skyjacker Leaf Springs to your rig for a little extra height and payload capacity. Plus, with gear like Skyjacker End Links or a Skyjacker Steering Stabilizer you can give your lifted truck some extra control and handling confidence. And even more, every Skyjacker Suspension part is built super-tough and comes backed with a Lifetime Warranty.
Rough Country or Skyjacker - What Are The Right Shocks For Your Vehicle?
When comparing Skyjacker and Rough Country, there are several different things to consider. Factor in your driving style, the kind of benefits you're looking for, and the budget for your suspension upgrade project. Use the chart below to examine Skyjacker and Rough Country Suspension side by side. You can also check out our customer-written Shocks Reviews, as well as our expert Suspension FAQs. Then, if you have any other questions or are ready to order, give our handy customer service team a call at 800-663-1570.
| | | |
| --- | --- | --- |
| | | |
| Starting At | $37.95 | $26.04 |
| Available Products | Shocks, Steering Stabilizers | Shocks, Lift Kits, Leaf Springs, Steering Stabilizers |
| Shock Designs | Monotube | Monotube |
| Finishes | White | White, Black, Red |
| Warranty | Lifetime | Lifetime |
| Shipping | FREE | FREE |
| | | |