When you're preparing to dominate the roads, trails, and work sites in your truck, you're gonna need to bolt on a rugged Performance Suspension Kit. From beefed-up springs and shocks to full-blown lift and leveling kits, we have everything you need to turn your truck or SUV into a dominating force. Check out Skyjacker and Rancho Suspension and find the right suspension parts for your vehicle and your driving needs.
Rancho Shocks & Suspension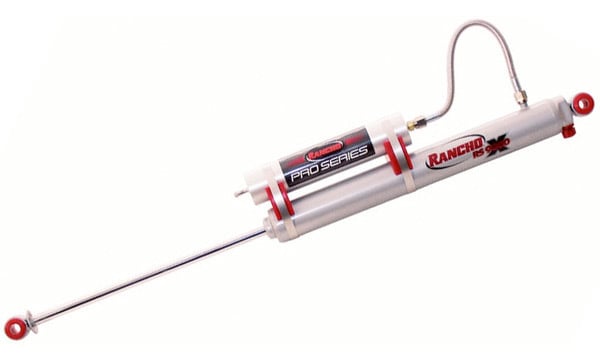 For over five decades Rancho has been supplying off-roaders and highway drivers alike with rugged, reliable, and smooth shock absorbers. Rancho Shocks feature super-tough construction and materials. From urethane bushings and double-chromed rods to teflon bands enhanced with graphite, every shock they build provides smooth operation and a long life over every kind of abuse you can dish out.
Choose from a variety of shock styles, such as Rancho RS9000X Shocks, which feature an external reservoir, or the rugged monotube RS7000MT Shocks. Check out the Rancho Quick Lift Leveling Kit if you're looking to get a little extra height on your front end. These coil-over shocks are designed to add a couple extra inches to your front suspension, eliminating front-end rake for aggressive looks and extra clearance. Every part is build to last, and backed with a Lifetime Warranty.
Skyjacker Suspension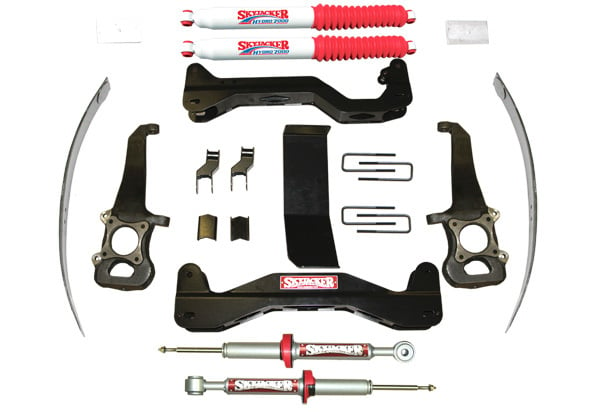 Skyjacker Suspension manufactures a full line of suspension components and kits that are specially designed to suit the demands of the off-road community. They're true enthusiasts themselves, so every component is engineered and built with a genuine passion for the joy of off-roading. Plus, they've been doing it since the early '70s, and that experience shows in every product they make.
Choose from all kinds of Skyjacker gear to suit your needs. If you want to give your truck toughened looks and higher ground clearance, do it with the rugged Skyjacker Lift Kit. Or, you can hook up some extra Skyjacker Leaf Springs to compensate for heavy payloads or just to give yourself a little extra height. Once you're lifted, give your vehicle more control with add-ons like a Skyjacker Steering Stabilizer.
Skyjacker builds every one of their products for amazing ruggedness, and they stand by that with a Lifetime Warranty.
Skyjacker or Rancho - What Is The Right Suspension For Your Vehicle?
You care for your truck, but you also abuse it. Therefore, you need a suspension that's ready to handle everything you put it through. With so many off-road suspension brands out there, what do you choose? It's important to think about the kind of driving you're looking to do, whether off-road or highway, as well as your style tastes. This chart below compares Rancho and Skyjacker side by side so you can easily compare the two brands. Plus, you can check out our Suspension Reviews, written by real off-road enthusiasts, as well as our Suspension FAQ page. You can also give our customer service team a call at 800-663-1570 to learn even more. Good luck!
| | | |
| --- | --- | --- |
| | | |
| Starting At | $26.04 | $55.49 |
| Available Parts | Shocks, Lift Kits, Leaf Springs, Steering Stabilizers | Shocks |
| Shock Designs | Monotube | Monotube, Twin Tube, Coilover Lowering Shocks |
| Finishes | White, Black, Red | White, Silver |
| Warranty | Lifetime | Lifetime |
| Shipping | FREE | FREE |
| | | |