Speed bumps. Potholes. Rumble strips. How does your vehicle handle these obstacles and challenging road conditions while keeping your ride smooth and comfortable? It's all in the suspension system. Your suspension softens the blow of dips and bumps both small and large, keeping your vehicle level and easy to handle.
At AutoAccessoriesGarage.com we carry a full line of performance suspensions kits and parts that enhance your ride quality, handling, and overall performance. We also offer lift kits and lowering kits that give your vehicle extra style and performance for the off-road and the race track. But with so many options on the market, it can be difficult to know where to start. Thankfully, at AAG we have years of industry experience, customer reviews, and sales data to draw from. Presenting the Top 10 Best Suspension Parts and Systems of 2022:
The Best Suspension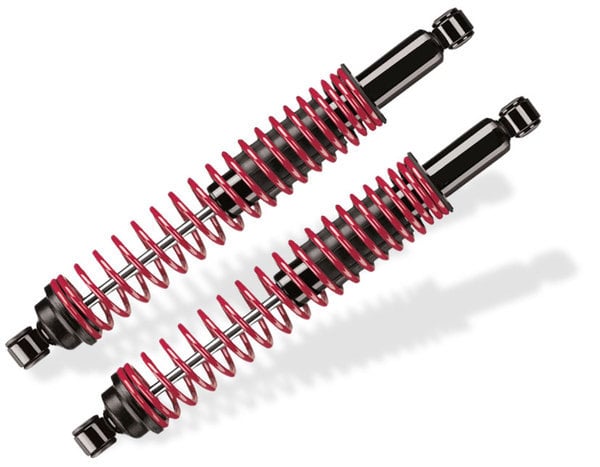 For the perfect balance of spring and shock, feast your eyes on the Gabriel Load Carrier Shocks. These coil-over shocks improve stability and maintain your vehicle's stock height. Offer up to 500 lbs. of load capacity per pair, these shocks include a chromed piston and mandrel-tubing to prevent wear and tear for the long haul.
Great shocks! 'Totally transformed the ride of my pickup! No more wallowing in corners, it handles like a sports car...well, OK, a water-sports car maybe.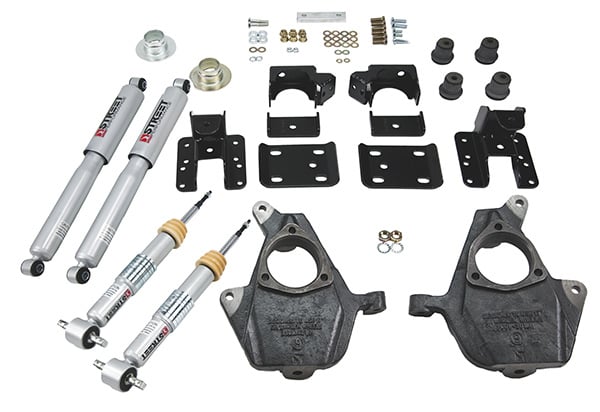 If you'd like your low rider to get a little lower take a look at the Belltech Lowering Kit. This custom-designed lowering kit will shave off as many inches as it can from your rides stature, and is available in two sturdy designs. Since Belltech has been in the game for over 25 years, they can confidently offer a Limited Lifetime Warranty on every component of this kit.
Installation is straight-forward enough, and the final look is priceless.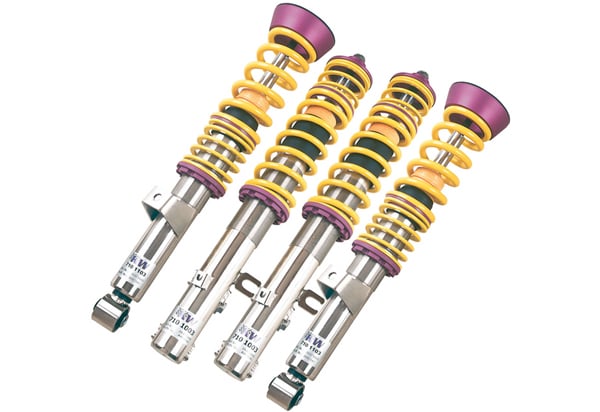 For a low center of gravity, razor sharp cornering, and a heavily reduced squat, KW Suspension Coilover Shocks are the real MVP. Three performance stages are available and vary by your vehicle type and application. Each stage is built from the highest-quality components to ensure that you get a performance you can rely on.
Smooth ride, smooth feel, smooth looks. Very happy with KW Suspension, especially for the price.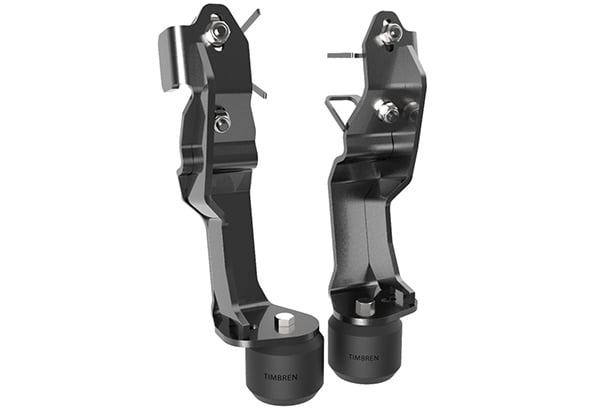 Improving heavy load handling doesn't have to be difficult. Sometimes all you need is the Timbren Suspension Enhancement System. With this system in place you'll see huge reductions in sag and trailer sway as well as highly improved uneven load handling. The vehicle-specific applications ensure that you get the most out of your vehicle with the Timbren Suspension Enhancement System.
Easy to install, super aggressive look, and a more satisfying ride-feel. With the limited lifetime warranty what more could you want?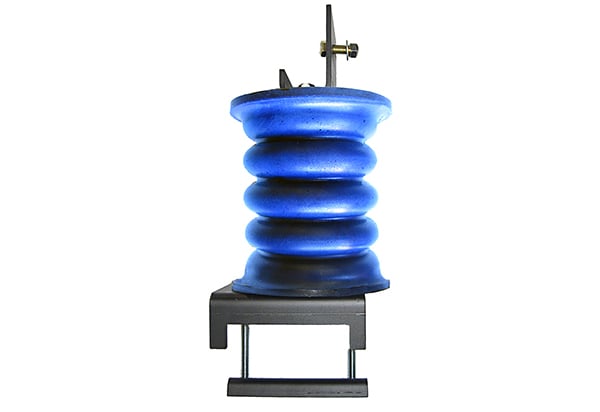 Made in the USA, the SuperSprings SumoSprings Kit is perfect for putting a real heavy-load capacity on your vehicle. This thick polyurethane airbag is designed to carry they big loads without cutting, popping, or tearing. And the load engagement is smooth – no wobble or body roll will be found here and the system will firm up your handling and control.
Excellent product. This was highly recommended to me by several people in my field and I'm glad I went with the SumoSprings.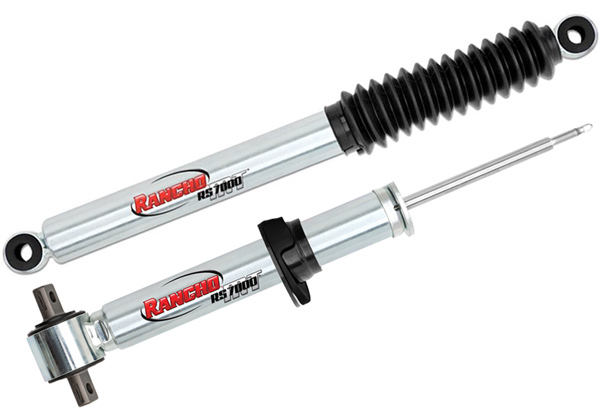 When you lower your ride with the Eibach Pro Kit, you'll see an enhanced performance and much better style. By lowering your vehicle by 1" to 1.5" you'll lower your center of gravity for improved handling and ride quality. Built from corrosion resistant materials with Formula 1 technology, this kit is backed by Eibach's Million Mile Warranty so you know this set-up will last.
Just lowered my 2010 5 series e60 for that aggressive look and feel but not too low where it is a hassle driving in the city.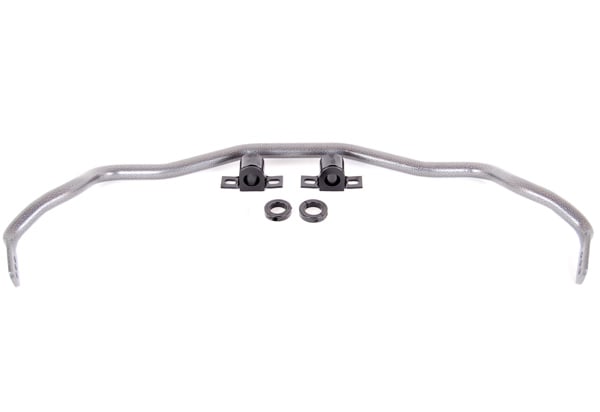 To improve handling, reduce body roll, and take on tighter turns, all you need to do is distribute your vehicle's weight evenly across all for wheels. The easy way to do that is with the Hellwig Anti Sway Bar. Crafted from 4140 chromoly spring steel, this sway bar is shipped with high-tech polyurethane bushings and all of the necessary mounting hardware.
The service was great and the product lives up to its name. I can't see a why it doesn't come from the factory on the truck. It makes the truck handle just like you want it to!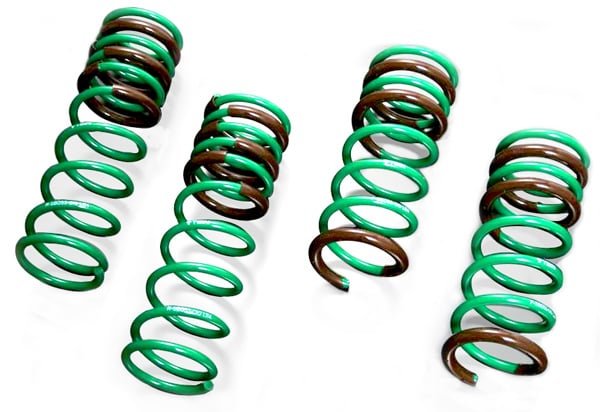 Dropping your vehicle a jaw-dropping 1.5 inches, the Lowering Springs from TEIN S.TECH are rigorously road tested to bring you're the best performance and an enviable drop. Body roll, nose dive, and acceleration squat all become problems of the past when you have these springs on your suspension team.
These springs are easy to install and very well made. For me and my Mazda 3, the stiffer spring rate is fantastic and just what I wanted.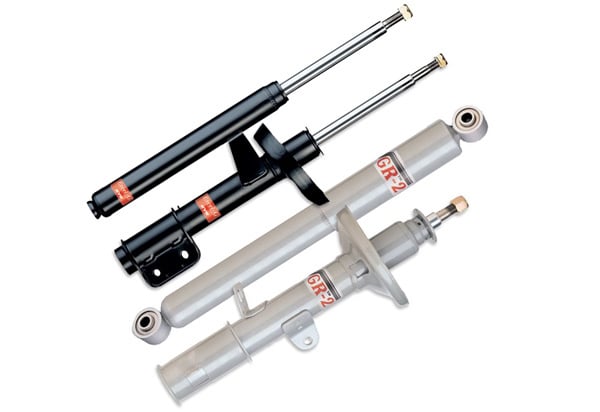 If your suspension and handling need an overhaul, you just can't beat the original factory restoration feel that comes with KYB GR-2 Shocks. Custom-designed to suit your exact make, model, and year of vehicle, these shocks feature hardened chrome piston rods and guide rods for extra strength in the most extreme of applications.
The KYB GR-2 front struts are a good choice to upgrade from worn stock units, offering a firmer but not harsh ride, and better control.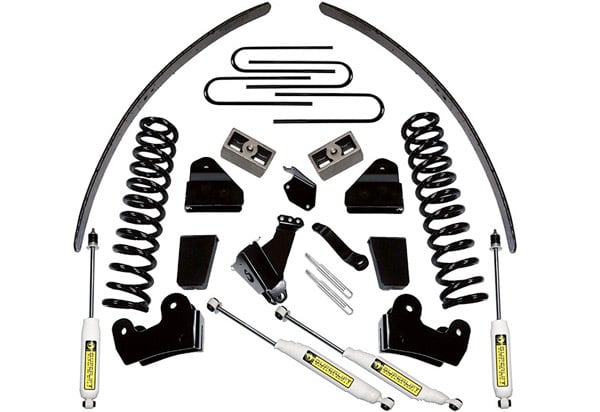 If you want to get your truck lifted and lifted right, the Superlift Lift Kit is always the way to go. Oversized tires? No problem. This kit will incorporate anything your rig is running and it will make no change in your handling or performance by maintaining your OEM steering geometry. This kit is made in the USA and backed by a Limited Lifetime Warranty.
Installation is definitely not for the novice, but the results are well worth it. Suspension is great and the lift is fantastic!
What's the Best Fit for Your Vehicle? Enter Your Info Below to Find Out!
Suspension Component Buying Guide
Before you start shopping, learn how your suspension works and what you need to look for when finding the best suspension for your car, truck, or SUV.
What Does A Suspension System Do For My vehicle?
Your suspension serves two main purposes. It provides improved road handling and braking for better control and safety, and it smooths out your ride for a more enjoyable driving experience. Suspension systems perform these tasks by acting like an intermediary between the road and your vehicle's chassis. They key to suspension performance is striking the right balance between handling and comfort.
Suspension systems utilize a complex system of springs, dampeners, and steering components to help your wheels respond smoothly to bumps and terrain changes. You can modify and upgrade each component to take your comfort and performance to the next level.
Springs
Springs are the central component to your suspension system. Your suspension springs are designed to absorb the vertical energy your wheels generate when going over bumps and holes. They also bring your wheels back to their normal height after vertical travel. Springs come in three basic designs, each with their own benefits.
Coil Springs
Coil springs are probably what you first think of when you hear the word "spring." You will see these slinky-shaped springs above the front and rear wheels of many different vehicles. Coil springs from B&G suspension and Eibach springs do a great job handling vertical energy, making them great for all 4 corners of cars. You may even see front coil springs on some trucks and SUVs. B&G springs feature a progressive spring rate, which provides stiff dampening in high-demand situations and a softer feel when cruising. You can also use coil springs like Eibach Sportlines to lower your ride. Coils do come up short when responding to side-to-side activity, making them less suitable for heavy-duty use. For heavier applications like trucks and full-size SUVs, a stronger spring design is necessary.
Leaf Springs
Some vehicles need more weight handling than coils provide. Leaf springs are designed with a stack of thin steel "leaves." Each leaf has a curved shape that bends and flexes when your wheels travel over uneven terrain. You will find leaf springs on heavy duty trucks and SUVs, as well as rear-wheel-drive vehicles. Rear leaf springs such as the Eibach Pro Truck are great for heavy-duty applications, but they don't offer as smooth a ride as coils.
Torsion Bars
Coil springs and leaf springs work by compressing and flexing. Unlike those, torsion bars twist to absorb your wheels' vertical energy. Torsion bars connect your vehicle's control arm to its frame. The frame end of the bar stays in one place, while the control arm end is free to move. When your wheels hit a bump the upward and downward motion causes the torsion bar to twist. The bar snaps back into place, returning your wheels to their normal position. A wide variety of vehicles use torsion bars, and you'll typically find them on front-end suspensions.
Shocks & Struts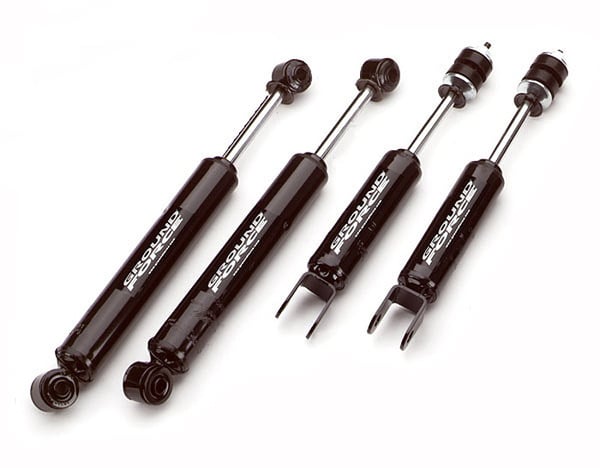 Shock absorbers are among the most important factors that determine your ride quality. If you suspension consisted of just springs, your wheels would perpetually bounce up and down, causing a jerky ride. Shocks (also known as dampeners) alleviate this problem by controlling and slowing the shaking of your springs. Shock absorbers wrangle the vertical energy in your springs to give you a smooth, bounce-free ride.
The key to shock performance, besides providing smooth dampening, is how well they can handle and dissipate heat. Shocks are strong and resilient components, but they can be sensitive to high temperatures. In high demand situations your shocks start to heat up, which lowers the oil's viscosity and its ability to absorb energy. In extreme conditions the oil can heat up to the point of bubbling over, making the shocks basically useless. This effect is known as shock fade, and shock designers try to minimize the chance of this phenomenon.
One of the main ways shock manufacturers, including Ground Force and KW Suspension, try to control heat and prevent shock fade is by keeping internal pressure high. This is because high pressure raises the boiling point of fluids, and therefore increases the amount of stress needed to cause fade. Dampeners are available in three common designs, each with their own benefits and ideal applications. Let's take a look at some of the different styles of performance shocks out there.
Dual-Tube Shocks
Dual-Tube shocks are common on cars, SUVs, and trucks. These shocks utilize inner and outer tube chambers, hence the name dual-tube (sometimes called twin-tube). The inner chamber contains the main oil supply and the piston. The outer tube includes extra oil and the extra space is charged with a low-pressure (100-150 psi) gas, typically nitrogen. The gas provides resistance against the oil flow, dampening your wheels' movement for a smooth ride.
The dual-tube shock design offers a smooth and comfortable ride, making it a highly popular choice for stock vehicles and street use. Twin tube shocks, from brands like Skunk2 and Belltech, are more durable than monotube shocks so they can withstand the kicked-up rocks and debris that come with daily driving. Heavy-duty use such as racing and off-roading can make twin tube shocks overheat, which causes the oil to foam and mix with the gas and can ultimately result in shock fade.
Monotube Shocks
Like the old saying goes, "less is more." That's generally true when you're talking about shock design. Monotube shocks include the piston, oil, and gas all in a single tube. In this design, the piston presses on a mass of oil which then pushes a second piston. The second piston rests between the oil and a section of high-pressure gas, usually between 200-350 psi. This design keeps the oil and gas separated, reducing the chance of oil foaming. Plus, because all the oil is in one tube it is more easily cooled by ambient air, delaying the onset of shock fade.
Did You Know? Some Fabtech and Rancho shocks include an external reservoir that holds extra oil and gas for better cooling and more consistent performance. Monotube shock absorbers are stiffer and tighter than twin-tube or foam cell shocks, making them a more suitable choice for heavy-duty off-roading and racing applications. The monotube design requires more length than twin-tube shocks, so they may be difficult to install on non-lifted trucks and cars. Some models utilize an external reservoir to hold the gas charge, which brings the shock length down to a more easy-to-install length. Monotube shocks are also more susceptible to dents and damage than twin-tube shocks because of their single, exposed-tube design, so extra care should be taken when installing and using them. This also means Monotube shocks are ideal for racing use, where road conditions are consistent and there is a minimal chance of impact from debris.
The following diagram compares Monotube vs. Dual Tube Shocks:

Foam Cell Shocks
Foam cell shock absorbers utilize essentially the same design as dual-tube shocks, except the gas is not free-floating in the outer tube. Instead, the gas is stored in small capsules. These cells keep the oil away from the gas, virtually eliminating the chance of foaming without sacrificing a comfortable ride. Like twin-tube shocks, however, foam cells can also fall victim to overheating. Foam cells can burst if the oil gets too hot, which causes irreparable damage to the shocks.
Coilover Shocks
For optimal damping in high-performance and off-road situations, go with coilover shocks. Coilovers consist of a long-travel monotube shock absorber wrapped with a coil spring. These performance shocks provide excellent damping without torsional stress. Many coilover suspensions, including KW coilovers, let you fine tune your ride height and stiffness, giving you the freedom to dial in the ride quality and performance you desire. Some coilovers can be modified with different coil springs so you can find the perfect spring rate for your driving needs.
Lift Kits
Trucks and SUVs have a commanding presence on the road, but sometimes you need even more height when tackling the trails and driving off the beaten path. Plus, you may be of the "bigger is better" persuasion and want to achieve a rugged big-rig look with oversize tires. Whether it's big looks or big clearance you need, you can achieve it with a lift kit.
Extra Clearance
If you get in touch with nature by dominating muddy trails and climbing hefty boulders, your truck needs extra height to overcome these obstacles. Stock SUVs and trucks, however, don't come from the factory with a very tall stance, so they're susceptible to getting stuck on rocks or trapped in pits. Raise your ride with the best lift kits and you'll get the extra clearance you need to master uneven, rocky terrain.
The added height you get with a lift kit also increases the distance your suspension travels. Adding a lift kit enhances your vehicle's ability to handle taller bumps and deeper crevices, giving you an extra leg-up when off-roading.
Heavy-Duty Style
Lift kits for trucks are the perfect way to enhance your vehicle's looks and stand out from the pack. Trucks and SUVs leave the factory with a forward-slanted design, known as a front rake. Manufacturers do this to make your truck ride more level when towing or hauling heavy cargo, but this makes for an odd look when you aren't carrying a huge payload. Front-end lift kits (aka leveling kits) provide a few inches of lift to your front end for a leveled and commanding look.
A full-on suspension lift kit turns your truck into a big statement of your personality. The extra inches of height you get from a ReadyLift kit give you an even more intimidating look on the road and lets everyone around know who's boss. Plus, your added height provides an even better view of the road ahead.
If you love the look of big rims and huge 35-inch off-road tires, beware: your stock-height truck probably doesn't have the room to fit larger wheels. Luckily you can choose from a variety of Fabtech lifts and Ground Force kits and give your wheel wells enough clearance for those rims. You don't even need a super-tall kit, either - often just two extra inches is enough to fit your off-road tires.
How Lift Kits Work
Helpful Tip: Some front-end lift kits are also known as leveling kits, because they raise your truck's front rake, leveling it out. Now you know how lift kits and leveling kits can help enhance your truck or SUV, but how do they do it? Each vehicle is designed differently, so there are a wide variety of ways lift kits raise your ride. Plus, these methods vary between the front and rear, and some systems may include a variety of hardware. Let's look at the different lift kit styles out there.
Rear Lift Kits
Add-A-Leaf - These kits give your ride a boost by inserting extra leafs into your leaf spring stacks. The extra leafs hoist your vehicle up a few inches without noticeably changing your ride height.
Blocks - By inserting spacer blocks between your axle and rear coil springs you can add a couple of inches while maintaining your stock ride.
Replacement Springs - If it's huge height you need, you may have to completely replace your springs. When you add replacement springs to your vehicle you get an extra height boost as well as the superior feel and handling of new springs.
Front Lift Kits
Lifting your front end can be a bit more complicated due to all the steering linkages and components up front, so there are a few more ways you can add some height.
Spindles are where the wheel hub and bearing mount to your vehicle. By replacing your stock spindles with a taller design you can boost your front end height.
Steering Knuckles, where your wheels pivot when you turn the steering wheel, can also be replaced with longer ones that push your vehicle higher.
Control Arms - These form the connection between your wheel hubs and your frame. Contrary to your expectations, control arms on lift kits are actually shorter than stock. This alters your suspension's angles to make your ride taller. You will typically need to install new coil springs to compensate for your suspension's new geometry.
Spacers - Just like rear blocks, you can lift your front end by placing spacers below or above your front coil springs. Coil spacers, such as Daystar Lifts, are becoming more popular due to their relatively easy installation and their ability to maintain a stock-like ride quality.
Add-A-Leafs - Heavy-duty trucks and SUVs may have leaf springs on the front as well as the back, so you can add a few extra leafs to the stacks and take your ride to new heights.
Lowering Kits
Off-road warriors and heavy-duty truckers may crave extra height to take on rugged terrain, but high-performance drivers on the highway and on the race track want to take their rides lower. Lowering kits bring your vehicle closer to the ground for sleek looks, sporty handling, and a closer relationship with the road under you. If it's a thrilling ride and head-turning looks you're after, a lowering kit is a must.
Improved Handling
Helpful Tip: Many of our performance suspension kits and lowering kits include adjustable shocks that let you dial in the perfect amount of dampening for your driving needs. Sports car drivers and performance enthusiasts love a short stance because it lowers the vehicle's center of gravity. This minimizes the gravitational resistance on your vehicle, giving you a more responsive feel when hugging narrow corners. Plus, lowering kits generally include tougher springs and stiffer shocks than your stock suspension. By stiffening up your suspension, these kits tighten up your steering response, minimize body roll and squat during fast maneuvers, and cut down on nose dive when braking hard. This handling and performance does come at the expense of some ride comfort, but advanced technology like progressive-rate springs and shocks help alleviate the compromise by providing stiff response when you need it and a softer feel when you're driving casually.
Sleek & Sporty Style
A lowered look draws stares from all around, whether you drive a sporty import, a classic hot rod, or a lowrider truck. By dropping your stance with a car or truck lowering kit you alter your ride's profile and transform it into a work of art. Plus, taking your vehicle down a couple inches gives your custom rims an even more impressive look. Our lowering kits come in a variety of heights, so you can choose the perfect amount of drop to get the style you're after.
How Lowering Kits Work
Just like with lift kits, installing your lowering kit involves replacing or modifying certain components of your suspension. These changes may include:
Leaf Springs - One way to drop trucks and SUVs is by changing your leaf spring shackles and hangers to bring them closer to your frame. You can also swap out your leaf springs entirely for even more drop.
Coil Springs - By installing shorter coil springs like Eibach Pro Kit springs you can lower your stance with minimal modifications. Plus, lowering coil springs are usually stiffer than stock, giving you tighter cornering response and limiting suspension travel to minimize the chance of bottoming out.
Torsion Bar Keys - Lowering torsion bar keys rotate the torsion bar in a way that moves the wheels higher relative to your frame. Belltech lowering torsion bar keys provide 1 to 3 inches of drop while keeping your stock ride quality.
Spindles - Mounting a set of shorter spindles puts your wheels closer to the frame, lowering your ride stance. Unlike shortened coil springs, lowering spindles maintain your suspension travel to maintain a smooth ride.
Control Arms - Longer control arms bring your wheels up and your frame down for a dropped look without lowering suspension travel. They can even be combined with new spindles for an even more significant drop.
Many lowering kits include a full performance upgrade with new springs, shocks, and hardware. Take a look at how the Eibach Sport Kit lowers your vehicle's stance while improving your handling and cornering.
Sway Bars & Strut Bars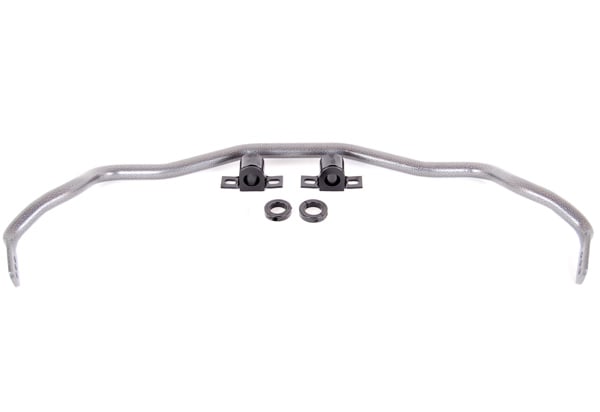 Your vehicle's handling and ride quality don't just depend on how your wheels respond to bumps and dips. The sturdiness of your chassis is also a hugely important performance factor. Without proper tuning your vehicle can succumb to body roll and shaky steering, giving you a less confident ride and ultimately diminished performance on the track and the street. By adding components you can tighten up your chassis for a more stable ride and a more confident driving feel. Anti-Sway bars are an often overlooked but essential suspension upgrade.
Another way to add extra rigidity to your chassis is by bolting on a strut bar, like the DC Sports strut bar. Spirited driving and high-speed turns can cause your vehicle's body to slightly twist and flex, reducing your steering effectiveness. Racers and sport-compact drivers like adding strut bars because they add torsional stiffness and improve handling. Best yet, strut bars simply bolt onto your strut towers without any modifications, and they add some extra high-performance style under the hood.
Price
from $127.59
from $117.10
from $169.45
from $111.54
Shipping
Free Shipping
Free Shipping
Free Shipping
Free Shipping

Rating

Overall:
Performance:
Quality:
Appearance:

Install Time
1-2 hours
1-2 hours
1-2 hours
1-2 hours
Fit
Vehicle-Specific Fit
Vehicle-Specific Fit
Vehicle-Specific Fit
Vehicle-Specific Fit
Material
4140 Chrome Moly Spring Steel
Cold-Formed Solid Steel
4140 Chrome Moly Spring Steel
Cold-Formed, High-Strength Aircraft-Grade Steel
Warranty
Lifetime Warranty
Lifetime Warranty
Lifetime Warranty
Million Mile Warranty
More Details
More Details
More Details
More Details
How To Choose The Best Suspension System For Your Vehicle
With all the performance suspension systems, lift kits, and lowering kits out there, how do you figure out which suspension is the best for your vehicle? It can be a daunting question to answer, but if you keep the following factors in mind it can be easier to find the right suspension parts and kits for your needs.
Vehicle Type & Driving Needs
Helpful Tip: Most of our suspension kits and parts are custom-designed to your exact vehicle. We make it easy to find which kit is right for your car or truck. Simply choose your year, make, and model in the vehicle selector on our suspensions page and we'll only show the parts that fit your ride.Suspension systems are designed for specific situations such as race track or off-road use. A burly suspension kit made for 4x4s wouldn't be a big help if you race in a sport-compact, and vice-versa. Think about your driving style and what kind of performance you need. If it's rugged off-road performance you demand, consider a lift kit from Fabtech. If you're looking to upgrade your sport vehicle's handling and cornering, a race-tuned system like the Eibach sport kit would be a wise choice.
Style
Your suspension doesn't just influence your performance and your driving comfort - it has a lot to do with your visual style, too. If you want to take your big rig sky-high and bolt on some huge off-road tires, consider a Skyjacker lift kit. Many suspension systems and shocks from KW Suspension and Tokico also feature unique finishes that add a touch of color inside your wheel wells. An upgraded suspension looks great whether you ride on sparkling rims or muddy off-road tires.
The suspension is one of the most important systems on your vehicle. It can also be fairly complex to understand, let alone work on. Check out some of these frequently asked questions about suspensions and get the answers you need before shopping for suspension components.
Suspension Systems - Frequently Asked Questions
Answers to Suspension FAQs
What are the benefits to lifting or lowering my vehicle?
Lifting and lowering your ride have two very different sets of benefits. Boosting your ride height with a lift kit gives your vehicle extra clearance to take on off-road paths and beefs up your suspension for heavy-duty use. Lowering kits, on the other hand, lower your center of gravity and tighten your springs for improved steering and traction on pavement. Lifting and lowering kits also alter your exterior style - use a lift kit for tough looks, or drop your car with a lowering kit for smooth style.
How hard is it to install a lowering kit or lift kit?
Lift and lowering kits include a wide array of simple and complex parts and require special equipment to properly install. Taking your kit to a professional garage is highly recommended, though if you have plenty of mechanical experience and the right tools you can install it at home.
Does lowering or lifting my vehicle affect its steering, braking, or handling?
Yes. Altering your ride height changes your center of gravity, alignment, and handling. In the case of lift kits, the added height can make your vehicle more prone to rollovers and more touchy when cornering. Dropping the ride height also lowers the center of gravity, generally improving your cornering and handling - to a point. The photo below illustrates the change in style and stance when you install an Eibach Pro Kit:

Can I lower my ride as far as possible for maximum performance?
While a lowered vehicle has a lower center of gravity for tighter cornering and more responsive handling, there is such a thing as getting too low. Lowered rides have less suspension travel, which gives vehicles a more harsh ride feel and makes them more likely to bottom out on bigger bumps. Luckily, each of our lowering kits and performance suspensions are custom-designed to your exact vehicle and tuned to ideal heights for the best balance of comfort, sleek looks, and race-worthy handling.
Will modifying the suspension void my warranty?
By law, installing an aftermarket part to your vehicle won't affect your warranty, unless your dealer can prove that the modification directly caused a failure on your vehicle. You should be able to install a performance suspension or lift/lowering kit without issue, but you should consult your dealer and read your warranty carefully before buying and installing any suspension parts.
What is camber?
Chances are you've seen this word thrown a lot when reading about suspension modifications. Camber is defined by the angle of your wheel relative to the ground. When the top of your wheel is tilted away from the vehicle, that's known as positive camber. Negative camber is when the wheel is angled inwards. Altering your ride height or installing aftermarket suspension parts changes certain angles in your steering and suspension systems, affecting your camber. Left and right wheels should have matching camber, as misaligned wheels can negatively impact your handling and cause uneven tire wear. When lowering your vehicle, consider picking up an Eibach Camber Kit to improve your steering and maintain the life of you tires
Conclusion
Whether you want to improve your ride quality, maximize your handling performance, or enhance your vehicle's style, you can do it all with our Suspension Kits & Components. If you have any more questions or suggestions about the info in our suspension research guide, please call our experienced Customer Service Representatives at 800-663-1570.