Your engine needs a steady, plentiful supply of oxygen for proper combustion, and a Performance Intake will give you maximum results for maximum power. Our Short Ram, Cold Air, and Ram Air Intakes promote air flow, boosting your acceleration, horsepower, and even fuel efficiency. This all comes in an affordable, easy-to-install package. Take a look at two leading names in the air intakes industry, K&N and Volant, and find the right intake for your vehicle.
K&N Intakes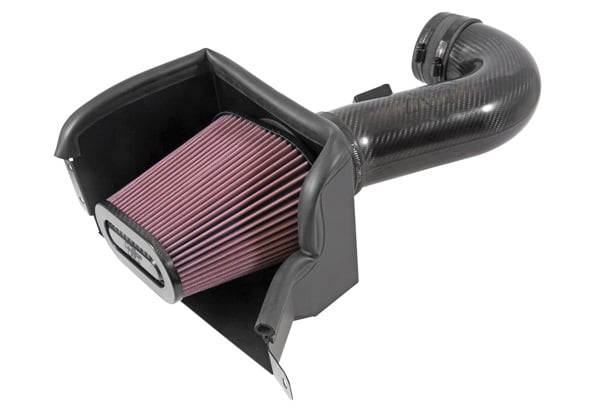 K&N has earned their reputation as air intake royalty by building systems that generate real and significant results. Every K&N Intake is specially designed to supply cool, dense air into your exact year, make, and model's engine, ensuring maximum power gains. They also come in a range of designs suited to particular uses, whether you want more power from your truck (with a K&N 77 Series Intake) or your high-performance sedan or sport compact (FIPK Intake).
K&N's original claim to fame is their high-performance air filters. Every intake, including the K&N Typhoon Air Intake and 57i Intake, includes one of their oiled cotton gauze filters. This design traps particles like dust and dirt, so the air rushing into your engine stays clean. They also allow for vastly more air flow than your restrictive stock filter. The result: great performance, maximum engine safety, and total peace of mind. Speaking of peace of mind, K&N backs every intake system with a 10-Year/1,000,000-Mile Warranty.
It's also easy to install K&N Intakes. The following video shows off the installation process for a K&N FIPK system.
Volant Air Intakes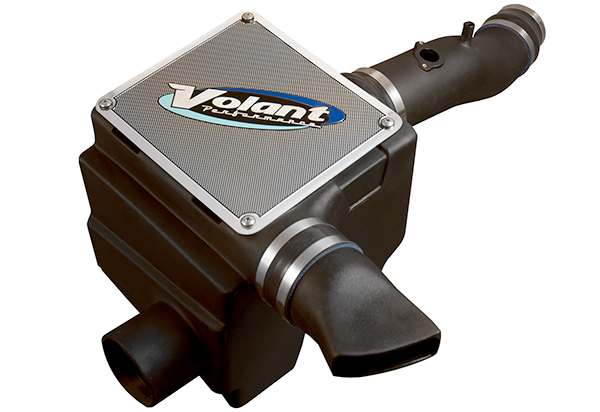 The engineers at Volant take their craft seriously, and the Volant Cold Air Intake is a clear example of that dedication. Every system is custom-tuned to your exact vehicle, so you'll get optimized flow and awesome power and torque gains. Plus, their custom, vehicle-specific designs ensure a perfect fit. Depending on your vehicle, your Volant Intake may include a High-Flow Velocity Air Box. This box is designed with a massive air duct to allow vast amounts of air into the intake.
The system includes your choice of a classic, low-maintenance Volant Primo Air Filter (needs cleaning every 35-50,000 miles) or the oil-free, virtually zero-maintenance PowerCore Air Filter (clean every 100,000 miles). Volant also offers other accessories like a pre-filter, which wraps around the main filter to block extra dust, drizzle, and mud, without impacting the filter's performance.
Volant or K&N - What's The Right Air Intake For Your Vehicle?
The following chart shows off some comparisons between Volant and K&N at the brand-wide level, so you can start to make a more informed decision when shopping for an air intake. For even more details and testimonials, check out our Intake FAQ section or our Air Intake Reviews, which are written by real-world drivers and performance enthusiasts who have purchased and installed these products. Plus, if you have any more questions, feel free to give our highly trained customer service team a call at 800-663-1570.
| | | |
| --- | --- | --- |
| | | |
| Starting From | $92.78 | $58.56 |
| Materials | Molded Polyethylene | Aluminum, Cross-Link Nylon |
| Styles | Cold Air | Cold Air |
| Finishes | Black | Polished, Blue, Red, Silver, Black |
| Available Accessories | Air Filters, Pre-Filters | Air Filters, Gauges, Performance Chips |
| Warranty | 1-Year | 10-Year/1,000,000-Mile |
| Shipping | FREE | FREE |
| | | |