If there's one quick, affordable upgrade any power enthusiast should make right away, it's hooking up a performance air intake. With our cold air intakes, your vehicle will instantly dominate the tracks and highways alike. The extra high-flow oxygen they feed into your cylinders enhances the combustion happening in your engine, boosting power, torque, and even fuel economy. Both Injen and K&N build top-notch air intake systems, but one brand might be a better choice for your vehicle than the other. Read on to compare K&N and Injen Air Intakes.
Injen Intake Systems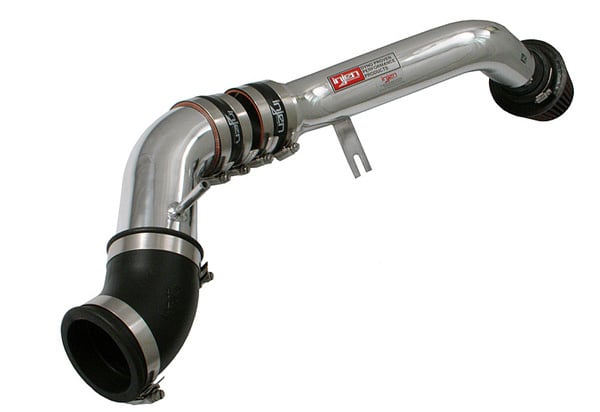 Injen Air Intakes provide excellent air flow to your engine, and they're designed to achieve optimal air/fuel ratios for the most effective combustion. Choose from several designs, including the efficient Injen Short Ram Air Intake and the Injen RD Cold Air Intake. Every Injen intake features T-6061 aluminum construction for super strength at a light weight, and many of them come in your choice of glossy Polished or Black finish. For world-class, custom-tuned performance, check out the Injen PowerFlow Intake. This system boasts sophisticated custom designs that supply the highest gains in torque and horsepower for your exact engine. The results are incredibly fast throttle response, lightning fast acceleration, and real power gains across the whole RPM range.
Thanks to their custom designs and included hardware, Injen Intakes take little time to install. Every kit also comes with a cotton-gauze, high-flow air filter that cleans your air supply while maintaining great flow. These filters are also reusable, so with just a little bit of maintenance you'll never have to buy another filter. Plus, you can count on your Injen Intakes for as long as you drive your vehicle - every system is backed with a Lifetime Warranty.
K&N Intakes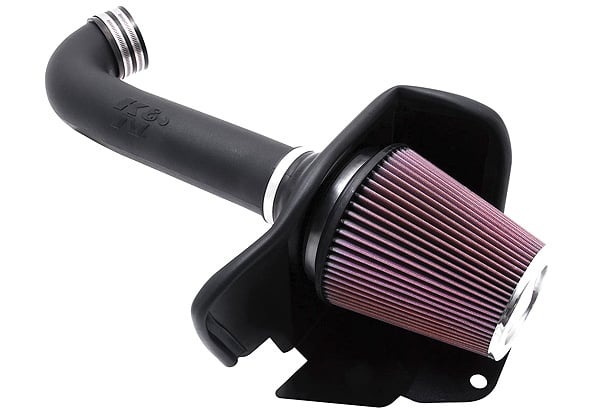 Over the last forty-plus years, K&N has been building some of the right performance air intakes out there. From sport compacts to trucks, K&N Intakes have been supercharging engines for decades, and they don't show any signs of slowing down. Each system is specially designed and tuned to your exact vehicle, whether you want to enhance your truck's hauling and towing might with a K&N 77 Series Air Intake or prep your sports car for the race track with a K&N Typhoon Intake.
K&N Air Filters are another key component to this company's success. These filters are made with oiled cotton gauze to stop debris and dust from getting into your engine, while remaining open and free-flowing enough to allow all that power-catalyzing air in. Every K&N Air Intake includes one of these filters, and that's not all - they're reusable so you'll never have to buy another filter again. And with a 10-Year/1,000,000-Mile Warranty on every system, you know you can count on this for years to come.
K&N Intakes also take little time to install, so you'll be back on the road tearing it up in no time. This video shows how K&N FIPK system.
Injen or K&N - What's The Right Air Intake For Your Vehicle?
When deciding between a K&N or Injen intake, take personal factors like your driving style and your budget into consideration, as well as each product's performance features. The following chart puts both brands side-by-side so you can directly compare some features and base prices. Also be sure to check out our Air Intake Reviews, written by AAG customers and real-world drivers who have installed and used these intakes. For any other questions, feel free to check out our Air Intake FAQ or call our helpful customer service crew at 800-663-1570.
| | | |
| --- | --- | --- |
| | | |
| Starting From | $58.56 | $148.15 |
| Materials | Aluminum, Cross-Link Nylon | 6061 Aluminum |
| Styles | Cold Air | Cold Air, Short Ram, PowerFlow |
| Finishes | Polished, Blue, Red, Silver, Black | Polished, Black |
| Available Accessories | Air Filters, Gauges, Performance Chips | Air Filters, Forced Induction |
| Warranty | 10-Year/1,000,000-Mile | Lifetime |
| Shipping | FREE | FREE |
| | | |