Driving a high-powered car or truck is a treat for your senses. The feeling of G-forces pulling you into your seat as you accelerate, the smell of burning rubber, and the sight of impressed onlookers all add up to one satisfying sensory experience, but it's the sound of a growling exhaust system that really gets your heart pumping. We offer a full range of performance exhaust systems that take your vehicle to the next level, whether you drive a daily commuter or a brand-new sports car. Before you go shopping for the best exhaust system for your vehicle, take a look at the different kinds of systems and learn how a performance exhaust can improve your power, efficiency, and sound.
So how do you find a good one? Easy, just take a look at our Top 10 Best Exhaust Systems of 2023 for a list of our top selling, top rated exhausts:
The Best Exhaust System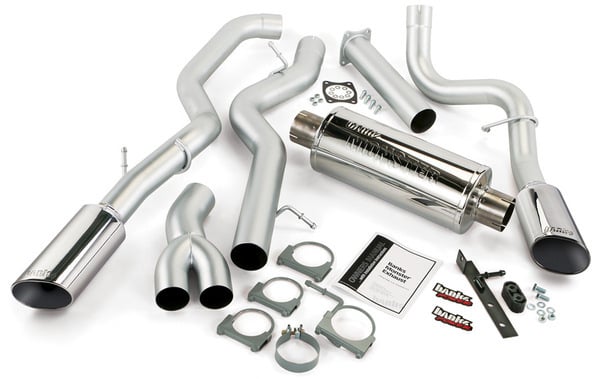 The Banks Monster Exhaust System is durably built from 100% stainless steel. This customizable system is available as a DPF-back, downpipe-back, turbo-back, or cat-back system so it's easy to find a configuration that will work for you. Because it mounts to the stock locations of your make and model, your spare tires, brake lines, and shocks are always free and clear of coming into contact with it.
I took off the old system and installed the Banks system in about 45 min. It fit perfect with no problems, and it sounds great! It even fit good with the trailer hitch. I polished the tip for a nicer look.

Read More Banks Monster Exhaust System Reviews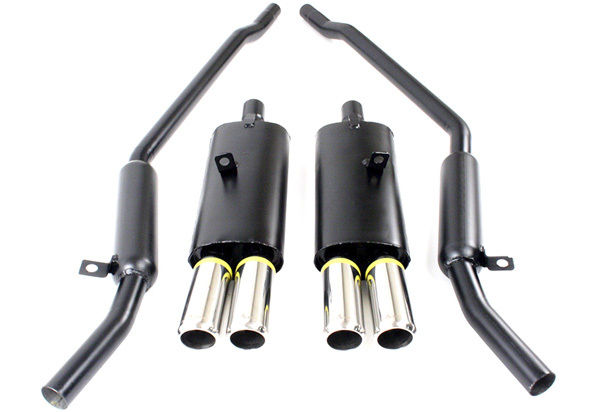 For a subcompact or sports car, upgrading your horsepower and torque is as simple as installing a PaceSetter Monza Exhaust System. 16-Gauge Aluminized Steel is forged into extra-large high-flow pipes for optimal airflow. Chrome exhaust tips are included with each order for a stylish new look. This system is proudly manufactured in the USA and comes backed by a 3-Year Warranty.
This cat back has a deep sounding growl with just the right amount of rasp. The setup looks great coming from behind my 03 cavalier... loving the monza! The price is definitely right on this kit. The pickup is nice and combined with my temporary short ram setup. This car has the passing power it lacked from home. Got exactly what I hoped for!

Read More PaceSetter Monza Exhaust System Reviews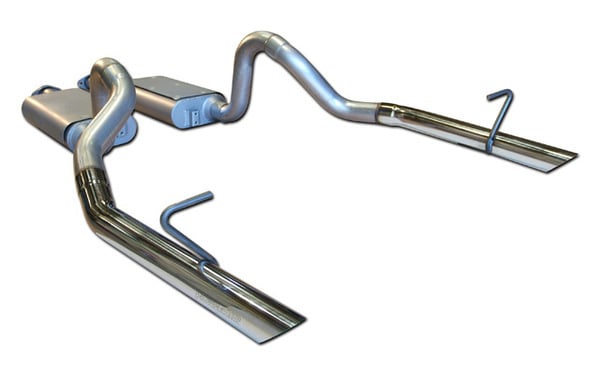 One of the top sellers of the industry is Flowmaster's American Thunder. The most common complaint it gets from customers? It's too loud. If you've been wanting to give your rig the performance boosts that Flowmaster is known for, but at a quieter volume that won't wake up your neighbors, the Flowmaster Force II Exhaust System is exactly what you've been looking for.
Fits a 2015 Jeep Grand Cherokee SRT. Excellent sound, loud and rumbles while driving. Great idle sound.

Read More Flowmaster Force II Exhaust System Reviews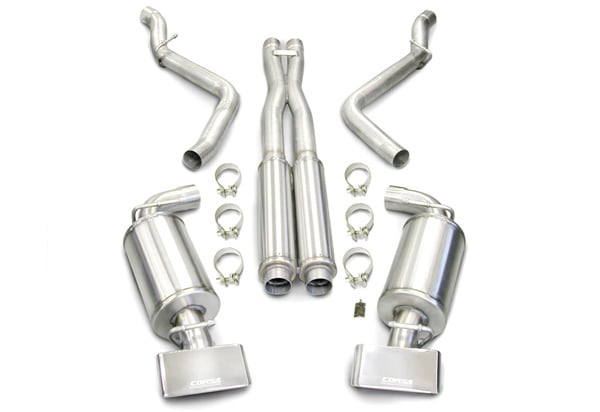 Available in three different styles, Xtreme, Sport, and Touring, you'll definitely be able to find the exact sound profile you want for your vehicle with a Corsa Exhaust system. The mandrel-bent tubing of this system maximizes airflow while minimizing backpressure and enhancing fuel economy. And what's more, each set-up comes custom-made to suit your vehicle. This system is made in the USA and is smog legal in all 50 states.
The system was easily installed in less than 1 hour. I was blown away by the quality even just after opening the box. I ordered the pace car system with 3.5 pro tips, they arrived fast and the box was in excellent brand-new condition.

Read More Corsa Exhaust System Reviews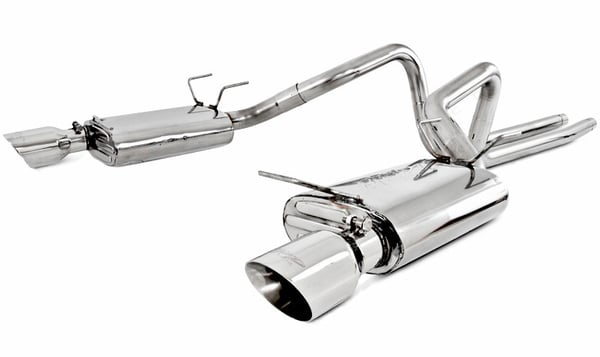 The MBRP System is known as a free-flowing, power-enhancing, and custom-tuned system. A high-flow muffler is included to provide an aggressive tone, without the overly annoying noise. This system is available for gas or diesel vehicles and is smog legal in all 50 states. Depending on your make and model, four different configurations are available in various finish options so you're sure to look one of a kind.
Great exhaust if you're looking for cheap stainless steel to beat salted roads in northern states. Great sound- nice deep tone at higher RPM and quiet at idle. Easy to install- the hardest part is getting old piping off. Perfect OEM fit and lets you keep your full-size spare under your bed.

Read More MBRP Exhaust System Reviews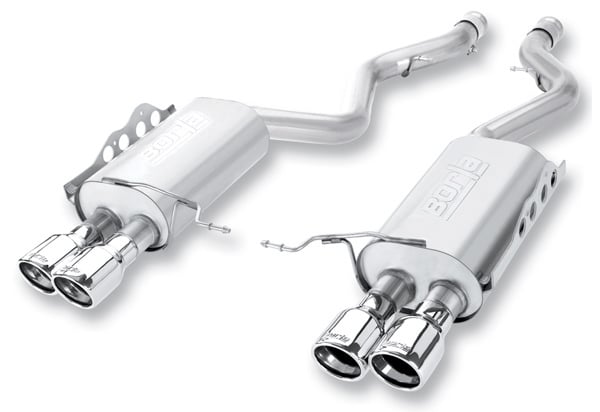 Custom-designed to your year make and model, the Borla System provides a throaty growl and maximum airflow. The aerospace-grade T304 Steel is stainless, tough, and covered by a Million-Mile Warranty. Each Borla exhaust system is designed with ease of installation in mind, and thus uses your factory mounting locations for a simple bolt-on process. Three various volume and power combinations are available.
This is a very easy exhaust swap. One person could do it but two is a lot easier. Read and follow the directions that come with your kit. The exhaust sounds exactly like I thought it would. Very pleased with this system. Would recommend for anyone looking for an awesome sound but not a lot of drone in the car.

Read More Borla Exhaust System Reviews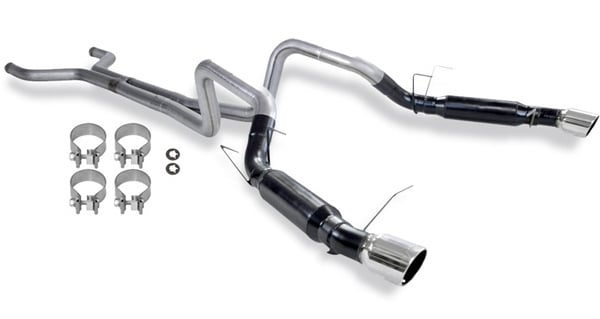 To tone up a muscle car and boost its performance, it's hard to do better than the Flowmaster Outlaw Exhaust System. The components are built from 409 stainless steel and the mandrel-bent pipes are designed to maximize airflow for improved horsepower, torque, throttle response, and gas mileage. Plus, a simple bolt-in installation process employs the existing holes in your vehicle's frame.
I have a 2009 GT/CS and make sure you order the extra muffler hangers because you will need them in order to complete the insulation. I love the sound of the outlaws and have no problem with the extra noise from the interior. I'm excited to hit the road with the new rumble.

Read More Flowmaster Outlaw Exhaust System Reviews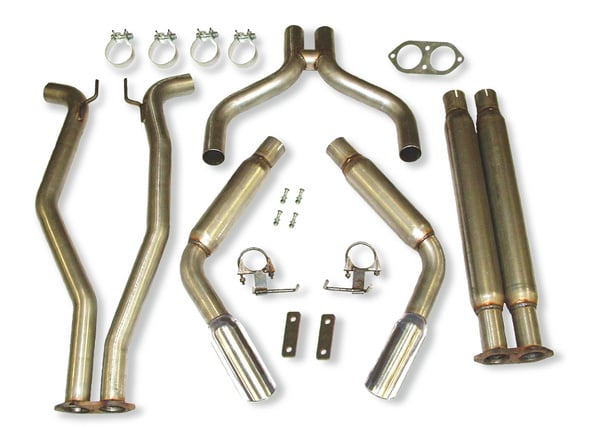 The genius of the Heartthrob Exhaust System is its customization. Available designs include Cat-Back, Header-Back, Diesel, Deep Tone, and Manifold. Plus, you'll choose from a handful of diameters and exit styles, and muffler styles. All of the necessary brackets and hardware are shipped along for an easy installation process. The only catch is, you can't run this system in California. Sorry, Golden Staters.
Shipping was fast. Install was very easy. The fitment was dead on. I had no problems my son could have installed this. After install it sounds great. And looked great too. I would recommend this to everyone that would want a low cost performance system for their truck. Love it!

Read More Heartthrob Exhaust System Reviews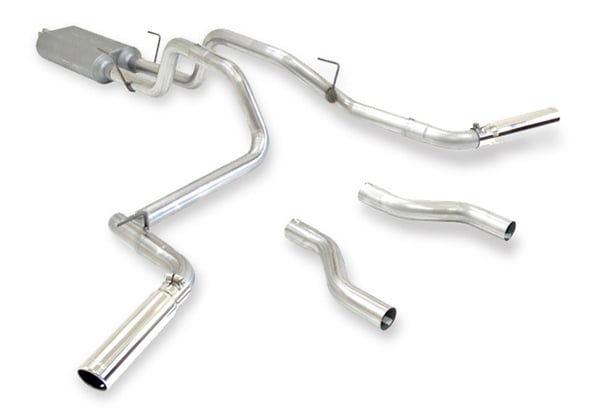 Perfect for beefy trucks and SUVs, the Flowmaster American Thunder Exhaust System brings the thunder and brings it hard! Bringing your rig a 5-10% power boost and huge gains in the MPG department. Trust us, there's nothing better than rolling down the street in a truck with an American Thunder System installed. With a sound that's both classic and aggressive, this system is sure to turn heads.
The product came with everything that I needed to install it on my 1998 Chevy K1500. It sounds just right. It doesn't drone you out when you are traveling down the highway, though it does get a bit louder and deeper when you have to get on the gas a little, say from a headwind or pulling a trailer.

Read More Flowmaster American Thunder Exhaust System Reviews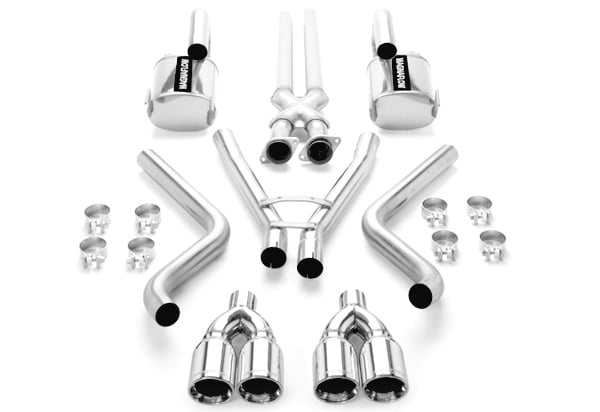 With a standard, XL, and Pro Series available, the Magnaflow System is designed to unlock your engine's true potential. Built from tough-as-nails 409 Stainless Steel tubing, this system includes necessary mufflers for the ideal temperature consistency and reduced vibrations and harsh noise. This kit is available for gas or diesel vehicles.
Easy to install. Looks Great! Sounds fantastic! Thanks! I'm recommending this product for my son to put on his Tacoma Off-Road. This product really rounds out my new Tacoma.

Read More MagnaFlow Exhaust System Reviews
What's the Best Fit for Your Vehicle? Enter Your Info Below to Find Out!
Top 10 Selection Methodology
Your exhaust system is like the vascular system of your vehicle, and it can make or break your performance. Whether you want to race, haul, tow, or simply get to work and back each day, the exhaust system is critical for getting the most out of your potential horsepower, your torque, and your gas mileage. That's why when it comes to making a recommendation, we don't take it lightly. We have decades of experience not only working with the leading exhaust system manufacturers but also with the customers that order them. We've heard all about what works and what doesn't from hundreds of customer reviews. We put all of this knowledge to good use by creating this list, keeping in mind potential horsepower, fuel economy, ease of installation, and aesthetic style. We hope you find our list helpful and reach out to us for any additional questions or concerns.
Aftermarket Exhaust Systems Buying Guide
How Do Exhaust Systems Work?
Before learning about the ins and outs of exhaust systems, you should familiarize yourself with how your engine generates power. First, fuel and oxygen get sucked into your engine's cylinders. The fuel/oxygen mix gets ignited by a spark plug, causing a small explosion inside the cylinder - a phenomenon known as combustion. Combustion provides the energy and torque needed to turn your wheels and move forward. Each explosion also creates a cloud of waste gases that would choke your engine if it stayed in the cylinders. The exhaust system's job is to get rid of these gases as quickly and efficiently as possible. Whether you install a Magnaflow Exhaust onto your truck or bolt an exhaust from Borla to your 'Vette, this is a crucial system when it comes to maximizing your vehicle's power and performance.
Exhaust Manifolds/Headers
The exhaust gas left behind after combustion gets pushed out of the cylinders by your engine's pistons, where it travels into your exhaust manifolds. Manifolds are bolted onto your engine head, with a piece of pipe attached to each cylinder. These pipes collect the gas from multiple cylinders and combine it into a single exit pipe called a collector. Stock exhaust manifolds are usually made from heavy cast iron and, while they're designed to cut costs and occupy little space, they don't expel gas very efficiently. Performance enthusiasts and racers typically swap out their manifolds for performance headers.
Did You Know? 4-cylinder engines typically have only one row of cylinders so they only need one manifold. V-6 and V-8 engines have cylinders on both sides, so they require two manifolds. Aftermarket manifolds like Borla and Pacesetter are designed to provide better exhaust flow than stock manifolds. They're typically built using mandrel bends for more efficient flow and are available in a variety of materials and finishes. You can also build a set of headers to your own specifications with weld-together pipe kits. Headers are available in a range of finishes and materials, including nickel-chrome plated mild steel, 409 stainless steel, and ceramic-coated steel. Exhaust brands like Gibson and Doug Thorley give you several material options within the same design, so you can choose the perfect header for your performance needs and budget.
The exhaust gas that collects in the headers moves on to a straight pipe known as a head pipe. The head pipe is the first section of exhaust piping and connects your headers to the rest of your exhaust system. The head pipe is also where you'll find the catalytic converter, the next step in your exhaust system.
Catalytic Converters
The combustion in your engine generates a lot of ugly and dangerous chemicals including carbon monoxide, nitrogen oxide, and hydrocarbons, to name a few. One way to battle these pollutants and clean up your emissions is by utilizing a catalytic converter. Also known as a cat converter or catcon, your catalytic converter is packed with platinum and palladium-coated ceramic beads or honeycomb, known as a catalyst. When the pollutants in your exhaust hit the ceramic catalyst, it sets off a chemical reaction that converts the oxides and hydrocarbons into oxygen, nitrogen, carbon dioxide, and water vapor. Cat converters significantly clean up your exhaust gas, making the planet - and your local emissions tester - happy.
We offer a full range of Magnaflow catalytic converters, as well as cat converters from Cherry Bomb and Bassani. Note that emissions standards are different in California compared to the other 49 states, so if you live in that state make sure you purchase a California Catalytic Converter. Helpful Tip: In the U.S. it is illegal to disable or remove your catalytic converter. Plus, removing modern converters only gives you a marginal performance improvement. Unless you use your vehicle exclusively off-road, don't take your catalytic out!
Cat Back Exhaust Systems
After your exhaust gas passes through the catalytic converter the fun really begins. The rest of the exhaust from this point out is considered a Cat-Back exhaust system. The term "Cat-Back" means every part of the system after the catalyst. The Cat Back includes the pipes connecting the converter to the muffler, the muffler itself, and the final tail pipe. The diameter, bends, and design of the exhaust pipes and muffler all determine the efficiency and effectiveness with which exhaust gas is scavenged from your engine. Plus, most performance exhausts like those from Banks are crafted from high-quality stainless steel. We'll discuss more about how performance Cat Back exhaust systems work below.
Mufflers
If your exhaust system ended at the catalytic converter, your vehicle would be obnoxiously loud and noisy - far from the high-performance growl you know and love. As their name implies, mufflers reduce the noise coming out of your exhaust to less-than-deafening levels. They are generally built with a resonating chamber that utilizes carefully-placed baffles and chambers to cause harsh sound waves to cancel each other out. Performance mufflers also use their resonating chambers to amplify and tune the exhaust note to a more pleasing, aggressive, or deep sound. They're available with a wide range of inlet and outlet configurations, so you can get dual-output looks without having to spring for a complete dual exhaust system.
Tail Pipes & Exhaust Tips
The tail pipe and tip make up the last section of your exhaust system. Even this far away from the engine, the diameter and bend of your tail pipe can affect how well your vehicle gets rid of exhaust gas.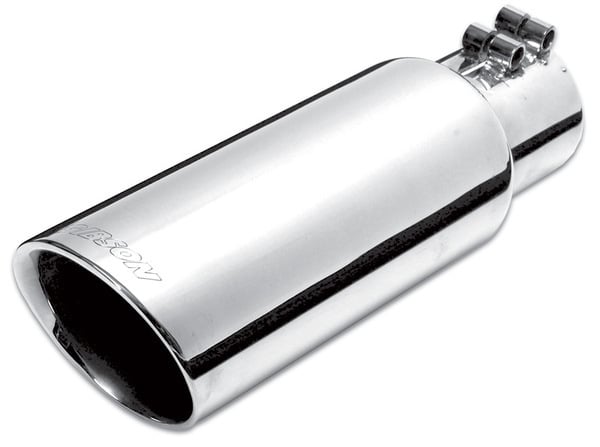 Instead of just having a metal pipe sticking out the rear of the vehicle, many tailpipes are fitted with an exhaust tip. Exhaust tips are generally made from high-quality steel and come in a bright, polished chrome finish for head-turning looks. Our tips are available in a wide range of designs and shapes including angle-cut and triangular, and can have straight or rolled edges. Chrome exhaust tips are usually a wider diameter than the tail pipe, which gives one last reduction in pressure for improved flow and adds a nice look to your vehicle's rear end.
Improve Your Performance With An Aftermarket Exhaust System
Now that you're familiar with the basic workings of an exhaust system, let's see how performance exhausts are designed to improve your vehicle's power and performance. Stock exhaust systems simply don't provide the optimized flow you get from a performance exhaust kit. There are many ways our aftermarket exhausts take your vehicle to the next level, including: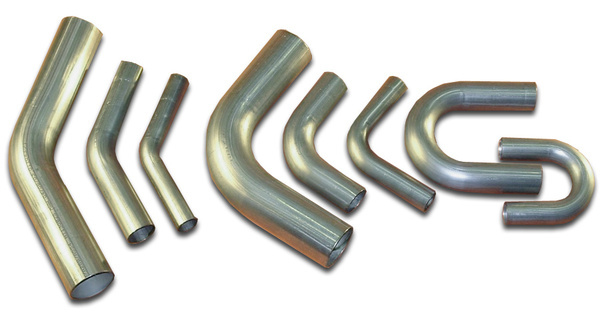 Eliminating Restrictions
As you now know, your exhaust system's goal is to evacuate waste gases from your engine out to your tailpipe as quickly and efficiently as possible. Ideally your exhaust pipes would be completely free of restrictions and your exhaust would flow freely away from your engine. Unfortunately, cost-cutting car manufacturers bend exhaust pipes with a crushing or pressing method. This bending is easy and cheap, but each bend pinches the pipes and reduce their diameter. Therefore, every bend acts like a kinked hose or a bottleneck - your waste gasse slow down and build up, causing inefficient flow and an effect known as backpressure.
Performance exhaust system and header manufacturers, however, utilize a high-tech mandrel bending process when crafting exhaust pipes. In mandrel bending, a flexible steel rod is inserted into the pipe to stop it from crushing or pinching. This means the pipe's diameter doesn't change through the bend, and your exhaust gases don't hit any restrictions on their way out of your engine. Mandrel bends like those in Gibson systems help to eliminate backpressure, restoring tons of power and torque to your engine.
Mandrel bending is used in all of our performance exhaust systems and headers.
Increasing Diameter
Properly bent pipes helps improve exhaust flow for higher power and torque, but the size of your pipes is a significant factor as well. Cheap stock exhausts often use small-diameter pipes to save a few bucks on metal, but their diminutive size negatively impacts your exhaust flow and chokes your horsepower potential. Small pipes are like a 2-lane highway for your exhaust gases. Wouldn't they move a lot faster if you opened up a few more lanes?
Did You Know? Bigger exhaust pipes are better, but the optimal pipe diameter changes depending on your engine type and size. A subcompact will have much smaller exhaust pipes than those on a diesel truck, but both are expertly tuned and engineered for maximum performance. Most performance exhaust pipes are built with larger diameters that provide much higher flow than your dinky stock pipes. Their more open design makes for more efficient flow, providing even more power and torque to your engine.
Scavenging
When you bolt a performance exhaust to your vehicle you improve the flow of waste gases, but you also get the added benefit of improved engine scavenging. When waste gases flow down a fine-tuned, restriction-free exhaust pipe, they create a vacuum that pulls exhaust out of each cylinder for even faster flow and draws maximum power-generating oxygen into the cylinders. This effect repeats with every firing of the cylinders, giving you excellent performance and efficiency for as long as your engine is running.
Sound
Like we said before, one of the most immediately noticeable benefits of an aftermarket exhaust system is the change in your vehicle's sound. With a performance exhaust system or muffler, your vehicle can instantly transform into a rumbling, growling beast. Take a listen to the attitude this Cherry Bomb muffler adds to a 2010 Camaro:
You don't have to crank up your engine's volume, either. There are several Flowmaster mufflers designed to tame your exhaust's resonances for a more controlled, subtle sound. Best yet, even our more understated-sounding mufflers and exhaust systems are stilled tuned for significant performance gains. That means you can boost your ride's horsepower without waking up the neighbors.
The Results
Your performance exhaust system eliminates restrictions, provides more room for waste gas to flow, and promotes better engine scavenging. So what does that mean for your vehicle's performance?
Huge power gains - up to 25 horsepower
As much as 60 ft. lbs. of extra torque
A rumbling, aggressive exhaust sound
Improved fuel economy - usually between 1-2% gains in MPG
The benefits of an aftermarket exhaust are even greater when you combine it with performance headers and forced induction. We offer full-blown performance packages from Banks that include a full exhaust system, air intake/induction, and a tuner to coax the most power out of the system.
Exhaust System Styles
There are a few different designs and styles of performance exhaust kits available, each offering different performance gains, visual styles, and sounds. Exhausts also come in a variety of materials with different degrees of rust resistance and durability. Check out these styles and materials below.

Single Exit
Single Exit Cat-Back exhausts feature one set of pipes, one muffler, and typically only one tailpipe and tip. Single Catback exhausts provide huge torque, power, and economy gains over stock, and can typically be bolted on to your vehicle without any welding or cutting. They're available with either a standard rear exit, or you can go for a side-exit exhaust for a more unique look.
Dual Exit
They say two heads are better than one - the same goes for exhaust systems! Dual-Exit Cat Back exhausts give your vehicle high-octane hot rod style with serious power and torque gains. They include a pair of exhaust pipes and tips, and two mufflers. They can exit either straight under the bumper or off on each side. Most also include polished chrome exhaust tips for head-turning looks.
Performance Diesel Exhaust Systems
Diesel truck and car drivers also have plenty of options when it comes to upgrading their exhaust. Performance diesel exhaust systems give your vehicle the extra torque and power needed for heavy-duty towing and driving up steep hills. They're also designed to keep your exhaust gasses cooler, lowering your chances of overheating when the going gets tough. Performance diesel exhausts are available in a variety of outlet styles and include everything you need for a simple bolt-on installation.
Exhaust Materials
Performance exhausts are crafted from rust-fighting, long-lasting steel. There are three main grades of steel that are typically used in exhausts, each offering different levels of durability. Aluminized steel exhausts are built from heavy-duty steel pipes hot-dipped in an aluminum-silicon alloy. This alloy provides great corrosion resistance at a reasonable price. 409-L stainless steel pipes feature high strength, corrosion resistance, and durability, while remaining a cost-effective option. 304 stainless steel is the top-shelf exhaust material. 304 has the highest nickel and chromium concentration and offers the best resistance to rust and corrosion. Borla offers a full line of high-quality 304 stainless exhaust systems.
How To Shop For The Best Exhaust System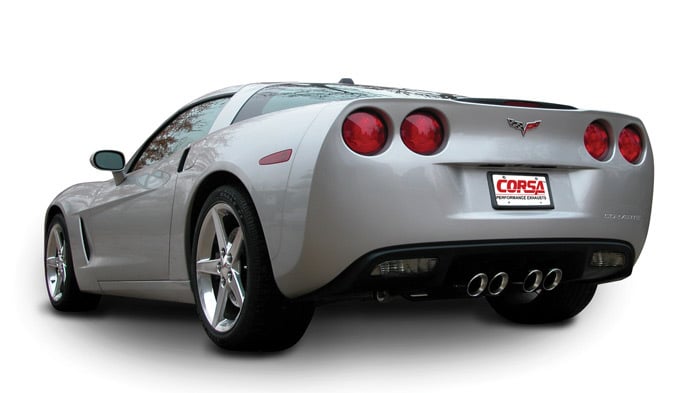 With all the different exhaust systems and components out there, it can be hard to find the right kit for your needs. That's why we've laid out everything you need to make the right decision when purchasing an exhaust system.
Vehicle
Different vehicles and engines have different needs. Each exhaust system is optimized for certain applications, so make sure the exhaust system you want is the right one for your vehicle. For example, while a Dual Flowmaster exhaust might be a great choice for a muscle car, a sport-compact or import would benefit better from a Borla exhaust. Trucks and diesel vehicles can be upgraded with heavy-duty systems like those from MBRP. You can even improve your RV's power with a Gibson Motorhome exhaust, which is specially designed to suit the demanding weight and payload of a motor home.
Sound
Every exhaust system or muffler has its own unique sound. You can add a Magnaflow muffler to your exhaust for a pleasing, slightly louder-than-stock tone, or you can get an aggressive growl out of a glasspack Cherry Bomb muffler. If it's a classic muscle car tone you're after, go with a tried and true American Thunder system from Flowmaster. No matter what aural attitude you're looking for, we have a muffler or exhaust system for you.
Style
Don't forget that your exhaust system is also a great place to add some custom style to your vehicle. By adding a Chrome exhaust tip your vehicle's rear-end gets a nice touch of hot-rod looks. You can even add a set of double exhaust tips that give single-exit systems the look of a double exit - or you can give your dual-exit catback exhaust an impressive quad-exit look.
Budget
Helpful Tip: Don't take our word for it - Read our exhaust system reviews to see what your fellow drivers think of their exhaust systems. Like any auto accessory, you need an exhaust system that fits your budget. Exhaust manufacturers offer a wide array of systems for both the performance-obsessed and the price-conscious. If you're looking for some extra horsepower without spending a fortune, go with a Heartthrob exhaust or a set of DC Sports headers. These exhaust parts are made from more affordable materials like aluminized steel and mild steel, but they offer plenty of performance gains and long-lasting durability. Of course, the possibilities are endless if you're looking for maximum performance regardless of price. Some of our highest performing exhaust systems and parts include Hedman headers with Ceramic finish and "Magnaflow Series."
In Conclusion
An exhaust system is one of the essential performance upgrades you can add to your vehicle. We hope this buying guide will help you make the right decision when buying the best exhaust for your car, truck, or SUV. If you have any other questions or suggestions about the information in this buying guide, feel free to call our experience Customer Service Representatives at 800-663-1570.